This house tour shows how a couple's passion for Craftsman style and antiques transformed their Spanish Colonial Revival home during the holiday season..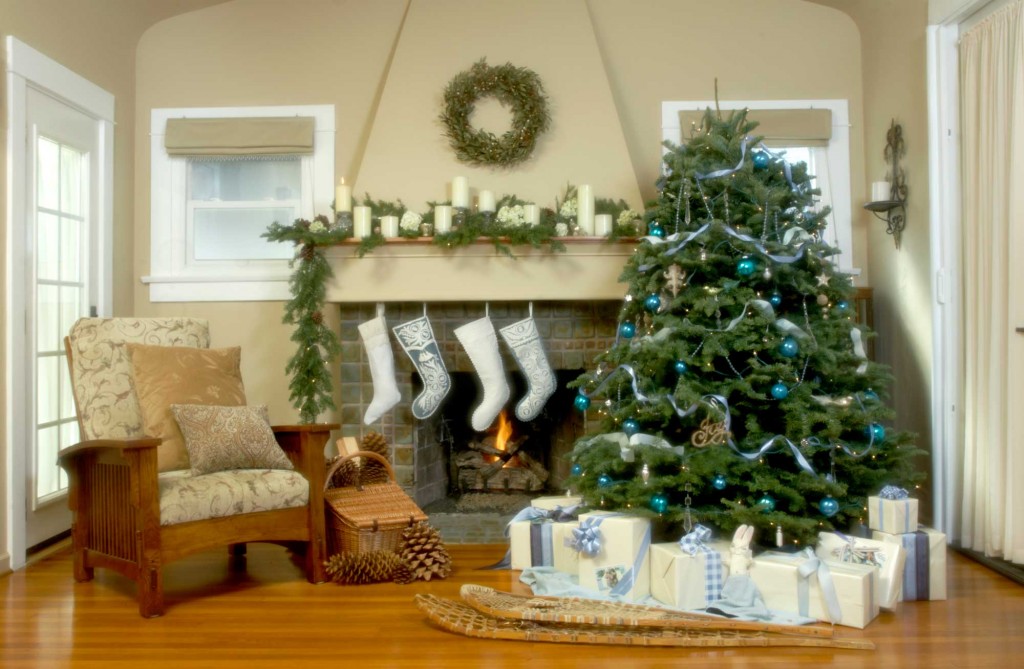 With its lavishly decorated mantel, French silk and antique ribbons dripping from the fresh-cut Christmas tree and gifts, and the sparkle of mercury glass decorations, the 1922 Spanish Colonial Revival home of Cynthia Meza and Randy Blake has become a popular family destination for the holidays.
"My house is the house to gather at. I decorate it to the hilt," Cynthia says. Randy is not about to argue, although he says, "We [do] have a great avocado tree," acknowledging that the tree is also a big draw.
Holiday Traditions
As guests arrive, cocktails and appetizers flow. A wedge of cranberry jam-topped brie sits invitingly on one of Cynthia's many vintage plates, mushroom turnovers on another. Fresh fruits and pine branches embellish the scene. The family is then ushered into a traditional sit-down dinner. Soon, more jokes and laughter fill the air as the nieces and nephews hunt for a vintage glass pickle ornament that's been hidden in the Christmas tree. Cynthia started this tradition as a way to choose which child would earn the honor of opening up the first present. Afterward, all that can be heard is the sound of gift wrap being torn as everyone opens their gifts.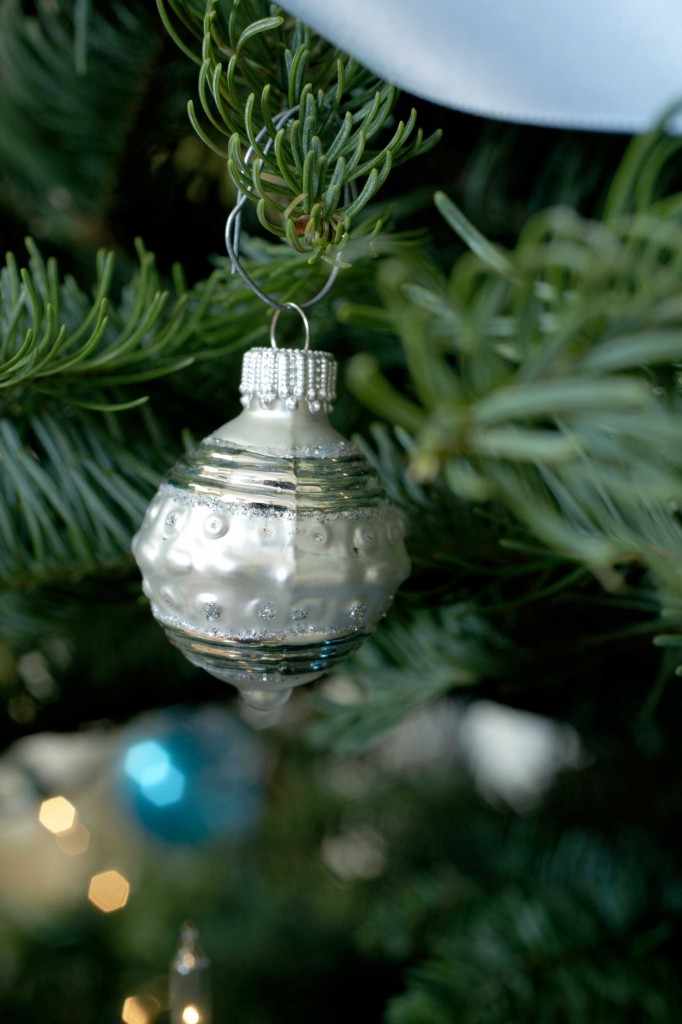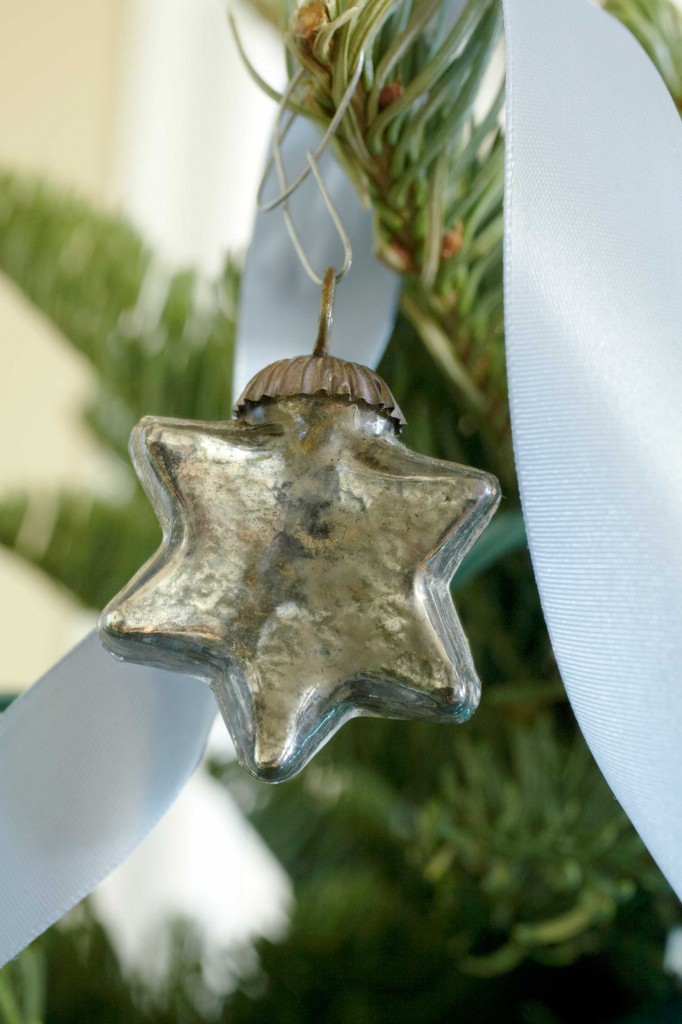 DIY Adventures
It's the first time in a while that Cynthia and Randy can sit back and enjoy the finished restoration of their home. It was only six years ago that the couple was on the outside looking in at this picturesque historic district neighborhood wishing they could buy a home. They would drive up and down the streets looking for the right property, but it always seemed to elude them. They had resigned themselves to a state of perpetual house hunting when the 1,100-square-foot Spanish-style bungalow caught their eye.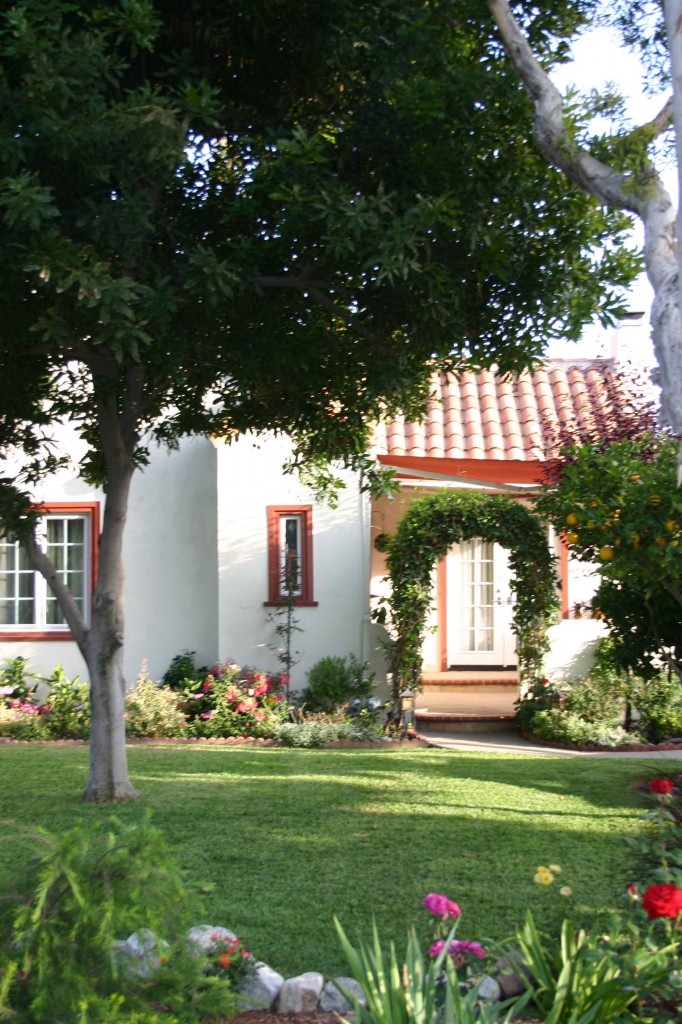 It was a classic fixer-upper, but they saw its potential. "It was a mess," Cynthia says, but they were thrilled finally to own a home that had character. What to fix first? The first winter, the couple slept in their sweats as the cold air seeped through rotted window sashes. Their first major expense was the installation of central heating and air conditioning.
Inspired by ideas from home decorating television programs, the couple next gutted a guest bathroom down to the studs. They closed off one of the two doorways to the room and chose fixtures from a few of the big home improvement stores. Then they added a stand-alone shower and ordered a tiny custom-size sink.
They also tackled the master bathroom. Randy installed a Jacuzzi tub with a tub deck set with copper slate tiles and an adjacent built-in quartersawn white oak cabinet for storage. The addition of a wood cabinet, wood shelves, new molding around the windows and a bronze matte towel rack completed the picture.
Skilled Homeowners
After three years, the couple turned their attention to the kitchen. Originally, the refrigerator took up half the room. Randy was able to reconfigure and open up the space to build a banquette and richly stained Mission-style cabinets.
The family noticed Randy's skill as a carpenter rise to a new level when he built his own Murphy bed from scratch. (See sidebar on this page for more details.) The bed, located in a home office, is where guests sleep and Randy can stretch out and play his guitar. When folded back up, the wall bed takes on the character of snug, built-in cabinetry. Making even more use of the space, Randy designed storage cabinets above.
Cynthia uses her sewing skills to add warmth and personality to the home with assorted pillows covered in Arts and Crafts patterns. She also reaches into her collection of vintage cards and paper goods to create unique holiday decorations. Many pieces hang from a wrought-iron tree mounted in the hallway, where she varies the cards throughout the year in an ever-changing entryway vignette.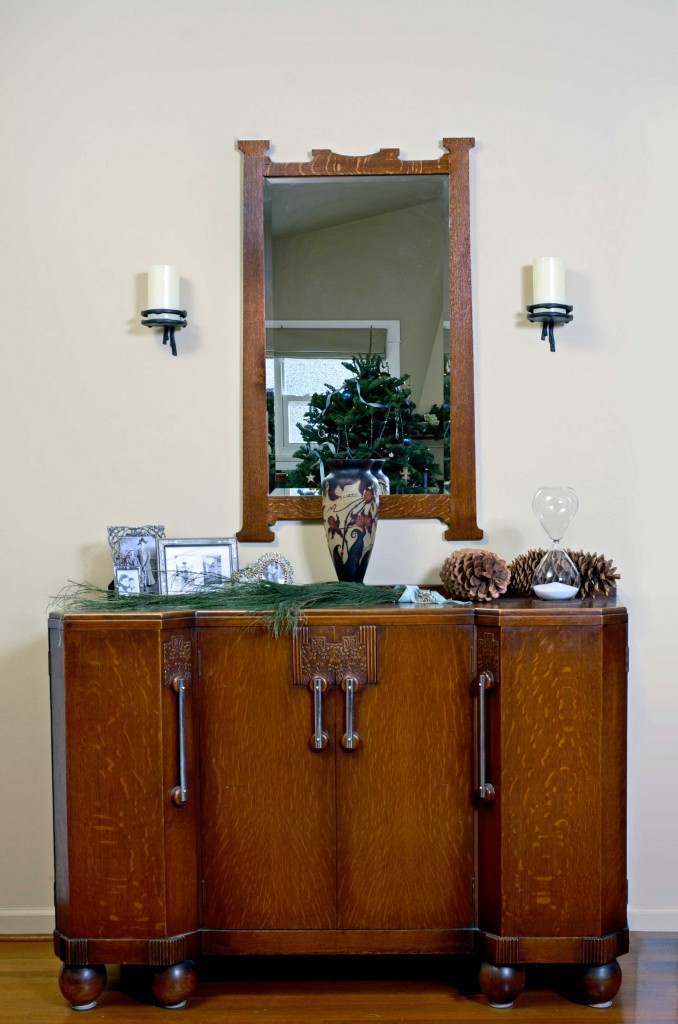 This Art Deco bar/buffet, purchased when Cynthia began collecting in college, fits beautifully into the couple's 1920s home.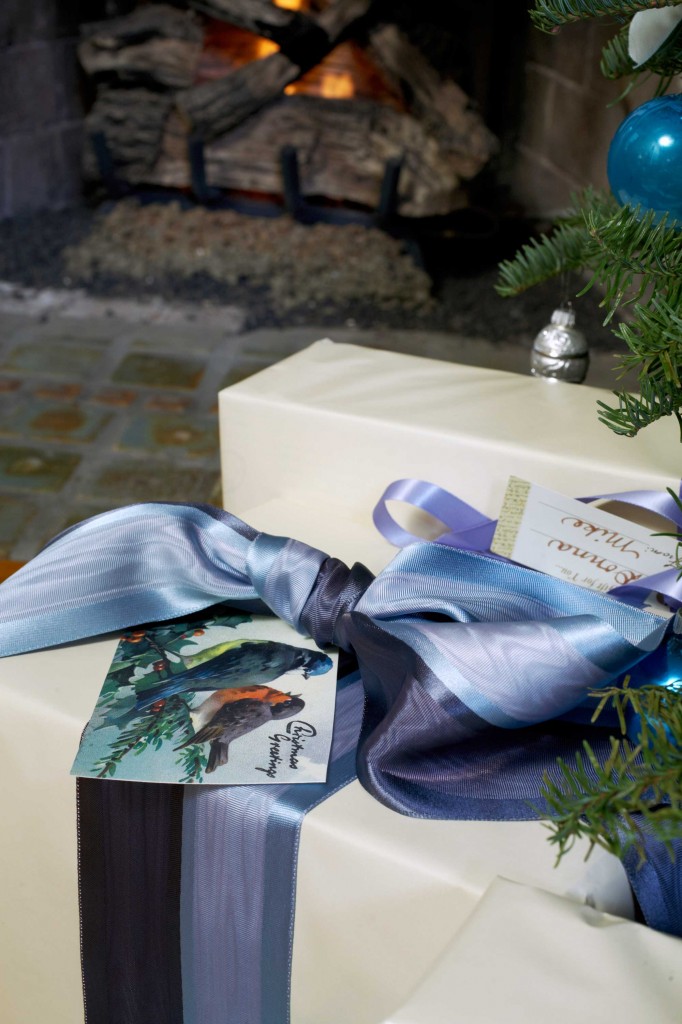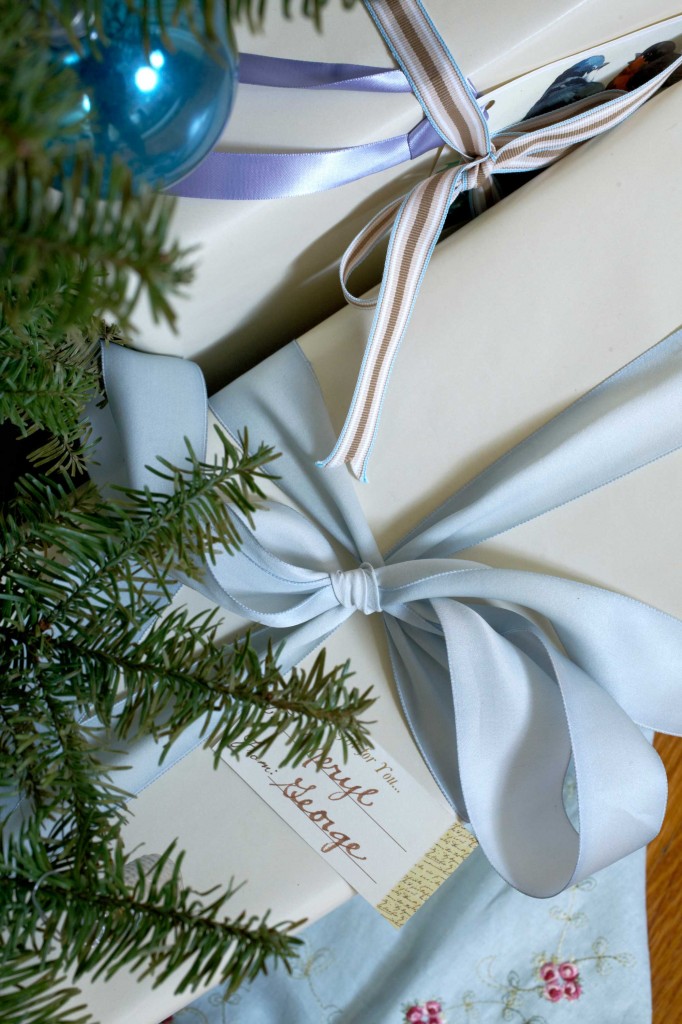 Color copies of old postcards make attractive gift tags.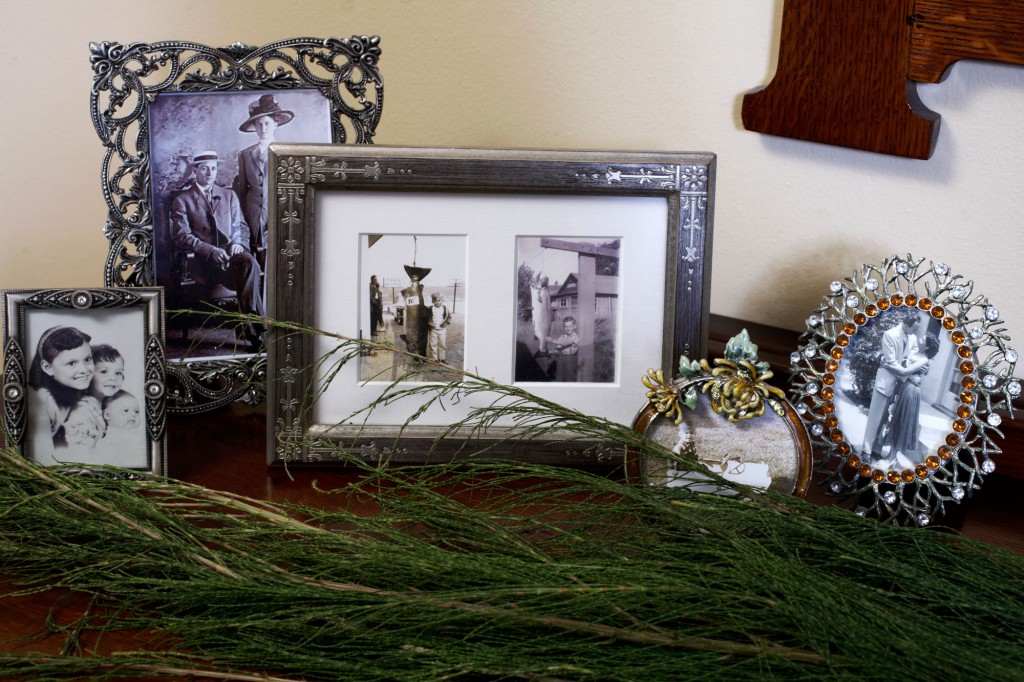 Family photos on display add to the vintage-style decor.
Cynthia's gifts as a gardener tie the landscaping into the charm of the Mission-style interiors. Aside from the very popular 50-year-old avocado tree, the couple's property includes 20 different varieties of trees: Meyer lemon, navel orange, macadamia nut, blood orange, nectarine, tangerine, plum, pluot, lime and pomegranate, as well as plantings of strawberries and grape vines. A cozy patio area off of the living room extends the couple's entertaining and living space, adding the indoor-outdoor aesthetic so welcome in a bungalow home.
Randy and Cynthia have found a balance of personality, vintage style and modern conveniences that extends to family during the holidays and throughout the year.
"We call the house our little casita," Cynthia says.
To buy these types of products visit: http://www.plaidparasol.com/tabletop/serveware
By Judy Seckler
Photography by Jaimee Itagaki
Styled by Hillary Black