Audrey Heredia and her daughter, Vivian, co-owners of the McCharles House Cultural Center and Venue in Historic Tustin, California, love decorating their family home with an earthy, organic flair. Their 1960s ranch-style cottage, also located in Tustin, constantly undergoes redecorating to mirror each upcoming holiday and season. Every October, Audrey's kitchen becomes a charming, storybook setting that boasts a nostalgic 1950s Halloween vibe.
Heartwarming Touches
Halloween is one of Audrey's favorite holidays. "I love how it's such a magical time. It's just so fun and playful," she says. We love fresh pumpkins and gourds, and filling the kitchen with colors, textures and branches from the farmers market," Audrey says. "I also like decorating with herbs and potted plants from my garden to emphasize the organic, warm feel of my home." In autumn, she decorates with twigs, branches and dried sunflowers. She also makes use of the season's bounty, and places apples, yams and squashes around her kitchen.
"Cornstalks from the vegetable garden are great in Halloween," Audrey says. "I love decorating with things that you wouldn't think to use in an arrangement. Nature is beautiful because it's not perfect," she says. "I don't want the decorations to look too commercial; I want them to feel loved and used."
Besides decorating with items found in nature, Audrey also places family heirlooms throughout her home. "My decorating style is very eclectic," Audrey says. "I painted the kitchen walls off-white because I didn't want the color to compete with my decorations." Some of her favorite heirlooms are family dishes, vases and cuckoo clocks that she remembers from her childhood. "I love clocks," she says. "The ticking and the sounds of the chimes signaling the passage of time is very meditative and comforting for me."
Rows of plates, either belonging to her mother or acquired on travels, line the walls of her kitchen. "I love decorating with family treasures that we've gathered throughout the years," Audrey says. "If something's not in perfect condition, it's okay, because none of us are perfect, especially when we get older," she laughs. "We cherish the memories that come with these heirlooms."
For the Heredias, the kitchen is a place to congregate and entertain.  "This is a place where a lot of stories are told and many memories are made." The large space fits the entire family. "We like to cook as a family," she says. "Everyone helps with chopping, stirring and peeling vegetables. Those who don't cook help with cleaning up."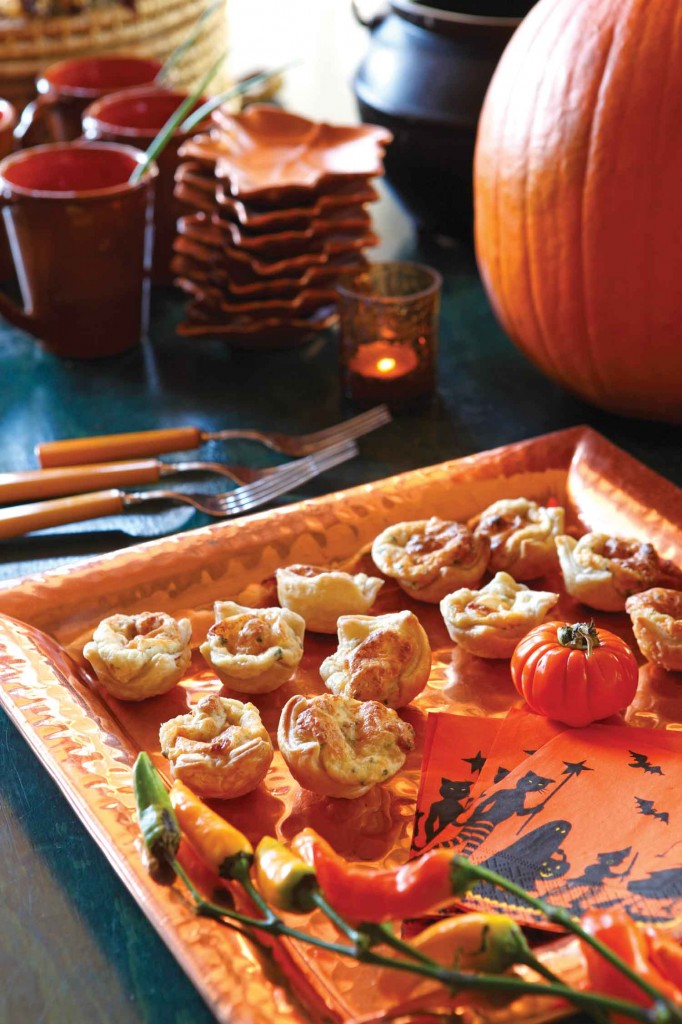 Rethinking the Floor Plan
The busy kitchen wasn't always so efficient. "Our original kitchen was very small and dark. There was no work space to speak of," Audrey says. In order to expand her kitchen space, Audrey decided to swap the kitchen with the larger adjacent room used as eating area. "We switched the two rooms and added a bay area for the kitchen counter and sink," she says. "Switching the two rooms allowed us to expand the kitchen without changing the framing of the house," she reflects. "This experience proved that it's possible to rethink the interior space of a home without changing the outside."
Audrey also exposed the loft ceiling and installed numerous windows with wood trims to give the kitchen an airy, brighter feel. The kitchen also has a California Cooler, tall cabinets fitted with glass panes and a pantry area with French doors. "My inspiration for my kitchen came from the Ahwahnee Hotel in Yosemite Park," she says. "I loved the colors and the tiles there, as well as the organic feel of the place. I was inspired by the pine trees and bed of rivers of the High Sierras and wanted to give my kitchen the same mountain feel." She brought the warmth of nature into her kitchen by using oak beadboard woodwork with a burnt, reddish-brown stain.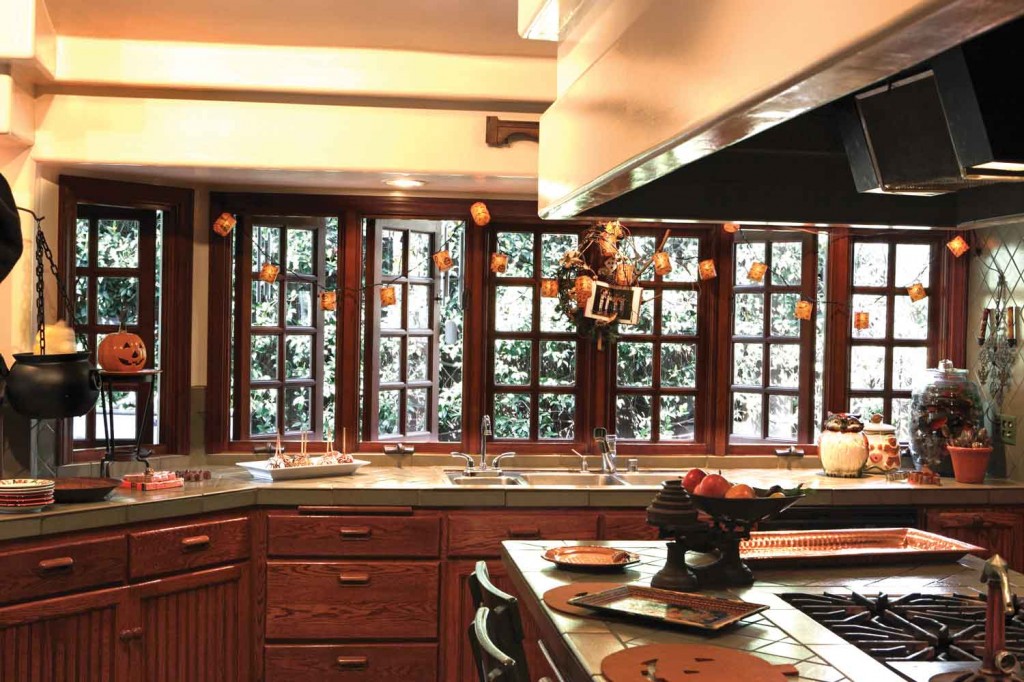 Audrey laid green tiles throughout her kitchen floor. "It's an earthy woodland-green that contrasts nicely with the woodwork, which is like the color of a Redwood tree," she says. To complete the organic look, Audrey used the same floor tiles on her kitchen counters. "My husband had to cut the large floor tiles into four-inch square tiles," she says.
After warming drawers and an indoor barbeque grill were added, Vivian remembers saying to her mother, "This kitchen is better than our restaurant kitchen!" The two additions are Audrey's favorite features. "The indoor barbeque is nice on rainy days, and the warming drawer keeps things hot and moist, which is great because not everyone eats at the same time. This is especially wonderful during holidays," she says.
The renovation process only took four months, and the result is an open, California-style kitchen that is constantly being revamped for the holidays. "We try to celebrate every season and holiday because every day should be celebrated," Audrey says.
Written by Tiffany Lin
Photography by Mark Tanner
Styled by Hillary Black