There's nothing we love more than bold, personal style–that why we can't get enough of interior designer Justina Blakeney. Inspired by her love of travel, Blakeney has made waves in the designing community for her unmatched bohemian style and, for a week only, Joss & Main will be hosting a curated sale with picks chosen by Blakeney herself. To kick off the site's curated shopping week, we got to chat briefly with the aptly nicknamed "Jungalow" designer about some of her background and all-other-things-design.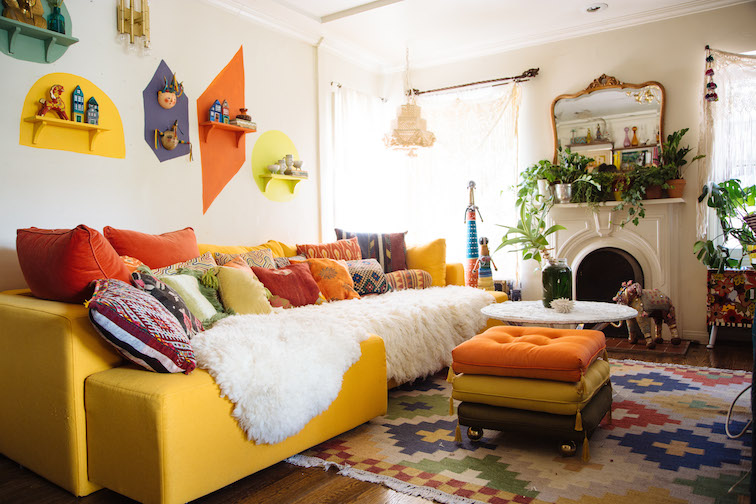 Blakeney's use of in-your-face colors and geometric patterns create a funky, playful vibe.
Cottages & Bungalows: When did you know you wanted to dive into the world of interior design?
Justina Blakeney: My big sister (who also grew up to be a designer) and I used to play with dollhouses a lot. I even built my own dollhouse in a carpentry class when I was ten. Playing around with the dollhouse was my first experience with decorating and building one was my first experience with carpentry. We also used to spend a lot of time rearranging the furniture in our bedrooms and painting and repainting our rooms–even building our own furniture pieces. We were super lucky to have parents who let us do what ever we wanted with our rooms and we experimented all the time—I would steal items from the living room and put them in my bedroom. I painted murals on my walls. My mother would take me to the fabric store and I made my own curtains and pillows. I loved to sew from a very young age. I remember distinctly the first curtains I made were these crazy mirrored curtains—almost like a disco ball. Very '80's. Ha! So while I've dabbled in many aspects of design and art, I think my passion for interior design was always there.
CB: You incorporate a lot of bold, vibrant colors and patterns in your design. Do you feel like it's more of an expression of your personality?
JB: I feel like deliberate design is always an expression of one's personality–or at least one's mood.  I enjoy color and pattern very much and attribute much of that to travel. I visited Indonesia at 10 years of age and my parents took us to a batik factory where I became enamored with Indonesian batik styles. In Marrakech I fell in love with the vibrancy of the central market, the colorful, thick woolen yarn hanging all over, the rugs and poufs, the vibrant indigo-dyed scarves and the smells and colors of the spices in the markets, too. Visiting Turkey, Israel, Mexico, Argentina and Italy (where I spent seven years) I log to take in so much pattern and color–from stained glass in Cathedrals to tiles masterpieces in Mosques–to intricate hand-made pieces in markets around the world. Travel is what really fuels my imagination and my design work.
CB: What do you feel are the most important things to consider before decorating?
JB: I feel like it's important to consider how you want to feel when you walk through the door.
CB: What's your favorite styling element?
JB: Oh that's an easy one. Plants and flowers.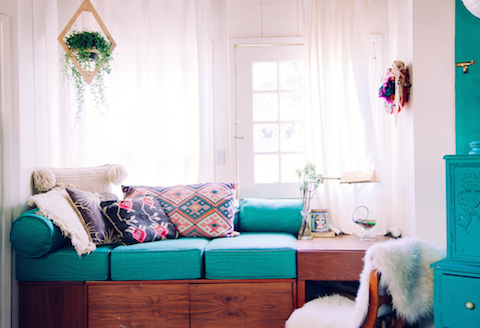 Shades of blue, sheer curtains and plants beckon bohemia inside. 
CB: How do you decide what will look good in a home versus choosing not to incorporate it into your decor?
JB: I try out a lot of stuff, and I think the more you decorate, the better you get at it. Also,  I can tell in my gut if I love a piece. When I love it, it speaks to me–and then it's just a matter of if there is space and how it will work within the bigger picture of the room and the entire home.
CB: Has your educational background–UCLA and Italy–affected the way you style homes?
JB: I think that having studied other cultures and art-history gives me some context that is helpful in design. I also learned to speak many languages which often helps to gain access into places and spaces that I may not have otherwise had access to.
CB: You're someone who has delved into the various aspects of the world of design–interior design, clothing, etc.–do you feel like there is some overlap between them?
JB: I think it's more about personal style than trade. I think that if you have a distinctive style, that it can be expressed through all media–from art to interiors, fashion and photography–it's more about the voice, the vibe and the feeling that you create–more than what it is that you're creating. Today's world is one of many slashes. More and more, it's OK to open the box of 'designer' or 'artist'–in fact lately I've been calling myself a 'creative' because I feel it is a more accurate depiction of who I am and what I do on the daily basis.
CB: Where do you look for inspiration?
JB: I look to nature, to travel, to my daughter, Ida. I look to the past and I look to the future. I love old books and art museums, I even love looking through hashtags on Instagram! But even a quiet moment alone can often be enough to make me start on a new project…try something new, or pick a few leaves off the ground and start arranging them into a portrait!
For a little bohemian paradise in your home, don't forget to tune in to Blakeney's curated sale via Joss & Main!
Written by Natalie Echeverria
Photography courtesy of Justina Blakeney