This vintage glass pattern is a perfect complement for today's cottage decor.
If you've been swept into the wave of nostalgia for mid-century modern artifacts and would like to begin a collection, there is perhaps no better place to start than by acquiring glass pieces with the hobnail design.
One of the most beloved and popular decorative patterns from the era, it is easily recognizable, with its bumpy surface. So ubiquitous was the design that it would have been rare to visit a home in the 1940s and '50s that did not have at least one vase or candy dish with a hobnail pattern. The glass pieces were as fundamental a part of mid-century modern decor as the furnishings themselves and identified the homeowner as a host with an eye for style.
Not only was the pattern desirable, it was practical as well, with the bumpy texture enabling a good grip on the glass. The technique used to achieve the hobnail design involved pressing or blowing the glass into a mold.
The popular white milk-glass finish adds an elegant touch when displayed in a grouping on shelves or in a bookcase. They can be readily found at your local thrift store, antiques shops, estate sales and flea markets. Online auction sites like eBay are good sources for a wide range of hobnail accessories.
History:
The hobnail pattern was introduced by the renowned Fenton Art Glass Company at its glass factory in Williamstown, West Virginia, in 1939. By 1952, milk-glass hobnail became Fenton's flagship pattern, however the design was made with clear and translucent colored glass as well. Years later, company president Bill Fenton remarked that hobnail was the manufacturer's "bread and butter" line. The design appears on numerous accessories, including perfume bottles, vases, ashtrays, jars, bowls, bottles, candleholders, lamps, compotes, cups and saucers, and mugs and pitchers, as cited by artglasscollectibles.com.
Market Appeal:
Hobnail glassware has broad appeal, especially among collectors with a penchant for vintage items, products made in the USA, glassware, milk glass and specific serving pieces as well as Fenton and mid-century modern enthusiasts.
Getting Started: 
To learn more about collecting hobnail pieces, visit fentonartglass.com, artglasscollectibles.com and antiques-bible.com. There are several books on the subject available at amazon.com, such as A Pictorial Review of Fenton's White Hobnail Milk Glass (Revised Edition): A Collector's Guide with Price Valuation by Shirley Griffith and Larry Boyd Studios, The Big Book of Fenton Milk Glass, 1940-1985 by John Walk and Fenton Art Glass Patterns 1939-1980 by Margaret Whitmyer and Kenn Whitmyer.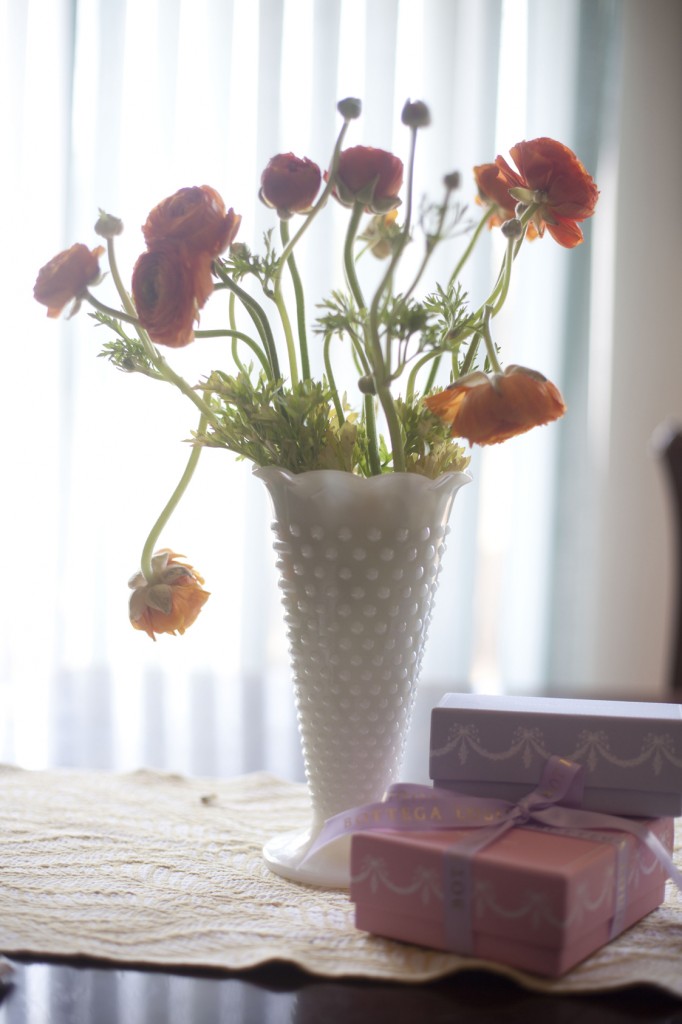 To buy these types of products visit: http://www.plaidparasol.com
By Meryl Schoenbaum
Photos by Jickie Torres and Jaime Itagaki