William Morris, Gustav Stickley and other leaders of the Arts and Crafts movement may well have had their first exposure to stained glass in the church. Recognized as a familiar quantity, its beauty and storytelling elements were embraced by the Arts and Crafts movement, which attempted to scale back on industrialization to concentrate on the harmony and craftsmanship of handmade objects. For Morris and others, stained glass served as a barrier to the outdoors or as a curtain of light that could change as the sunlight shifted during the day. Stained glass was, and continues to be, prized for its ability to diffuse natural light and enhance the architectural appeal of a window.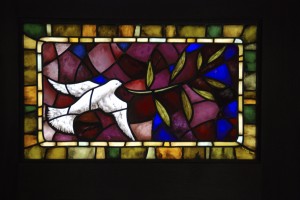 Experts Shed Light on Glass
We gathered a group of expert stained glass designers and lighting manufacturers to explain how to recognize quality, understand superior materials and craftsmanship, and provide tips on how to select the window or lamp best suited for your home. Richard G. Diens, owner of Goodwood Stained Glass Studio, has custom-designed stained glass windows, cabinet-door inserts and ceilings since the mid-1970s. John Hamm, lead designer of Hamm Glass Studios, creates original stained glass and handles commissions involving historic reproductions and modern restorations. David Judson is the fifth-generation owner of the Judson Studios, a stained glass design company that earns its livelihood from a majority of religious commissions and unique custom designs. Chris Pica, public relations consultant for Meyda Tiffany Company, weighed in on the parameters involved in choosing mass-produced stained glass lighting fixtures in the Craftsman tradition.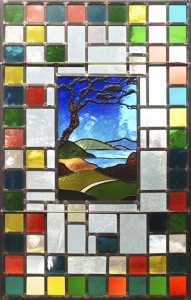 "Stained glass offers uniquely luminous qualities and colors to Arts and Crafts themes, which are often simple and minimal," Pica says. "Authentic stained glass adds embellishment and luxury to any lighting fixture or window." Many people respond to stained glass because of a subliminal spiritual appeal, Diens adds.
Old Versus New and Authentic Style
A homeowner attracted to a beautiful stained glass may not able to determine whether the piece is old or new. Meyda Lighting uses many tools, molds and techniques invented during the Craftsman era to replicate recognizable design details, Pica says.
"Old glass has qualities that are very distinct, with color combinations and variations of color that are no longer available. Toxic materials were used in the formulas. In the 1960s, the EPA had companies reformulate their products to meet its standards and, as a result, certain variations in color are no longer available," Hamm says.
If the providence of the stained glass is in question, it's best to have an appraiser judge the authenticity of the glass, he adds. One indicator of a newer piece is the use of copper foil channeling, constructed for longer durability. But that doesn't mean that an old stained glass window is more valuable than a new one, Diens says. "Unless the old window is signed and from a known studio, it is not necessarily more valuable than a new window," he says.
Authentic stained glass has pleasing proportions; poorer quality work mixes styles like Charles Rennie Mackintosh and Frank Lloyd Wright indiscriminately, Judson says. Clumsy, heavy-handed lead work is another clue to Arts and Crafts knockoffs, he says. You can create your own stained glass by signing up for a class at a local stained glass store or community center. It involves a great deal of patience, an outlay for specific equipment and limited art-glass selection. Yet in the end, the satisfaction can outweigh the drawbacks. Hamm says that on the average it takes him 15 to 30 hours to produce one square foot of stained glass, which accounts for the pricing of a custom design.
Decorating Decisions
When choosing a stained glass pattern for a room, lighting or a door, look for colors and styles that complement the room décor, avoiding designs that are too busy, Pica says. The goal is to create elegant interior design by determining whether the glass will be transparent or more opaque for privacy, Judson says. "The process starts with a conversation," Hamm says. He visits the home to see the environment and how it's decorated. A client expresses a preference for something scenic or geometric, and then a line drawing is done based on the conversation. Instead of a color sketch, Hamm picks out the various types of glass to be used. Diens likes to use lots of clear textured glass, earth tones and a dash of strong color. Hamm invites the client to see the piece in the studio at different stages of construction. "The more input from the client, the better the result," Diens says.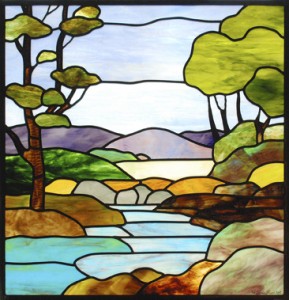 Our experts agreed that homeowners interested in learning more about Arts and Crafts stained glass could read about the work of architects and artists Charles and Henry Greene, Mackintosh, Morris, John La Farge and Louis Comfort Tiffany to better understand the design principles behind great stained glass art.
"In truth, all the decorative arts are suited to Craftsman architecture," Hamm says. "The Arts and Crafts philosophy believed that if you surrounded yourself with beauty, you became a better person." This simple idea expressed so many years ago may be just the right motivation needed for you to start your own stained glass project.