Red and green are quintessential Christmas colors, but that doesn't mean creamy neutrals and natural wood tones can't achieve the same holiday ambiance. Located in East Moriches, New York, on the southeast shore of Long Island, Jennifer O'Brien's home offers a stunning view of the bay all year round. Although the original structure was demolished and a new house was built in 2005, the beach cottage has a charming, aged feel that complements Jennifer's rustic style.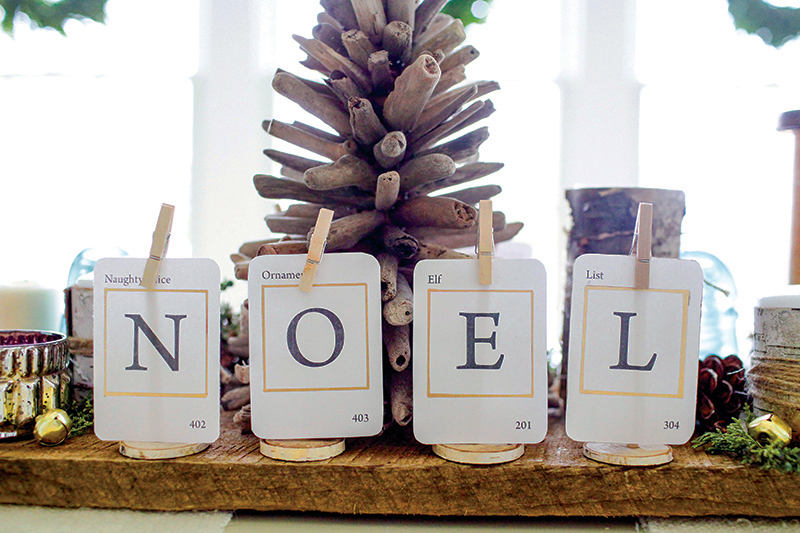 Jennifer and her husband put all their savings into buying this coastal home four years ago, knowing it would be perfect for their growing family. Without much money left to spend on new décor, Jennifer sought budget-friendly ways to furnish and beautify her new home. In the process, she was encouraged by friends to blog about her experiences and ideas. She launched City Farmhouse, providing tips and tutorials that anyone can follow.
There is no budget to decoration. Anyone can have a beautiful home.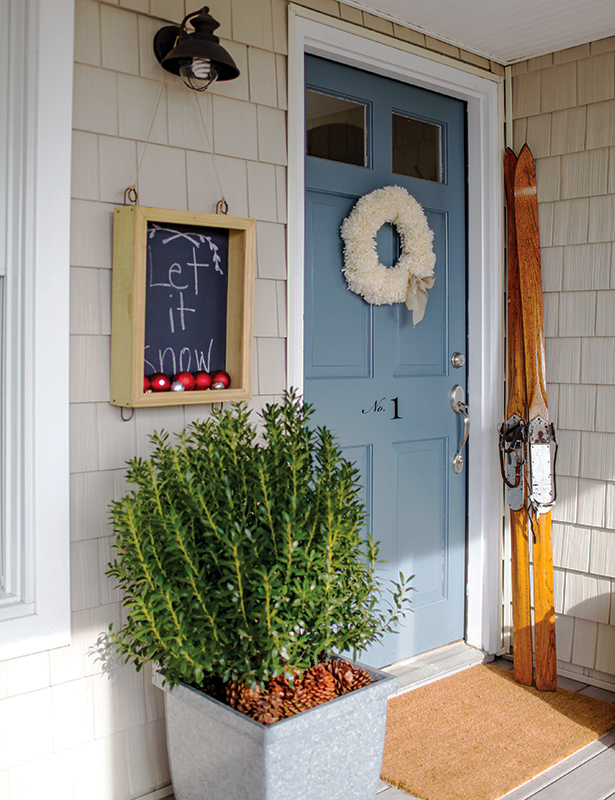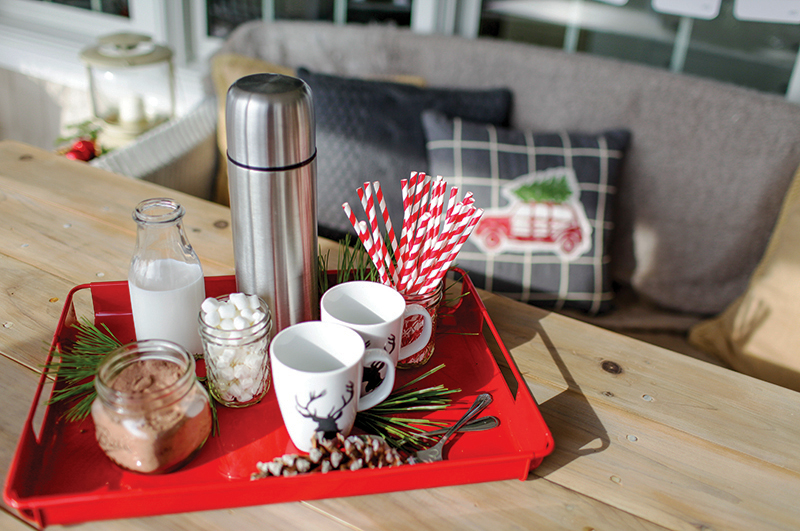 First Look
During the holidays, Jennifer's home is reminiscent of a mountain lodge or winter cabin.
A simple, neutral base is accented with natural elements that convey seasonal tones, and vintage is mixed in with modern décor for a collected look.
The cottage's wraparound porch features a snug seating area, appropriately labeled "winter wonderland," where Jennifer and her sons often enjoy a mug of steaming hot chocolate as they wait for the school bus. Layers of soft, wooly blankets are casually laid out for when the temperature drops, and to complete the cozy cabin feel, a sleigh that previously belonged to Jennifer's parents rests against the exterior wall behind a pile of wood.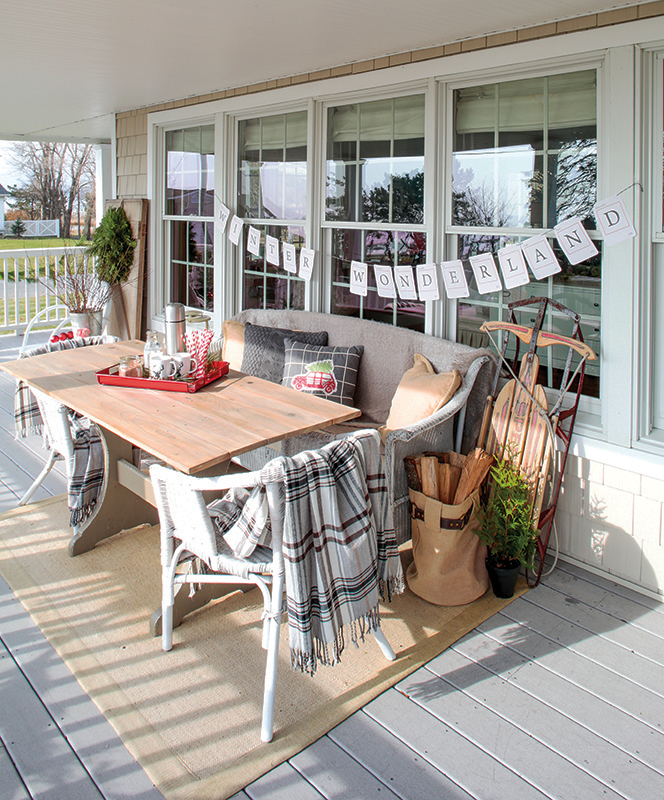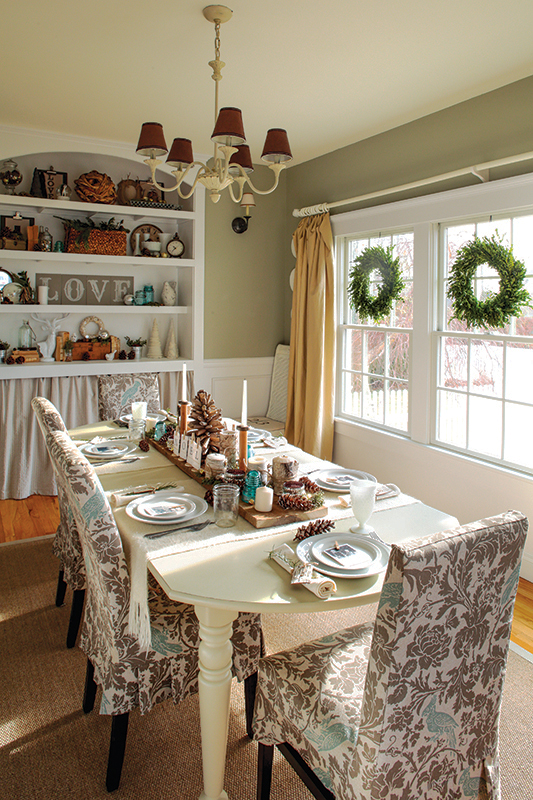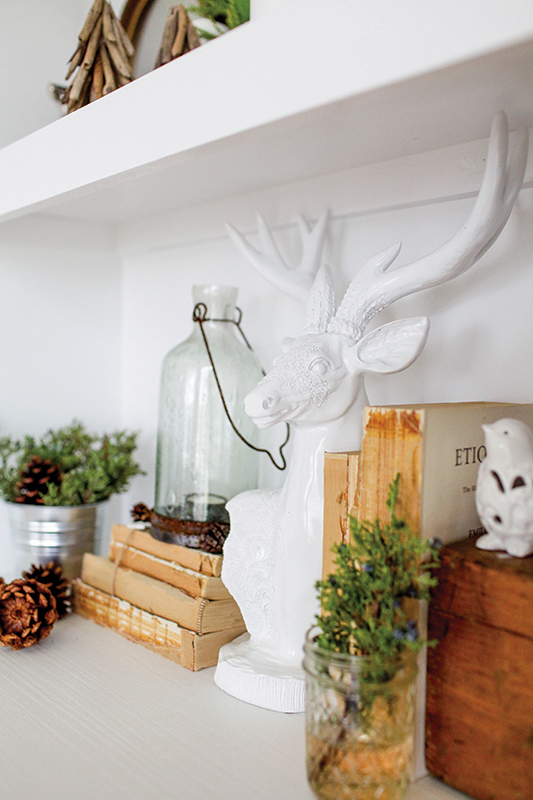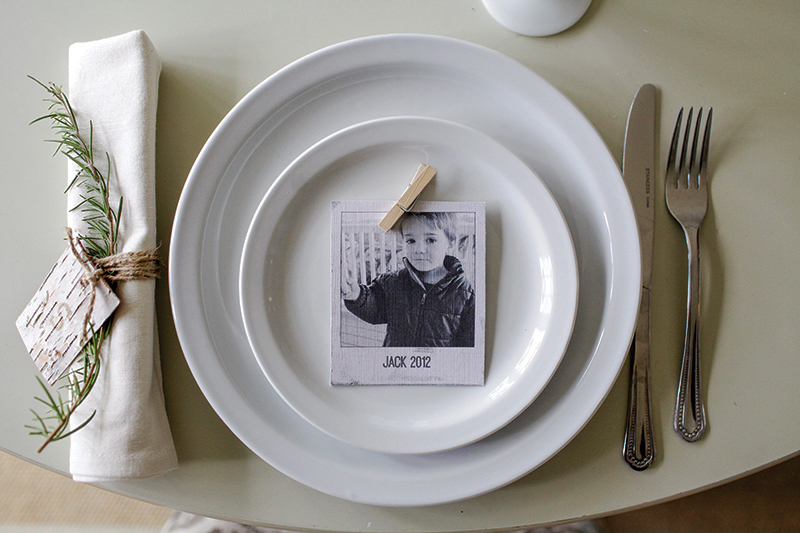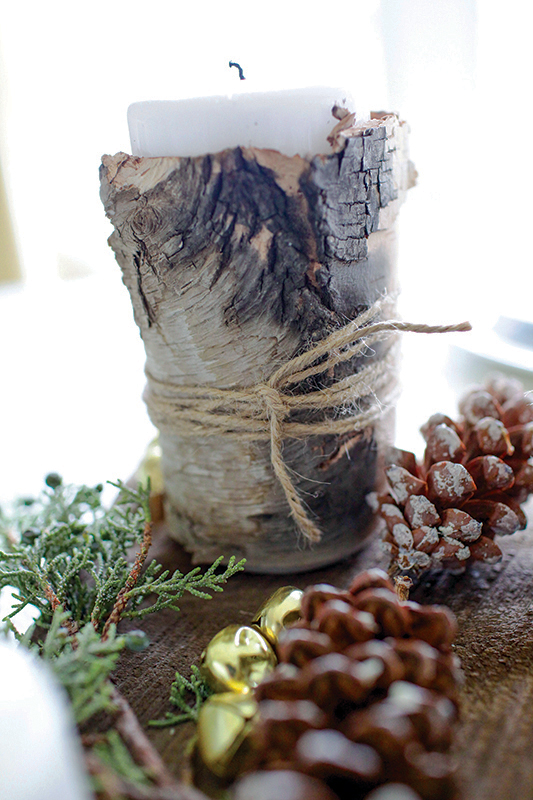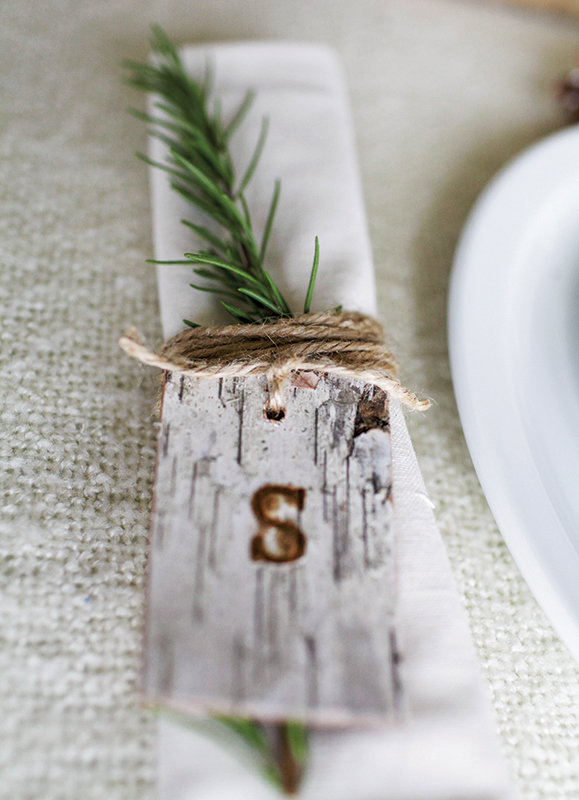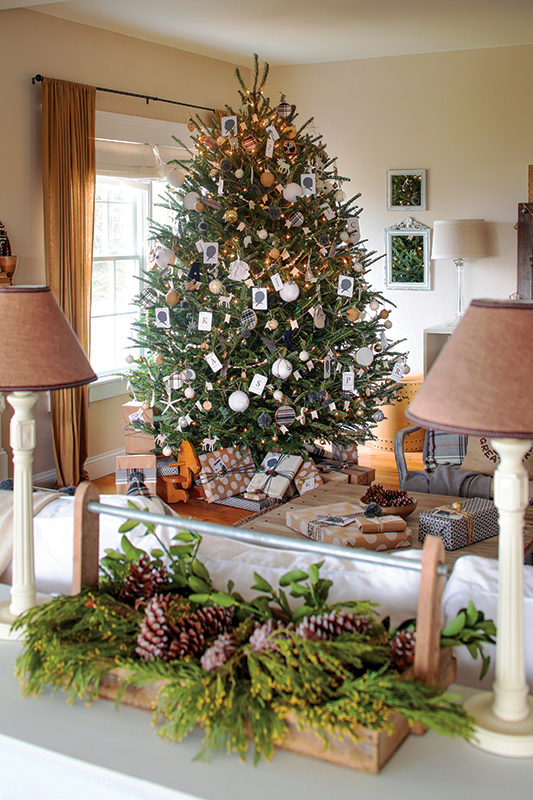 Accessible Design
Inside the house, sprigs of pine and rosemary freshen every room, and deer can be spotted on cushions and inside picture frames. Easy DIY projects, including decorative chalkboard frames and banners fashioned out of alphabet flashcards, are scattered all around. Rather than sprinkling run-of-the-mill Christmas paraphernalia around the house, Jennifer takes a subtler approach that involves organic and handcrafted items found in and around the home. "All you need are some pinecones and fresh greens to add a holiday feel," Jennifer explains. "Don't be afraid to tackle some DIY projects yourself."
All the Small Things
Jennifer hoped to create a fun atmosphere in the playroom as in all the rooms of her home. Perhaps the most used room in the house, the playroom is spacious and organized with minimal furniture and décor. The cool sky-blue walls are decorated with the boys' original artwork, a festive "Merry Christmas" banner and a twig deer head, which adds a quirky touch.
In the kitchen and bathroom, you'll find small-scale decorations that convey the feeling of Christmas. A vintage Santa Claus by the sink, a cup of candy canes and snowflake decals are simple ways to update these spaces for the season.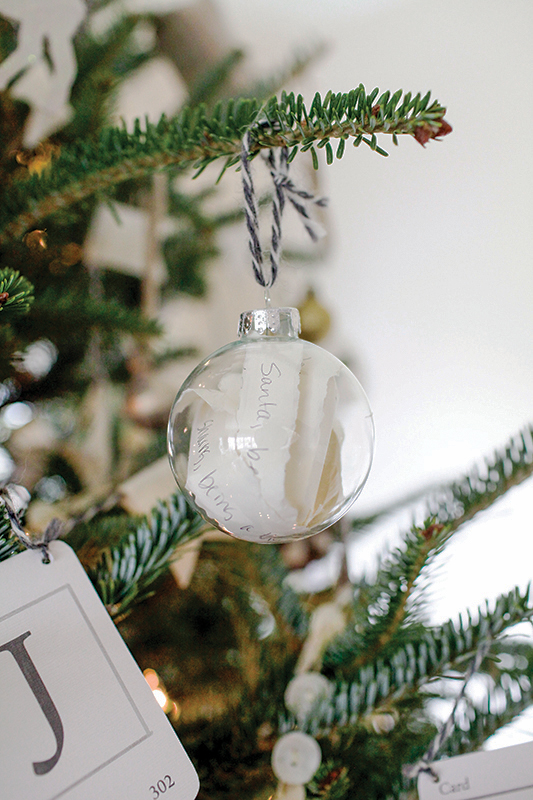 Cozy Living
The living room's creamy-white and beige color scheme lends itself well to a natural, rustic décor theme. Jennifer's obsession with texture is evident here, from the shaggy rug in the center of the room to the sweater pillows huddled on the sofa. Oversized knit stockings hang above the fireplace, and the mantel is decorated with an assortment of wooden elements and greenery. On either side of a bushy wreath silhouette, portraits of the boys and burlap fabric printed with the words "Fa la la la la" add a dimension of height and depth to the overall look. A healthy evergreen tree takes its place in the corner, protecting the gifts to be opened on Christmas Day and proudly displaying ornaments that tell stories from the family's past.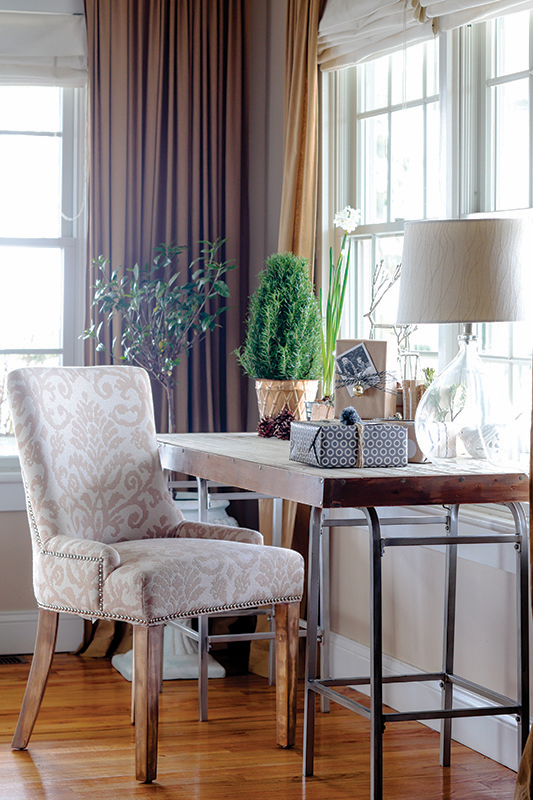 Ornate Tales
Ornaments are part of a significant tradition for Jennifer. Her mother made a new ornament every year as a gift, and Jennifer hopes to continue this tradition with her children. For one ornament, Jennifer wrote letters to her sons detailing events and accomplishments from the past year. The letters were then printed on linen and wrapped around a hoop. Another time, she helped her boys make time-capsule ornaments by having them write down their own memories and putting these papers in a glass ball ornament that can be opened decades from now. "It's important to tie into traditions from generations past," Jennifer says. "We go through all of the ornaments that have been passed down from my father and handmade by my brothers and sisters. We talk about them, and my kids love hearing the stories behind them.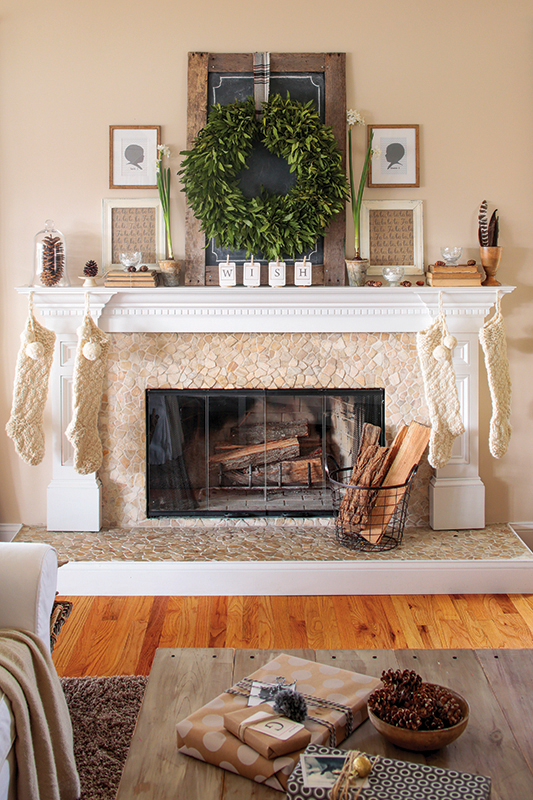 Nature's Transformations
Another tradition in the O'Brien household is Christmas Eve dinner with the entire family. Even though the dining room is furnished with floral-printed chairs perhaps more suitable for spring, little things like a rosemary leaf and a sliver of monogrammed birch bark tied around a napkin allude to winter. A collection shelf displays plenty of holiday trinkets that spark conversation, and the gray tones and ice-blue highlights of the space also help facilitate the transition between seasons. Polaroid-style reprints of the boys' portraits are offered as favors for guests to take home.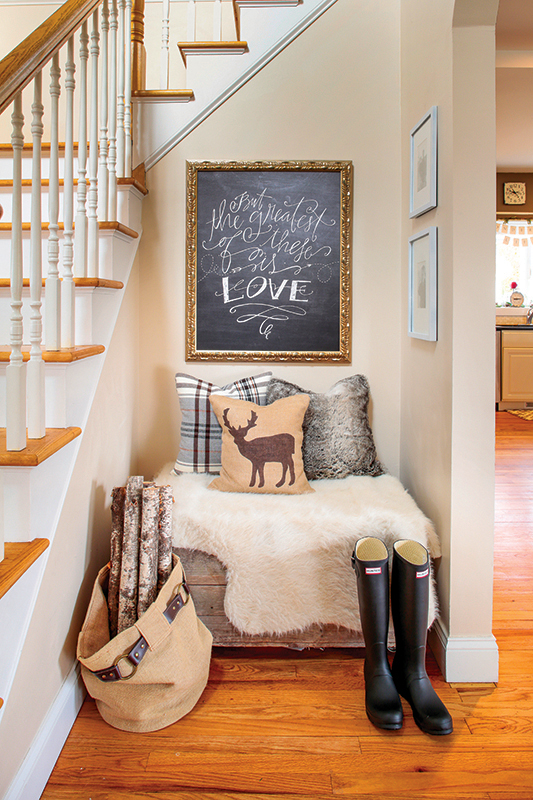 A Place to Stay
Jennifer's holiday home is a warm, playful space where people can enjoy fireside chats and quality time with friends and family. A balance of vintage, modern and handmade décor sets a comfortable and nostalgic tone that is perfect for holiday gatherings. "I didn't want it to just look pretty. I wanted it to be a place where people want to spend time, and it is," Jennifer says.