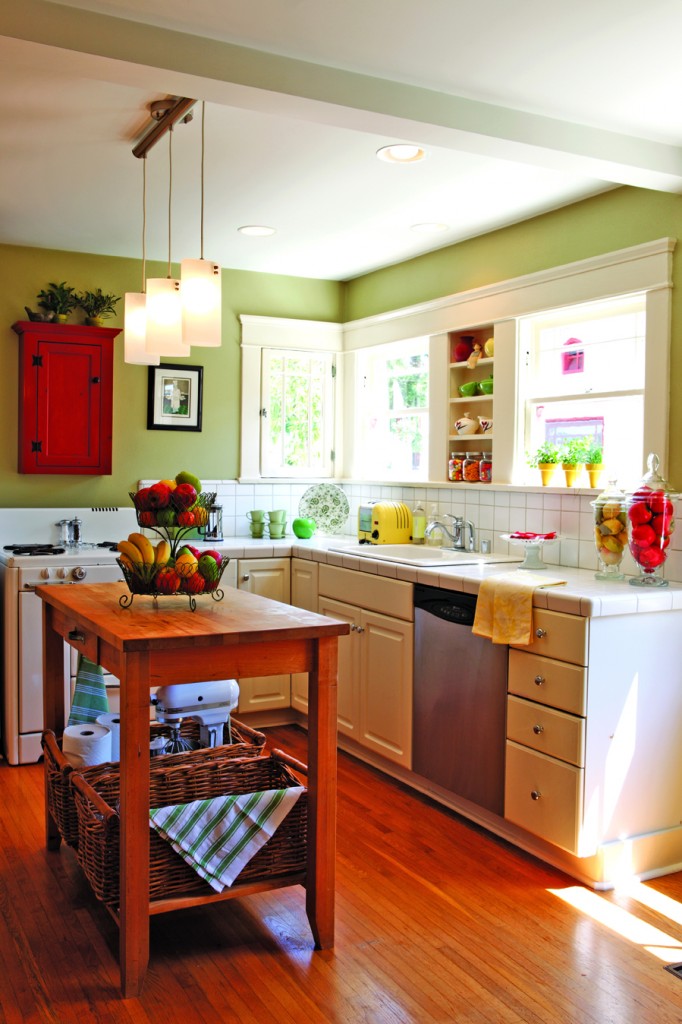 Tip: To help keep kitchen essentials on hand but out of the way, keep them in open baskets. Your clutter will feel contained but will still be easily reached. 
Colorful Appeal – What makes the home shine, though, is the bright coloring. Red accents aren't just present in the front room of Lori's home; in fact, they're important to nearly every room of the house, from the small, free-hanging kitchen cabinet above the stove to simple bedroom accents, like a vase of tulips and the bedside table.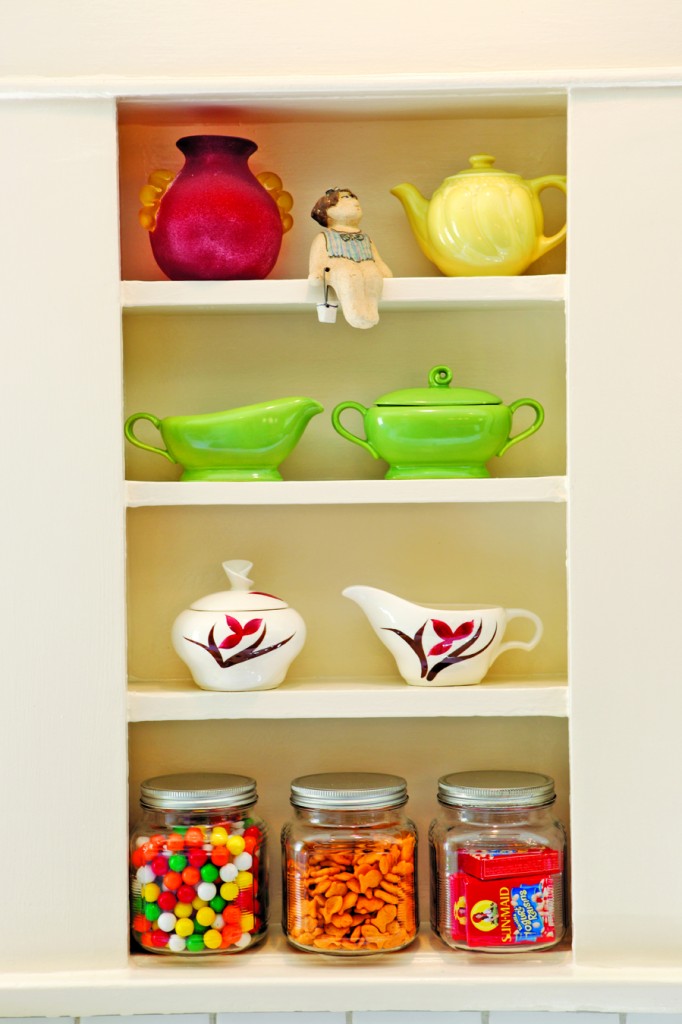 Tip: Think open! Glass containers to show off colorful snacks and open shelving to display jars and plates gives instant color to cabinetry. 
A lot of the home's beauty comes from her design instinct. The kitchen, for one, floods naturally with light, but McCarty added just the right amount of color and plain white to bring the room to life. Three simple track lights hang above a center task table, while the counters are left minimal, with only a small cabinet of arranged snack jars resting above. Even the stove is minimal, an antique model that still tells operators to "Use Match" for the pilot light. Amazingly enough, nothing in the home is just for looks.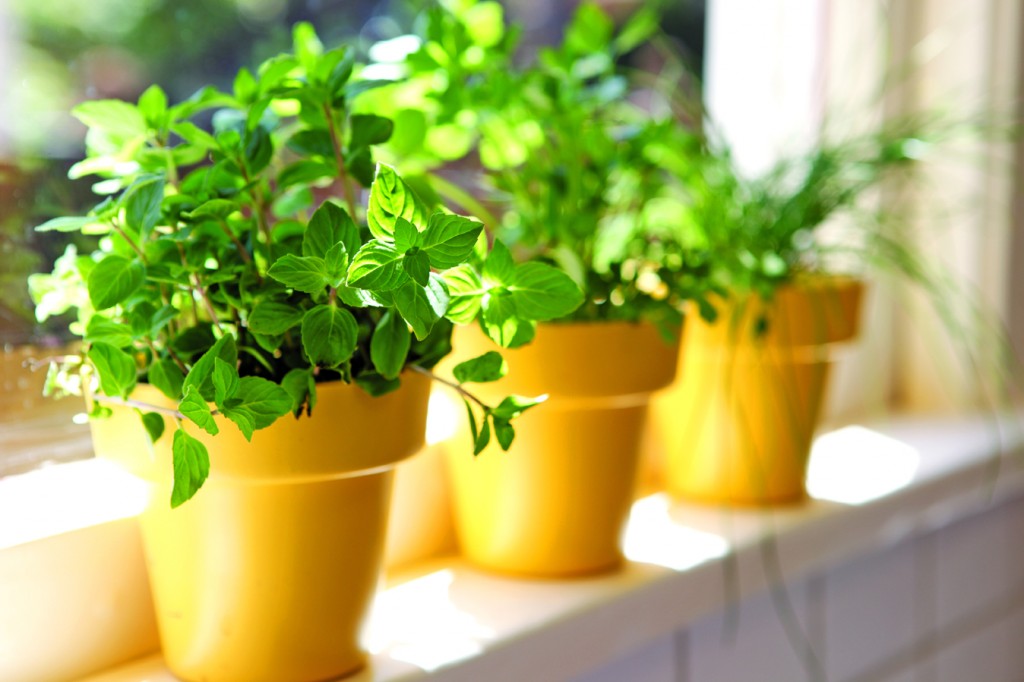 Tip: Try adding pots full of fresh herbs to infuse cheerful color to your window sill. 
"Those snack jars are used all the time," McCarty says. "Any kids that come over, they all know that they're there. I have a hard time keeping them full, actually."
In the end, it's always helpful when people get along. As McCarty tells it, she and her husband didn't have any disagreements about the home's aesthetic.
"He kind of trusts my vision, so he would let me lead," she says. "I'm pretty set in my ways, though. I know what I like, so there's not a lot of hemming that down. But for the most part, if I like something, he liked it, too."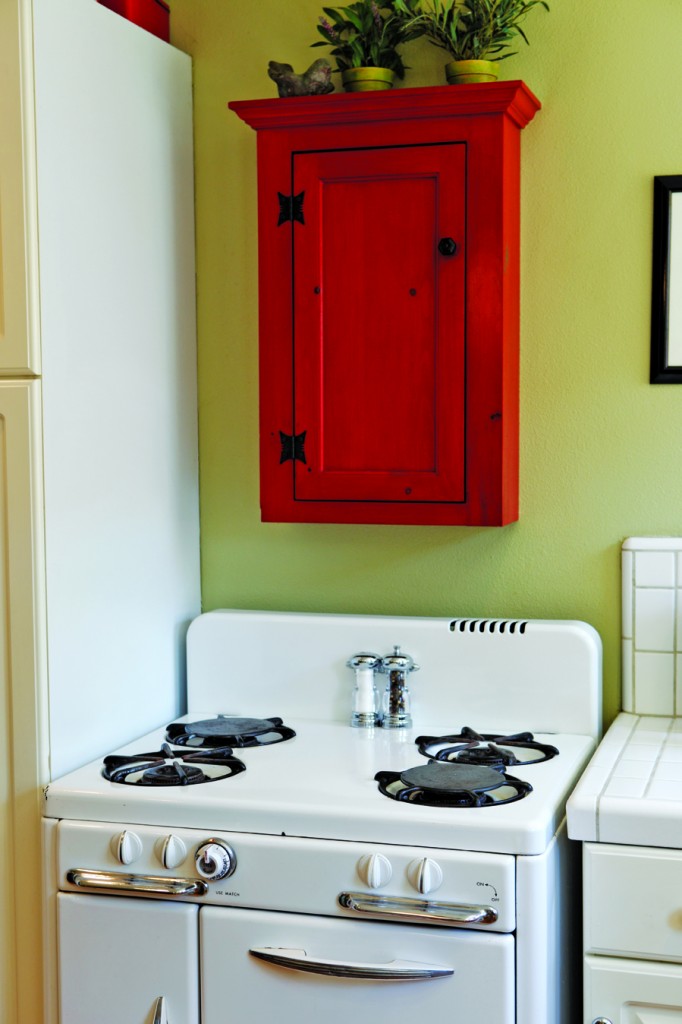 Tip: All-white cabinets will brighten your small kitchen. But try adding a single cabinet, painted in a bright hue, to add color without overwhelming the space.