Whether you have a large Craftsman porch or simply want to buff up your entryway, you can make your outdoor space warm and welcoming!
Porch Living in the Past
The tap of a screen door closing against a wood door frame, the clink of ice in a glass of lemonade, the creak of a wicker chair or the squeak of a porch swing. They're the quintessential sounds of life on the porch, where one can wave to passersby, enjoy the last rays of a summer day and anticipate the blissful, cool evening.
Like the American Dream, these images remain part of our collective yearning and shared memory, whether we grew up in a house with a wraparound veranda or one with a small front stoop. The porch represents a romantic past, far removed from today's hectic pace. If you are lucky enough to have one, it's the perfect place to create a lovely outdoor gathering place for family and friends. If you yearn for a porch but your home is without one, use these ideas to create a summer room or make an inviting spot on your stoop, patio, deck or in your backyard.
Porch Lore
Whether you call the outdoor area closest to your home a veranda, balcony, loggia, terrace, deck, portico, patio or lanai, a porch is simply the transition space from outdoors to indoors. The seeds of the front porch are in the practical notion that every home's front door needs protection from the elements. It also offered a place to cool off on a summer evening and, in true Victorian fashion, the porch blossomed over time.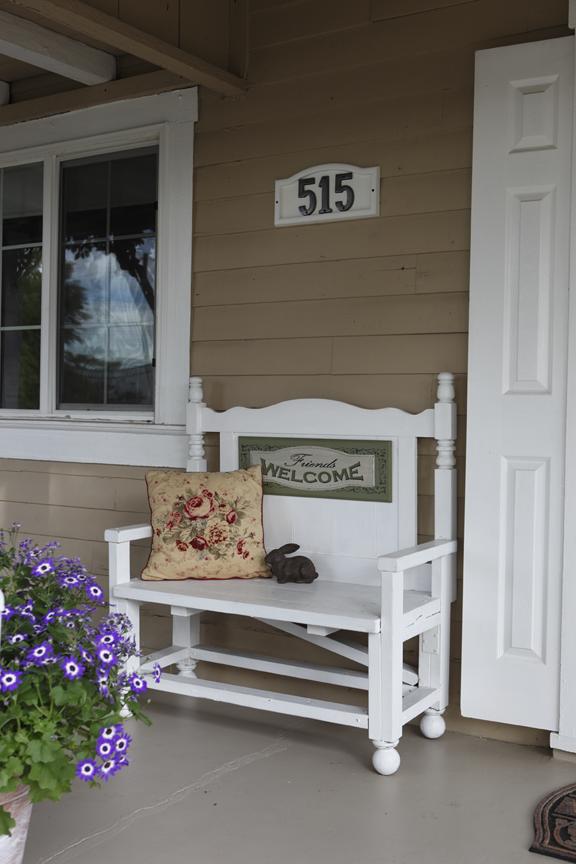 Large, elaborate porches became plentiful during the Victorian period, particularly between 1860 and 1900. It may be the gingerbread-rich, Victorian-style porch we fondly associate with the term or it might be the wide, sturdy bungalow style that beckons.
Around 1900, the Arts and Crafts movement emulated a style that encouraged the appreciation of handcraftsmanship and the use of natural, local materials as well as a progressive philosophy that living simply and closer to nature could profoundly affect one's quality of life. The Craftsman-style bungalow's wide-open front porch captures the essence of these ideals.
Take it Outside
Large families in need of more space often closed in and furnished the porch for sleeping, adding removable windows for winter and screens for summer—the more fresh air, the better. But whether for sleeping or just daydreaming, the porch, like an extension of the home's interior, had to be properly furnished. Wicker furniture, porch swings, potted plants and large area rugs were common.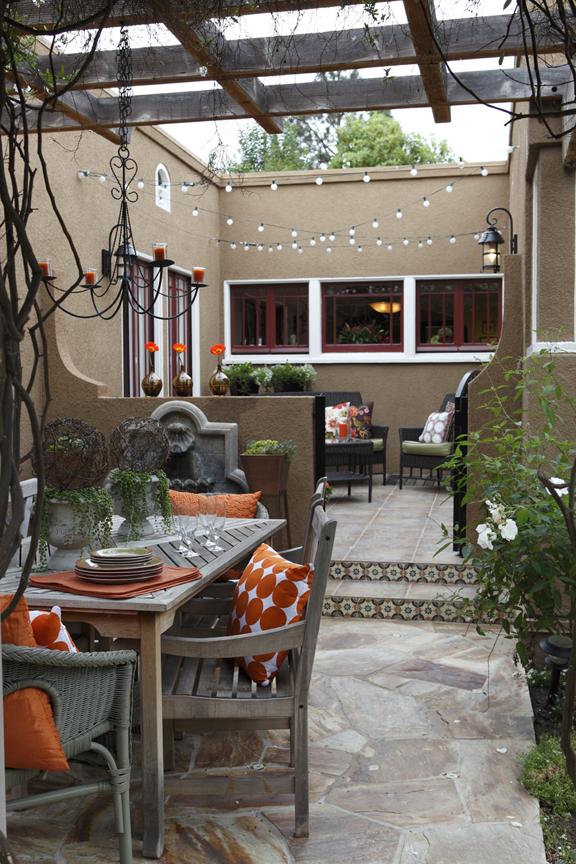 "The veranda offers a compromise between indoors and outdoors, and has developed into a species of open-air room, the furnishing of which is quite as important as that of any other room in the house," wrote Esther Singleton in the May 1907 issue of American Homes and Gardens.
Decorating a Your Porch!
Now comes the fun part. If your home has the space, don't let your porch sit idle and forlorn. Get it in shape!
Keep the floor, ceiling, door, windows and sills clean of dirt and dust, to make a more inviting space.
Select a color palette that works with your home's style and use it to help you select furnishings and details that create a pleasing look.
Have fun seeking out the right décor to complement the style of your house or to appease your decorating muse. Certain types of furniture work well on an exposed, or you may choose to use furnishings that can easily be brought back inside during poor weather.
Arrange furniture in conversation areas just as you would in your home. A small table flanked by two chairs may be all you have room for but that is enough to invite lingering.
Stack hat boxes that are filled with games such as playing cards, jigsaw puzzles and jacks, or a pen, journal, binoculars and a bird identification book.
A large covered basket, a hamper or a trunk offer storage for blankets, throws, garden tools or board games and, along with a low stool, work well in lieu of a traditional side table.
When entertaining, a serving cart found at a vintage store can provide space for food items, dishes, linens and utensils, while a Shaker-style bench can double as a low serving table.
Let items do double duty: A tin watering can holds a garden-fresh posy; a folded blanket makes a soft bench cushion.
An assortment of seating styles and sizes creates interest and assures plenty of options for visitors. Consider wicker, wood, child-sized chairs, cushions, throw pillows, rockers, Adirondack chairs and floor pillows.
A bench, porch swing or old-fashioned glider makes a vintage statement and offers another option for relaxing or cozying up with a friend.
A throw rug pulls an area together, offering a warm spot to place bare feet.
Remember vertical space when decorating. A chandelier or hanging window helps the veranda seem more intimate while adding whimsy and romance. A hanging plant provides color and life. A flag or plaque can make a statement.
Some bungalow owners choose to paint the porch ceiling blue. Visually, it creates a sense of space, mimicking the sky. Some believe that it discourages birds from nesting in the rafters, though others prefer their feathered friends to visit. Arts and Crafts purists may want to highlight a beadboard ceiling's wood grain with a rich stain followed by a protective varnish.
Select plants, flowers and foliage to liven up the area and smooth the transition from inside to out.
Finally, pillows, blankets, throws and flowing fabrics soften any space. An inviting outdoor area will seem to whisper, "Come, sit awhile and watch the world go by." So whether your home has a small landing, a covered loggia or a narrow balcony, let tradition inspire you. Create an attractive transition from outdoors to indoors, a welcoming entryway to greet guests or, if space permits, furnish a beautiful, inviting outdoor room. Take time to make an irresistible gathering place, and your friends will make the time to come over and enjoy it with you.