Simplicity in both form and function has long been the philosophy of heritage furniture brand Thos. Moser. "Every design we make is rooted in the basic preference for simplicity of form, precise craftsmanship and respect for natural materials," says Aaron Moser, President and CEO of Thos. Moser. "We aim to achieve grace through proportion and simplicity, rather than embellishment. The ornamentation in our work derives from the exposed architecture of the furniture and the translucent richness of the wood itself." He says the company's mission is to build furniture that celebrates the natural beauty of wood, with simple, unadorned, graceful lines, and that is crafted for a long, useful life.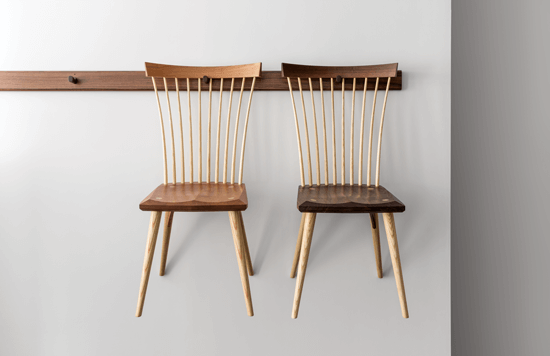 The Thos. Moser Story
Thomas Moser (Aaron's father) left college teaching in 1972 to restore the lost art of fine woodworking by making one-of-a-kind pieces of furniture. He founded Thos. Moser, a company handcrafting fine American furniture. His wife, Mary, managed the selling and finances of the company, while their four sons trained as apprentices in the shop.
Since 1972, the company has expanded its family of craftsmen until today it comprises some 70 craftspeople, who still hand make the line today. Aaron elaborates: "We have a wide portfolio of standard designs and also a dedicated part of the business focused on major installations, called Thos. Moser Contact." After several expansions, the company now has 90,000 square feet of work space in Maine and operates six showrooms located in Freeport (Maine), Boston, New York, Washington D.C., Philadelphia and San Francisco.
Thos. Moser designs "are not cutting-edge statements of current fashion, but rather a synthesis of what has been given us by craftsmen and designers of the past," says Aaron. "My father's early designs bore a strong resemblance to Shaker, Queen Anne, Pennsylvania Dutch and other antique forms. These designs are timeless and, unlike style or fashion, have relevance across cultures and centuries."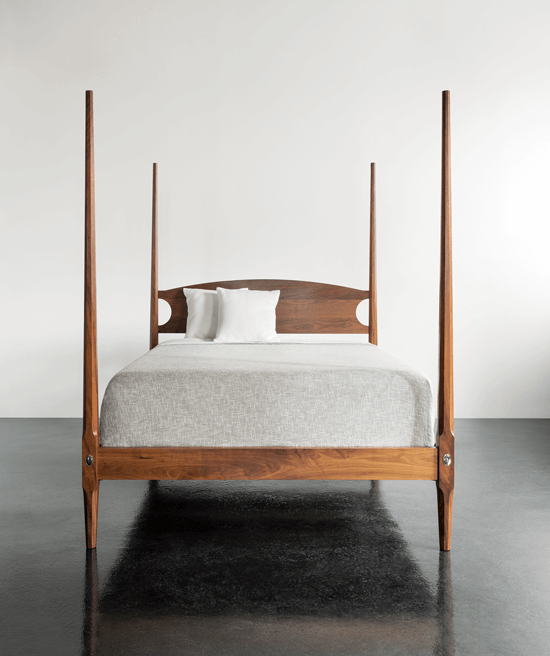 Handcrafted Process
Each Thos. Moser piece is handmade, one at a time, by a master craftsman in the Maine workshop. They use sustainably harvested North American hardwoods, primarily premium grade cherry from the Allegheny Plateau in Pennsylvania. "We spend considerable effort in matching grain patterns in the boards used for each piece," Aaron explains. "The art of board selection requires a singular ability to anticipate the evolution of a piece of wood, from the initial cutting of boards through the sanding, joinery and finish work."
The company's hand-rubbed oil finishes, though labor-intensive, allow for the natural aging process of cherry, which gives their pieces a rich and beautiful patina. "Each piece is signed by the craftsmen who made it," says Aaron, "representing our standard and upholding our promise to its quality and lifetime guarantee."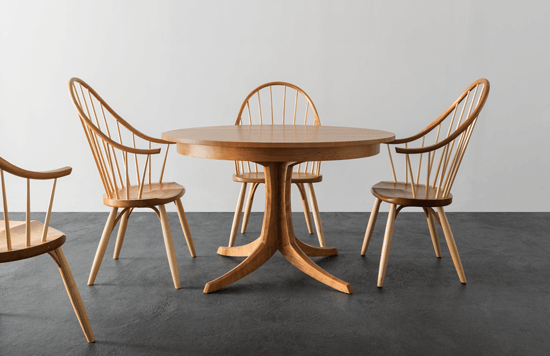 Sources of Inspiration
Aaron describes the company's inspirations this way: "A thread runs through Thos. Moser furniture that ties the discipline of classic Japanese joinery to the Arts and Crafts movement of a century ago. It also ties the untutored aesthetics of the American Shaker period of the 1830s and 1840s to the sophisticated and urbane German Bauhaus of the 1920s." These design movements were all revolutionary in their own time, but what they had in common was a respect for materials and the work of the human hand, also an aversion to ornamentation and showy display.
"Some may say that cottage style represents the simplicity of the countryside," Aaron suggests. "And, while we do not consider our designs to fit into any one style, the clean lines and utilitarian aspect of our designs follow a similar notion: simplicity in both form and function. For instance, one of our most popular pieces, the High Stool, was inspired by the curvature in traditional tractor seat." Unlike most cottage-style furniture, Thos. Moser furniture is not painted, but rather allows the natural aging process of wood to give pieces a rich patina that only deepens over time.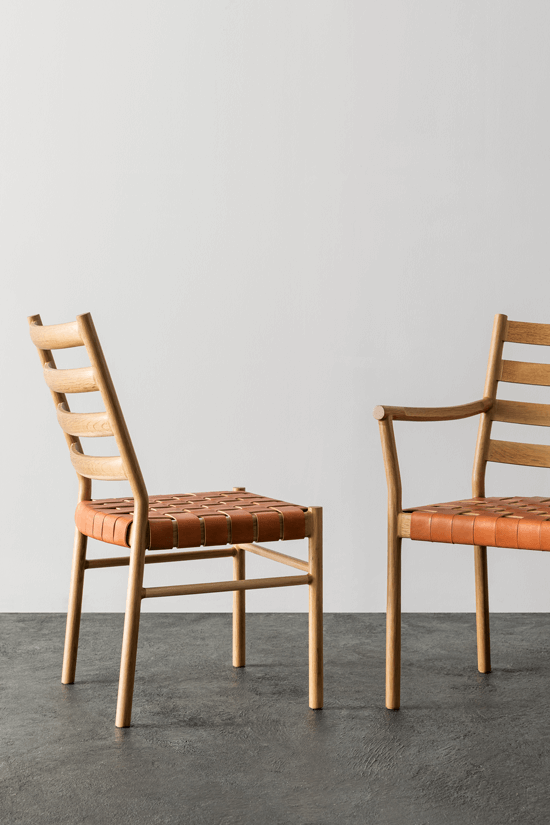 Heirloom-Quality Furniture
The simplicity of Thos. Moser design allows for a lot of flexibility in where a piece can be used and how it can be paired with other objects. His advice on adding new furniture pieces to your décor? "Consider the heirloom quality of the furniture that you introduce into your home," Aaron says. "With timeless design and excellence in craft, our furniture is conceived to offer service and beauty for generations of use. We pride ourselves on making quality objects that will become the antiques of the future."
Looking at their strikingly simple and beautifully handcrafted pieces, we can't help but think he's absolutely right.
For more on Thos. Moser handmade American furniture, visit thosmoser.com.
Looking for more insight into our favorite shops and makers? Check out this post on beautiful floral wreath maker, Bloom Valley Market.
Of course, don't forget to follow us on Instagram , Facebook and Pinterest to get your daily dose of cottage inspiration!