Have you ever had trouble pinning down your exact style? Is it simply cottage, or does it have hints of romance with touches of vintage finds? The truth is most styles have some kind of overlap, and Springfield Barn Home is no exception with its blend of cottage and farmhouse styles. We've shared with you its exterior curb appeal, our vision for the interior and walked you through some of the build process. But let's dig deeper.

Need help blending styles? Check out this article.


We picked the brains of Editors Jickie Torres of Cottages and Bungalows and Victoria Van Vlear of American Farmhouse Style to help distinguish the similarities and appreciate the differences of these two well-loved styles and to explain why and how this fusion is going to work.
COTTAGE VS. FARMHOUSE
To know how to blend two styles together, it's important to pin down what the style means to you. "To me, cottage is more of a feeling than strict design style," says Jickie. "Sure, there are elements that underscore the look: classic detailing such as turned or carved wood, simplified furnishings that are pared-down versions of traditional cottage and farmhouse styles, woven linens, rattan, basketry, pleating and slipcovers. But there are also parts of cottage style that are harder to quantify: comfy scale and proportion, lots of white, vintage, or personal collections. The rest of it, my favorite part, is a mood or a philosophy: casual elegance, personal twists on tradition and perfectly imperfect pieces."

See another gorgeous farm cottage here. 

For Victoria, it's also about the mood and feeling a style can bring. "Farmhouse style is down-to-earth and relaxed," she says. It's centered around the family, with the kitchen and farm dining table at the heart of the home. It's warm, welcoming, inviting and family-friendly."
KEY ELEMENTS
Next, each style should be broken down into its key elements. In other words, what should be incorporated to represent both cottage and farmhouse styles? "You can't have a cottage without worn textures and painted surfaces," says Jickie. But it's a balance between ornate and natural that brings cottage style to life. "The heart of cottage style is in the dovetail joints masterfully carved by hand, but also the salvaged driftwood that's displayed like a trophy on a mantel," she says.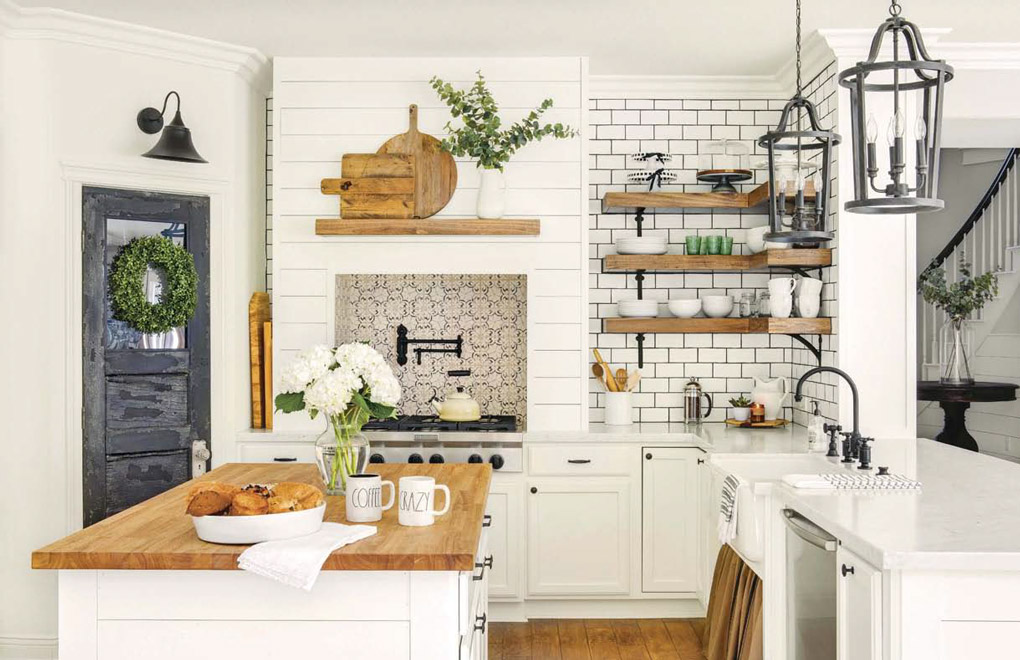 Simplicity and functionality are the inspiration behind farmhouse style, so wood is essential to the design. "Shiplap is an important element," says Victoria. "Other types of siding like board and batten and reclaimed wood are popular, too. Wood is a staple—you'll often see butcher block countertops in the kitchen. And, of course, it wouldn't be farmhouse style without some sliding barn doors and farm animal wall art."
SHARED FEATURES
Now that the atmosphere and key elements have been identified, the final piece of the puzzle is to use their similarities to blend the cottage and farmhouse styles together in a way that's both unique and seamless.

So what is the relationship between cottage and farmhouse? "I think both have a rural spirit," says Jickie. "They celebrate the homespun, the hard earned, and elevate the nostalgic style of Grandma's rocking chair or Grandpa's barn finds."
"Both styles have the same values: a family-friendly environment that's cozy and welcoming, comfortable and relaxed." —Victoria Van Vlear

Not only do they share the same spirit, but they also have similar home décor features that help meld them together. "There are features that are staples of both styles, such as shiplap, Shaker-style cabinets, slipcovered furniture and exposed ceiling beams, and both favor white as a neutral background," says Victoria. "But most importantly, both cottage and farmhouse styles have the same values: a family-friendly environment that's cozy and welcoming, comfortable and relaxed."
Want more simply cottage design ideas? Check out this dreamy Southern California beach cottage.
Of course, don't forget to follow us on Instagram, Facebook and Pinterest to get your daily dose of cottage inspiration!