No one likes to go it alone, especially when it comes to major décor decisions that will affect the feel of your home— whether you're matching paint colors or deciding if you really do need a different rug. "Good design starts with collaboration between client and designer, which involves trust, mutual respect and open dialogue," says Nancy-Margarit Toon of Hound Hill Design. When the owner of an 1895 Southampton cottage brought her in to complete the décor, the two worked together to bring a coastal vision to life.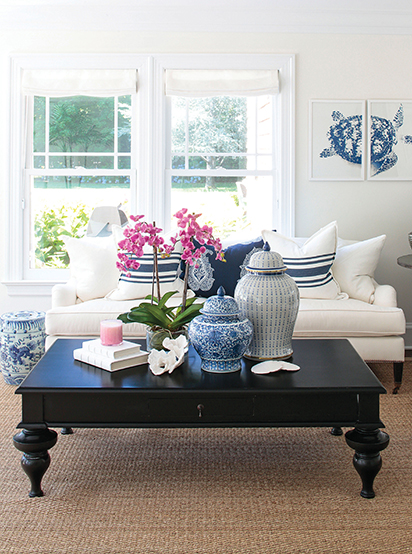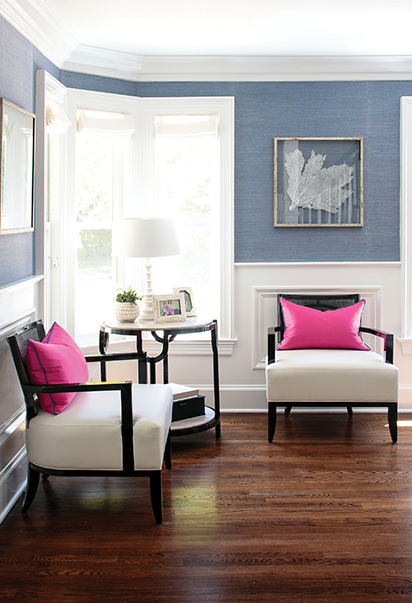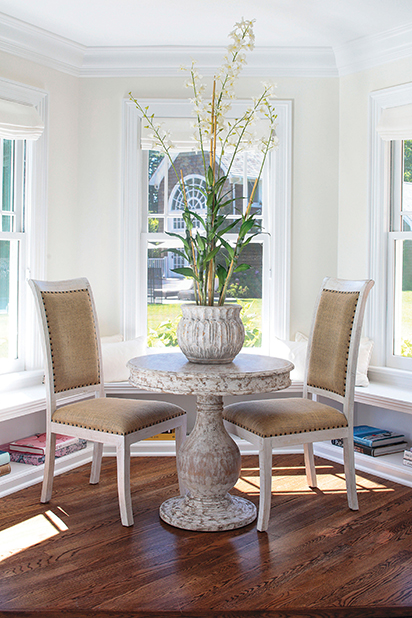 Sharing a Vision
At first, Nancy's client tried to tackle her décor alone, but she soon discovered that the process was more complex than she had imagined. "I quickly realized that I didn't even know where to begin," she says. "It's not one of those HGTV shows where you leave, and 36 hours later you walk in and your house is completely redone. It's done in pieces, so it's kind of hard to see the end result." She needed help, and she initially hired a different designer. It's difficult to entrust both house and budget to a professional without good communication. With this first designer, the project was chaos.
The designer never fully shared her vision, and "we didn't have a sense of where she was going," the homeowner says. She grew more concerned about the large gaps in their communication and halted the process. "It didn't ever come together," she says. That's when she brought Nancy onto the project.
Soft whites and vibrant blues create a sense of ease, while black tables and chairs give a sophisticated punch.
Unlike the first designer, Nancy created vision boards to show exactly where the project was going. With clear expectations, they dove into the design. "She brought in options and fabrics that I never would have even found," the client says. Though design is often a stressful process, Nancy made it easy. "She was actually able to bring pieces here so I could see what they looked like in the room."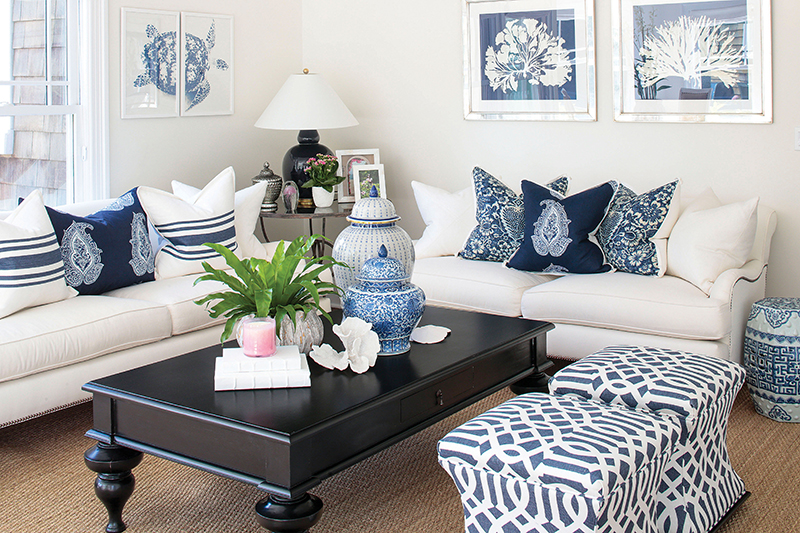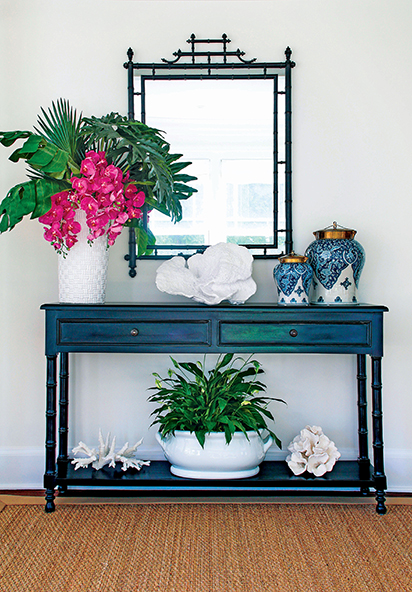 Nancy gave the space visual depth, which includes various textures and heights. For example, to complete the spindle-chair vignette in the foyer, she drew her client in an unexpected direction by suggesting a palm tree.
This additional piece offered height and texture that an art piece couldn't replicate. "When I think about décor, I think about art and color, but I don't think about varying heights in the room to balance things," her client says. The final product is balanced but personal, a testament to the teamwork between the designer and homeowner.

Trust the Process
A healthy relationship forms when the homeowner trusts the designer's vision. The client trusted Nancy's style when she first stepped into Nancy's store and fell in love with the chinoiserie mirror that now hangs in the living room. That trust grew when the vision boards entered the picture. When you have a designer who understands your expectations and shares the process, return the favor by stepping back and letting him or her work.
"They have a vision that is exactly what they think it should look like as a finished product," the client says. "If you can step back and let them finish, it's a smoother process." Let the designer do what he or she does best, and you'll find that everything pulls together beautifully.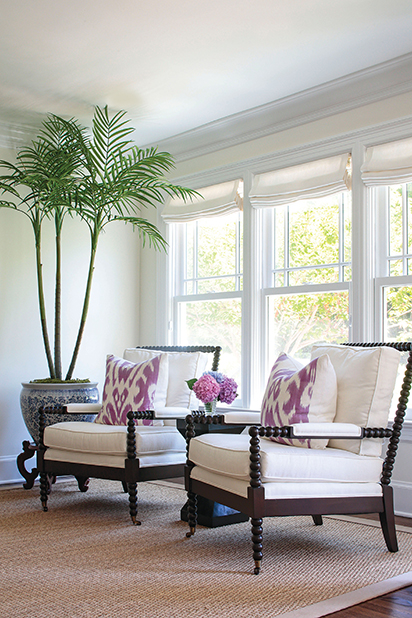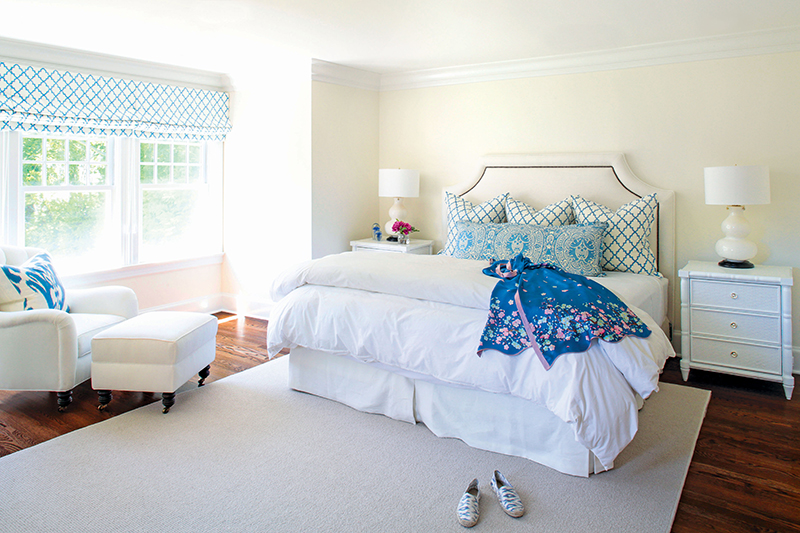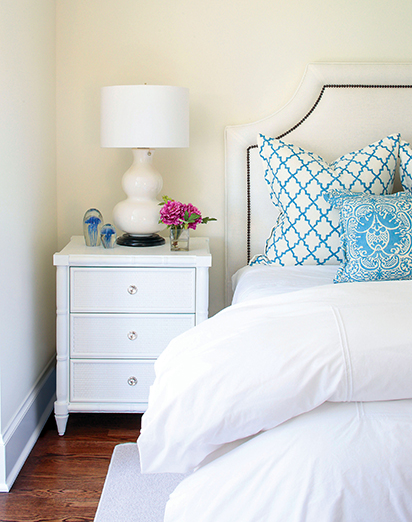 Trusting your designer, however, does not mean that you will adore every option. Nancy introduced many beautiful pieces to her client, but "there were some pieces that she brought in that I didn't love," the client says.
This is when you step in and voice your opinion. Professional designers know that "it's your home and you live with it every day," and they want to match your style as well as possible, so "don't be afraid to say no if you don't like something." Together you can find an alternative that gives your home a cohesive and elegant finish.