Clara diGiuseppe's ballerina days may be behind her, but grace and elegance still surround her in her vintage and antiques-filled home. From her light-as-a-feather color palette to her classically shabby and chic furniture, Clara's home is a study in refined silhouettes.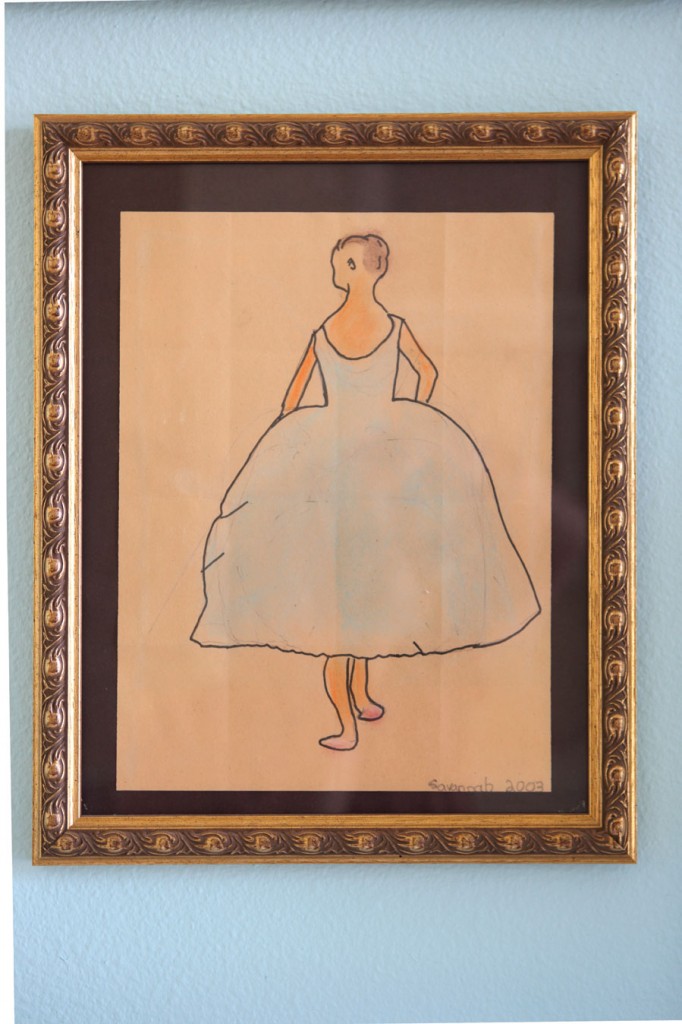 The former ballet instructor's new career as co-owner of Nice and Easy Antiques explains much of how she has come across so many treasures; however, the roots of her style are less obvious. She and her sister, Marcela Cavaglieri came to the United States from Argentina almost 20 years ago. The tenets of shabby chic and cottage style fit her needs, as it was easy to acquire old, beat-up furniture for little cost. She and her sister would paint and embellish their finds until soon, friends and acquaintances were requesting pieces for themselves.
Their products and taste were so valued, they were urged to make a go at steadily producing them for sale. The sisters took a stall at a local antiques market, began selling their revived furniture finds and a loyal following blossomed. Not long after, their official antiques business was born, and the core of her style has since remained unchanged.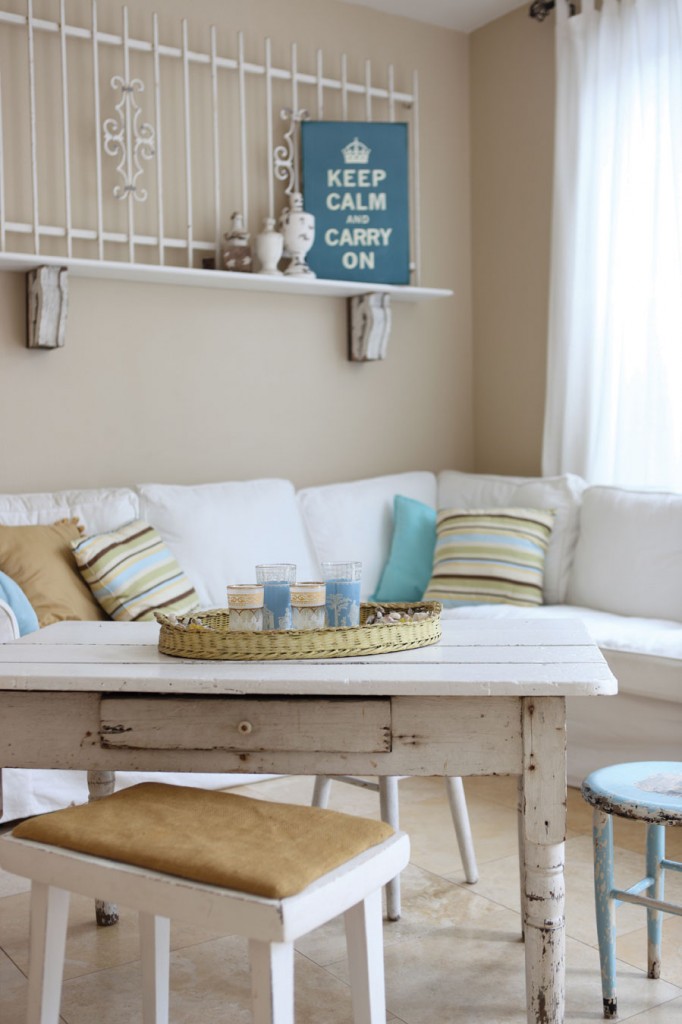 When Clara and her family moved into this home six years ago, the house flooded a month after moving. A dishwasher pipe burst, filling the entire first floor with five inches of water while no one was home. Clara was thrust into the position to make a few major changes. The floor, previously white tile and wood, was replaced with travertine tile, a more practical option than wood, considering her family used the backyard pool often.
It also prompted a few decorative changes. The walls, which were cut into to remove some flood damage, were repainted a warm, gold-toned white. The most difficult part of the process was explaining her furniture style to her insurance agent, who came to assess the damage. "She was looking at my furniture, and it was a bit tough explaining that the furniture was supposed to be old and paint-chipped but still worthy of being valued." Clara says. "The look on her face was: Do you really want me to replace this beat-up old table?"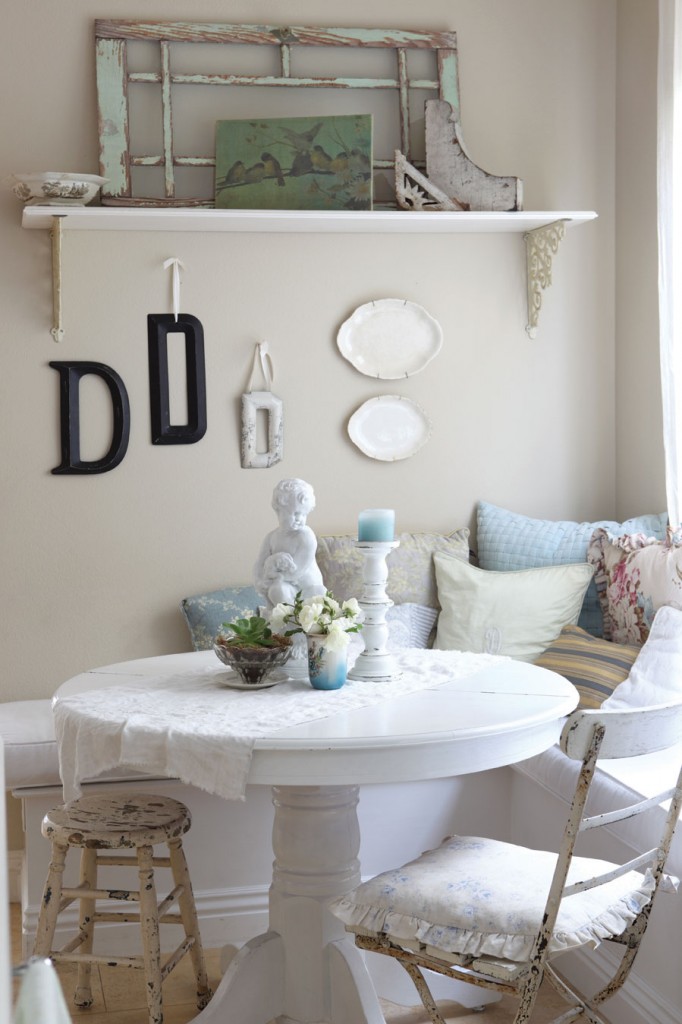 Her French-influenced shabby cottage style is not merely an aesthetic choice, it's a practical one. "It's so easy and so comfortable. I don't have to stress about it," Clara says. "We use every single piece of furniture we have. I don't have to worry about scratches or nicks."
The color white dictates many of Clara's decorating choices. "You won't find anything dark in my house," she says.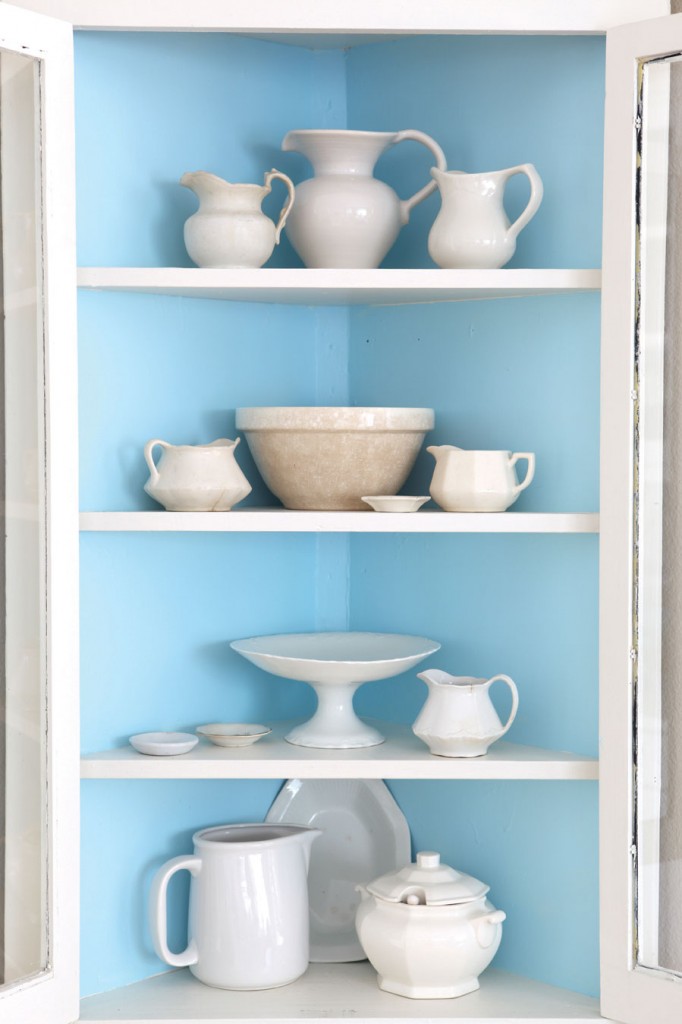 Two years ago Clara took a chance and painted her entryway a crisp aqua and she was thrilled with the results. Many of her accessories have small blue details, and she describes the color as "bold but still cool to the eye."
Her other proclivities are for scrollwork-embellished furnishings, such as her iron accent tables, and a few touches of gold, such as the simple but elegant chandelier in the dining room. The main furniture is all painted. If the original finish is functional she keeps it, otherwise, almost everything gets a fresh coat of white paint.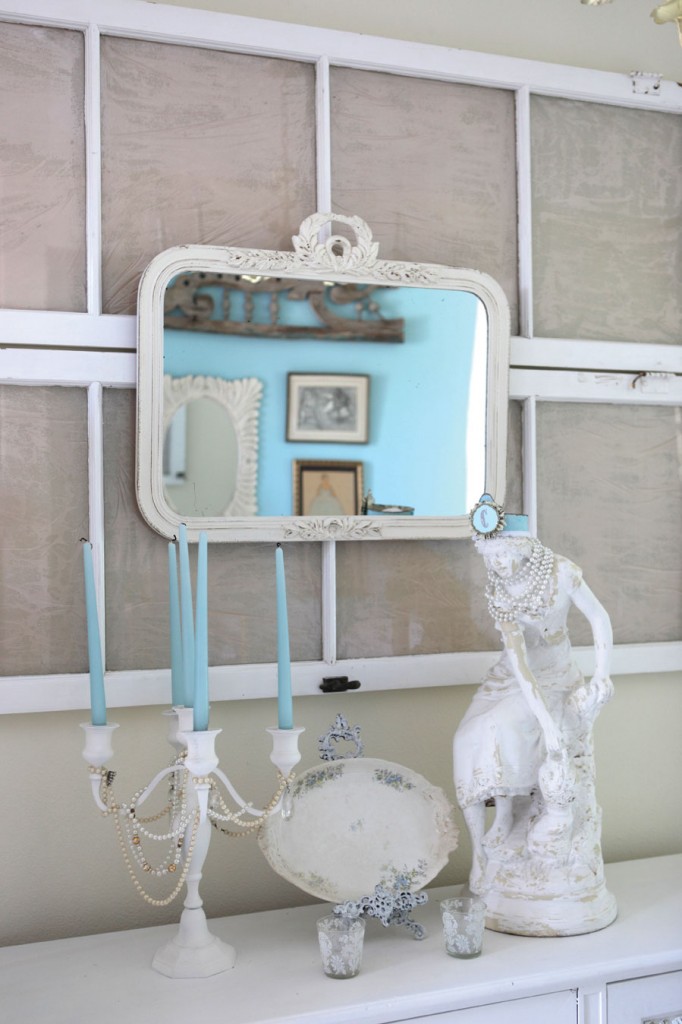 Despite the sophisticated and delicate look of her style, Clara's priorities are comfort and a relaxed approach to living.
"I don't like houses where you can't put anything on the tables or you can't move stuff around," she says. "I have two kids, and I always have their friends in my house and never stress about it. If I have nice things, I put them in cabinets.  I like a house you are able to really use and enjoy."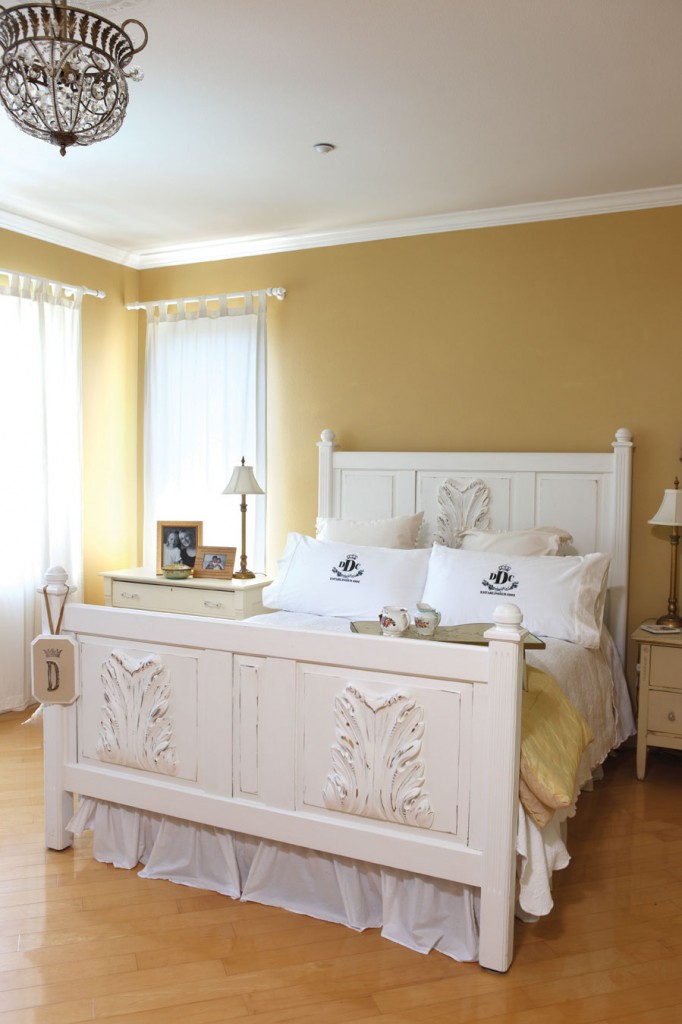 Her well-edited collections of white pottery and architectural elements are expertly displayed and maintained to keep a fresh and uncluttered look. A discerning eye and practical approach help keep her from overloading, an easy thing to do for someone in the antiques trade.
"For my white pottery, it has to be matte and it has to be white," she says. "I have a hard time adding to it because I already have every shape, so unless it is really unique I can usually pass it up. Also, it has to be the right price. I've never paid more that $10 for any of them."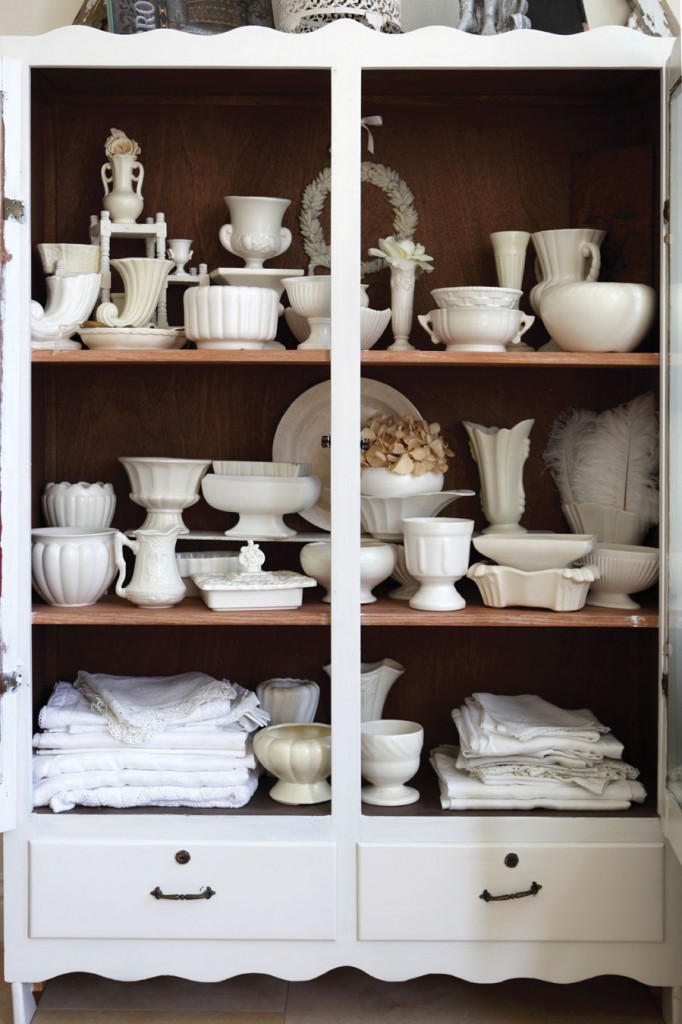 Clara also collects old children's shoes, a pastime she began because of the meaning she found in them.
"The requirement for them is that they have to be really beat up," she says. "To me, they represent such an opposite concept of what my family has been fortunate to have. We have never worn out a pair of shoes before; we've always thrown them out and gotten new ones. But you can tell that those shoes have been through a lot—they are so beat up—and the idea of using something until it gets into that condition is a good reminder of what we've been lucky as a family to have."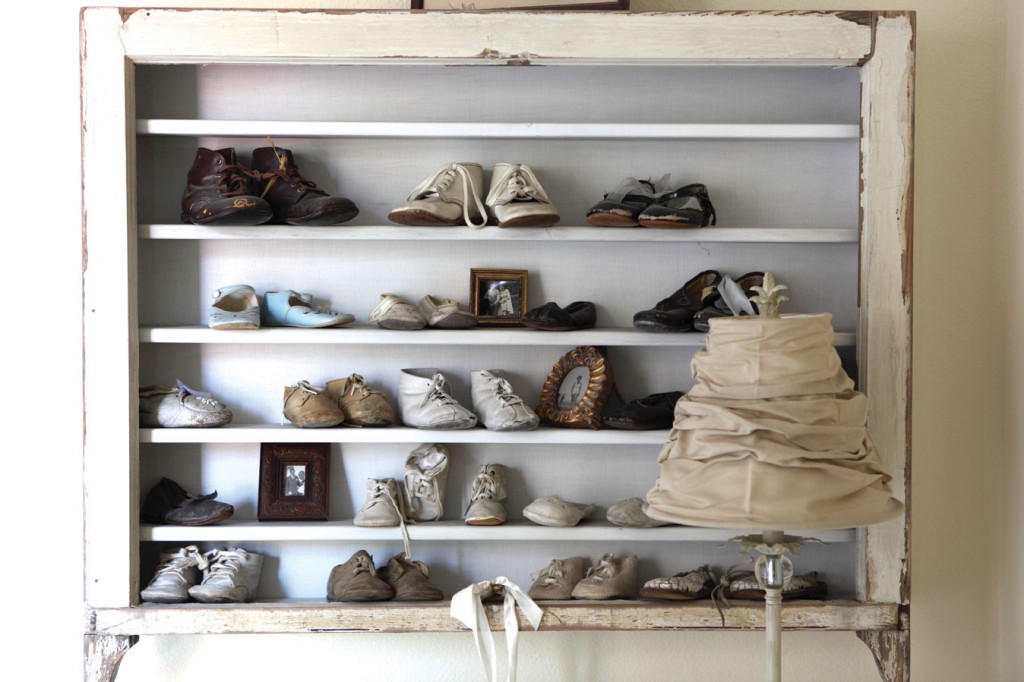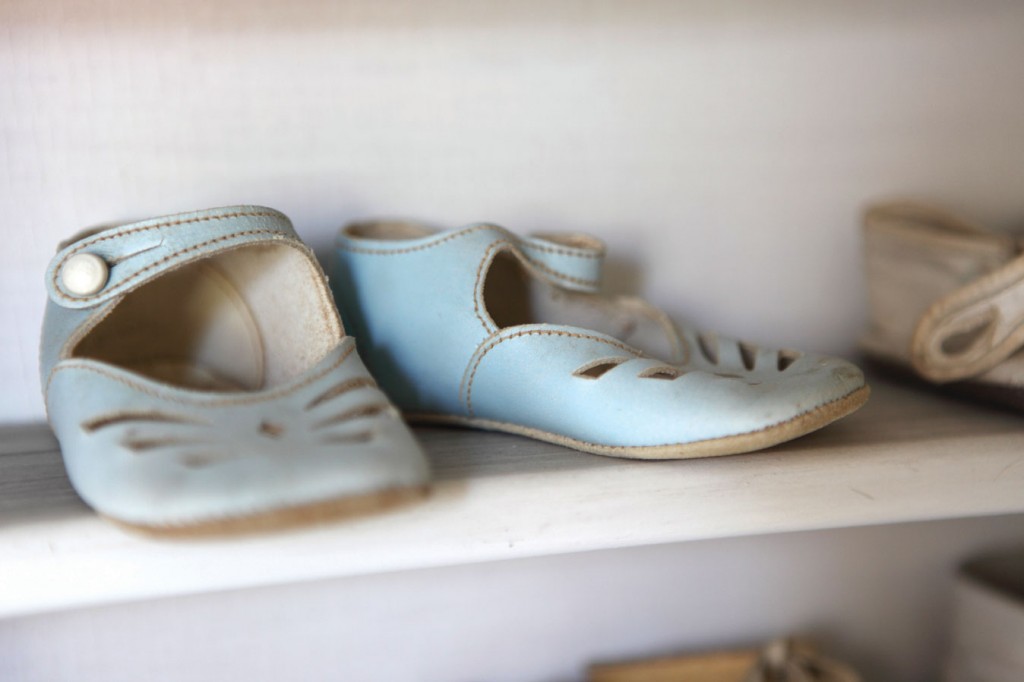 For more information on Clara DiGiuseppe's antiques business, visit niceandeasyantiques.blogspot.com.