A shared culinary heritage connects families across generations. Without Uncle Tony's gravy, Aunt Judith's latkes or Grandmother's pumpkin pie, it would be as if someone was missing from important family gatherings.
Jackie Frahm is no different. She treasures the recipes she inherited from her grandmother Adele Kellenberger. Frahm also treasures an even rarer legacy: her grandmother's entire 1912 kitchen.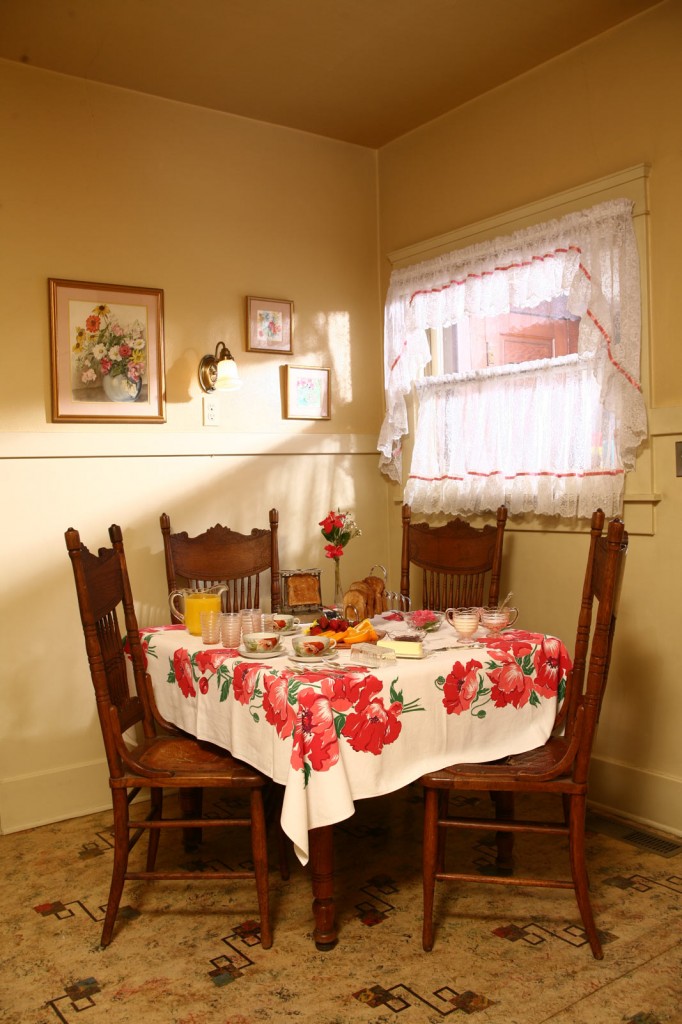 "My grandmother was a very progressive woman," Frahm says. "She worked with architect Frederick Eley to design this house. She put a lot of thought into every room and especially into the kitchen."
That careful consideration was translated into a workspace that has remained perfectly functional for nearly 100 years. The kitchen incorporated many of the time- and labor-saving ideas that were revolutionizing kitchen design during the early 20th century, and these ideas are still applicable.
"We really never needed to change anything," Frahm says, "and, as my mother got older, it was easier for her to function here, where she knew the location of everything."
Designed to Work
The axis of the kitchen's design is the high-back sink, positioned under a pair of double-hung windows. The windows drench the sink and its adjacent work surfaces with sun all day long, making this an especially cheerful workplace. The space below the sink was never enclosed by cabinets, allowing for easy cleaning and good ventilation of its plumbing fixtures.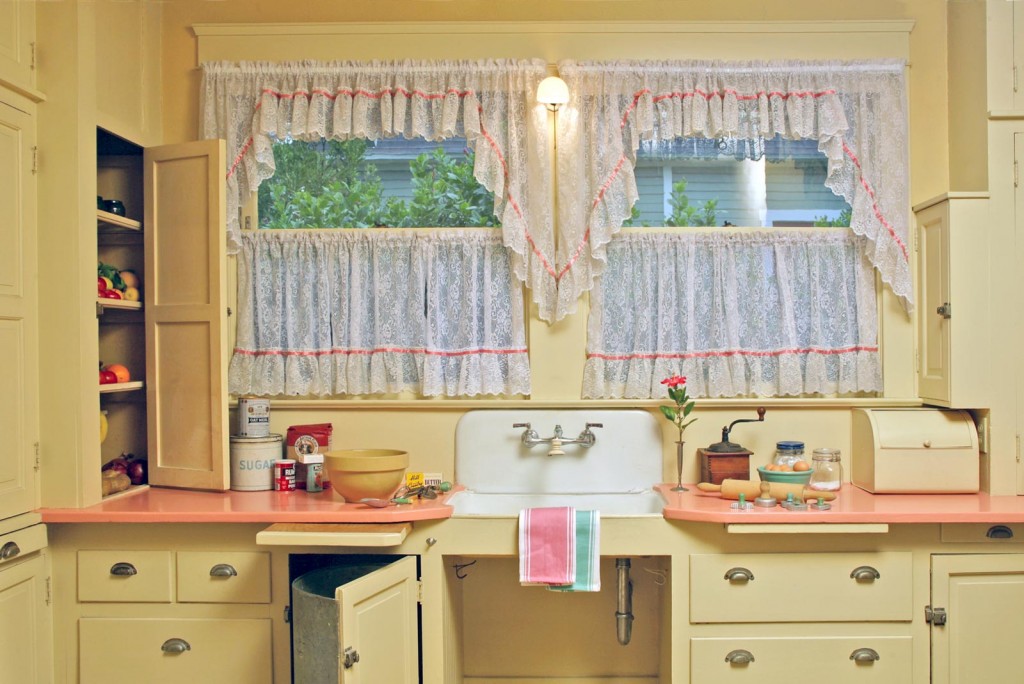 To the left of the sink is a cooler cabinet, also called a California Cooler. Here, in the tradition of her mother and grandmother, Frahm stores her produce.
"My grandmother loved the fruits that she and my grandfather grew in their garden. We still have plums, peaches, lemons, apricots and many other fruit trees they planted. But grandmother never really liked vegetables," she says.
Grandmother Kellenberger probably kept her eggs and butter in the California Cooler too (except during the hottest part of the year), which explains why she positioned her built-in flour and sugar bins in the adjoining base cabinets. Kellenberger was famous for her fine baking, so everything she needed to whip up a cake or pie would have been right at hand: mixing bowls in the cabinets next to the cooler and utensils in the drawers.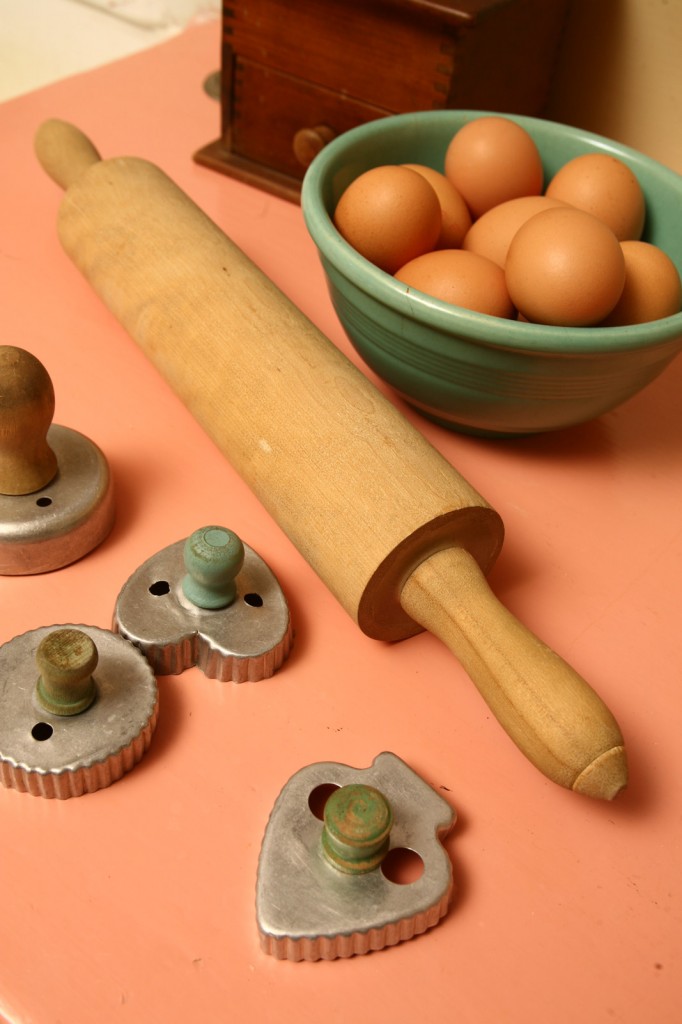 Culinary Classics
Kellenberger had two pullout breadboards built under the counters. These provided good surfaces for cutting and saved the wooden countertops from a lot of wear and tear. Pullout breadboards also made it easy to sweep up breadcrumbs, which, in a well-run household of the era, were saved for future use.
To the right of the sink is a breadbox and built-in spice cabinet, both located away from the stove to protect their contents from its heat.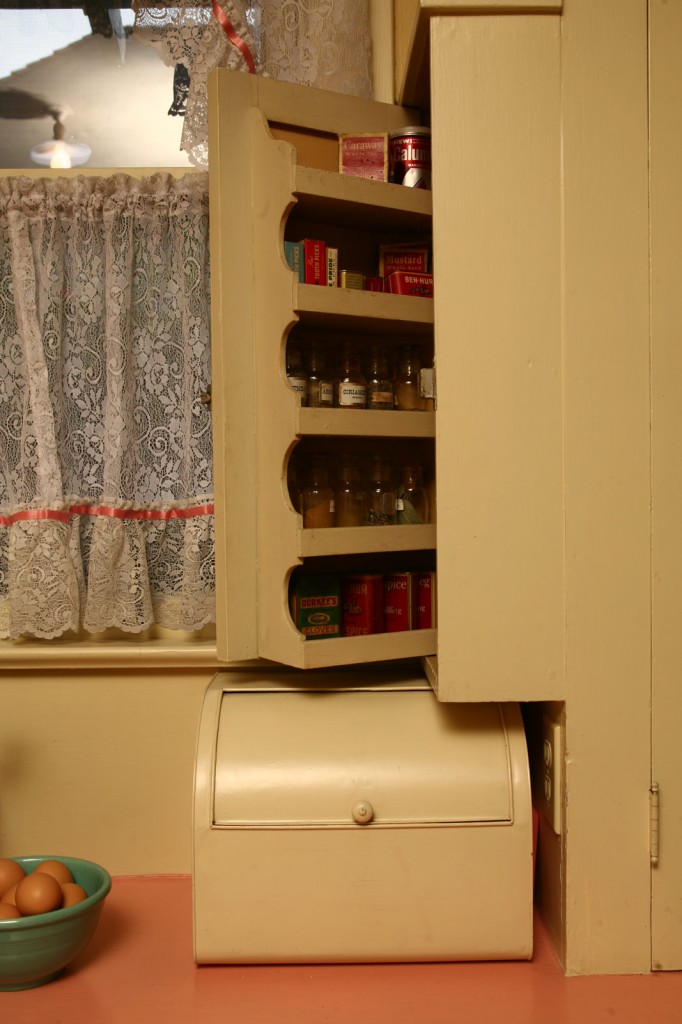 The grand Spark stove was the pride and joy of John Kellenberger, who bought it for his wife in 1921.
"My grandfather was so proud of that stove!" Frahm says. "I think he spent a lot of money on it, but he wanted my grandmother to have the best."
It was a state-of-the-art stove for its time and still functions flawlessly. It features two ovens, a broiler, four gas burners and two wood burners. The entire stove is vented through a stovepipe.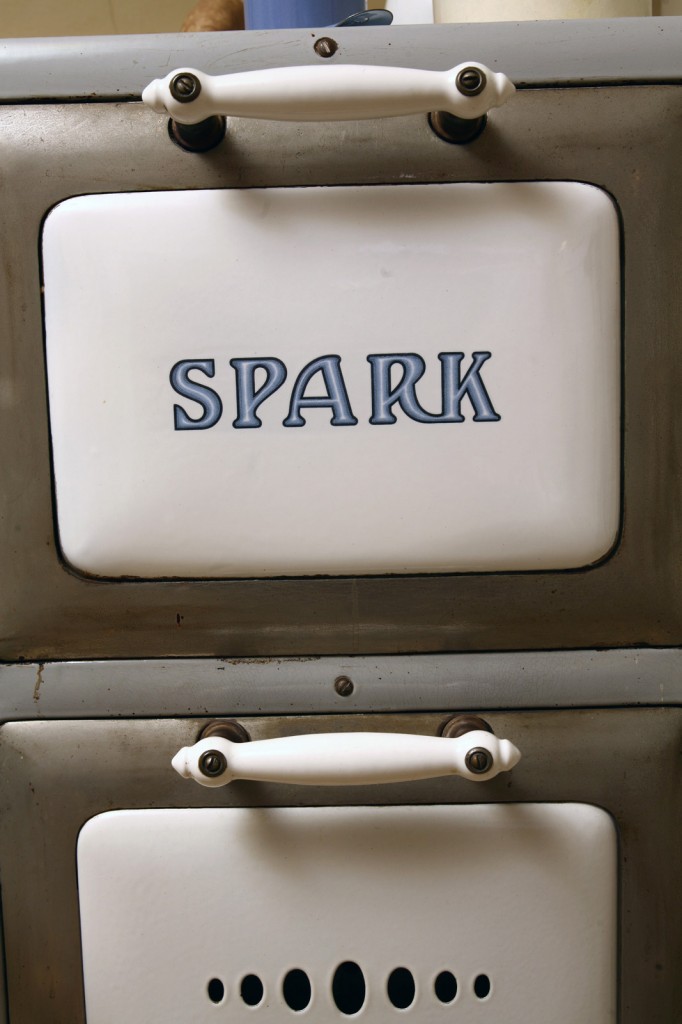 "The stove works beautifully, but the area was never meant to have a refrigerator," Frahm says. "My grandmother had an icebox on the back porch."
When electric refrigerators became available, Adele Kellenberger was able to squeeze one in next to the stove. It's a bit close for Frahm's comfort, however.
"There is too much heat [for the fridge] when the oven is used. My grandmother used to have an asbestos board between them; I just use a microwave," Frahm says with a laugh. Another option for homeowners with vintage kitchens is to place the modern fridge in the adjacent covered back porch.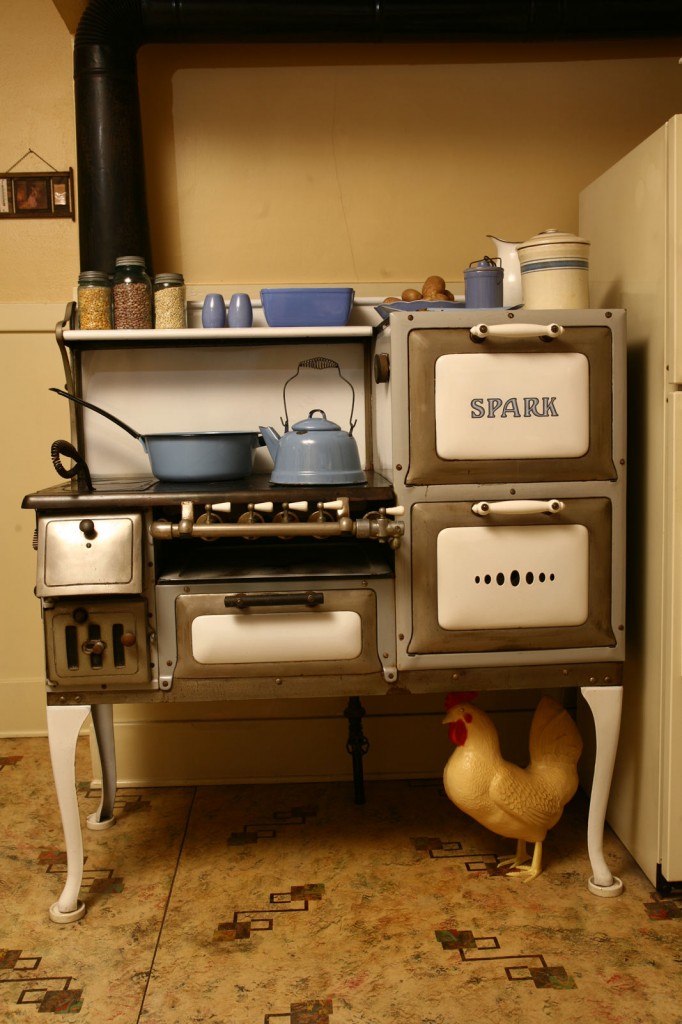 Home Keeping
The kitchen has retained its creamy-white color scheme with only one change over the years. "The countertops were originally bread-box gold," Frahm says. "But when we were repainting one time in the 1950s, my grandmother decided we should paint them pink to match the beautiful hibiscus flowers just outside the windows."
Still visible outside the windows, the venerable hibiscus is nearly 100 years old. The wood surfaces in the kitchen have been repainted only twice.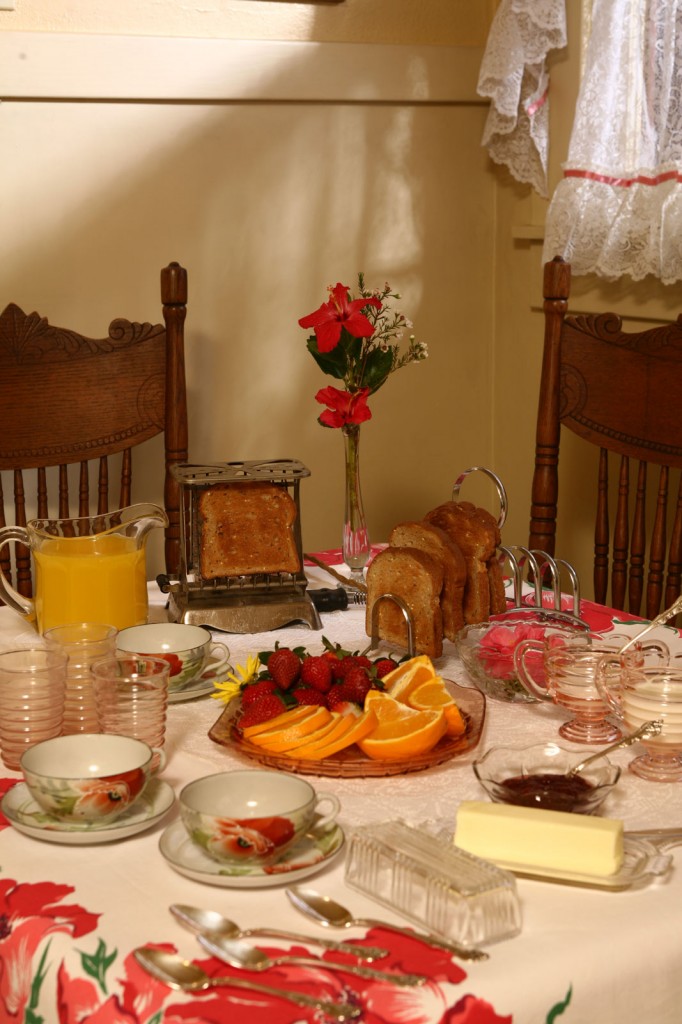 "My grandmother cleaned all her wood surfaces, varnished or painted (which, of course, were oil-based), with a solution of 1/3 white vinegar, 1/3 kerosene and 1/3 water."
The original linoleum floor—still in excellent condition after 97 years—is a testimony to the tender care Frahm, her mother and grandmother have bestowed on their home.
"Linoleum is a wood-based product, and water is its enemy," Frahm says. "You don't want it to stay wet for long, which means you have to dry up spills right away. We always washed the floor a section at a time, and dried as we washed."
There are many styles of linoleum available today that offer homeowners an eco-friendly flooring option and are more resilient than original linoleum. Across from the stove and under a sunny window are the Victorian table and chairs Adele Kellenberger placed there in 1912.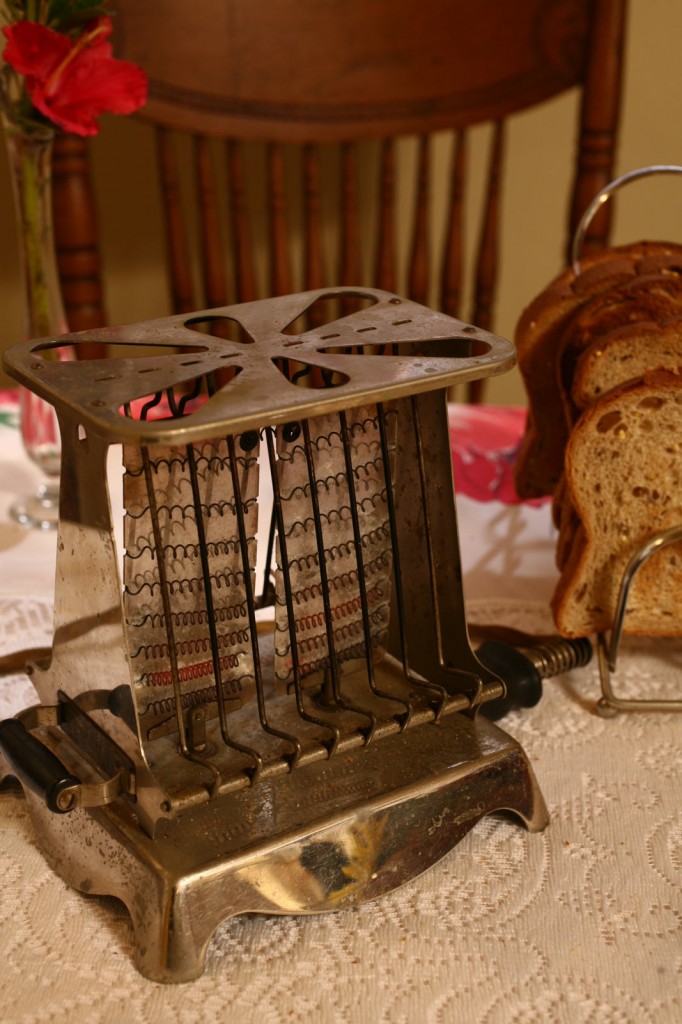 "As a child, I spent much visiting time in the kitchen. There was always something tasty in the cupboard," Frahm recalls. "My grandfather was usually sitting at the table with his newspaper, and if my grandmother wasn't cooking she would be sitting in the rocker darning socks. It was a great place to be." And it still is.