Adele Kellenberger had to work hard to make this cake with her rotary eggbeater. Thankfully, today we have electric mixers. She recommended finishing it with boiled icing, but we love the simplicity of whipped cream and fruit or topping it with Adele's Quick Orange Marmalade (see recipe below).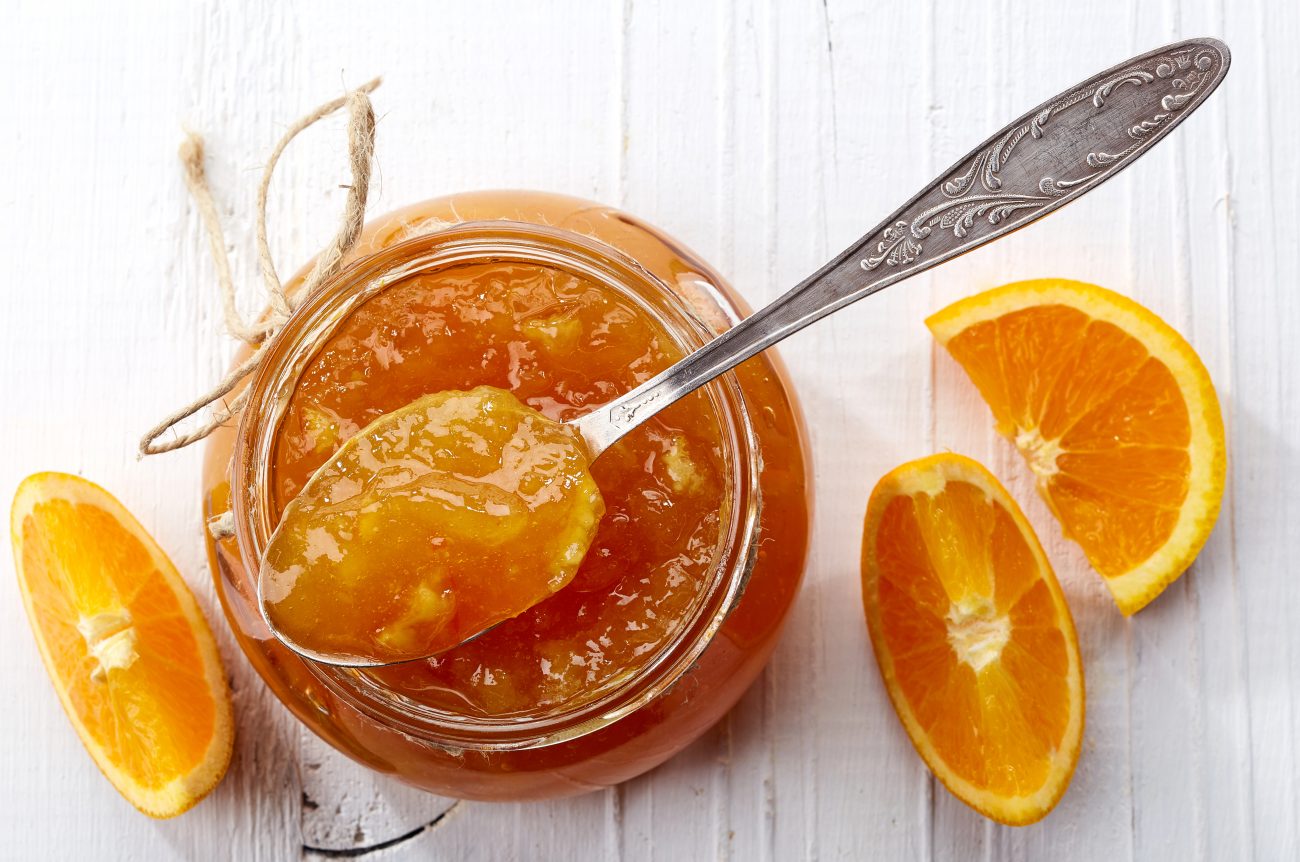 Boiled Sponge Cake & Orange Marmalade
Ingredients:
2 cups sifted cake flour
½ tsp. salt
¼ cup lemon juice
1 tsp. vanilla extract
1 cup sugar
1/3 cup water
6 eggs, separated
To Finish:
1 cup heavy cream
2 ripe peaches or 1 pint strawberries, sliced and sprinkled with sugar and a little liqueur if desired.
Instructions:
1. Preheat the oven to 300° F. Spray two 8-inch round cake pans with nonstick spray and place a disk of waxed paper in the bottom of each.
2. Sift the flour and salt together onto a sheet of waxed paper and set aside. Mix together the lemon juice and vanilla extract.
3. In a medium saucepan, dissolve the sugar in the water over moderate heat, stirring constantly until all the sugar crystals are dissolved. Brush down the sides of the pan with a pastry brush and water to ensure that no grains of sugar remain there.
4. When all of the sugar is completely dissolved, increase the heat and bring the syrup to a full boil.
5. Meanwhile, in a large mixing bowl, using an electric mixer, beat the egg whites until they are very fluffy and hold a peak. (Test by turning off mixer and lifting the beaters from the bowl.) Lightly beat the egg yolks and fold them into the egg-white mixture.
6. Pour the hot syrup onto the egg mixture and beat with the mixer until the eggs cool.
7. Sift the flour and salt mixture over the surface of the egg mixture and gently fold in the flour and lemon juice mixtures.
8. Spread batter into the prepared cake pans, smoothing tops well. Bake in the lower third of the preheated oven for 20 to 25 minutes or until the cake is lightly browned and pulls away from the sides of the pan.
9. Cool cake for 15 minutes on a rack, then remove from pans and allow the cake to cool completely.
10. Whip cream and fold in sliced, sweetened peaches or strawberries. Spread the filling over one layer of cake and top with the other layer. Just before serving, sprinkle the top of the cake with confectioner's sugar. Alternatively, the cake can be filled with jam or marmalade, and cream. It may be made ahead and stored for one day in the refrigerator, covered with a cake dome.
Looking for more recipes based on vintage classics? How about these old fashioned recipes perfect for summer? Or these vintage Easter recipes?
Of course, don't forget to follow us on Instagram, Facebook and Pinterest to get your daily dose of cottage inspiration!