A cozy fall night isn't complete without a fireplace in the picture. Installing or remodeling a fireplace can be a daunting challenge, but don't rule out how much of an impact the right fireplace can have on your home.  There are many different types of fireplaces that can suit your needs– and they can increase the value of your home. Here we bring you the pros and cons of the different types of fireplaces to help you decide how best to heat—and complement—your home.

Stone
Pros: Stone fireplaces come in a range of looks and colors, so you're guaranteed to get a unique fireplace that is strong and durable. Stone retains heat and warms the room long after the fire has stopped burning.
Cons: It's fairly expensive and difficult to install.
Best for: Those looking for a bold, rustic look and lasting heat.

Brick
Pros: Easy to install even if you've never done it before. They're also cost-effective and long-lasting.
Cons: Brick fireplaces are the most common so you won't find added value. They can also be difficult to clean, especially if they become soot-stained.
Best for: A budget-friendly approach that still maintains an authentic look and outdoorsy feel.

Wood-Burning
Pros: They are generally cost-effective, especially if you have your own supply of wood. They don't require electricity, and they also provide the romantic sounds of crackling wood and the smell of the fire.
Cons: It takes time to get the fire going and requires diligence to keep it alive. It's ineffective at heating the whole house, as heat escapes through the chimney, just as cold drafts can enter. You'll also want to keep up with chimney maintenance. Check your state's and county's restrictions on burning wood; some only allow burning certain kinds of wood, and some don't allow burning wood at all on high-pollution days.
Best for: A period authentic look and extra ambiance.

Gas
Pros: Easy to start, clean and maintain; some even come with remote controls.
Cons: They can be expensive, depending on whether you use natural gas or propane. You also lose out on the natural sounds and smells of the wood-burning fireplace.
Best for: Those seeking the benefits and look of a real fire but who don't want the hassle. Gas also doesn't require a chimney, as you can have a vented or ventless
gas fireplace.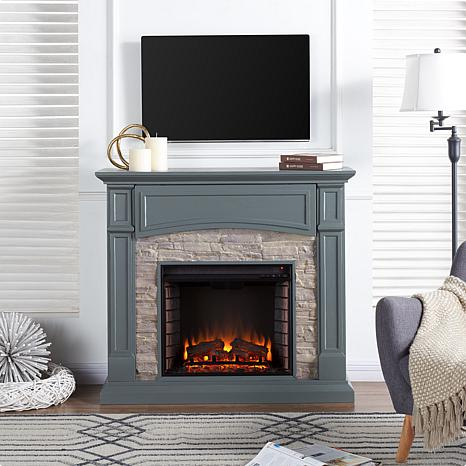 Electric
Pros: Electric fireplaces are fairly inexpensive and mobile—you can move an electric fireplace from room to room. All it needs is an outlet.
Cons: These fireplaces don't provide much heat—they're sometimes called a glorified space heater. They can also be difficult to install if you're inexperienced.
Best for: Smaller homes or apartments with no chimneys.