For Liza Price, square footage does not a home make. In fact, six years ago, in the cushy ages before the housing bubble burst, as the rest of her peers were buying up, the Price family was scaling down. Before the housing bubble burst, as the rest of her peers were buying up, the Price family was scaling down.
They moved from a 2,800-square-foot, three bedroom and bath in Westchester, California, to an 1,800-square-foot, three bedroom, two bath in Brentwood. They made the move for their daughter in a bid to get her into a better school system, and along the way, they discovered they had downsized their way to happiness.
"It's easier to live in a small house. I am comfortable in the small space. It's very used," Liza says. While squeezing their belongings into a smaller home was a challenge, the task brought them more in touch with the requirements of their lifestyle. They began to learn to live efficiently. The first lesson came before the house even closed escrow.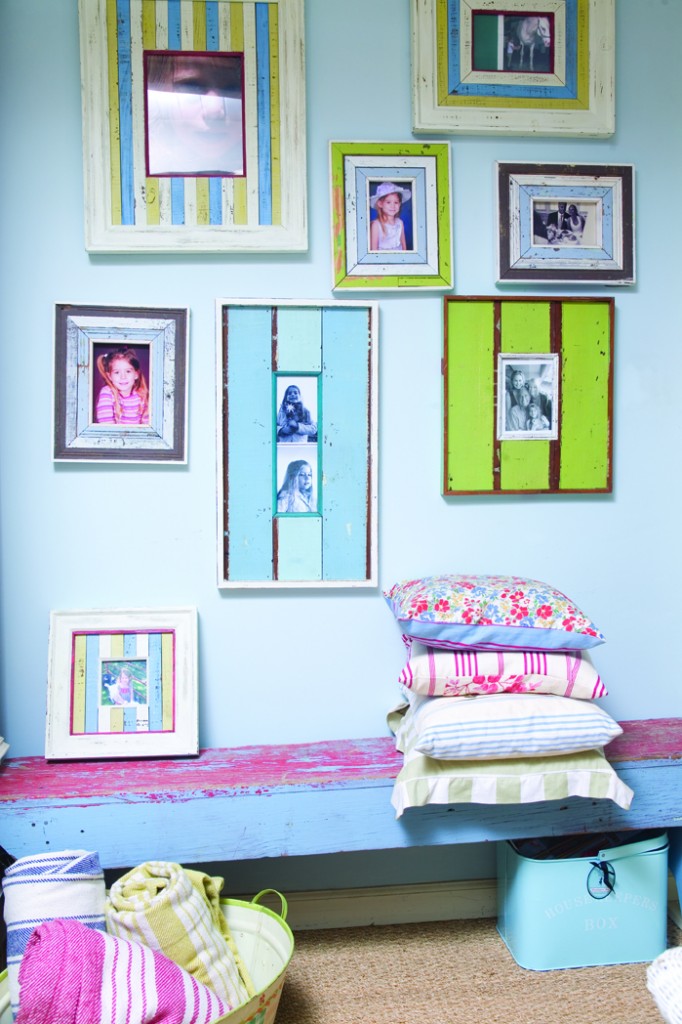 "I was envisioning the layout for this tiny cottage, which had just a tiny dining room and small living room," Liza says. "I realized we had never really used the space we had at the moment."
So even before the keys were exchanged, Liza knew she'd do away with the concept of a formal dining room—or a formal anything for that matter—and repurpose each room for exactly how she expected her relaxed family would use it.
"We turned the official dining room into a reading room and the living room into a sort of den—a casual place that we spend most of our time in," she says.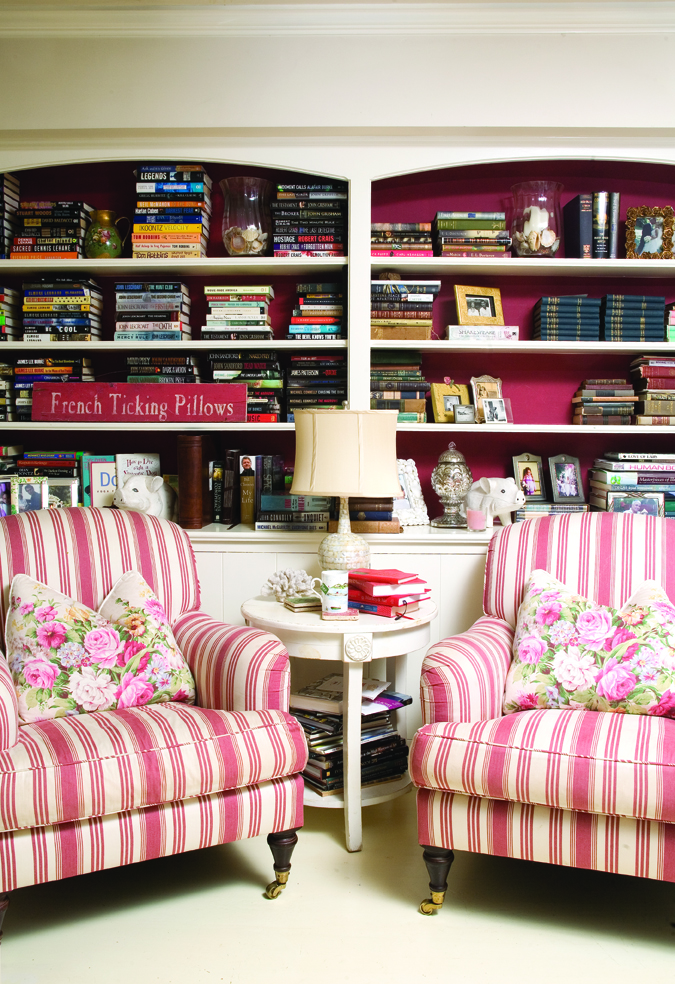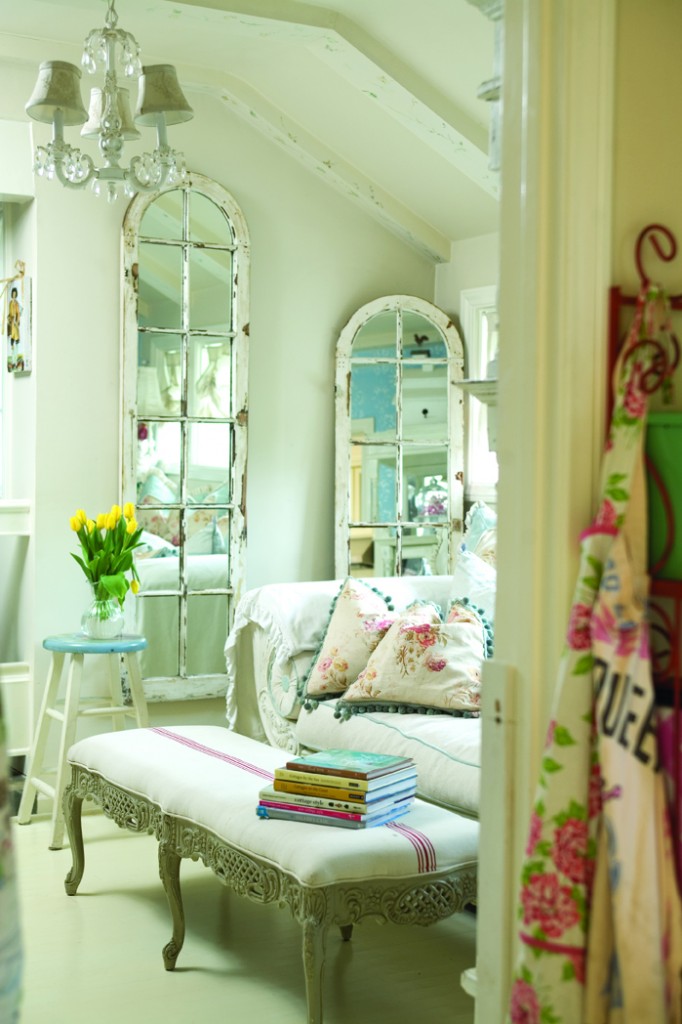 Liza also learned the tricks to decorating with form and function without sacrificing her unique cheery cottage style.
The reading room and den are outfitted with lots of occasional seating disguised as tabletops where, in a pinch, books can be removed from the coffee table and it becomes a bench, or a vase of flowers can be lifted off of a stool that had until that moment been functioning as a side table.
The large farmhouse table with mixed seating can accommodate a party of 12 but is still cozy and relaxed when it's just the three of them every night for dinner. This multitasking allows Liza to entertain with ease and ensure that even in a smaller house, the more is still the merrier.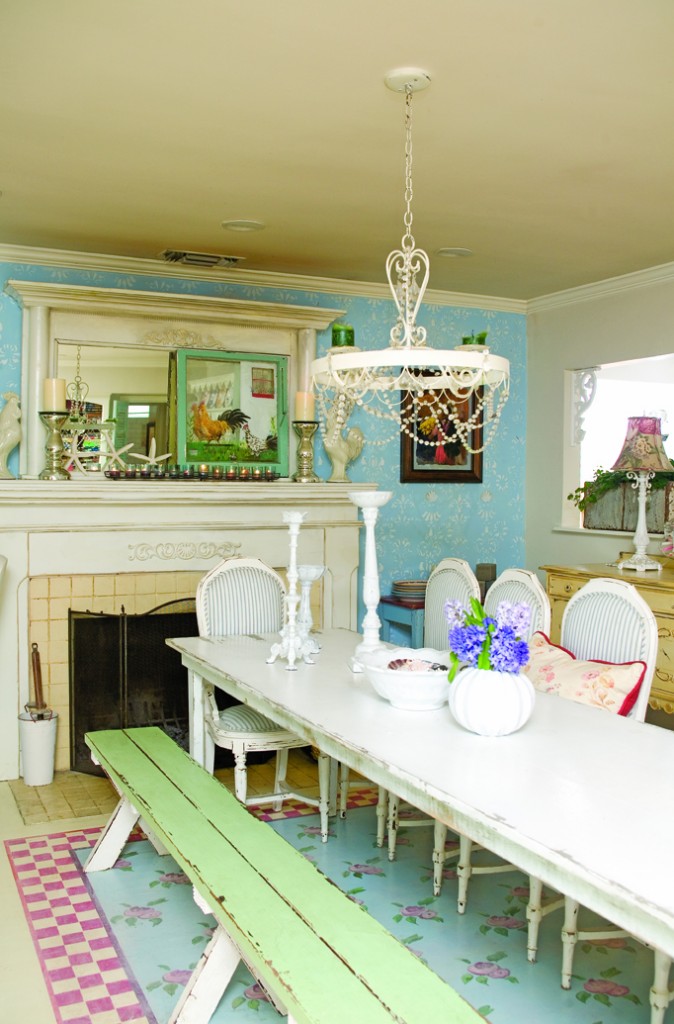 Despite its space constraints, the Price house doesn't feel small. This is due in large part to Liza's decorating style, which she calls "cozy French beach cottage."
Favoring light, airy colors like sky blue and strawberry red, the home is bursting with quaint personality, and Liza says that every time she enters her home it still makes her smile. Another trick, she says, is going for larger furniture than you would expect to use.
After painting the walls a creamy neutral when they first moved in, she went for overstuffed and oversized furniture, which she says actually made the house feel larger.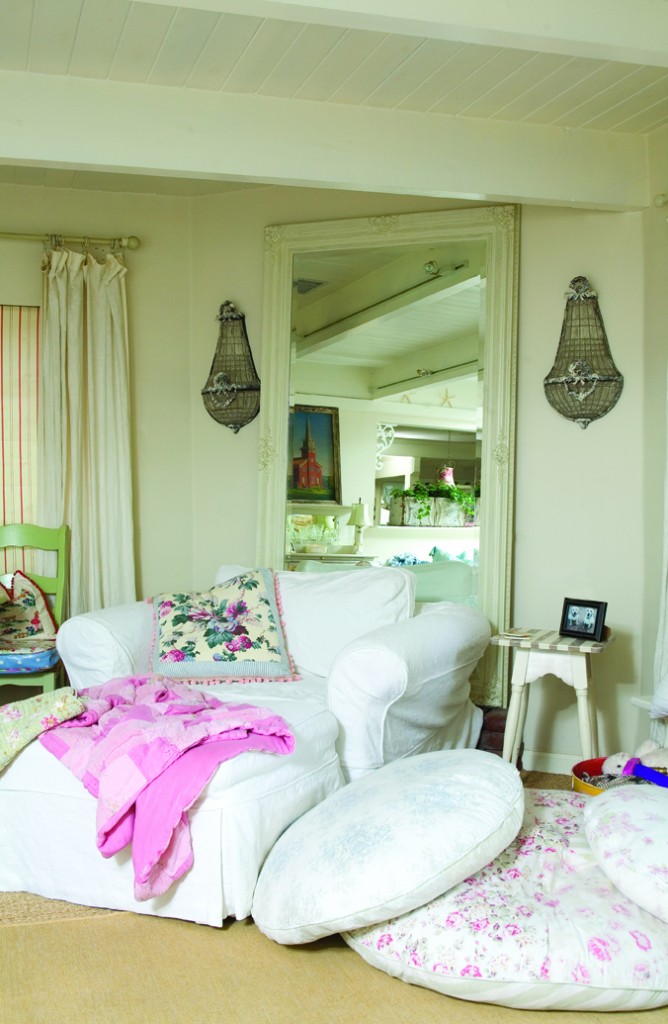 A lack of space also breeds a good editor. She's learned from past decorating mistakes, and just as she's gotten in touch with her family's needs in regards to living space, she's settled into her own style in regards to her home's décor.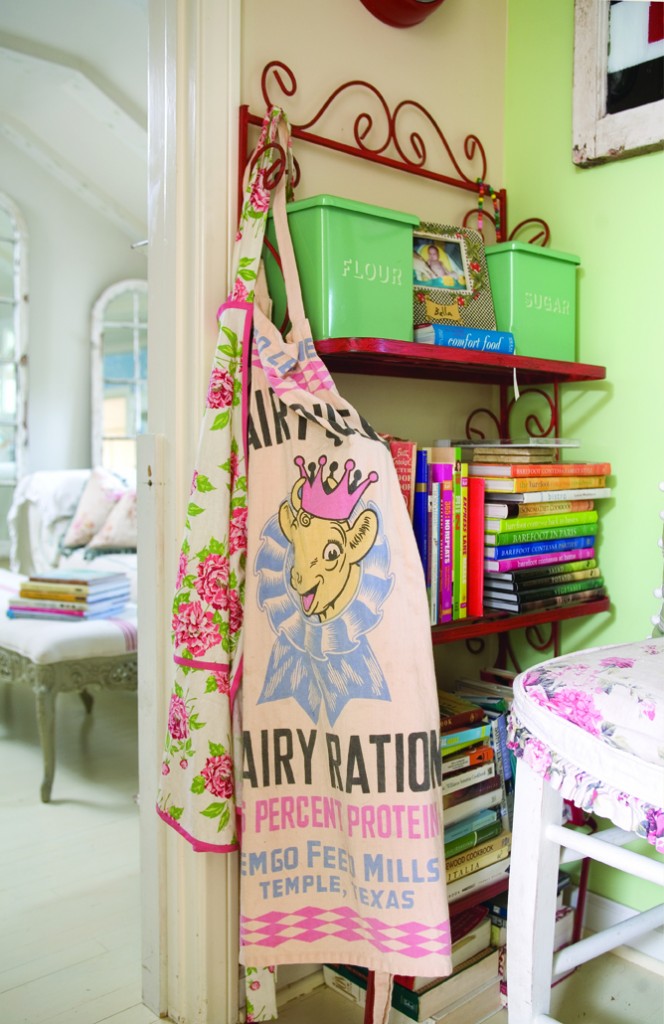 "My style has evolved from the first house to this house," Liza says. "In fact, I consider myself a late bloomer when it comes to finding my true decorating style."
Her road to discovery was all about trial and error. In her larger former home, Liza was prone to impulse buys and choosing items she thought were in vogue—a case in point being an overstuffed, dark Persian motif chaise lounge. In this house, she has to be much more selective, and it's brought her closer to her true passions.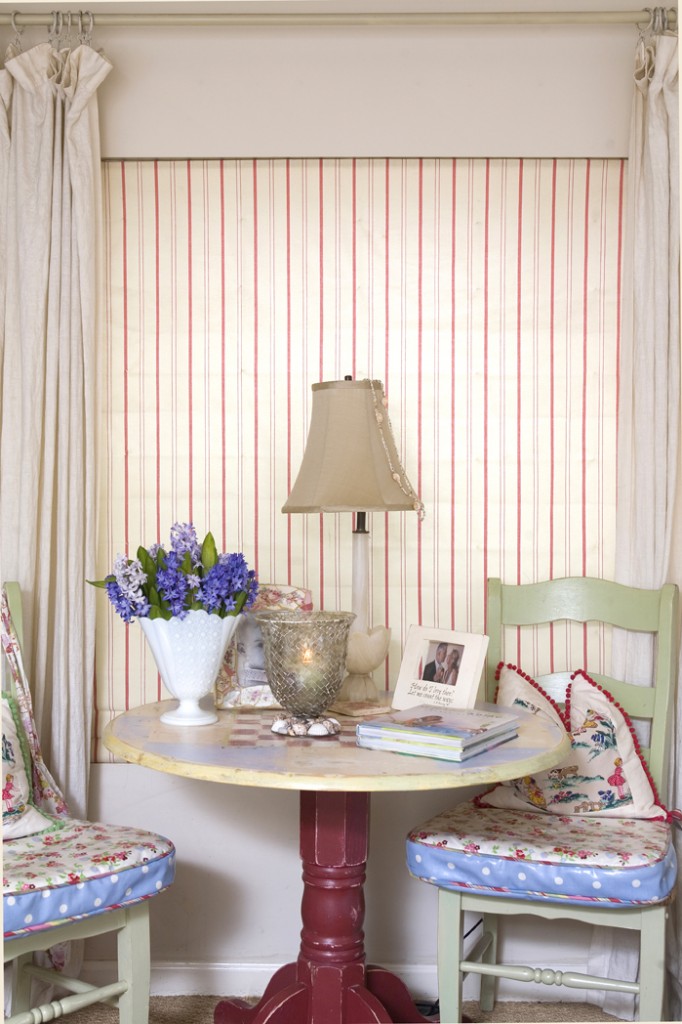 "I've always been drawn to cozy environments," she says. "In college, while everyone was doing their dorm rooms in party gear, I was trying to make my space feel cozy." The French influence found in the fabric patterns and furniture silhouettes can be traced to her mother, who always decorated in French country style at home, and the beach feel stuck ever since the '90s, when she made her first move from New York City to Southern California and fell in love with the laid-back flip-flop lifestyle.
Getting back in touch with these three elements has helped to create a warm, inviting space that is more reflective of her personality than ever. One aspect of her character that comes into play is her propensity to take risks. Liza plays with color with abandon, resulting in a mix of elegance and whimsy. A wingback chair by the fireplace, for example, boasts a sophisticated shape upholstered in natural linen and wood trim that has been painted a light blue.
There's also a rustic quality to the interior with regard to the farmhouse touches, exposed beams and architectural salvage, but delicate vintage styling and accessories take center stage. The kitchen has a retro feel, with bright, colorful appliances and a few fun touches found in the fanciful garden gate that serves as the kitchen door and bright red silk geranium flowers perched above the pot rack for added cheer.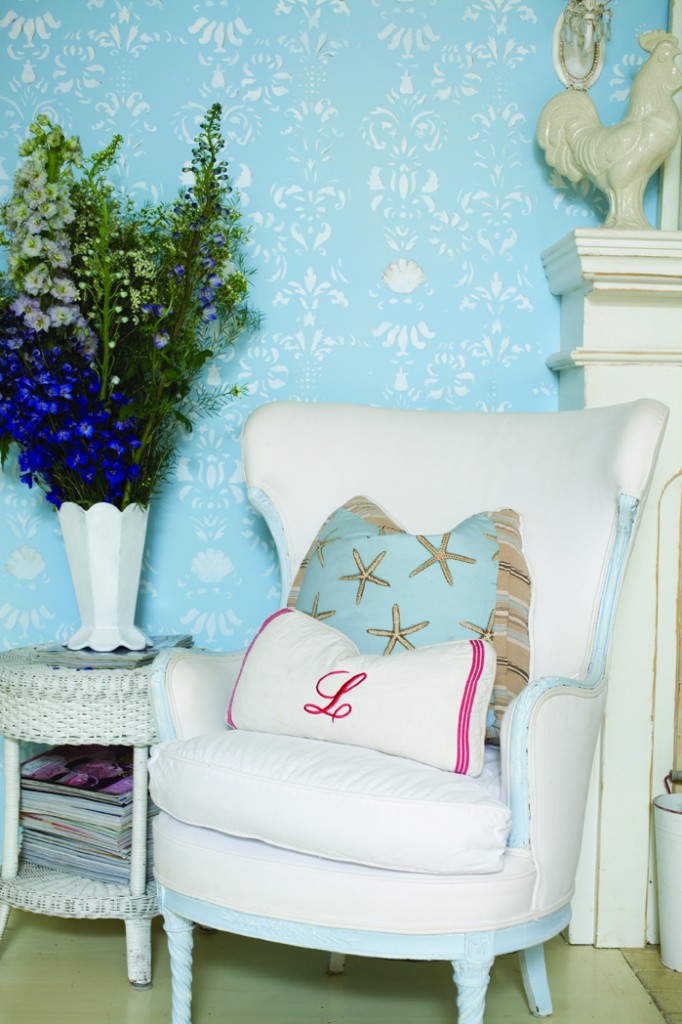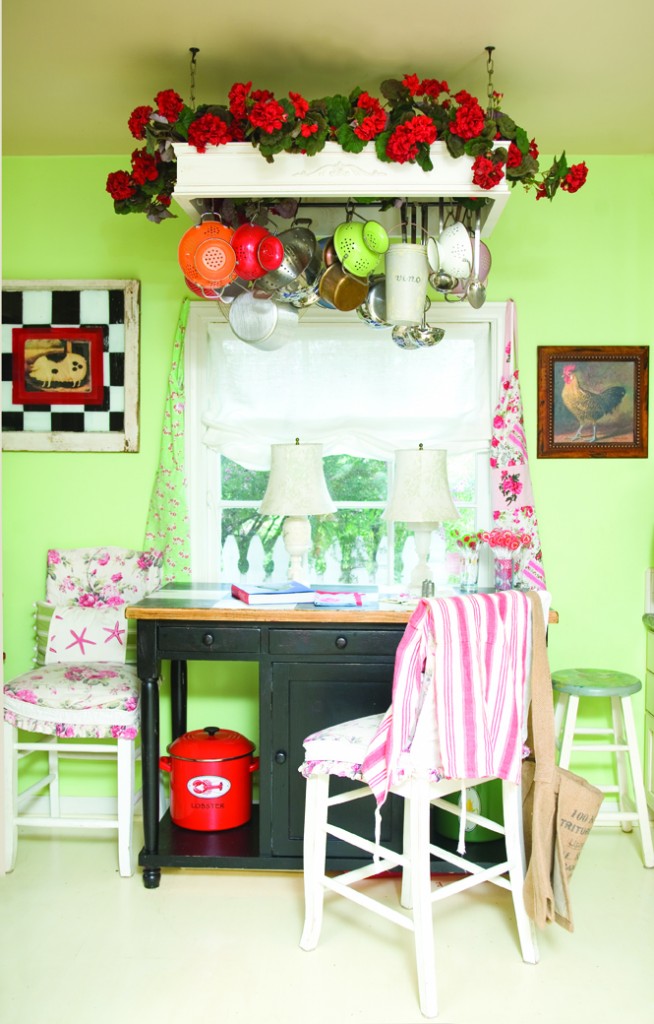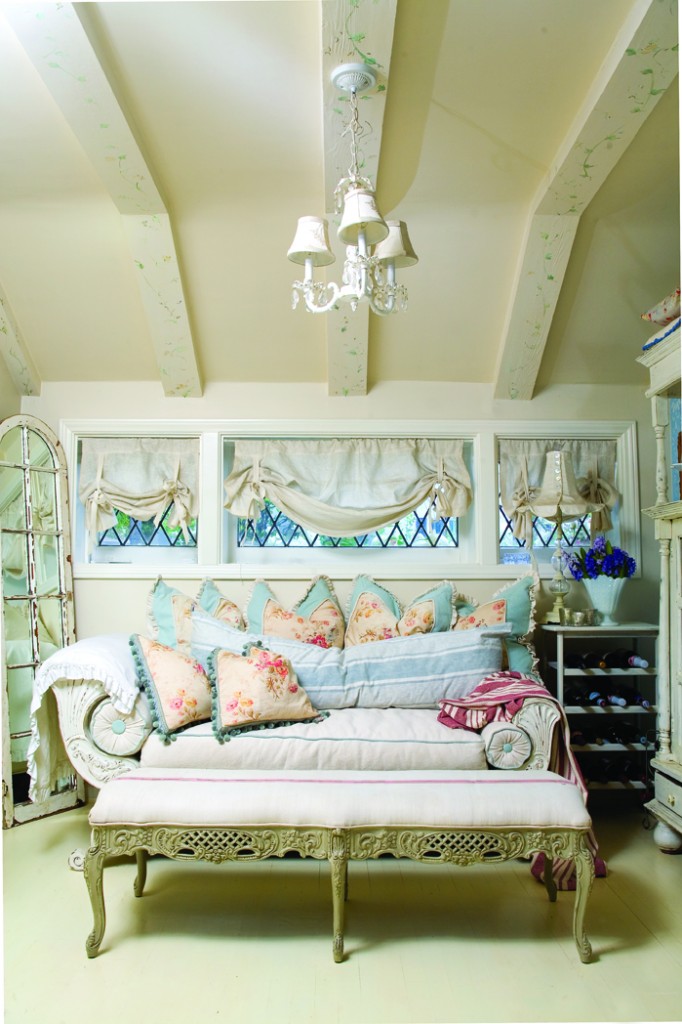 Another risk that turned into a success? The hefty Persian chaise lounge. Liza held fast to learning from her mistakes and had it slipcovered in a more soothing white, and now it serves as a testament to making the best of what you have.
It also helps that Liza has developed a great relationship with a local home décor boutique, Tumbleweed and Dandelion. Owner Lizabeth McGraw has become a friend and personal design consultant, reserving new arrivals for Liza or popping by the house to weigh in on a paint treatment or two. In fact, the floor cloth in the dining nook and the wall treatment just behind it were painted freehand by an artist at Tumbleweed & Dandelion.
So much has come together for the better, and it took a tiny cottage to do it. Her daughter is flourishing in her school, where Liza enjoys being an active school parent. And when they come home to their small abode, they rest easy in living a simpler, more purposeful life.
"It took me a long time but now I am very confident about what I like and what I don't like," Liza says. "I have finally come to know what my style really is—this is me, this is who I am."