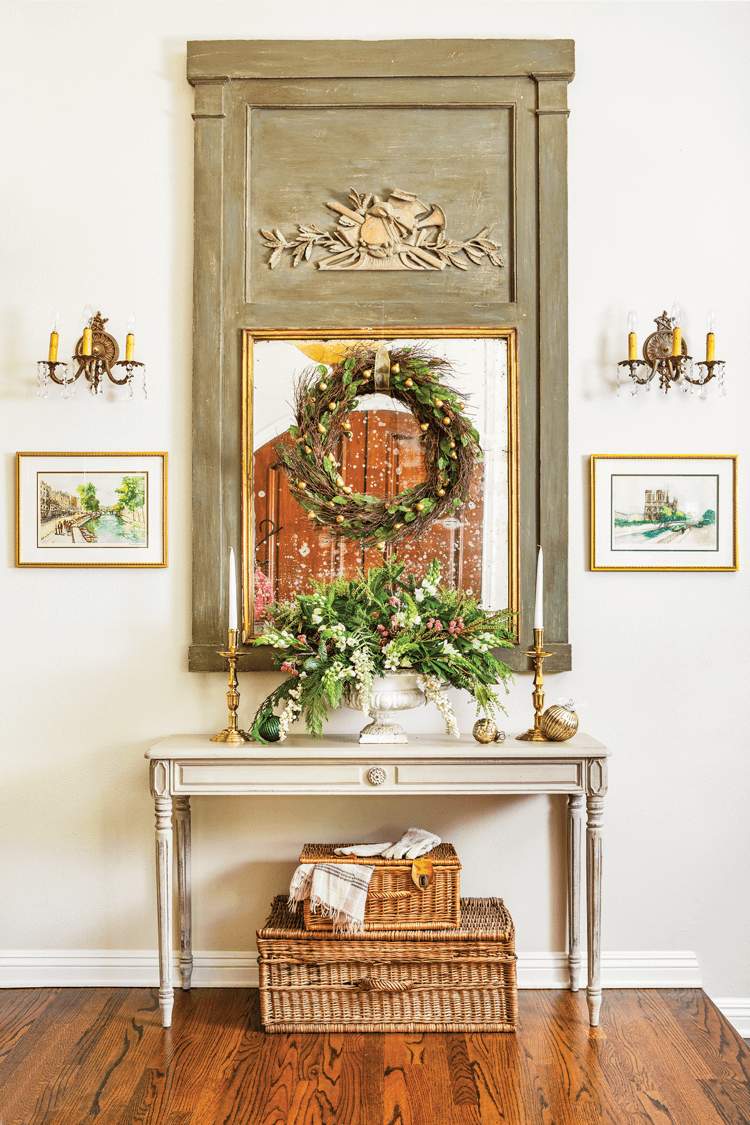 Classic Christmas colors often seem like a must. Is it even true holiday décor if red, green and white aren't all present? This year, however, Southern Californian Sheila Irwin, a homeowner and the blogger behind Maison de Cinq, decided to cut red out of the equation. "I was just wanting a fresh start, something cleaner," she says.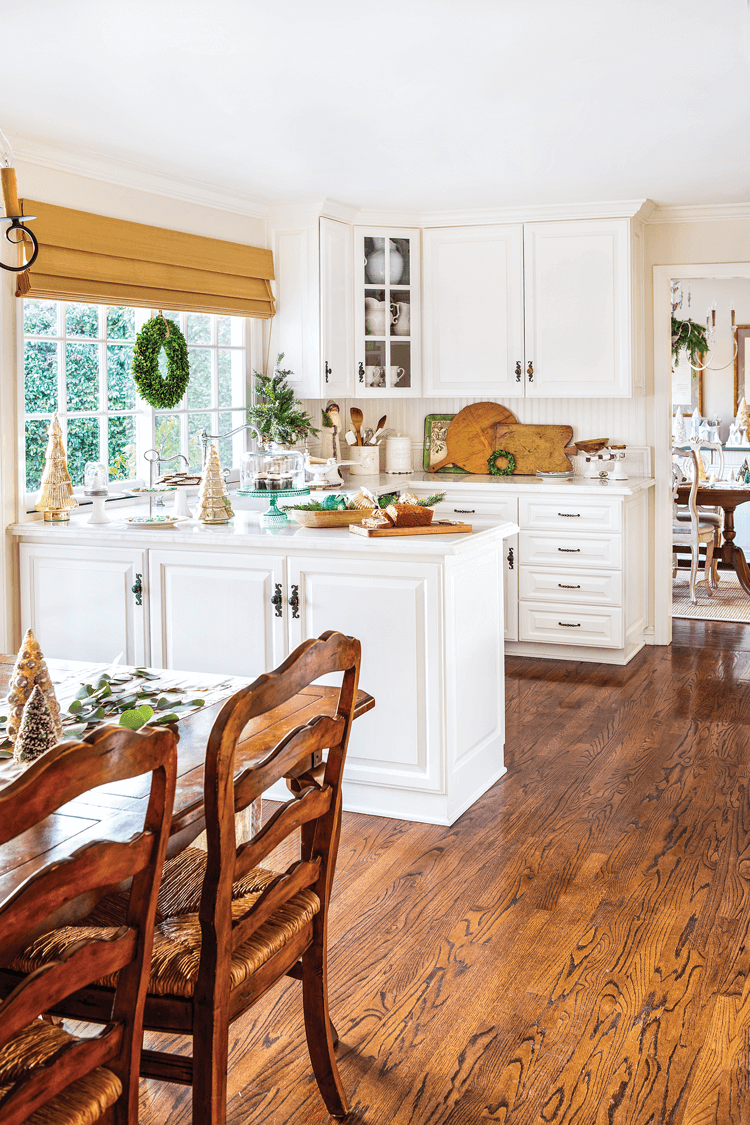 The style of her home went perfectly with her new holiday color theme. Using whites, creams, wood tones and natural greens, she calls the new style a modern version of French country, "a little less cluttered and more neutral."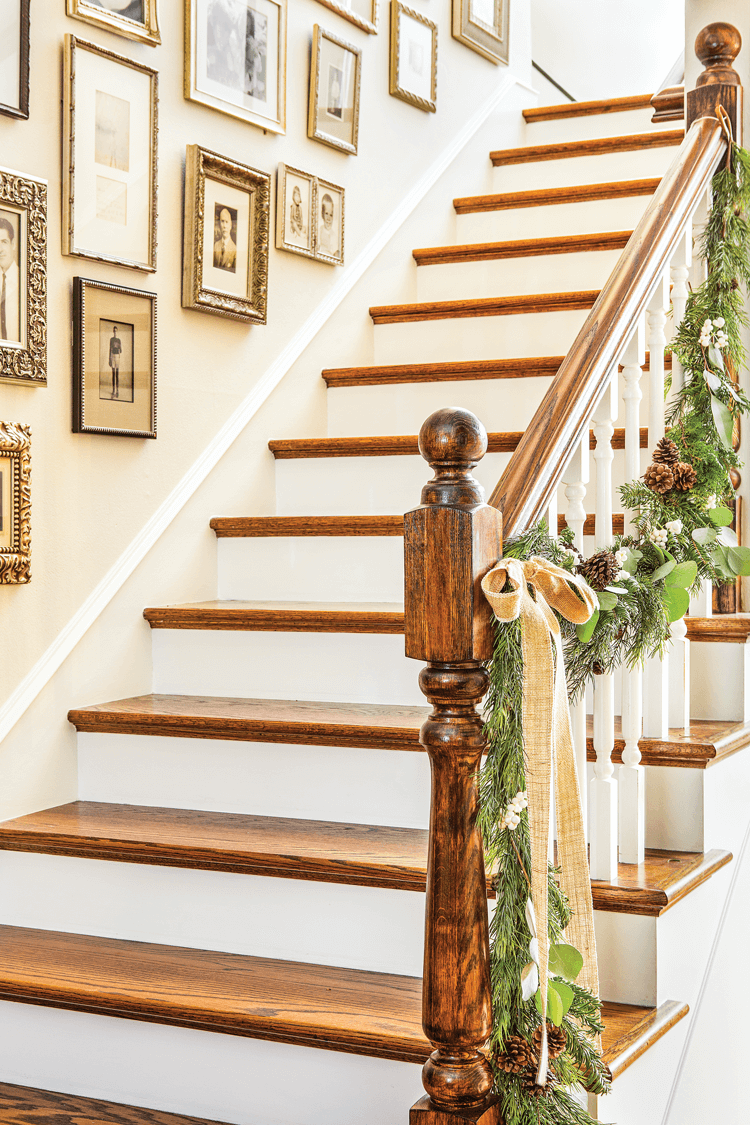 Vibrant Greens
Natural greenery is a main component of her holiday decor. "The natural greens really add a freshness that the faux never does," Sheila says. Holiday wreaths hang in almost every room as bowls of greenery decorate side tables, coffee tables and more. The fireplace and staircase banisters host flowing garlands of mixed greens, and the vibrant color makes her home come alive with holiday cheer.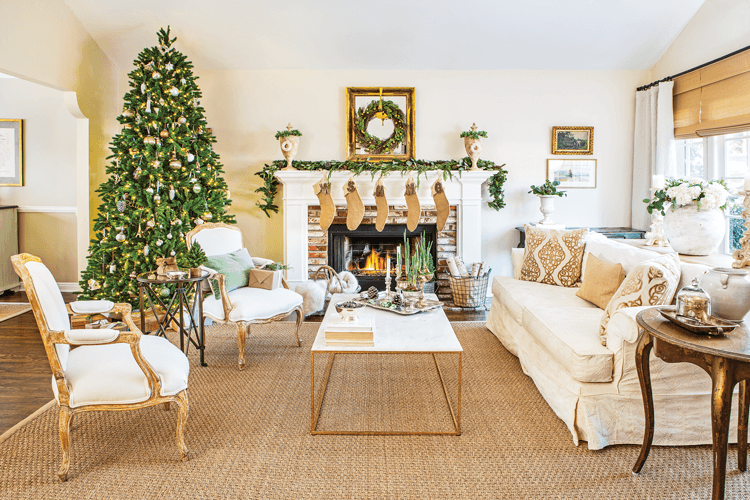 In addition to classic evergreen pine boughs, Sheila uses eucalyptus extensively. "It adds a really earthy freshness," she says.
Holiday wreaths hang in almost every room as bowls of greenery decorate side tables, coffee tables and more.
With so many natural greens, surprisingly Sheila began the decorating process with a new, and quite large, faux tree. She was unsure how she would feel about an artificial tree, but she soon realized the many pros. The tree left no needles, it came with the lights already in place and she was able to start decorating the massive tree early to ensure that she had plenty of ornaments.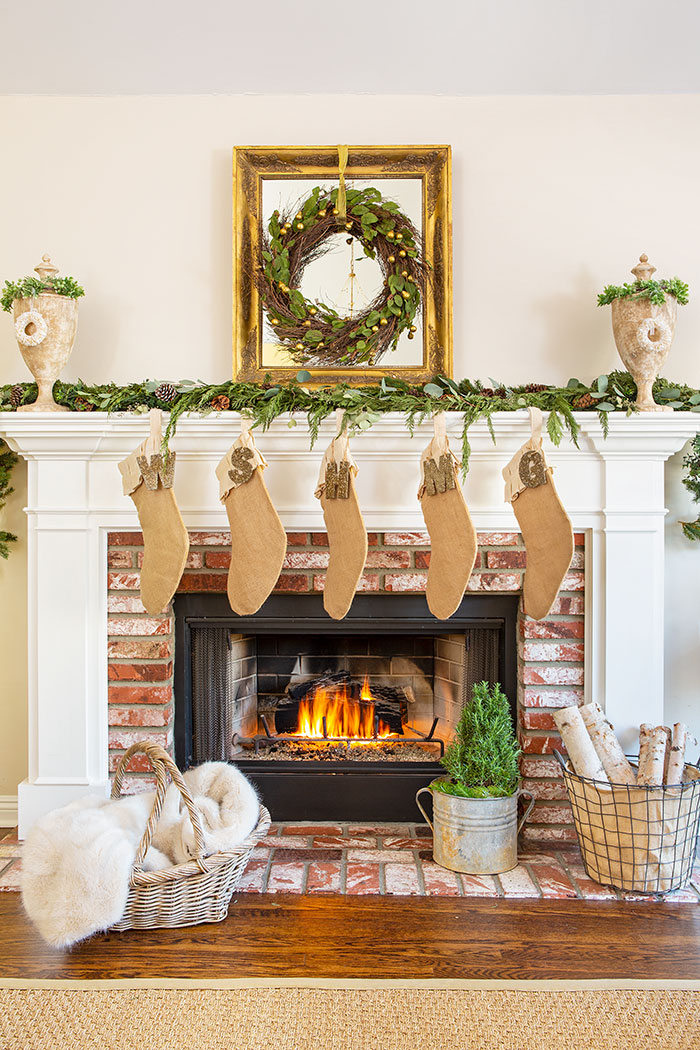 Natural greens, as vibrant and fresh smelling as they are, don't always allow for extended periods of display and sometimes fade before the holidays are over. Sheila still purchased a real Christmas tree, albeit a smaller one, to place in another room for the freshness and scent.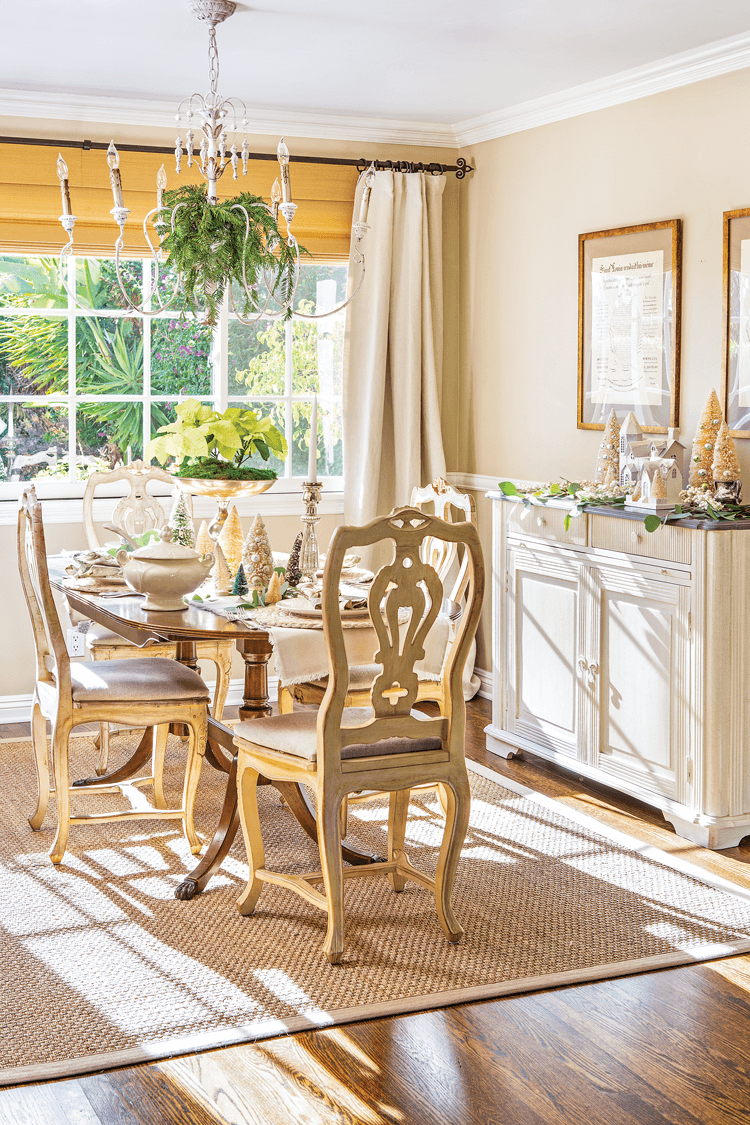 A Touch of Vintage
A collection of vintage bottlebrush trees graces Sheila's dining room table and sideboard. "Those are a new love of mine," says Sheila of the whimsical little trees, "I started collecting them a couple of years ago." She displays them in a group, because she likes the visual effect they have when placed together. Her collection started with authentic vintage trees, and she later incorporated some reproductions. "I just go with what I love," she says.
The color scheme of her collection is consistent with the neutral tones in the rest of the home, but she also added some metallic trees, for a touch of charm and elegance.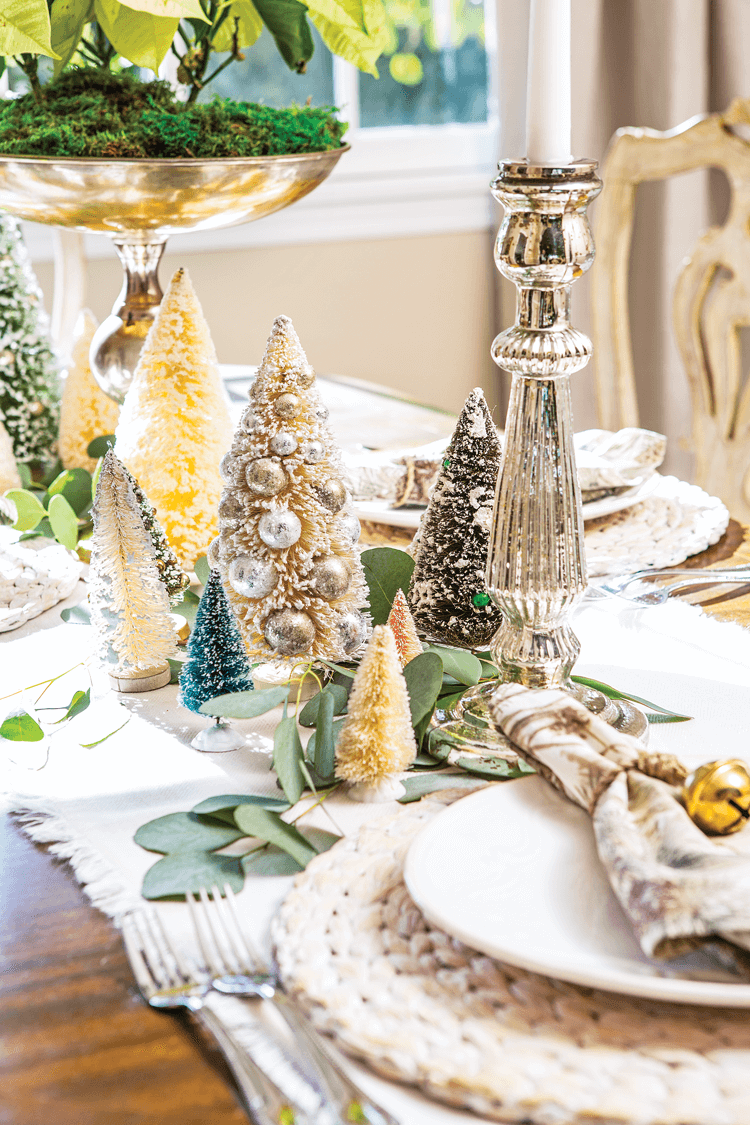 Natural and Fanciful
For Sheila, the beginnings of an alluring table are in the place settings. She starts with the salad plate and builds from there. "I wanted it to look fanciful, but also natural," she says, "That's why I brought in the pine napkins and the wicker chargers."
The combination of the natural elements with metallic accents created a charming tablescape, a theme consistently seen throughout the home. "This was the first year that I did a really neutral Christmas," says Sheila, who plans to continue the new tradition in holiday seasons to come.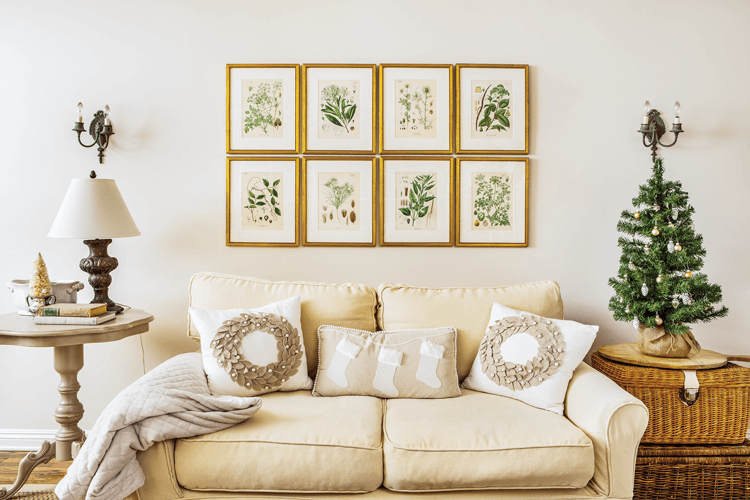 Holiday Hosting Tips
Here are a few of Sheila's tips for welcoming guests into your home during the holiday season.
Solid colors win. "I always use white dishes; you can dress them up or down depending on the occasion," she says. Solid linens also make it easy to put together a lovely table setting.
Hosting parties can be stressful, so Sheila does as much prep in advance as she can. "I always, always set up everything the night before," she says. "That way, the day of the party, all you have to do is put out the food and drinks."
"I often buy one food item rather than making everything from scratch," Sheila says. So if she is making the dinner, she'll purchase appetizers or dessert from elsewhere for a less stressful experience.