Anyone who has tackled a home renovation project knows the importance of organization and quick communication. In the past, keeping your team up to date on timelines, budgets and designs could be just as (or more) painstaking than hands on demolition and construction.
Francein Hansen, Hyve app's creator and a professional residential developer, recognized an opportunity to make her job easier. Before creating the app, Francein says she was constantly searching through emails and making the same phone calls.
"When you are doing projects like this, you work with a lot of people; there is a lot of information and materials, and you are always looking through magazines, finding inspiration," she says. "I had this huge binder I carried to all job sites, and I thought 'there has got to be an easier way.'"
Francein's solution came through an app she created, called Hyve. The app allowed her to connect directly with homeowners and project leaders, which meant fewer phone calls over the course of her own renovation projects. "If you need to know about it, just pull up that app," she says. Team members can open the app for a quick status update and overview of project goals, budgets and timelines.
Beyond communication, Hyve has several features to guide renovators from beginning inspiration to project completion. Users can create inspiration boards, track purchases, manage receipts and even export inventory spreadsheets.
The App's Features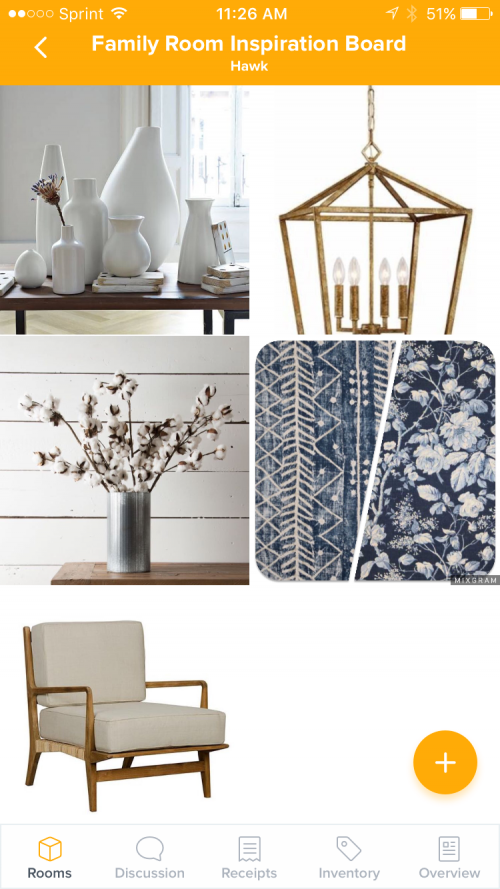 Inspiration Boards – For those just beginning their home renovation projects, inspiration boards allow users to gather images and store products to incorporate into their designs.
Each user has an inspiration board to store images and thoughts for personal reference, and every room also has a board to guide the team. Within the app, users can open a discussion to ask for design opinions and advice.


Track Completion by Room – The app breaks down each renovation project by room. Users input a room's details—such as dimensions and images—and within each room, users can create a wish list of products. The app is great for DIYers, Francein says, because it automatically provides a list of the items, such as appliances and light fixtures, each room could require to guide and focus the renovation project.
Premium users can create an unlimited number of room profiles for every renovation project.



Product Inventory – The app allows users to track and record details of every purchase. Users can export spreadsheets of product details, such as price, retail price, images, etc., for every product purchased by room and category. Premium users can also export details about receipts for every purchase.
"It has every detail of your product—from where you bought it, to what it costs, an actual image, and you can put the URL link through the spec sheet," Francein says.


Team Communication – The app allows users to communicate about the project through a discussion board. Project managers can invite multiple users — for example, homeowners, electricians, plumbers, architects, etc. — who can see and interact with each other. Francein says that this feature is especially helpful in keeping homeowners updated, and it also speeds up their decision-making process.
"If you are a builder, you can have the homeowner included in the group and they get notifications of deadlines as the project goes," she says.
How To Try Hyve
Hyve is only available for Apple users and is free to download through the iTunes app store. Getting started on the app is free and will give the user three free room renovations and three team member invites. For a one-time fee of $69.99, users can upgrade to a premium subscriptions and renovate unlimited rooms within a project, invite an unlimited number of team members, upload receipts and share custom inventory lists.
For more information or to download the app visit Hyve's website at hyveapp.co.