Unlike America's old neighborhoods, the structure of modern communities often isolates us from our neighbors. But many of us are drawn to communities where neighbors are impromptu babysitters who share resources (like vegetable gardens) and streets welcome communal gatherings.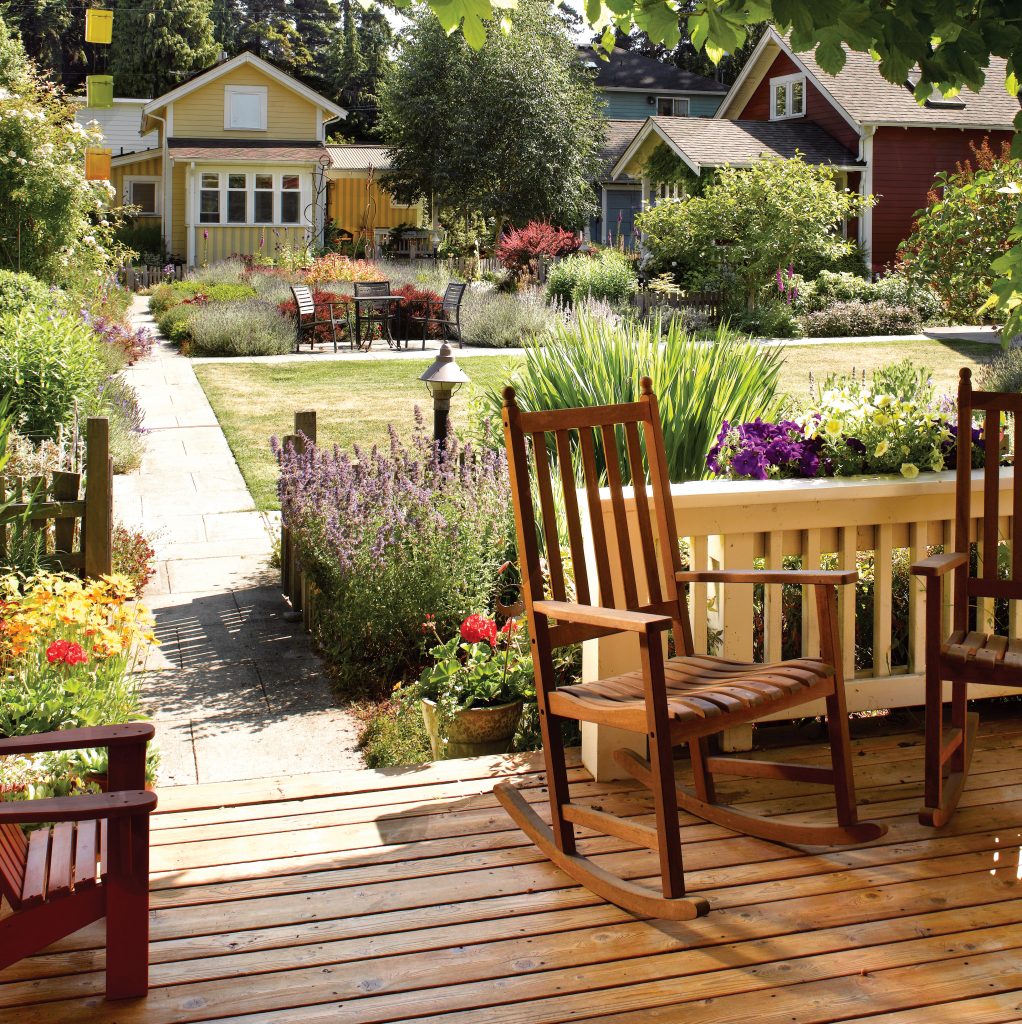 Architect Ross Chapin has been working to resurrect this communal ideal with by developing what he's coined "pocket neighborhoods"—a type of planned community where homes are oriented not around a maze of roads and garges but rather gathered around a shared common area that promote social activities. These are often courtyards, common gardens and landscaped walkways. These neighborhoods are designed to create a sense of close-knit sense of community and neighborliness.
In 1995, Chapin partnered with The Cottage Company founder Jim Soules to build his designs for Third Street Cottages, on Whidbey Island in Puget Sound. While in many ways it was a direct response to the phenomena of Urban Sprawl, a term that describes decentralized and unplanned development that often promotes isolation. Chapin and Soules wanted to create a culture that was oriented toward beautifying your living spaces and were engineered to be more sustainable and a smarter use of space overall.
Since that first project. Chapin has developed 13 more pocket neighborhoods around the country with 5 more in various stages of planning and construction.
The pocket neighborhood philosophy can be practiced anywhere, whether from the suburbs to an urban apartment, Chapin says. "The essence of a pocket neighborhood is having a cluster of nearby neighbors whom you know by name and can relate to."
Here are his suggestions for creating a pocket neighborhood—wherever you are.
1. Prioritize the front yard.
If you have a porch, furnish it and make it a hangout. If you don't have one, create a seating area with a table or two to bring the indoors out. If you're in an apartment complex, place flower pots in front of the unit.
2. Remove or lower your fences.
If two or three of your neighbors are on board, make a pact to pull out the fences in your yards. This will enlarge your common space while still keeping property lines intact. A flagstone walkway running around each property can connect the homes.
If you're not quite comfortable with removing your fence, lower it to allow the community to feed through the backyard. Or simply make a water station in front of your house for dogs or create a front-yard garden for a more inviting and interactive façade.
3. Go green with your neighbors.
Conserve energy and resources for the good of your neighborhood and the planet. Arrange a swapping system and trade your apples for a few of your neighbor's oranges. Follow the same principle for garden tools; if there are 10 of you, it may not be necessary to power 10 separate lawn mowers or consume an excess of shovels, rakes, etc.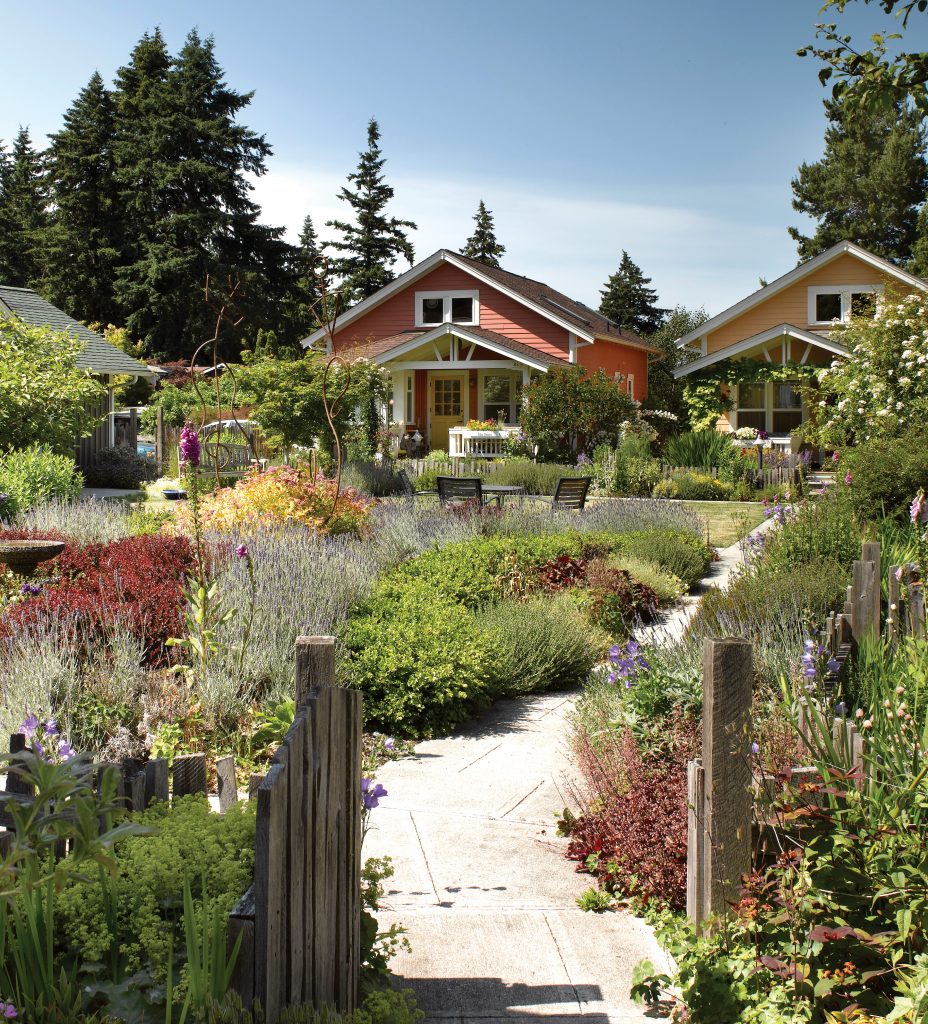 4. Don't forget to plan for privacy.
Community and privacy are not mutually exclusive, and both are necessary to a pocket neighborhood. Chapin says, "With bad design, you need distance to achieve privacy; with good design, you can have close houses that are just as great." Use "the five layers of personal space," he advises, including: a border of plants at the sidewalk's edge, a low fence, a private front yard, a porch framed by a low railing and flowerboxes and, lastly, the porch itself. Attention to the five layers will strike a balance between public and private that actually expands your personal space—all between the courtyard and the front door.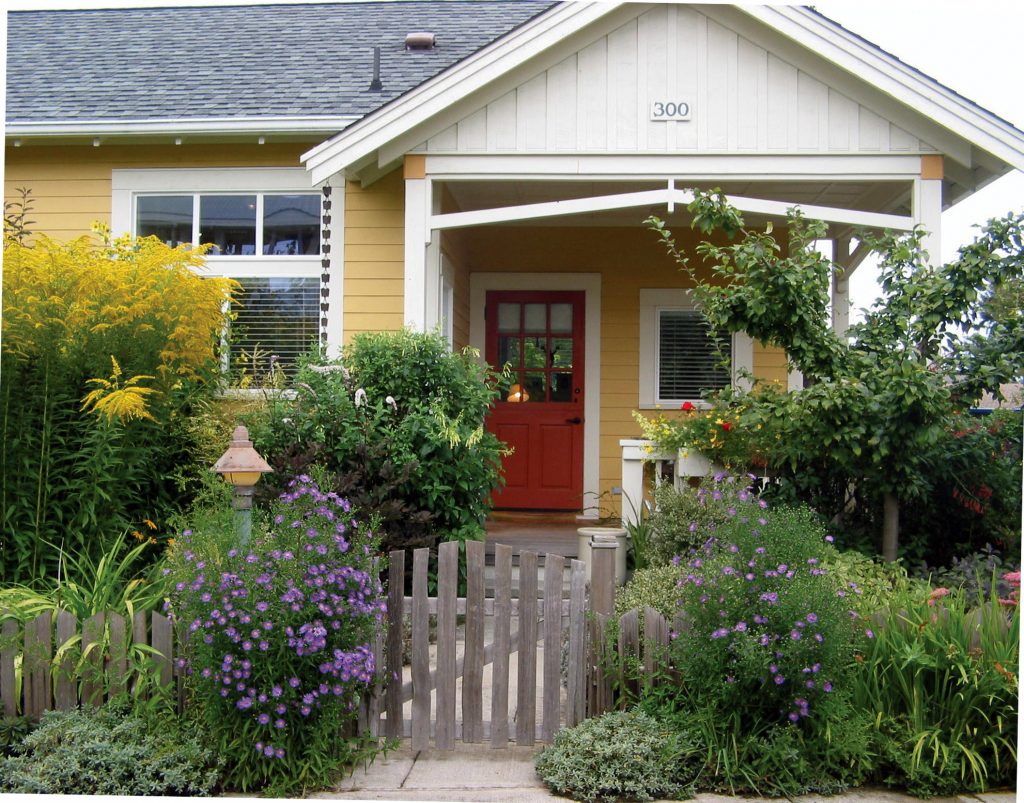 5. Make it a group effort.
If there are several of you who share a desire to be more community-oriented, begin by simply getting together and brainstorming things you can do to create a more walkable, livable and friendlier space. These efforts can be big or small, whether planting trees for shade, using a bench for community seating or using sidewalk space for a raised bed garden. Larger-scale efforts might include working with your city to plant a passageway with trees and flowers or utilizing a vacant lot as open opportunity for a community garden.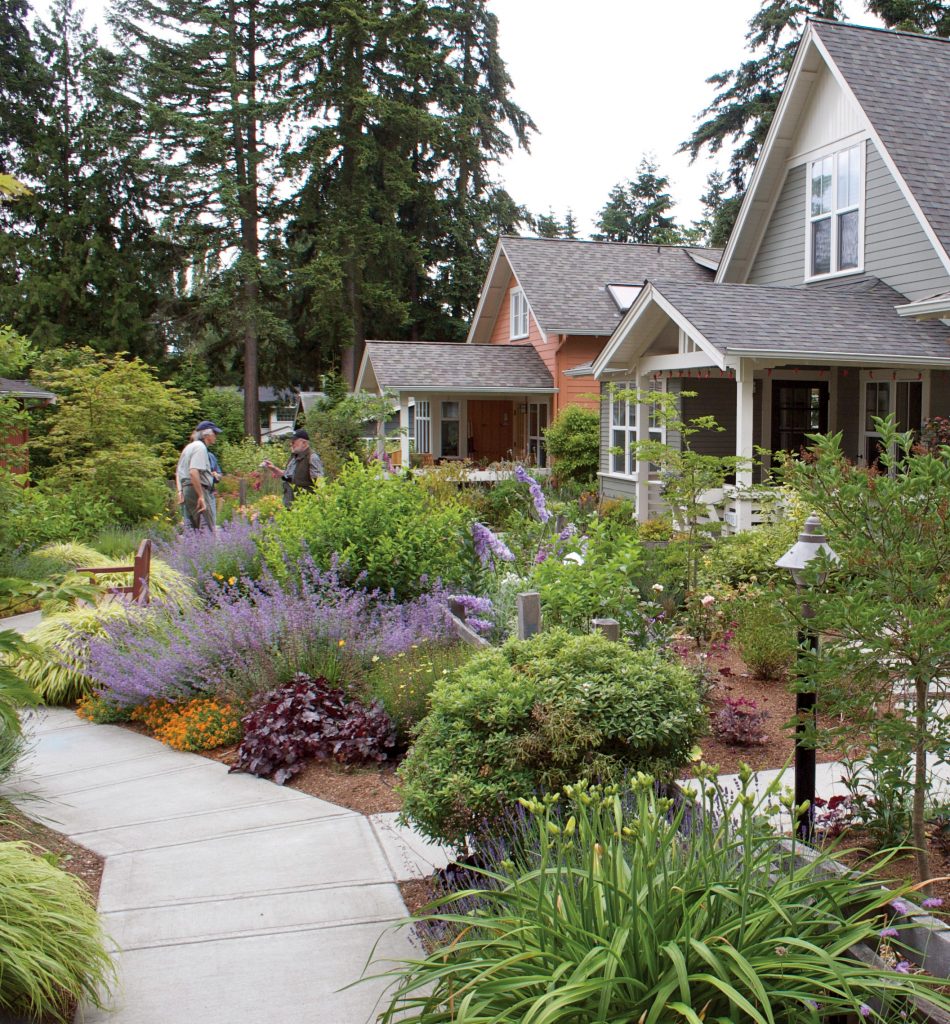 6. Incorporate pocket-neighborhood principles into your next remodel.
In your next redesign, orient the house's active areas— the kitchen, family room and side yard—toward the street, Chapin suggests. And rethink your front elevation: Welcome guests with an attractive entryway rather than greeting them with a wall of garage doors.
Other ideas for remodels: Create a "living porch," a room in itself that faces the street. Chapin says, "Porches make wonderful in-between rooms where you can engage with the public or step inside."
And don't forget to preserve the privacy of your next-door neighbors. Don't install windows that could invade their space. Instead, bring natural light indoors by using skylights or high windows.

To learn more, visit ohsowe.com or pocket-neighborhoods.net.