Fall is all about comfort food, but salads can be comforting too! Especially when they're filled with hearty and seasonal ingredients like squash, apples, pomegranates, and figs. Maple syrup even makes a few appearances to add some sweetness and texture! Whether you're on the go and need something to pull together in a pinch, need an new idea for a party or potluck, or just want to settle in and explore new ingredients and techniques, this list has it all. From feeding picky eaters to catering to the more adventurous and experimental, there's something for everyone. Read on to discover your new favorite creative fall salad recipes!
1.
 Fall Squash Salad with Maple Wine Vinaigrette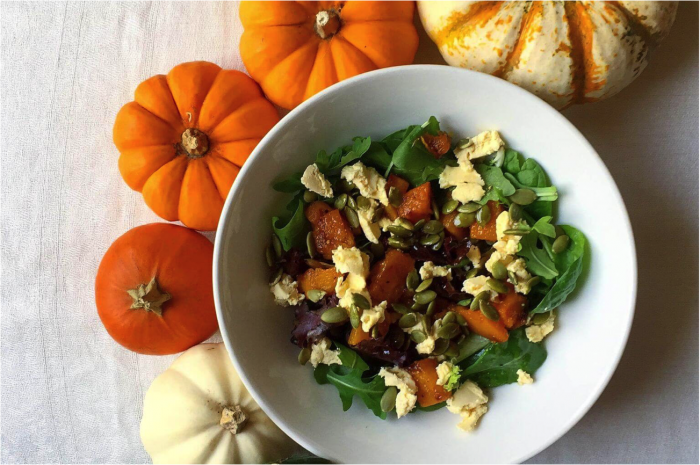 Squash and pumpkin seeds bring this fall themed salad to life! The butternut squash roasts for about half an hour before it's tossed with the rest of this simple salad. Finally a delicious maple wine vinaigrette, whisked together with ingredients you likely already own, tops it all off. Find the full recipe at Food 52.
2. 
Fall Harvest Salad with Pumpkin Goddess Dressing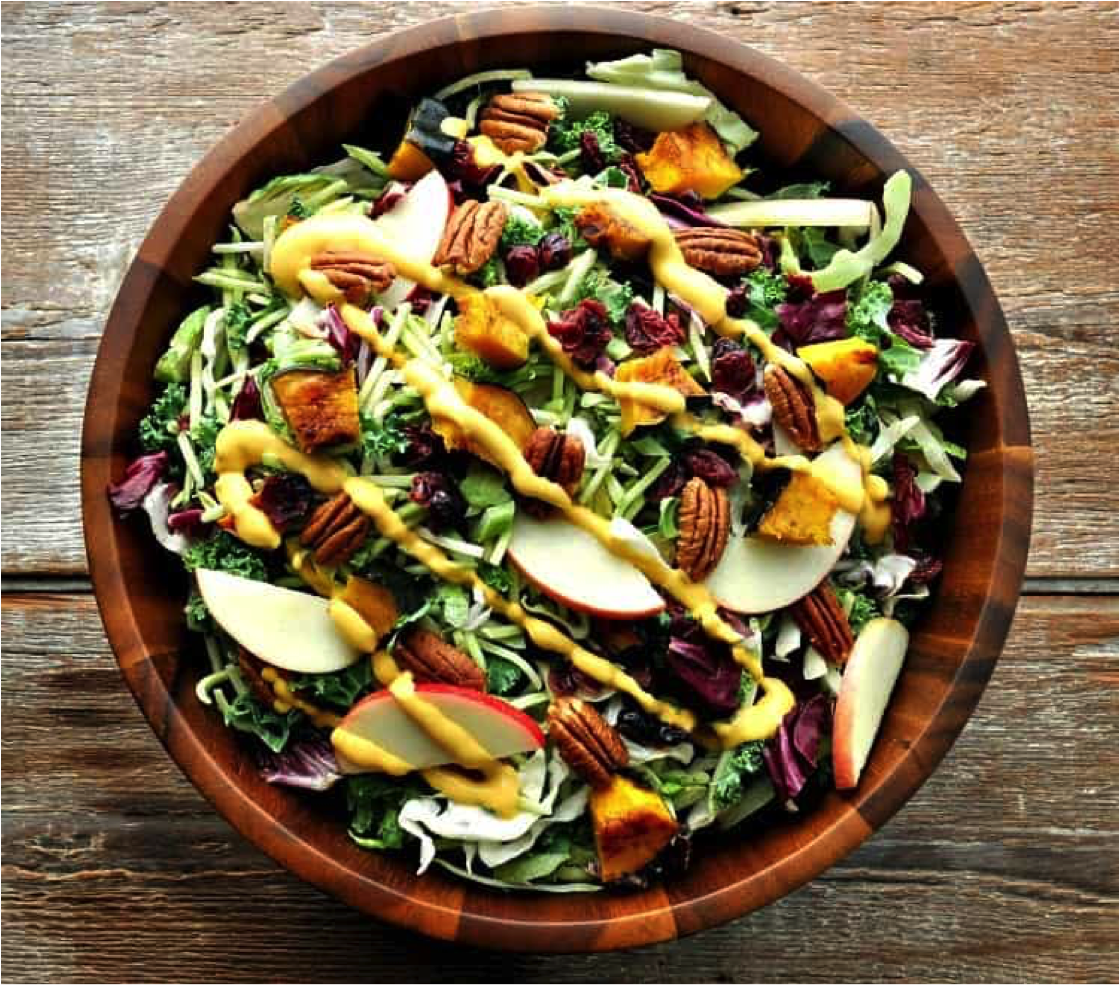 This harvest salad is a perfect side dish for Thanksgiving day – but no need to wait that long to enjoy it! The toasted pecans and apples add crunch and texture that combines beautifully with the tender acorn squash. Sweet potatoes can substitute for the squash, while the pecans can be swapped for walnuts or pumpkin seeds- this recipe features a lot of modifications, so the options are endless!
3. 
Autumn Apple Salad with a Maple Vinaigrette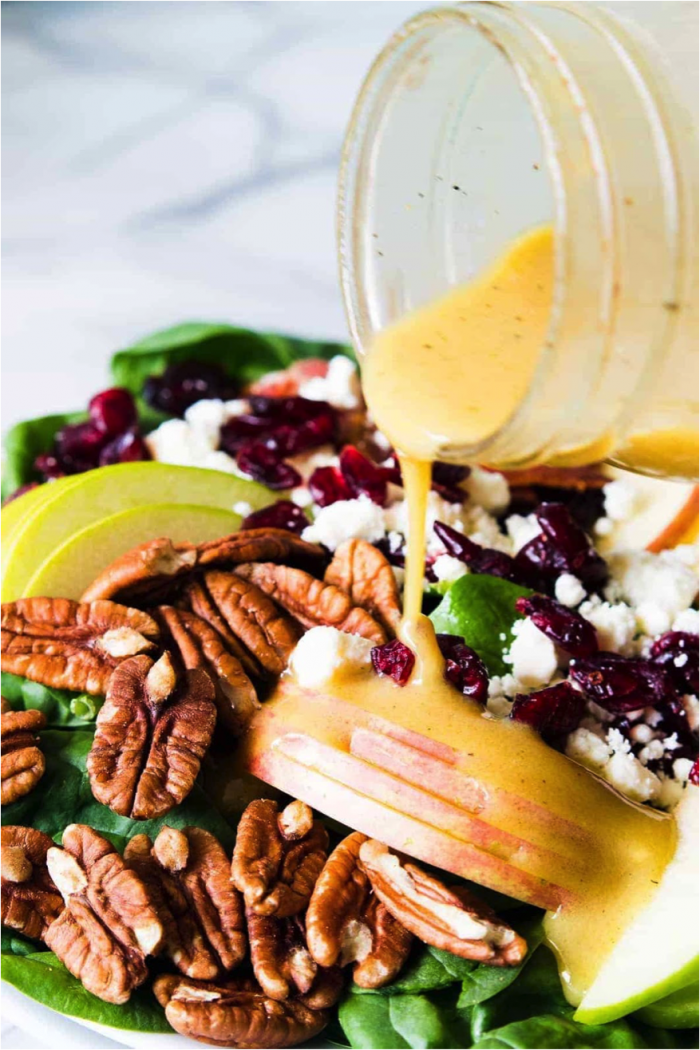 Apples are the frontman of this autumn salad, and the duo of Granny Smith and Fuji are the perfect balance between tart and sweet. The cranberries and maple vinaigrette make it festive for fall while the crispy bacon makes it stand out from the crowd. At just under ten minutes to make, this is one of those perfect fall salad recipes to bring to a potluck or party when you're in a pinch!
4. 
Simple Fall Green Salad with Apples and Pecans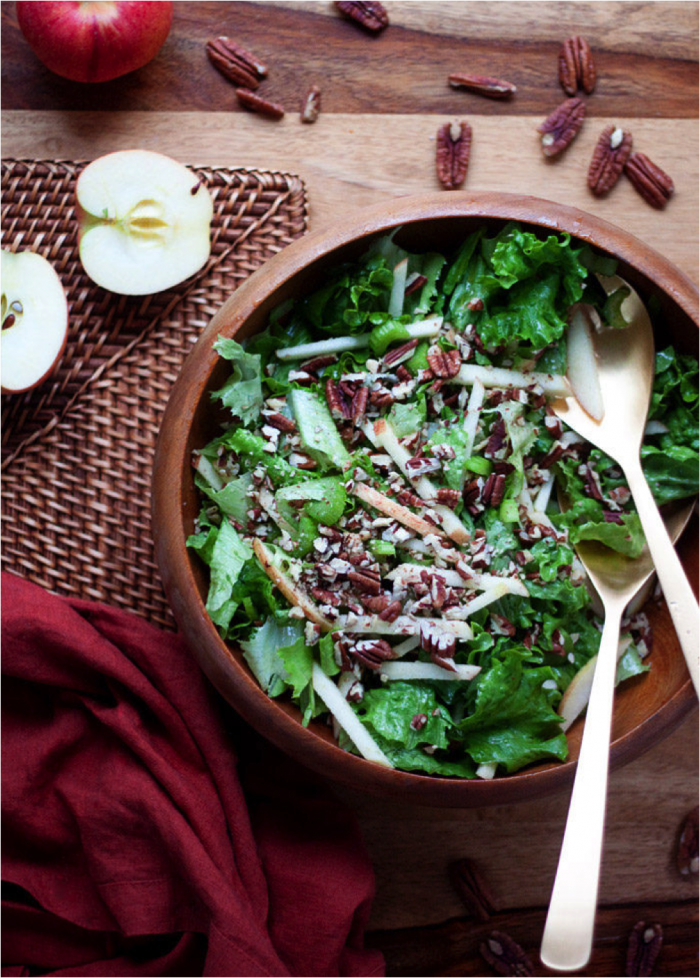 This sweet green salad by Kare of Kitchen Treaty is perfect for kids, picky eaters, or anyone just craving simplicity. The light maple cider vinaigrette is mixed up right in the bowl and combined with your greens of choice. Top it with apple matchsticks, celery, and pecans and you're good to go!
5. Caramelized Roasted Fig Spinach Salad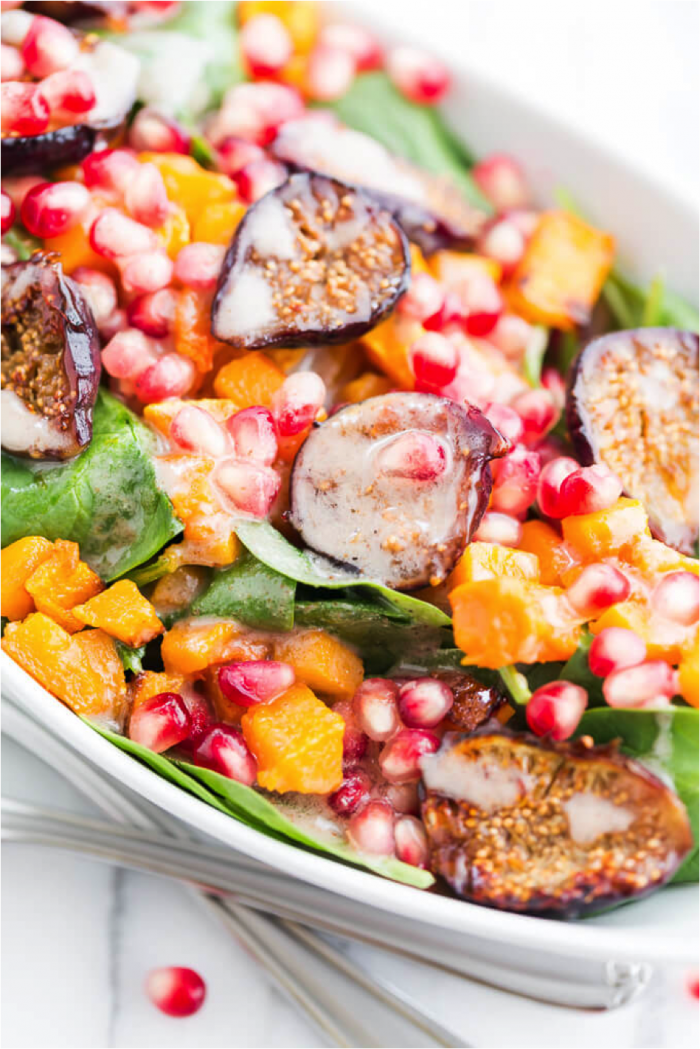 Looking for fall salad recipes to bring to a party? The butternut squash, pomegranate, and pecans make this recipe festive and flavorful. But the figs steal the show! They caramelize in the oven for 10-15 minutes before they join the rest of this fall medley. Find Kari's full recipe here.
6. 
Frisee and Carrot Ribbon Salad with Za'atar-Lemon Vinaigrette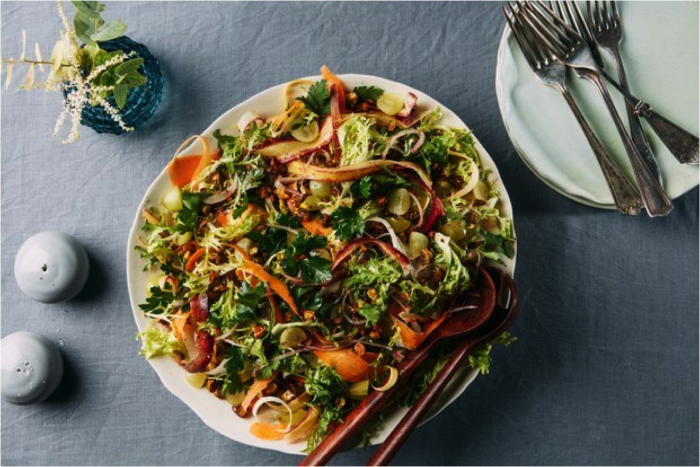 Looking for something totally different? This salad is just as colorful as it is unique! Za'atar, a Middle Eastern spice blend, fuses with the lemon to create a zesty topping for the frisee. Meanwhile, the honey and pistachios tie it all together and remind us of the fall.
7. 
Fall Detox Salad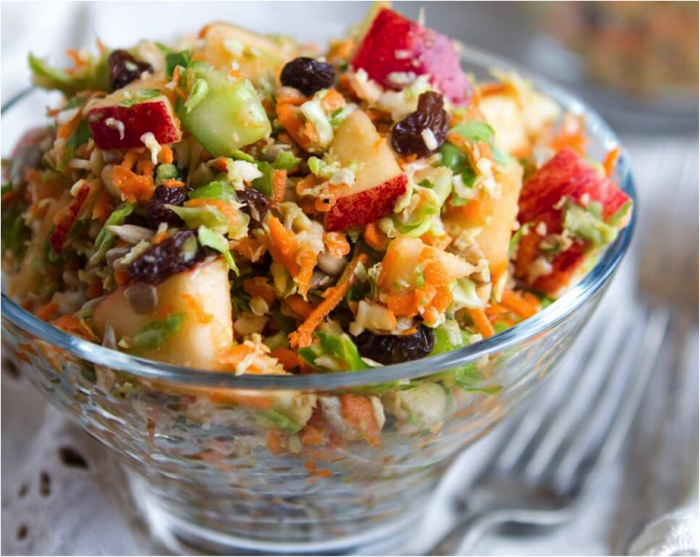 This detox salad is perfect when you need to reset from all of October's treats! What we love about Oh She Glows's recipe is that the maple syrup packs a punch while the apples, celery, and carrots make it crunch. The vegetables turn out beautifully with a food processor but if you don't have one, chopping them will work just as well.
8. 
Fall Harvest Roasted Butternut Squash and Pomegranate Salad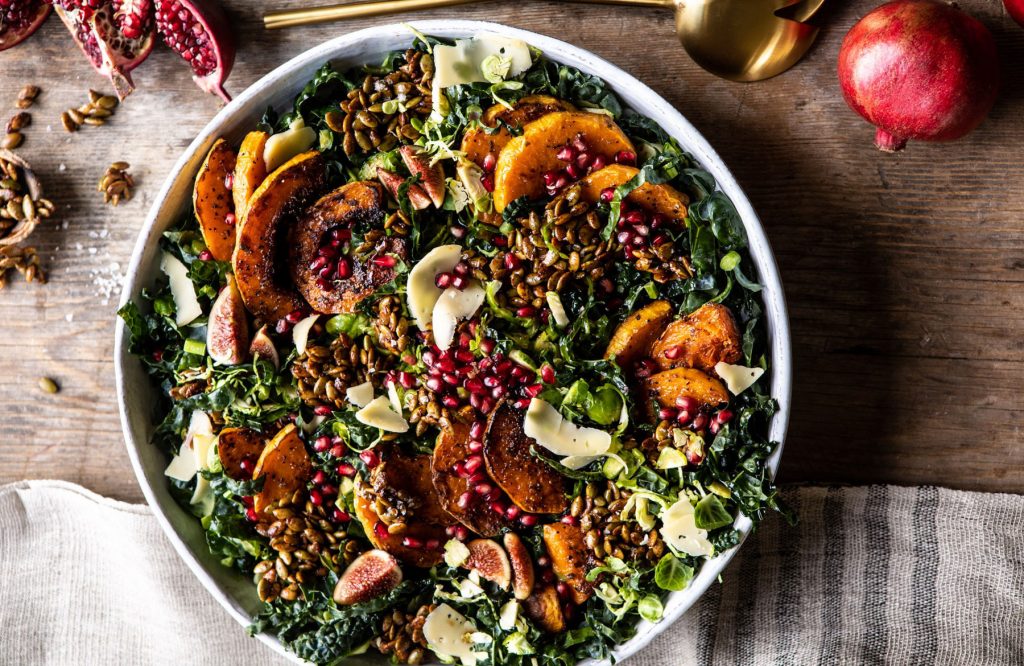 This stunning salad is as good as it looks. The creamy Gouda cheese and cinnamon honey roasted butternut squash definitely make it stand out from the crowd. This one is sure to be a favorite all year round.
9. Pear Salad with Walnuts and Gorgonzola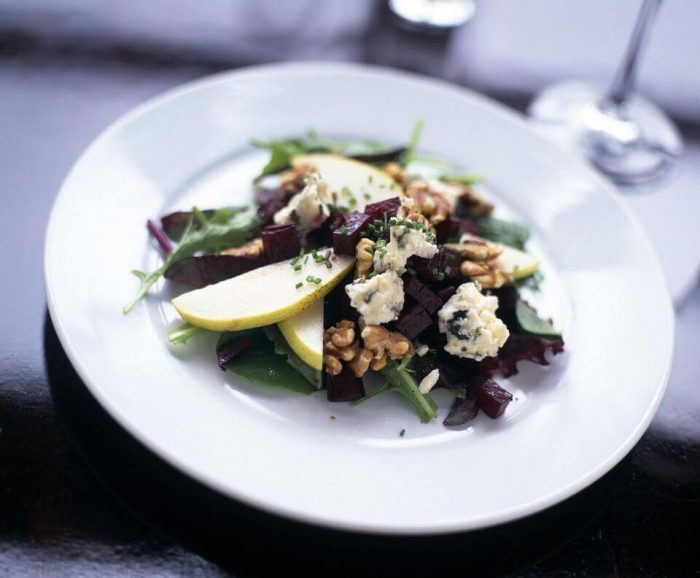 Pears are perfect for this delightful and fresh salad! The gorgonzola cheese, a kind of Italian blue cheese, can be omitted to make it lighter, but leaving it in makes this salad all the more memorable. Since the ingredients are so prominent, a light lemon dressing tops it all off without masking the flavors.
10. 
Sauteed Kale with Apples, Onion, and Bacon

Kale has never looked better than it does in Colleen of Culinary Colleen's  seasonal salad. Cooked alongside bacon and apples, it's sure to become a staple. Maple syrup and apple cider vinegar are added in while the kale cooks, so no dressing is needed!
11. 
Butternut Squash Cranberry Sorghum Salad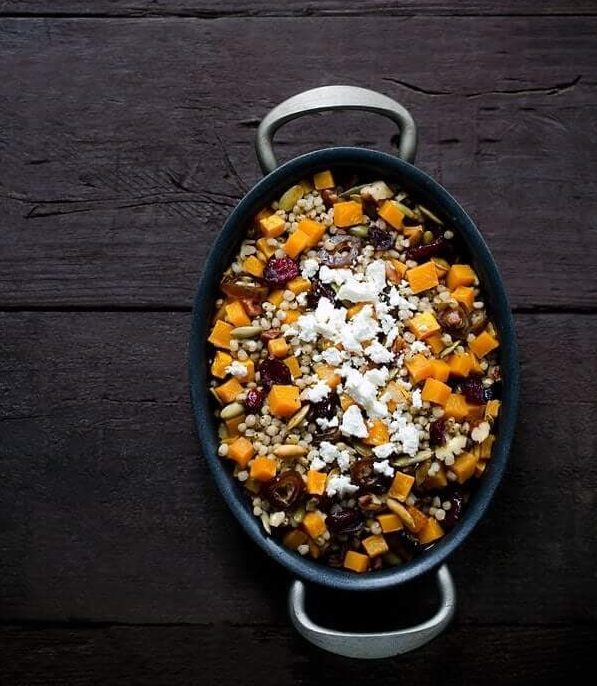 Sorghum is the star of this hearty salad! Full of nutty flavor and texture, this underrepresented grain is the perfect salad base. If you don't have sorghum, quinoa or brown rice work as substitutes though we definitely recommend you experiment with this great grain!
12. 
Avocado and Roasted Yam Fall Ensalada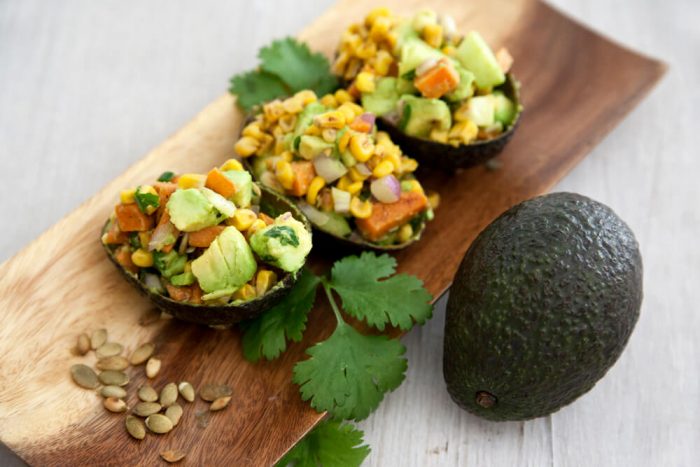 What better way to eat your salad than right out of the avocado? This inventive salad can be enjoyed as a side, entree, or even an appetizer complete with tortilla chips. The pumpkin seeds, corn, and yams make it feel like fall while the avocado brings a velvety smooth texture.
Looking for more fall recipes? How about this roundup of pumpkin desserts? Or if apples are more your vibe we've got recipes for that too!
Of course, don't forget to follow us on Instagram, Facebook and Pinterest to get your daily dose of cottage inspiration!