How do you display a lifetime of collectibles in a way that feels fresh, airy and uncluttered? When designer Cathy Mogull set out to renovate her Spanish hacienda "Casa Serena" she aimed to do just that. The design challenge? Cathy's serene space had to accommodate a home studio and decades of collected pottery, glass and art. Her tips for how to display collectibles prove that you can live with what you love in a clean, organized way.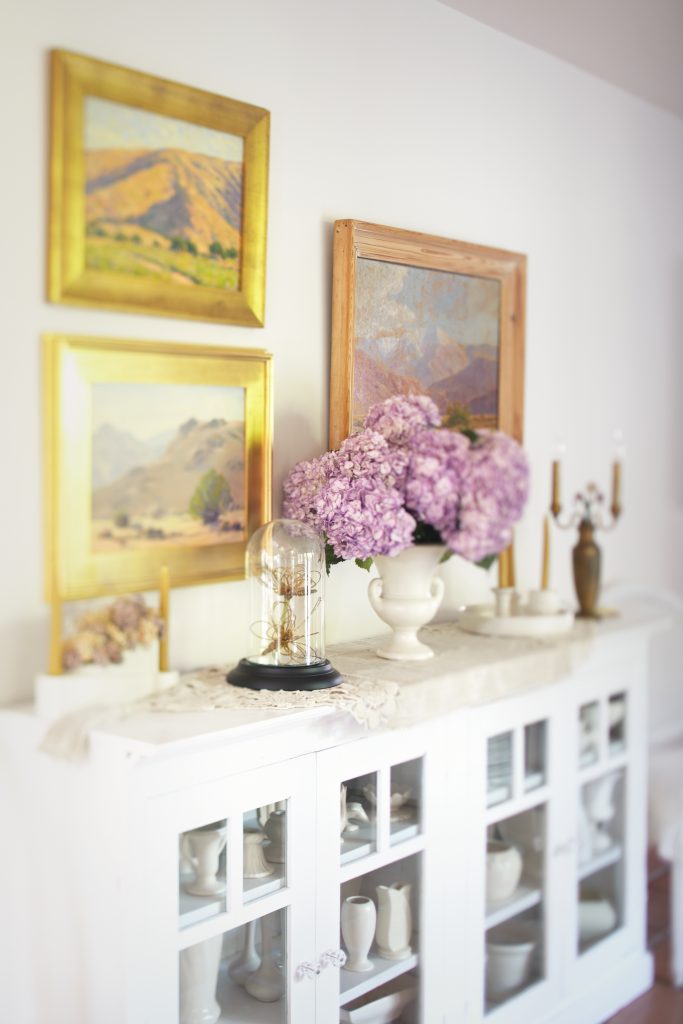 1. Open up the space.
To keep the clusters of small collectibles from feeling claustrophobic, Cathy and her husband, television producer Jimmy Simons, with help from a team of builders made the floor plan feel wider by altering the entryways. "Every opening to each room had hard angles," Cathy explains. "We cut and carved each of them to create soft archways using one consistent design for every opening. With a bit of patience and drywall, the results are subtle but beautiful," she says.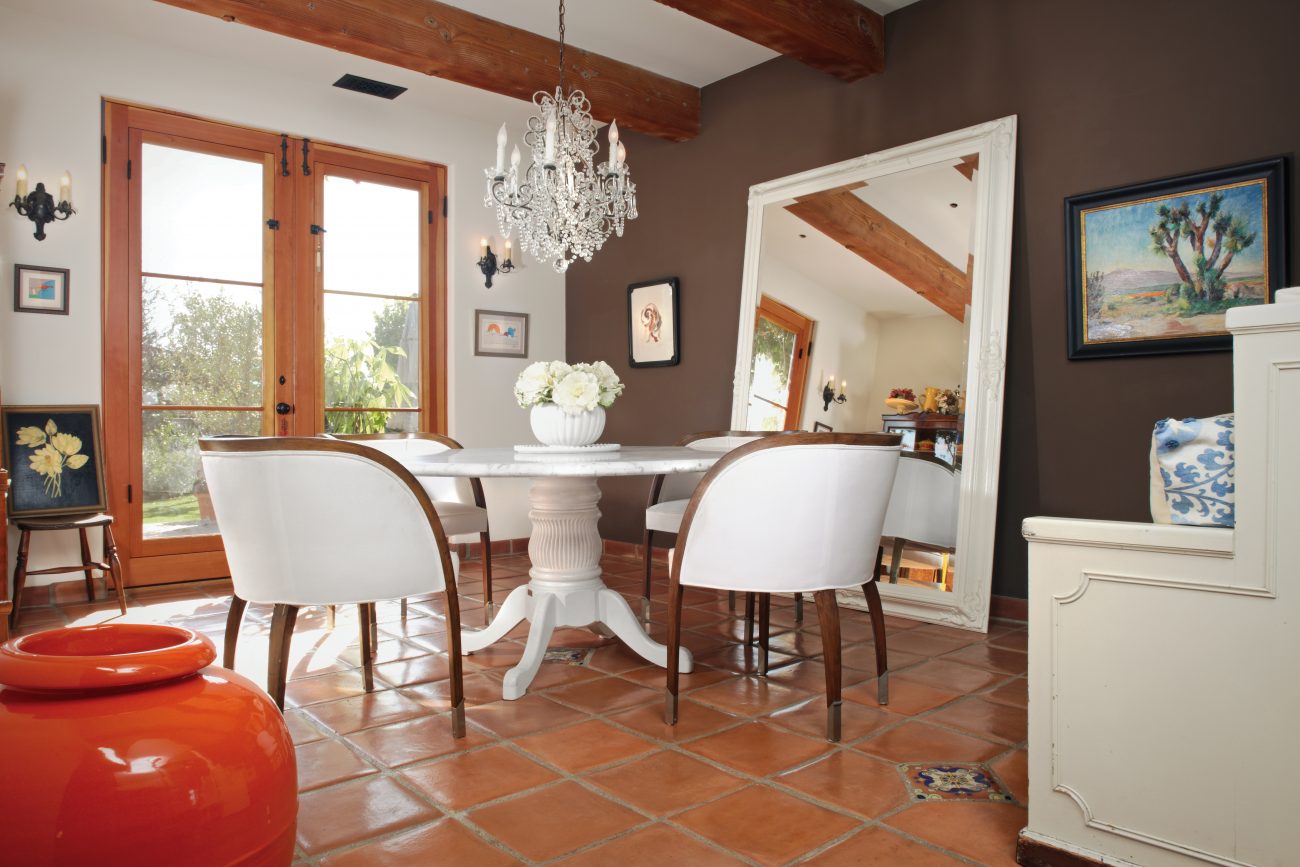 2. Balance collectible clutter with a blank canvas.
Cathy's approach to design is simple: Start with Benjamin Moore #920 white paint on all the walls. This color choice offers a clean, fresh and consistent palette. Layering her collections in a neutral space helps offset a grouping that could otherwise be overwhelming in color.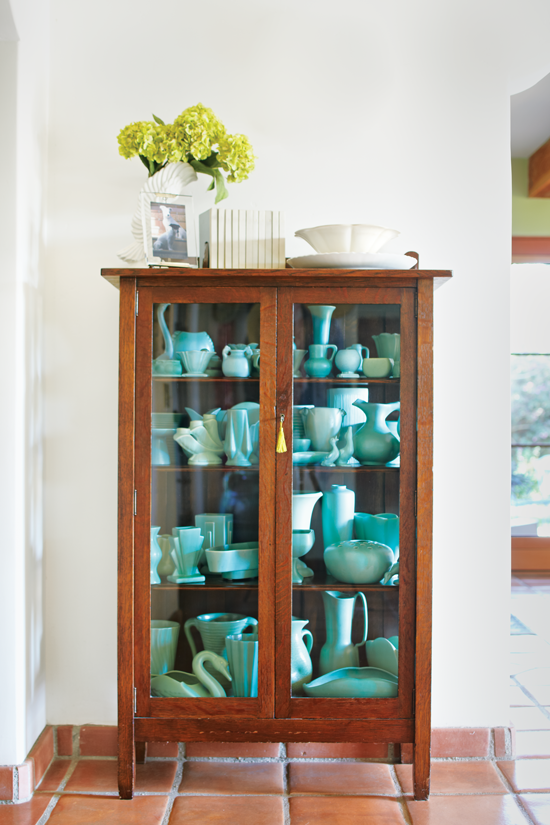 3. Edit freely.
Calling on her years in merchandising for Rachel Ashwell's Shabby Chic lines, Cathy displays her collections of pottery, glass and art in well-edited groupings. Her rule is to mix colors and pieces into artistic vignettes throughout the home to manage quantities and focus on quality. Cathy arranges and rearranges until it's "just right." And two or three times a year she moves around the furniture and restyles a room to keep her favorite items in rotation and update her space. "It often feels as if I have all new things."
Cathy and Jimmy's furniture is an eclectic mix of Shabby Chic down couches and chairs, lots of vintage finds, a few midcentury pieces and a handful of family heirlooms. The key to the mix is simple comfort. Most weekends, the couple's five children visit from Los Angeles and San Francisco. Thanks to Cathy's fuss-free yet chic interior, the full house feels roomy, casual and relaxing.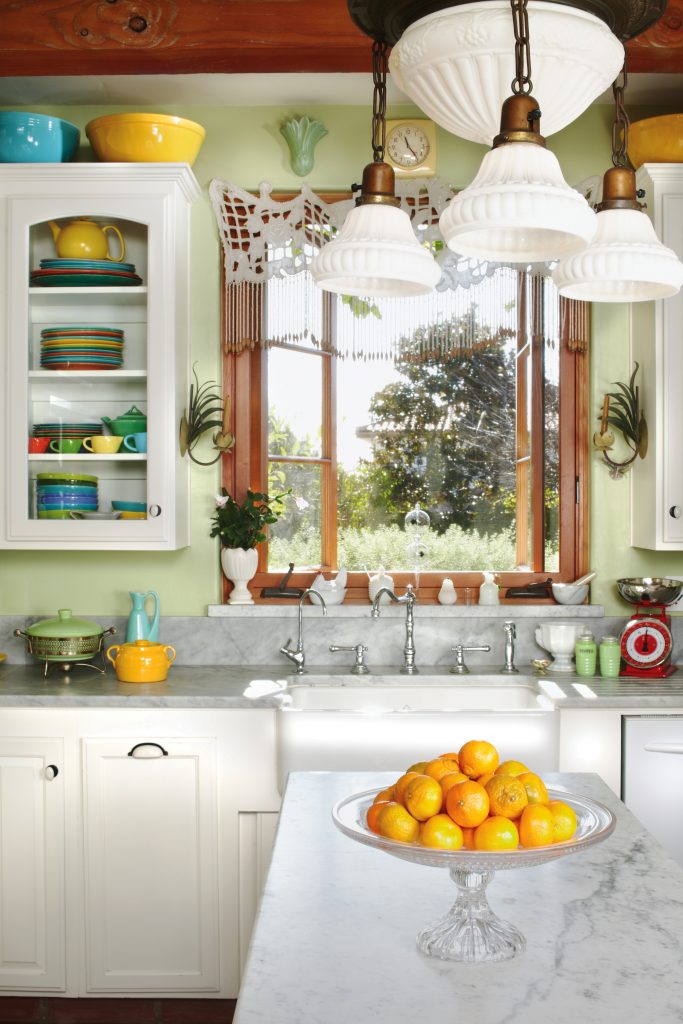 4. Get active with your collectibles.
Combining her love for everything vintage with the desire to offer a creative environment for women, Cathy founded Summerland Mercantile two years ago. During a four week renovation project, she transformed an underused garage bay into an enchanting atelier where she and designer Stacy Crenshaw refurbish vintage finds and host craft workshops, teaching others how to reinvent and rearrange their collectible passions.
Looking for more collectibles and decor insight? Check out this post on a way to display your collectibles that guarantees and amazing look every time.
Of course, don't forget to follow us on Instagram , Facebook and Pinterest to get your daily dose of cottage inspiration!