Farmhouse kitchen style wasn't exactly a trend back in 1970, and if it was, it wasn't done on purpose. Back then, most homes fell in line with the suburban look, outfitted with dark woods and compartmental floor plans. That was the original state of this Bethesda, Maryland kitchen. Until it was made over top-to-bottom through the imagination of Colleen Shaut, Director of Project Development at Case Design.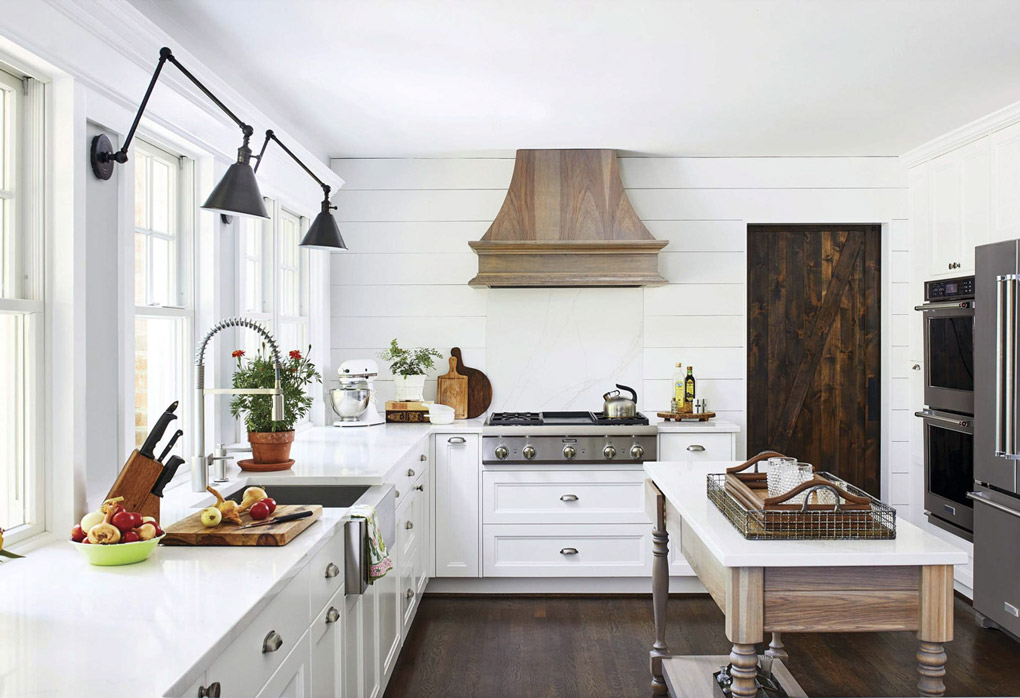 With the help of Project Manager Stefan Eising and Lead Carpenter Drew Davis, the team got to work remodeling this kitchen. Homeowners, Christy and Michael MacCormack, wished for a kitchen where they could look out and view their adult children and dogs enjoying one another's company. Christy dreamed of a modern farmhouse kitchen that was white, bright and inviting.
Read More: Rustic Farmhouse Game Changers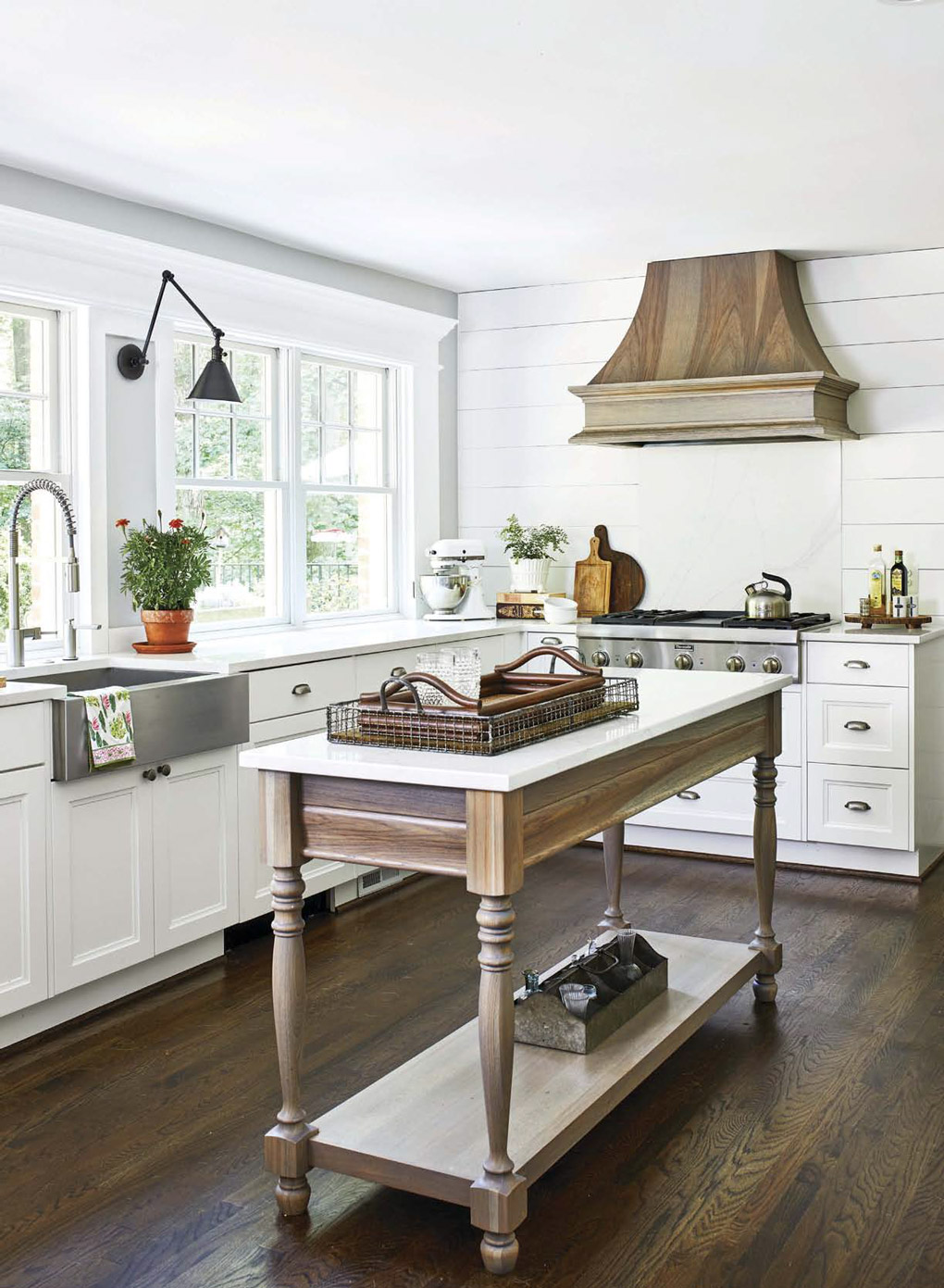 OPEN & BREEZY
In 2016, Christy and Michael approached Case Design to remodel several spaces throughout the home, and in 2017, they made the decision to tackle the kitchen. "They wanted to transform their linoleum-clad, dark and dingy kitchen and dining room into the open farmhouse kitchen it is today," Colleen says.
We set out to bring the outside in and get the best possible views of the expansive parkland their property backs up to.
Starting with inspiration from Pinterest, the design team embarked on two months of design and four months of construction. This entailed removing walls and adding windows to accomplish the open-concept floor plan the homeowners envisioned.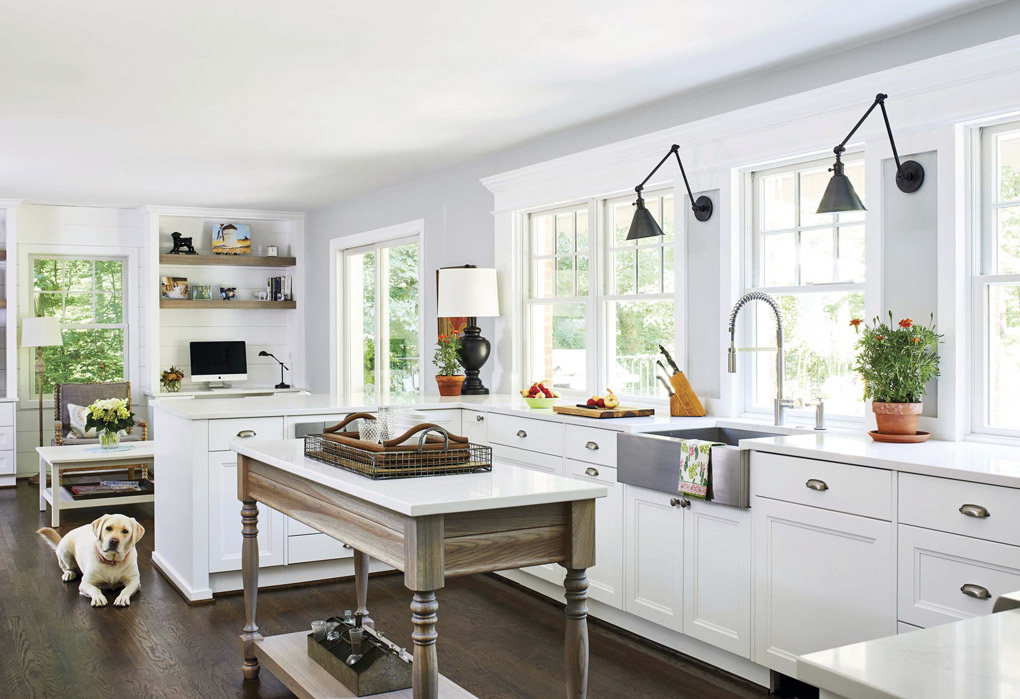 Colleen says, "We set out to bring the outside in and get the best possible views of the expansive parkland their property backed up to. We added five windows that extend from the countertop to about a foot from the ceiling. Now natural light pours into the space, [giving] the feeling of being out on the patio while working from the kitchen."
My new kitchen space is so functional that it makes me feel so much more functional as a person.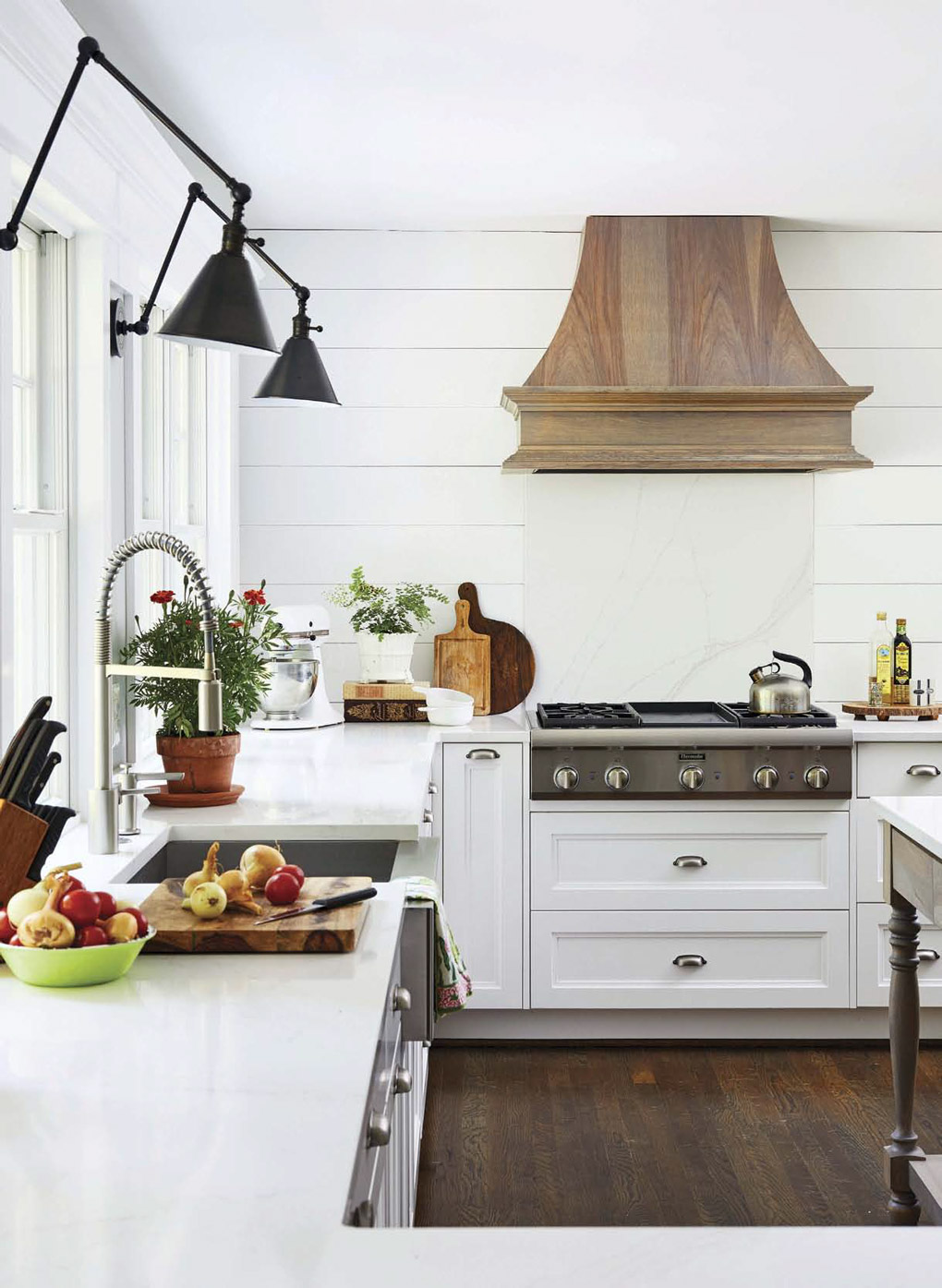 A TRUE LIVING SPACE
Christy had a goal for this farmhouse kitchen: to create a "crowd-pleasing space" instead of a "crowded space," she says. She wanted to make the kitchen all about living, not just about cooking, and the design team more than achieved this goal. They chose to turn the extra square-footage from the dining room into a casual sitting area with a computer desk, bookshelves and TV, all right off the kitchen.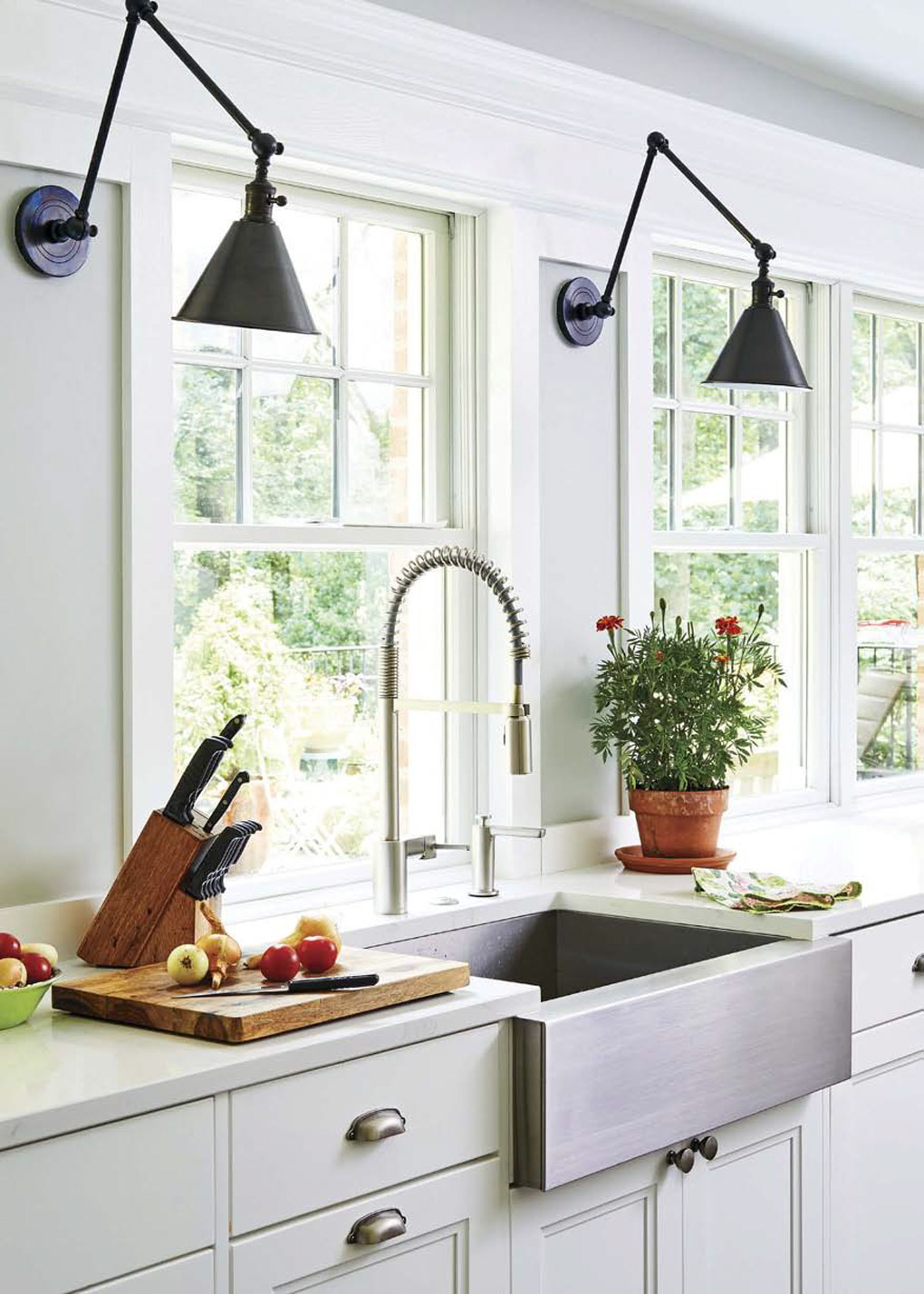 COTTAGE ACCENTS TO INPSIRE
Cottage style shines in this modern farmhouse kitchen. Here are the best and brightest cottage accents from this kitchen that you can take away for your own space:
– Light color palette
– Rustic elements
– Shiplap walls
– Barn-style door
– Farmhouse sink
– Weathered wood hood
– Turned furniture legs on the island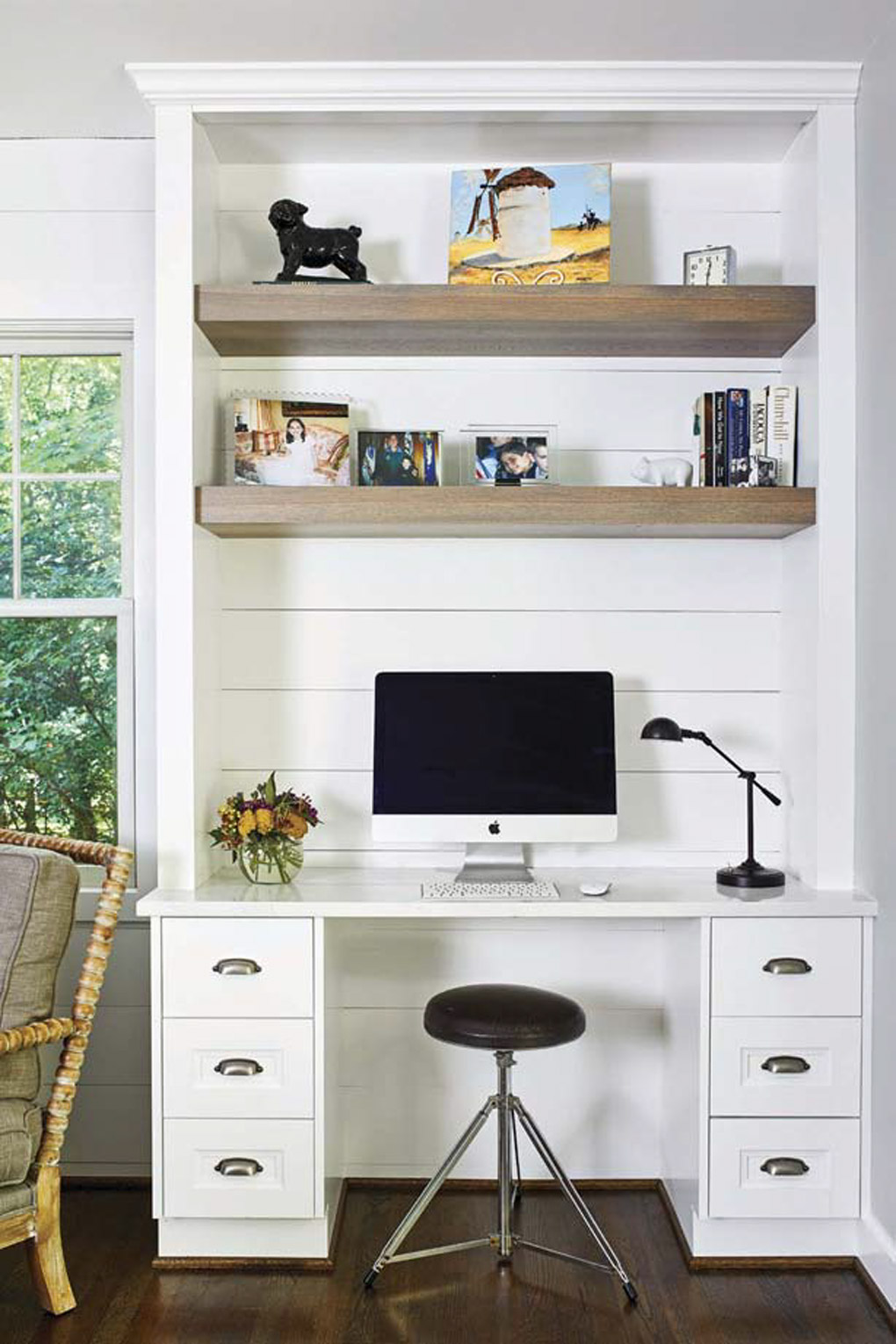 FARMHOUSE KITCHEN WITH PURPOSE
This kitchen does a lot more than serve as a place for preparing meals. With the neighboring sitting area, workstation and seating for watching TV, it's a place where the homeowners can cook and live their lives with their family. "The kitchen is the heart of the home, so keeping the kitchen open to its surrounding rooms will allow for more gathering space," Colleen says. She adds, "Planning out how you will use the adjacent rooms will save stress down the road. For example, we integrated a desk for Christy in the family lounge area where she could do her blogging."
Today, Christy and Michael are thoroughly enjoying their open-concept kitchen and the lifestyle it symbolizes: a place where the couple and their family can talk, play board games, read, knit, listen to music and watch football games. It's a space that has simply made this family's life better.
Want more simply beautiful ideas? Check out this post on Rustic Farmhouse Game Changers. 
Of course, don't forget to follow us on Instagram, Facebook and Pinterest to get your daily dose of cottage inspiration!