Dream homes can be hard to come by—or they are simply destined to be and will find their way to you. Such wondrous kismet worked for Susie Holt and her husband, Mark. Every day on their way to work, they would drive a route along the Gulf of Mexico on a small barrier island called Casey Key. One day they saw a man putting out a 'For Sale' sign in front of a 1,100-square-foot 1920s beach bungalow. The couple stopped, chatted with the homeowner, went inside and were pleasantly surprised. "It was bigger than it looked," Susie recalls. As she surveyed the bungalow floorplan, Susie, who owns a coastal chic decor store called Posh on Palm in nearby Venice, with Mark, knew she could apply her unique brand of home styling magic to the place. Struck by the bungalow's possibilities, Susie says, "we made a deal with the owner and moved in a few months later."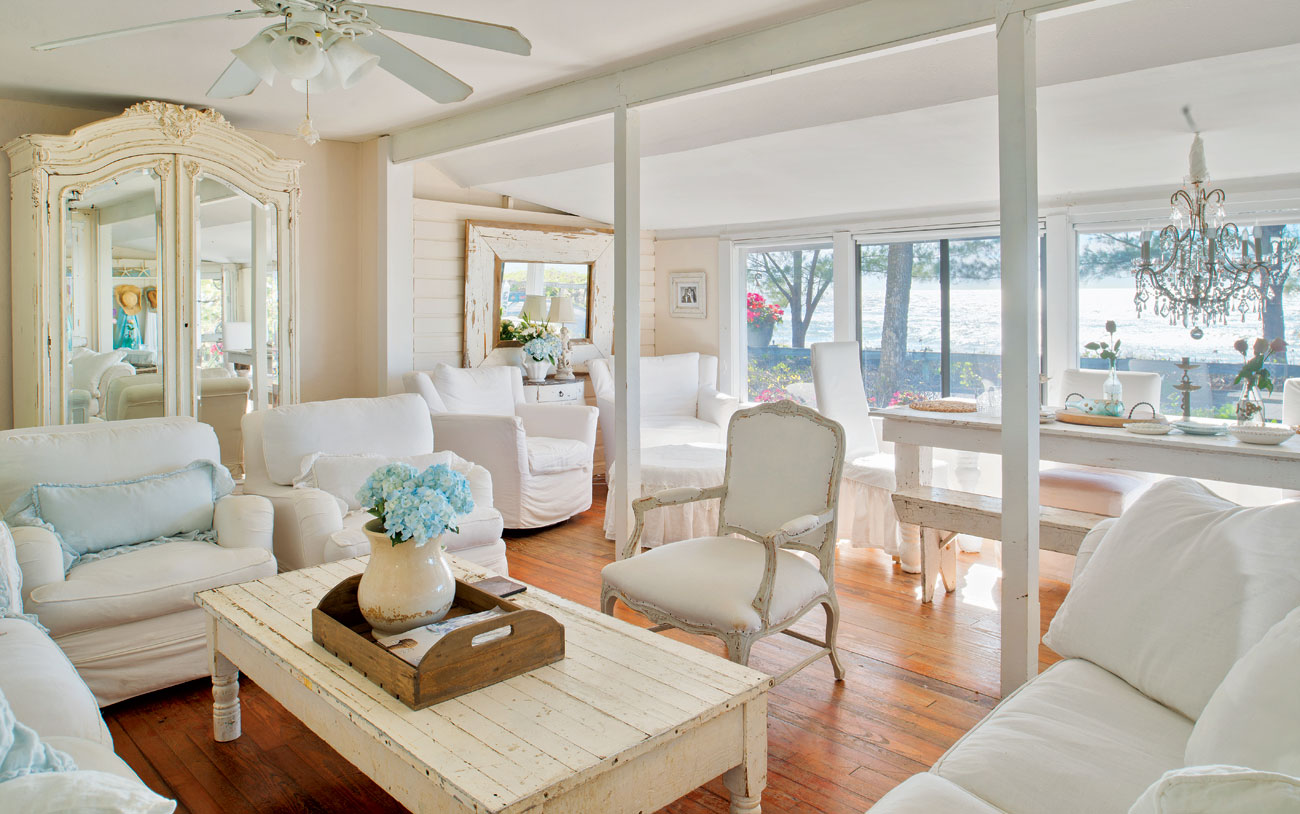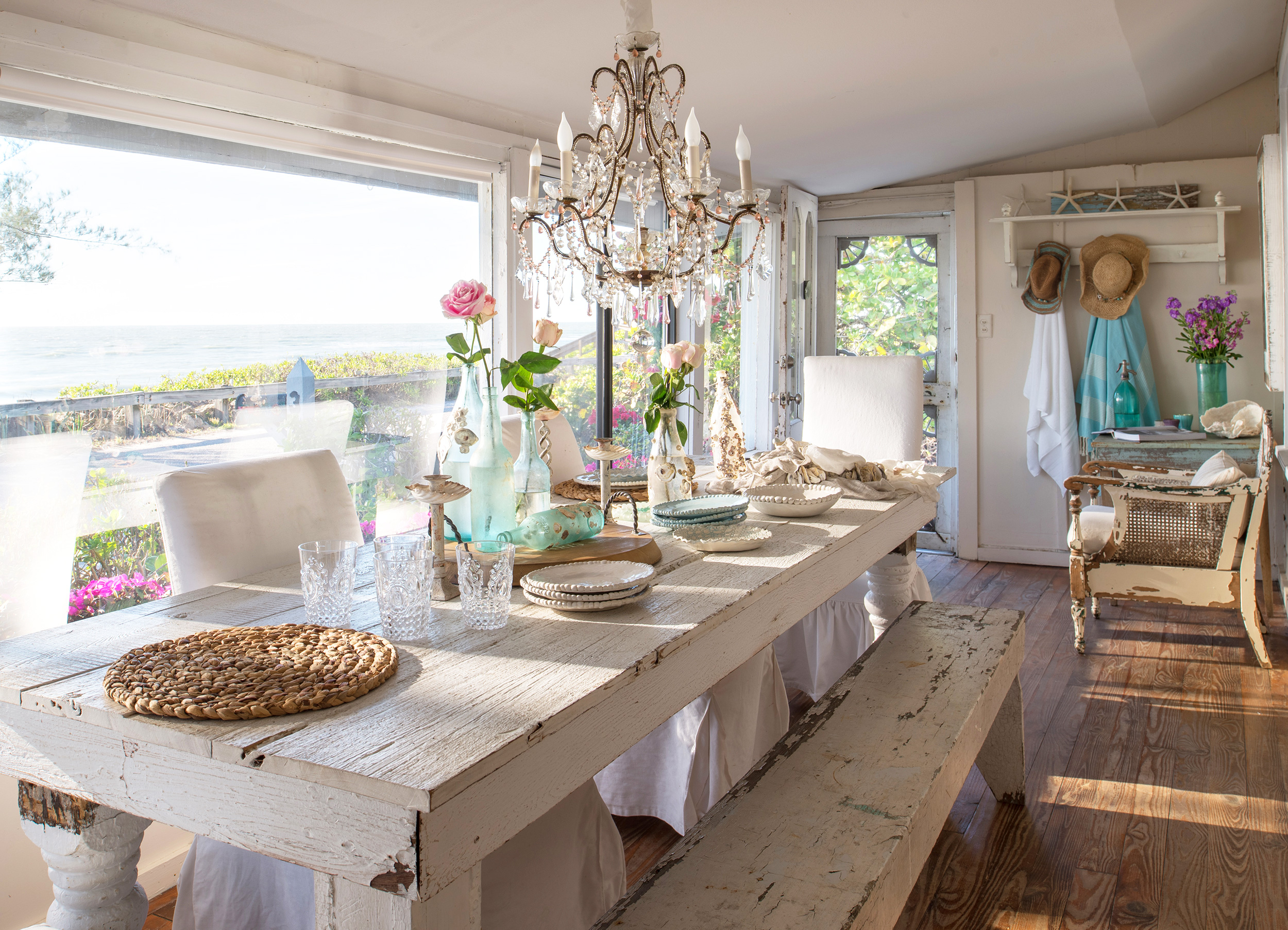 "We wanted a pure white palette so we started off by painting all the walls white. I knew I would bring in inspiration from the water, so all our accents would be in aqua. Also, I wanted everything to be beach easy, with no fuss."
Dining by the Sea
Mark and Susie worked side by side to transform the beach bungalow into the dreamy place that it is today, the place where they look back on their shared memories together and create new ones. Their first move to make the cottage their own? "We wanted a pure white palette so we started off by painting all the walls white," Susie says. "I knew I would bring in inspiration from the water, so all our accents would be in aqua. Also, I wanted everything to be beach easy, with no fuss."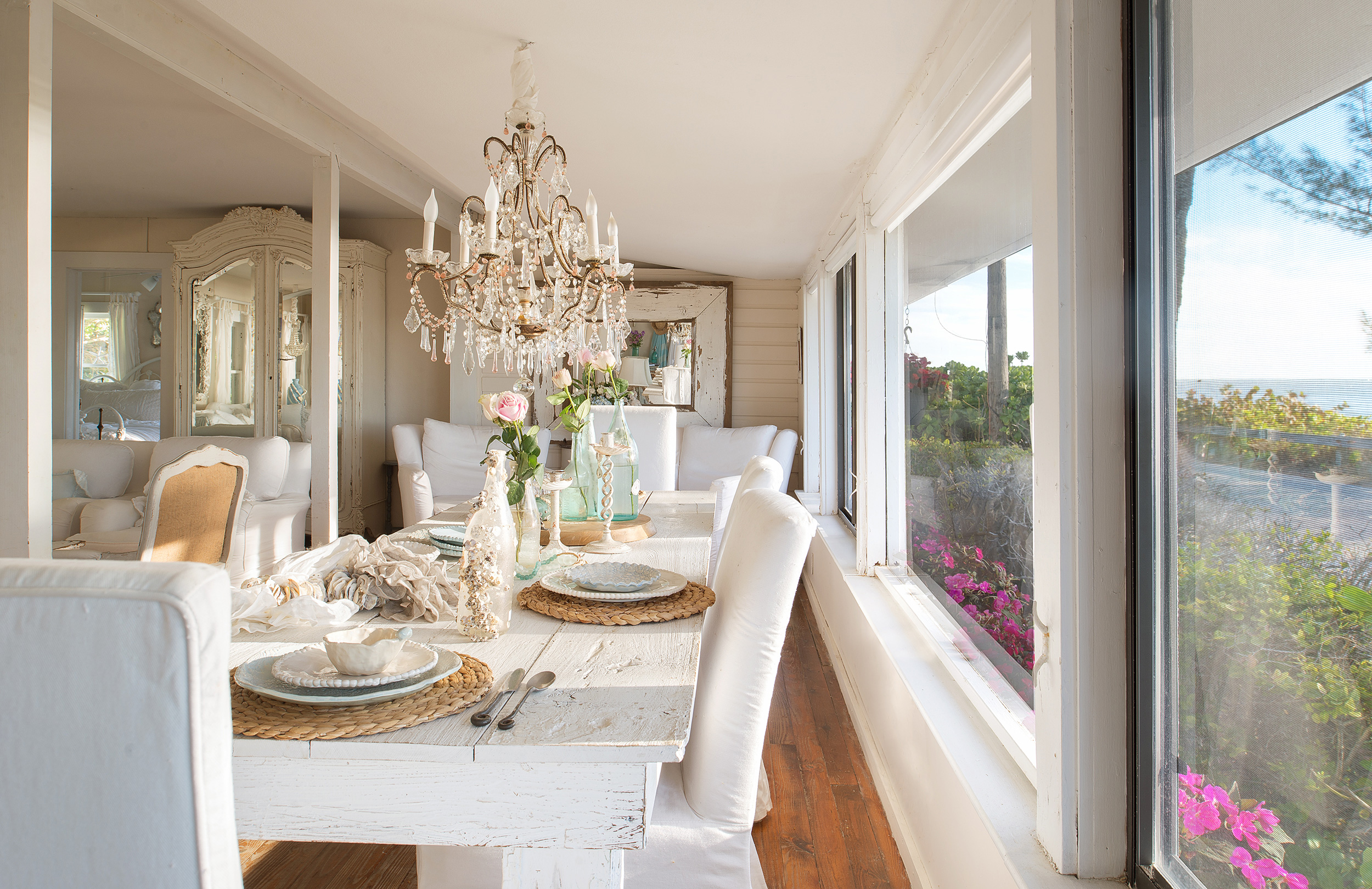 "Even though the kitchen is small, it is part of what the cottage is: cozy and simplistic in an artful way."
Since the couple love to entertain, the dining and living rooms were of the utmost importance. The dining room was spacious, so a sizeable table was essential for optimum hosting. Mark built an 8-foot farm-style table with legs from an old porch post, and Susie paired a 7-foot bench with it. When guests visit, they sit beneath a French chandelier and soak up the gorgeous ocean view.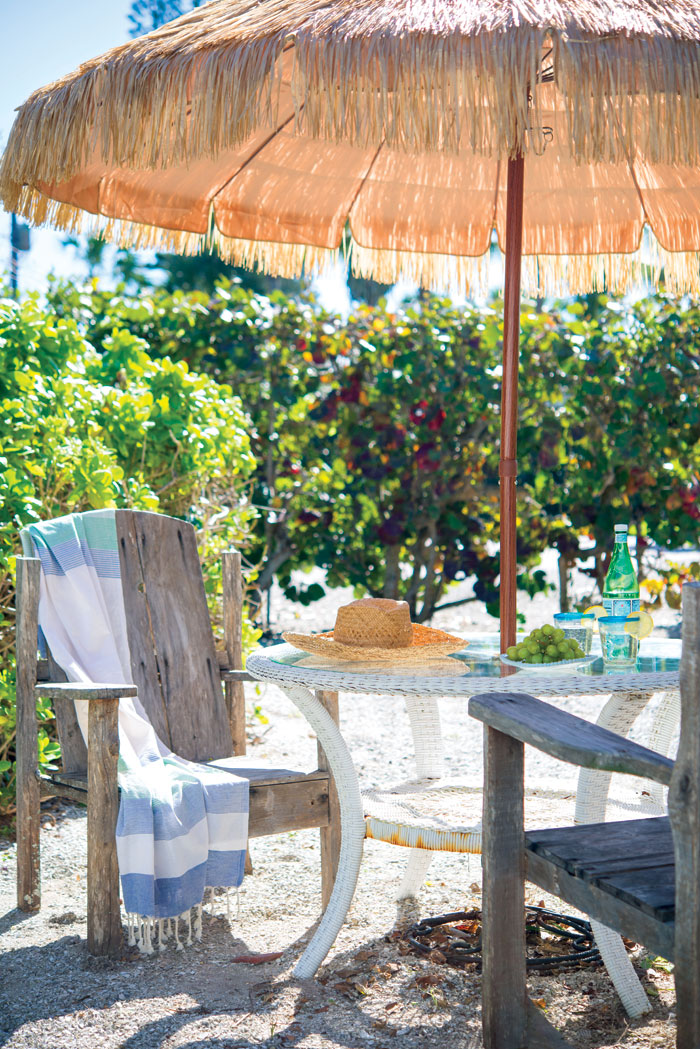 Afterwards, they often enjoy a glass of wine in the living room, which adjoins the dining room. There they can view the water while enjoying Susie's effortless, layered design aesthetic. Feminine touches like petite chandeliers contrast with chippy elements, like an old white coffee table. Beach-inspired accents, epitomized by old bottles and aqua glass, evoke a sense of sea and sand.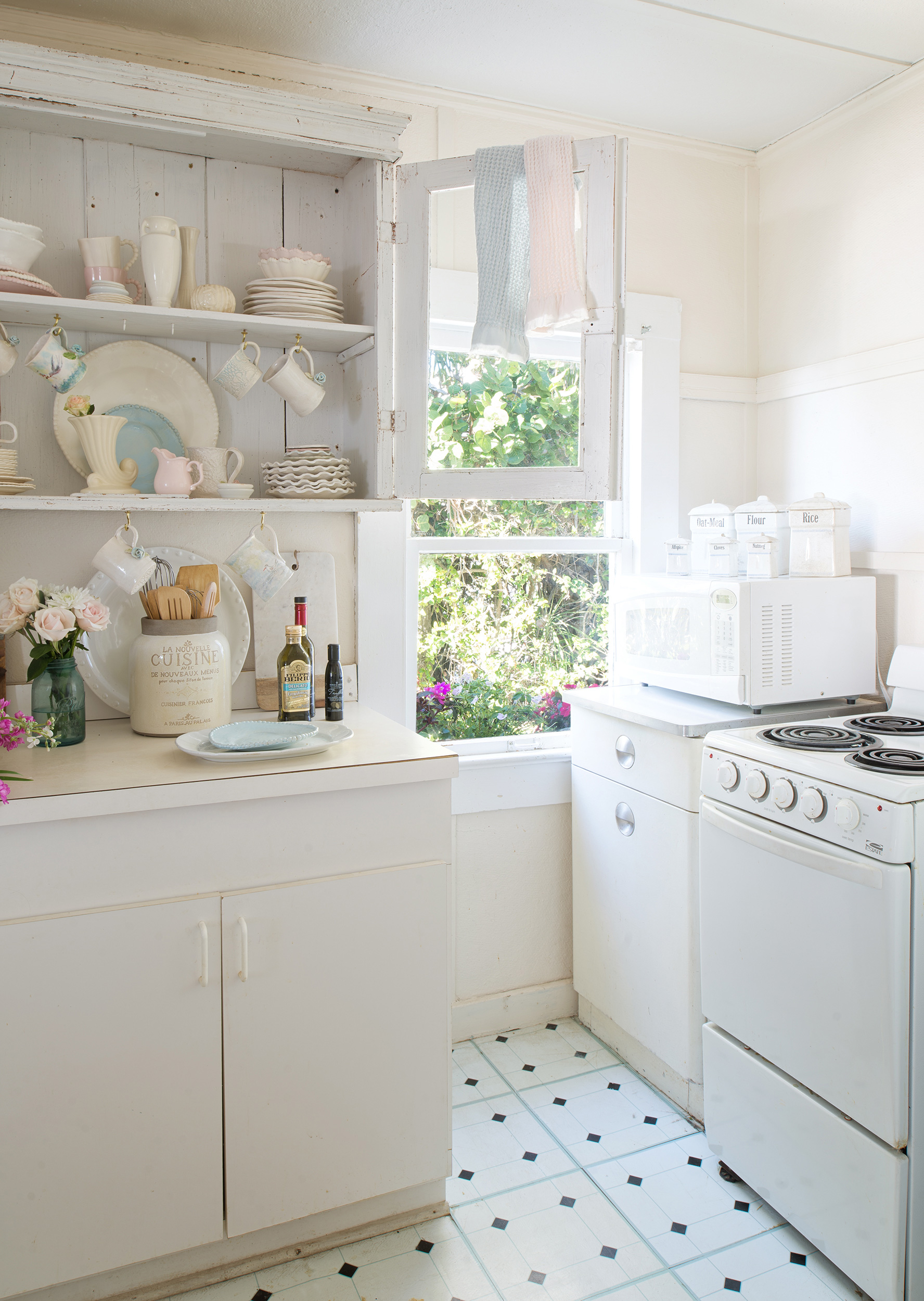 Cozy Cooking
The kitchen is an intersection of minimalism, style and function. "Even though the kitchen is small, it is part of what the cottage is: cozy and simplistic in an artful way," Susie says. "It fits our life perfectly. Nothing makes me happier than looking out to the water as I prepare our meals." Susie kept an original built-in cabinet, deeming it the ideal home for her collection of dishware. Its cutout doors showcase her dishes, while giving dimension to the room. The kitchen cabinets allow for storage and style: you can see the contents of each, allowing the dishware to act as décor.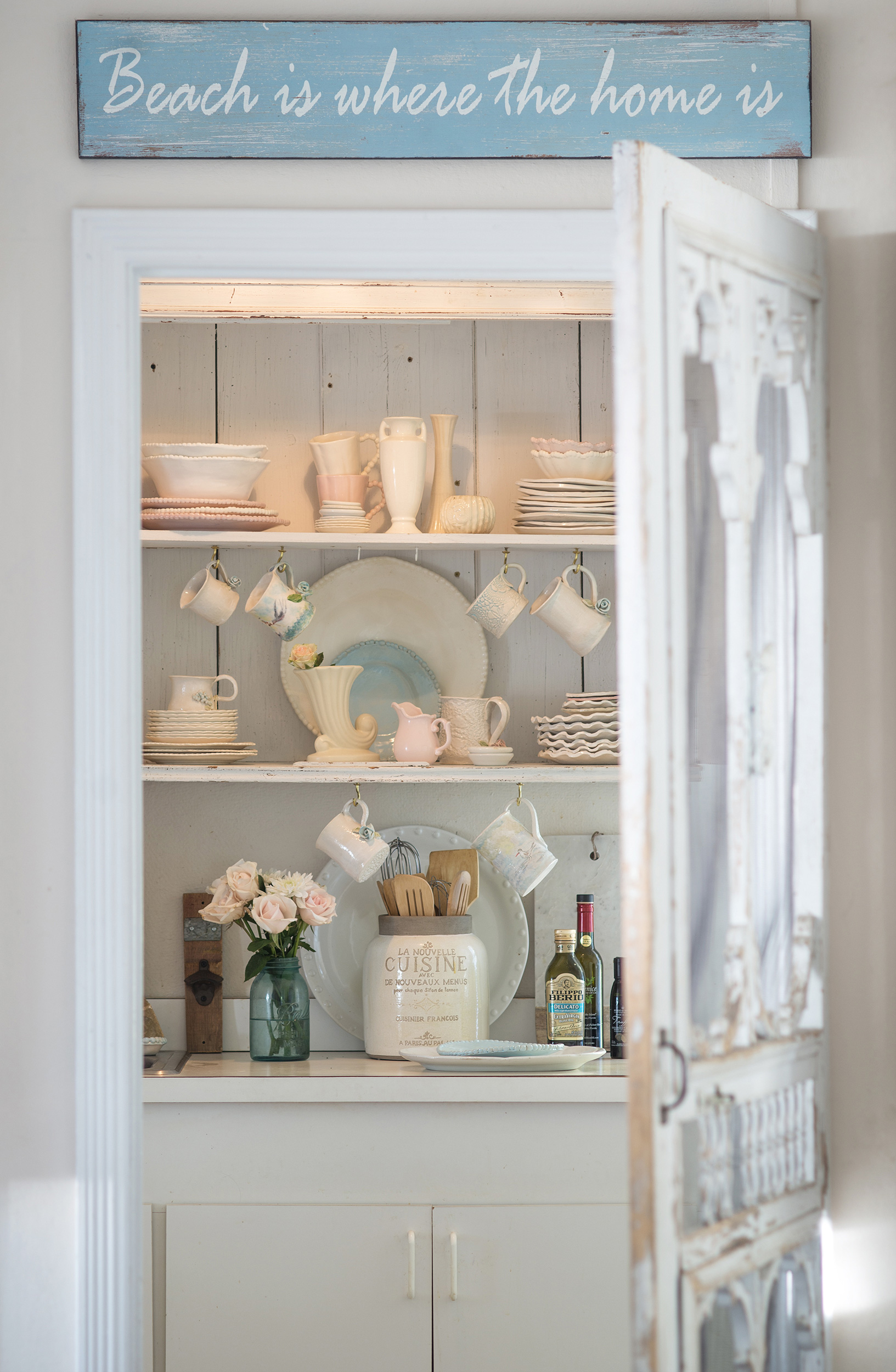 Kitchen essentials like wooden cutting boards give the space an organic, ready-for-cooking feel, encouraging inhabitants to start stirring up a delicious meal. In the pantry, Susie filled the shelves with seabird mugs painted by her artist friend, Laura Della Porta. Then she and Mark hung a pair of cabinets right outside the kitchen. "They are perfect. They look like they are part of this old 1920s bungalow," Susie comments. Mark also installed an old screen door which allows for easy—and chic—access to the kitchen.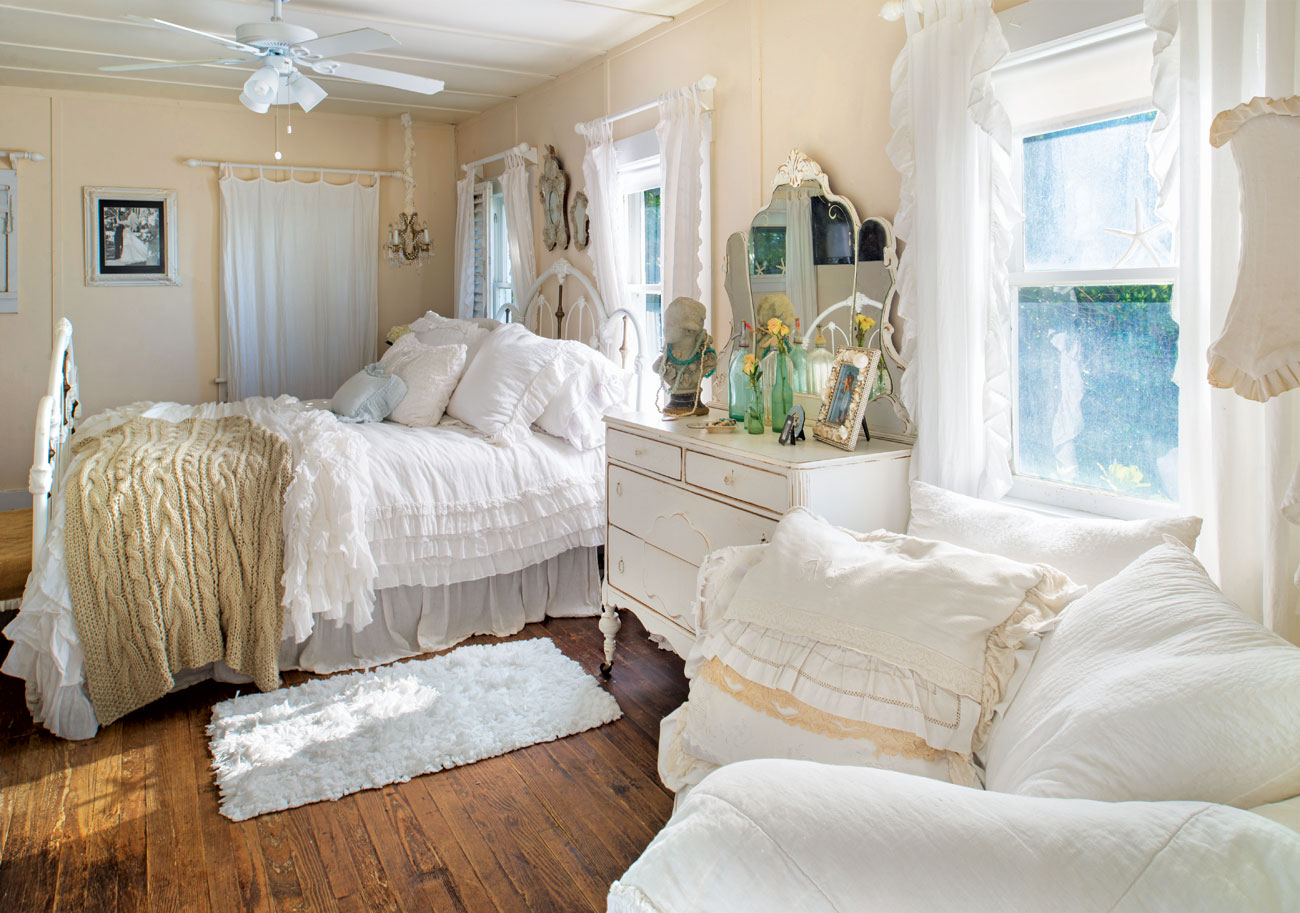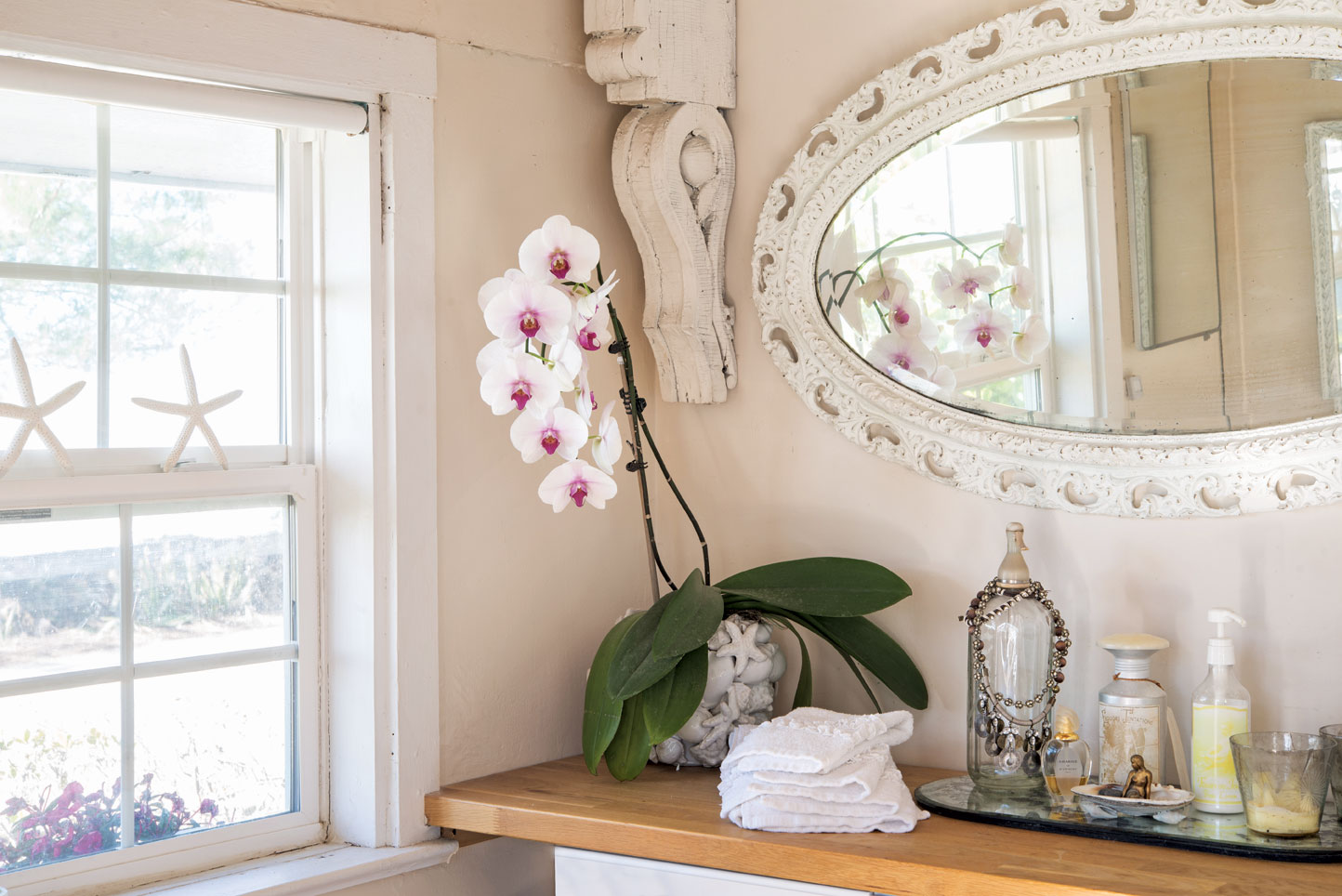 Beautiful Bedroom
"The bedroom is a peaceful retreat. It's exactly how a bedroom should be: tranquil and peaceful," Susie says. "I picked a pure white palette because it evokes serenity." The entire space is dedicated to calm and beauty. Like the sounds of ocean waves outside the window, airy curtains, soft blankets and elegant furniture soothe the senses. In keeping with her no-fuss commitment to easy elegance, the furniture is covered in slipcovers made at their shop. And there are more cozy places to rest than just the bed. Susie created a nook that begs for you to curl up with a good book and steaming cup of tea. "It's my sweet corner of relaxation," Susie says, describing the spot that features an overstuffed chair adorned with plush throw pillows. The bedroom also holds treasured possessions, like intricately framed mirrors that Susie will never part with, and a dresser that's adorned with Susie's beach chic, artist-made, one-of-a-kind pieces. For Susie and Mark, it becomes a haven at the end of the day and a bright, airy sendoff each morning.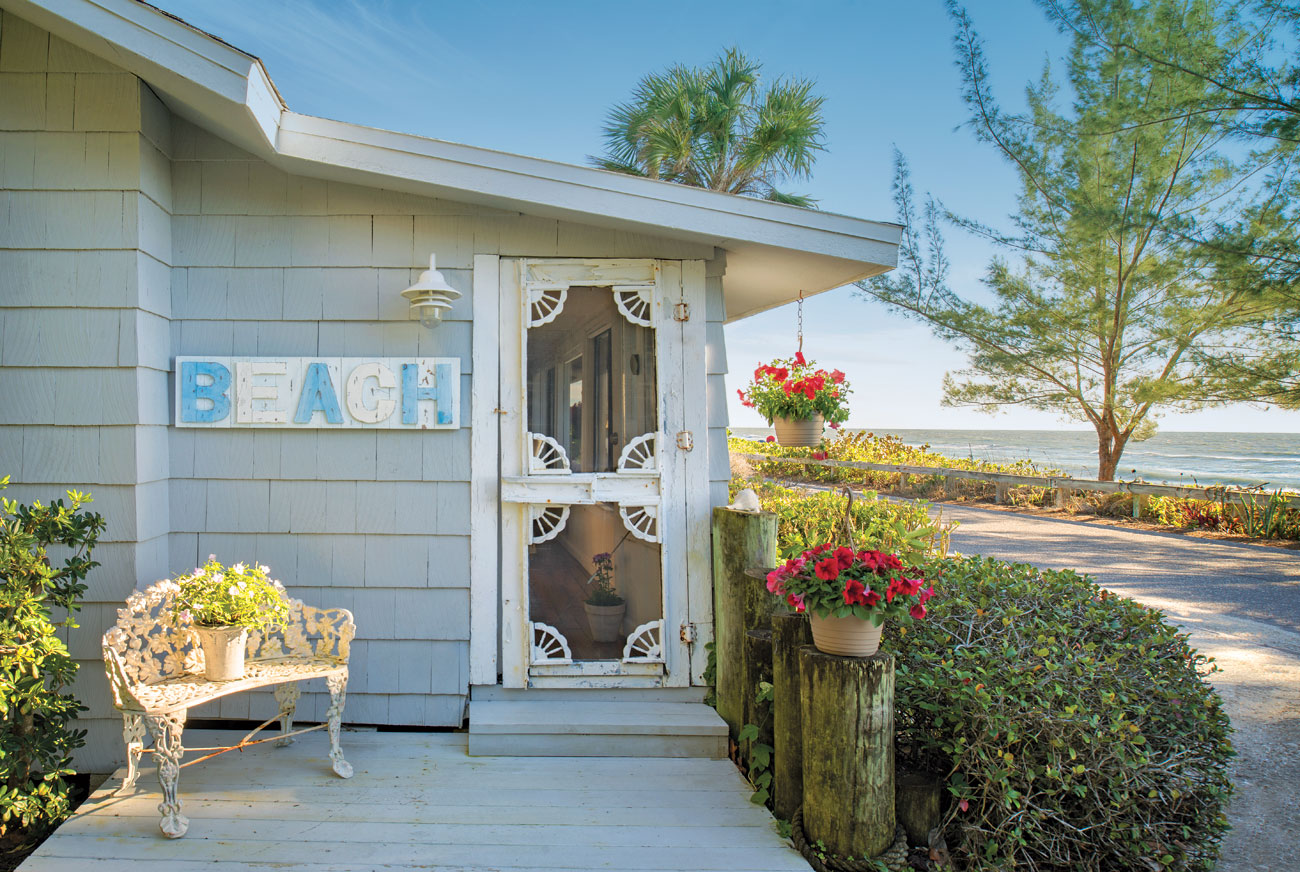 As they enjoy life with each other and their cats in their coastal chic beach bungalow, Susie muses, "We feel blessed to wake up every day and hear the waves crashing on the beach." Life, she says, has been good. "From working side by side with my soulmate in our store to creating this home, it's the dream of all dreams."
Looking for coastal decorating ideas with a vintage twist? Click here and here.