This striking coastal cottage in Washington's Bainbridge Island manages to have both modern allure and traditional charm. It's a special balance is thanks in large part to its dramatic color offset by its compact scale. It's also a result of the team at Hoedemaker Pfeiffer wanting to pay homage to the past, the original home burned down and when the family rebuilt, that history was to be the focus of the new build.  "There was a lot of identification with the old house," says architect Steve Hoedemaker.  "We tried to capture the things that had emotionally resonated with the old building, and then carry them into the new building."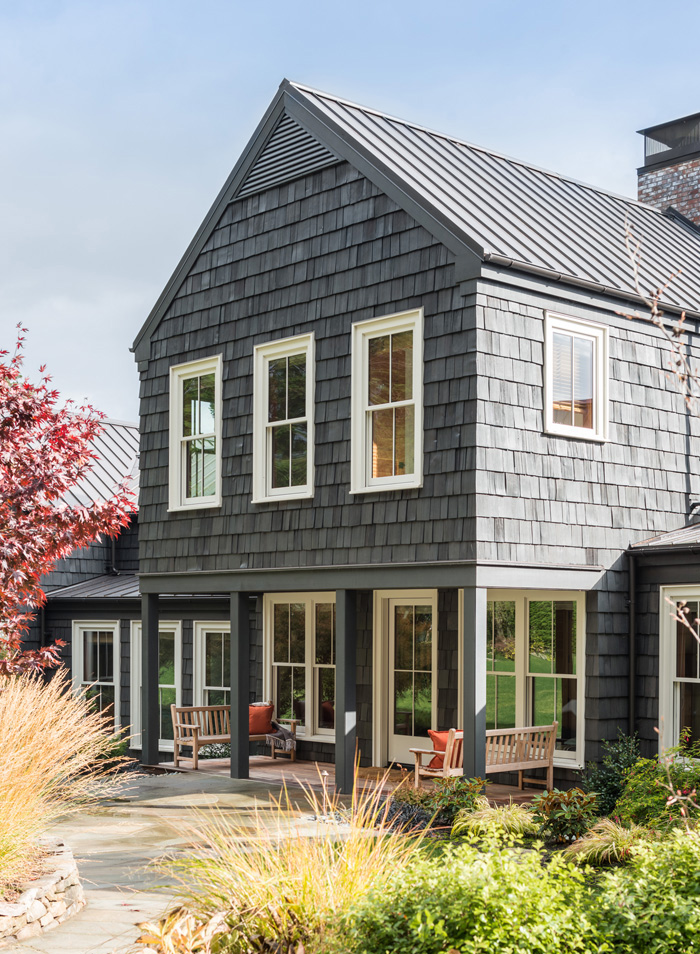 Architectural Approach
One of the most striking aspects of the coastal cottage's property is the view. "The house has incredible views in every direction; you can see Seattle, Mount Rainier and, of course, the ocean," Steve says. In order to make the most of the landscape, he decided to center his design around one goal: getting as much natural light into the house as possible.
The building becomes a tool for connecting to nature.
To achieve this goal, Steve designed the house as three connected pavilions. "Rather than having one big building, we broke it down into pavilions, connected by smaller roof forms," he says. "If you put everything together in one big box, you have fewer opportunities for light." This means that many of the rooms have windows in two or three walls, not just one, which both allows light in and connects the home to the view. "The building becomes a tool for connecting to nature," Steve says. Structurally, this meant more exterior walls than usual. "Given a certain amount of square footage, we've created twice the normal number of exterior walls," he says.
Read More: See inside this house and learn more about the incredible rebuilding process.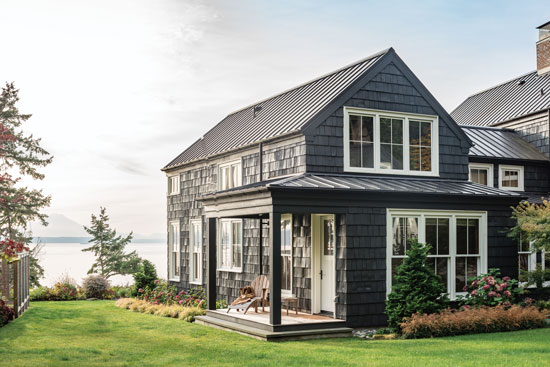 Modern Coastal Elements
While the structural approach is innovative, Steve made sure to keep the classic-cottage look the family loved from their previous home. He used split-shake siding on the home ( a coastal cottage classic) in a darker color that will weather well over the years. "Shakes have a natural split; they're very stable and last a long time," he says.

Know Your Elements
Pavilion: A secondary building that is either separate or connected to the main building.
Split shake: Not to be confused with shingles, shake pieces are split rather than sawed, which leads to more variation in individual pieces because they follow the grain more closely.
Roof form: The silhouette of the roofline against the sky; also known as the roof shape.
Looking for more coastal cottage curb appeal ideas? Check out this colorful California beach cottage. Or, look inside artist John Derian's coastal cottage. 
Of course, don't forget to follow us on Instagram, Facebook and Pinterest to get your daily dose of cottage inspiration!