Tucked away in a backyard of a Sherman Oaks, California, home and right across from her husband's "man cave" garage is a teeny, tiny she shed belonging to Emily Herskovitz. At 170 square feet, the one-room space is a charming getaway for Emily to relax and create. "It's quite small, but surprisingly I can pack in a lot of furniture," Emily says of her she shed, which is decked out in vintage décor. "I like to collect vintage things, which my husband doesn't like, so I keep it out of the main house. It's my place where I can do whatever I want … and I don't have to be afraid if something's too girly."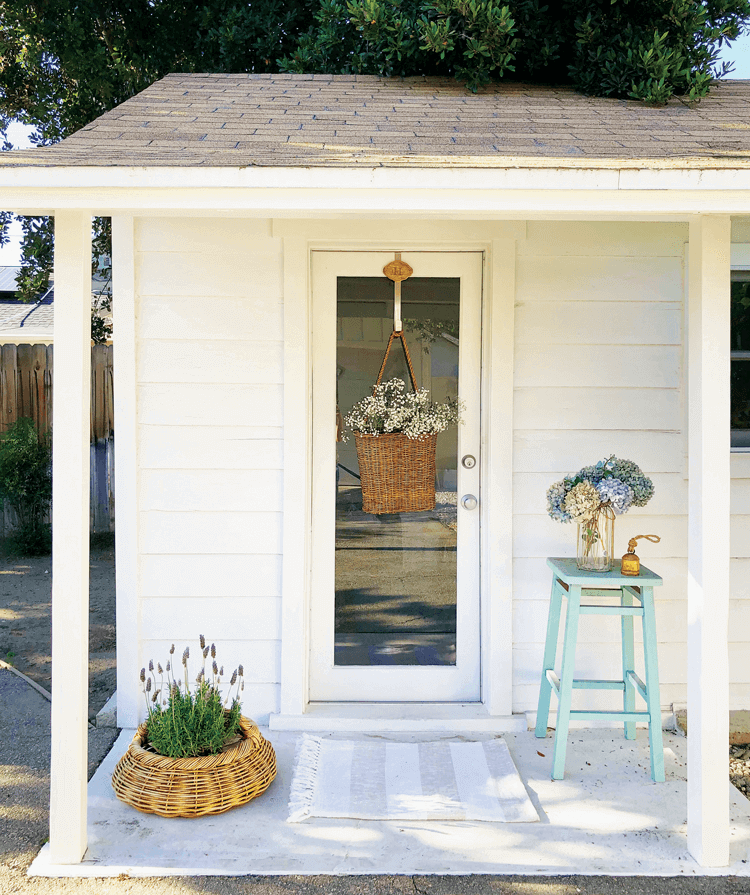 "I try to make sure I love every single thing I bring into it."
The adorable hangout space for Emily—and sometimes her mini poodle Wally—is the perfect setting for the stay-at-home dog mom to do her "sewing, crafting or anything creative." It's become so popular online that people seem to think she lives inside, so she has to remind them she doesn't. "Maybe [someday] I'll turn it into a guesthouse, but for now it just has electricity and no plumbing," Emily says.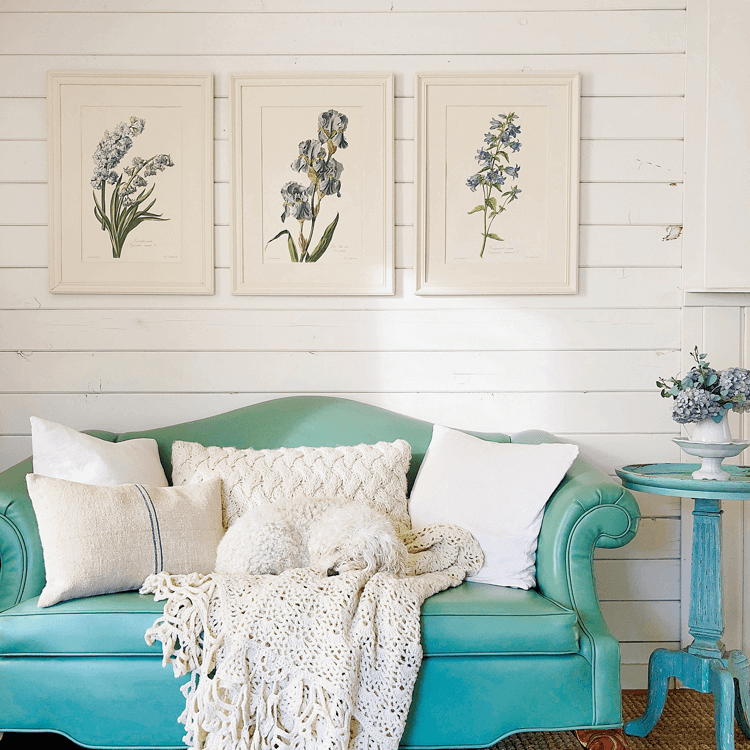 The Inspiration
While the she shed came with the house when the couple bought it, it first was used for storage. Knowing she'd want a little place of her own, Emily found a sofa in a minty-green hue she loved but knew her husband wouldn't be fond of, and she placed it inside the she shed and began decorating around it. "That sofa was the first piece that inspired everything," Emily says.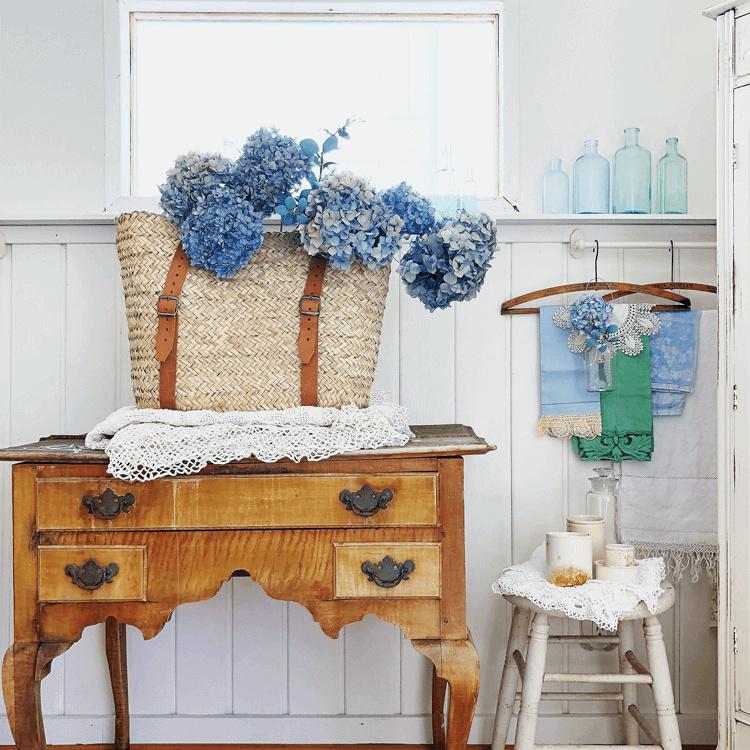 Things of Beauty
Soon she started moving in other furniture pieces, including a wardrobe, coffee table, tall bookcase, small writing desk and a larger desk she uses for sewing. Almost every piece is from a flea market or thrift store, or a curbside rescue she decided to refurbish.
"It's quite small, but surprisingly I can pack in a lot of furniture."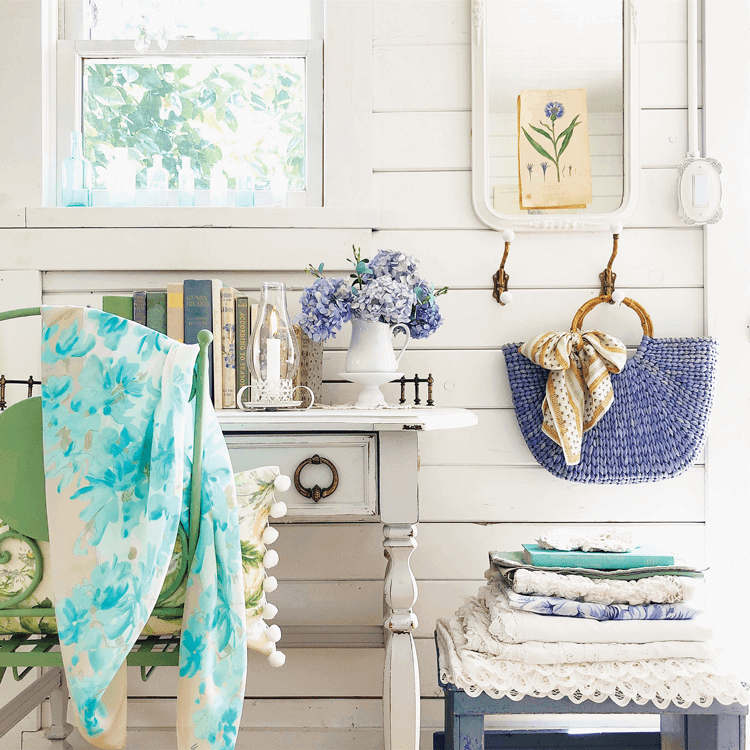 The pretty drawer pulls on the wooden table that houses Emily's paint supplies may catch your eye, but you would never guess she found the table on the side of a road next to a pile of trash. A cafe-style iron chair once sat neglected outside the garage of her husband's bachelor home, but she saw its potential and lovingly repainted it in her favorite color.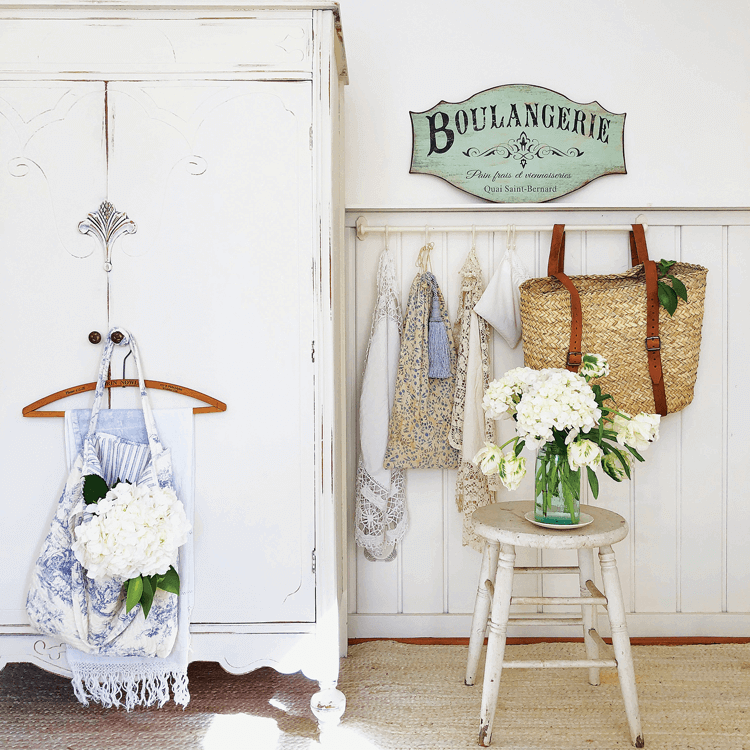 Simply Styled
Since space is scarce, color is key to adding personality, but you also have to keep it cohesive. For that reason, Emily sticks with a few soft yet soothing colors such as white, blue and minty green.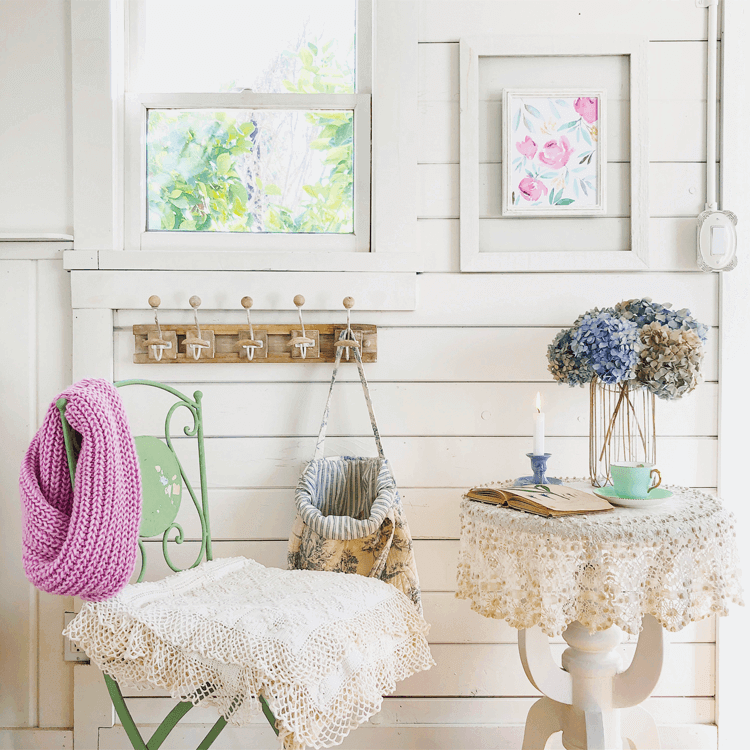 Naturally drawn to vintage and antique linens and crocheted pieces, she hangs them along the walls to enjoy them. "It's probably influenced by my background in fashion," Emily says. "Back then they hand-crocheted and hand-embroidered everything, and I just think they're so pretty, so I display them. They're really works of art."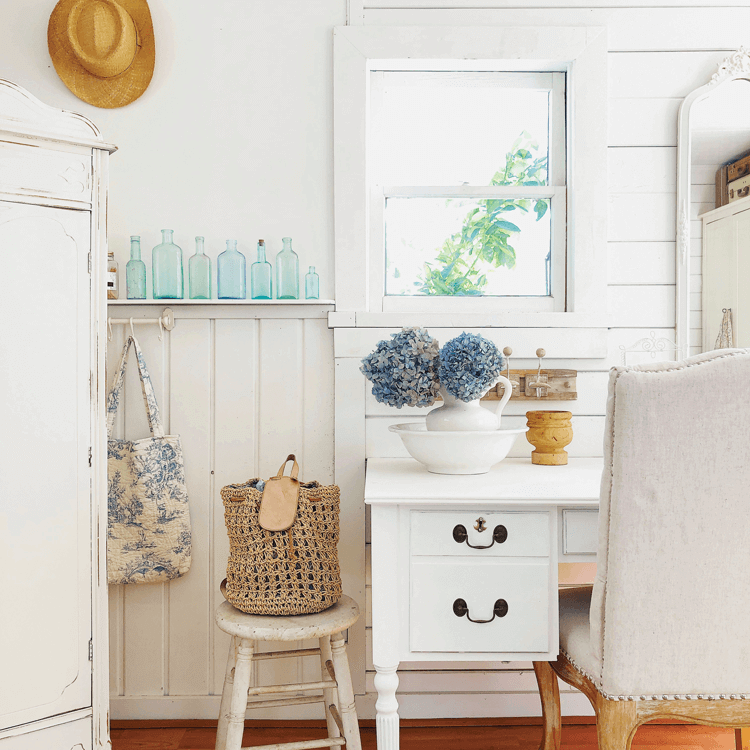 Scattered in different areas of the she shed, her collections of antique glass bottles in shades of blue add a bit of whimsy to wall shelves and tabletops. She recently started adding some purple bottles to her displays too.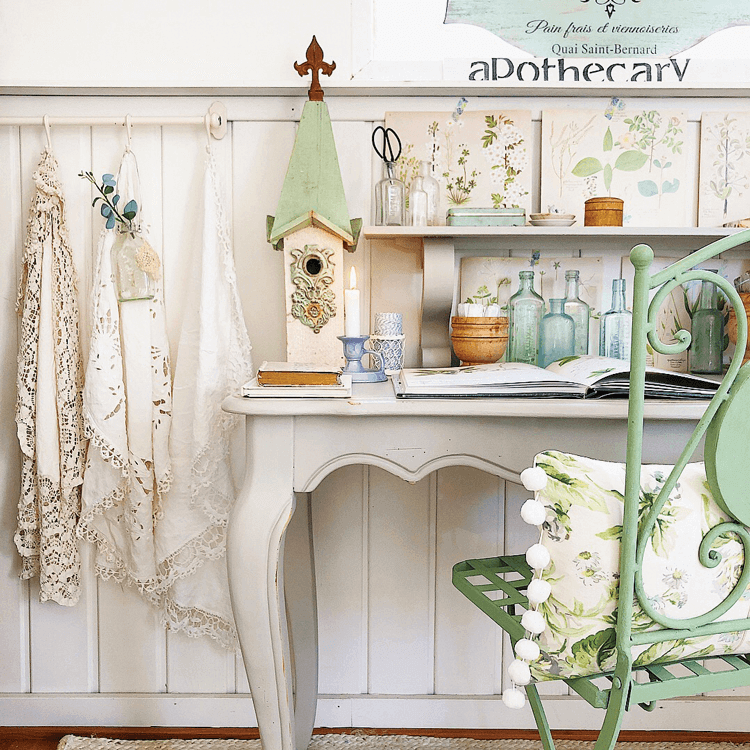 Emily changes up her she shed décor frequently and believes you don't have to break the bank to do so. "Everything is from flea markets and thrift stores," Emily says. "I'm always looking for things to add and … I try to make sure I love every single thing I bring into it."
Want more simply beautiful ideas? Check out this post on a gorgeous rose themed tablescape.
Of course, don't forget to follow us on Instagram and Facebook to get your daily dose of cottage inspiration!