When it comes to cottage charm and a welcome departure from the big-box status quo, vintage glassware provides a veritable treasure trove of options. Once the largest glassware company in the world, and one that actually grew during the Great Depression, Hazel-Atlas made glassware that offers a goldmine of options for unique, budget-friendly ways to infuse your home with charm.
At Cottages & Bungalows, we love to curate and share our favorite finds from across the web with you. Some of the products you'll see on this page are affiliate links, which means that if you click through and make a purchase, C&B will earn a small commission at no extra cost to you!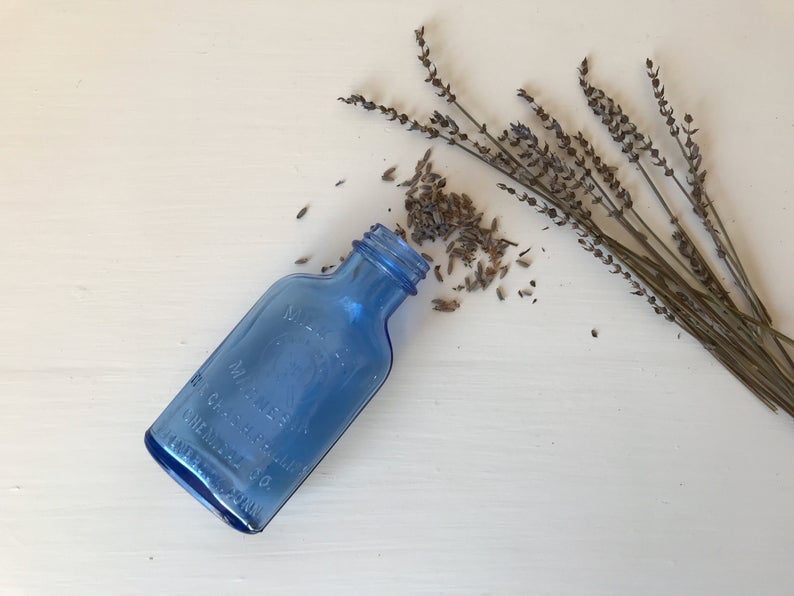 We love this Hazel Atlas blue glass medicine bottle, it belongs on a shelf in your cottage.
A Brief History of Hazel Atlas
Brothers Charles N. Brady and C.H. Tallman founded the Hazel Glass Company in 1885 in Wheeling, West Virginia. (It was renamed Hazel-Atlas in 1902, when it joined forces with other glass companies.) Their venture turned out to be a productive, fast-growing one that endured for decades.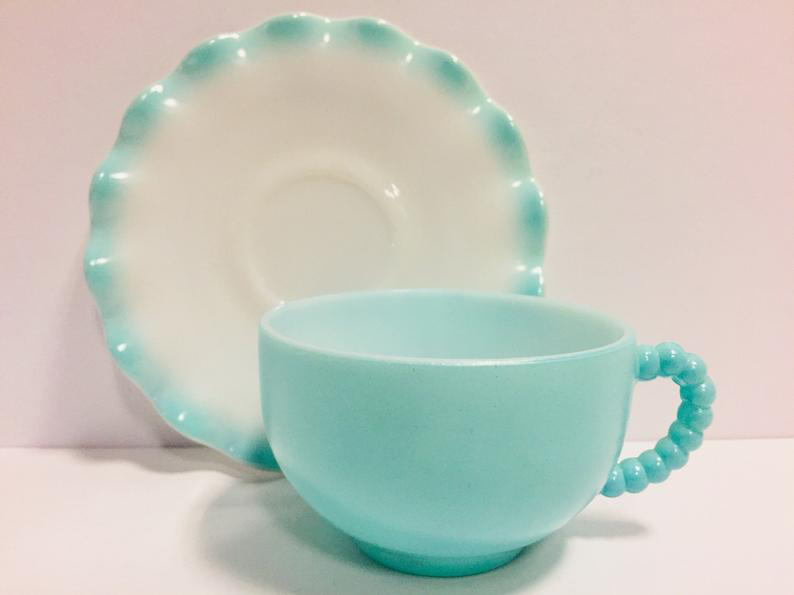 Add this lovely lady to your morning routine, what a bright way to start the day.
Originally their only product was an opal/milk-glass insert to line the inside of mason jar lids. But they quickly expanded to produce glass bottles for a variety of products like Vaseline. The next year, they moved to a larger plant in Washington, Pennsylvania and added lamp bases and other food product jars to their stable of products.
They incorporated groundbreaking technology to produce wide-mouth jars at dramatically increased efficiency. They kept on growing and diversifying their wares to include food products and cosmetics and eventually expanded to kitchen and dinnerware—ultimately allowing them to weather the Great Depression. At the height of their production, they had 14 plants in the U.S. In 1956, they were bought out but still produced under their name until 1964.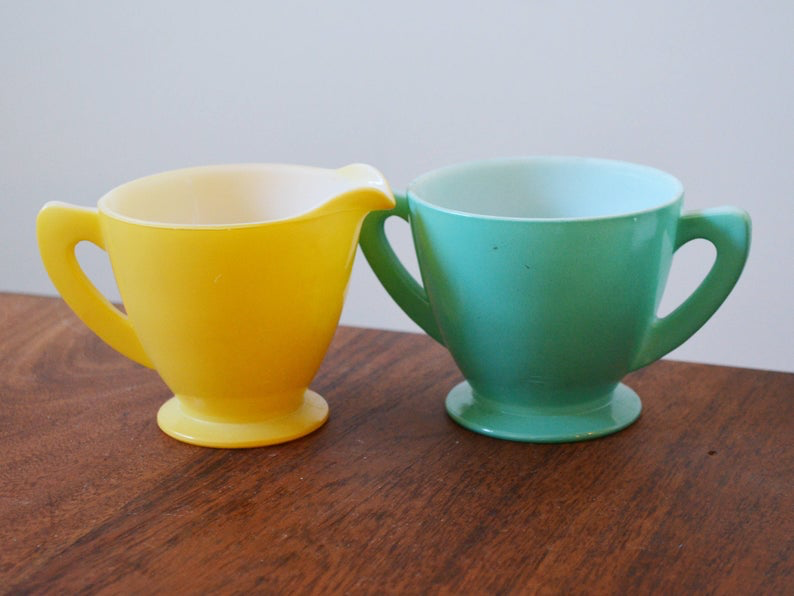 This cheerful cream and sugar set need a friendly home and the detailing on the bottom is just as cute!
Claims to Fame
Their early product bottles became ubiquitous in their time, and many enjoy collecting them today for their shape and color, like the cobalt-blue bottles for Vicks VapoRub.
Later, they were one of the leading producers of the thin-pressed, translucent Depression glass. What was inexpensive and morale-boosting glassware produced during a period of economic struggle endure today as colorful collectibles. Some of Hazel-Atlas' most lasting items from this era are its citrus reamers, mixing bowls and three-spout measuring cups.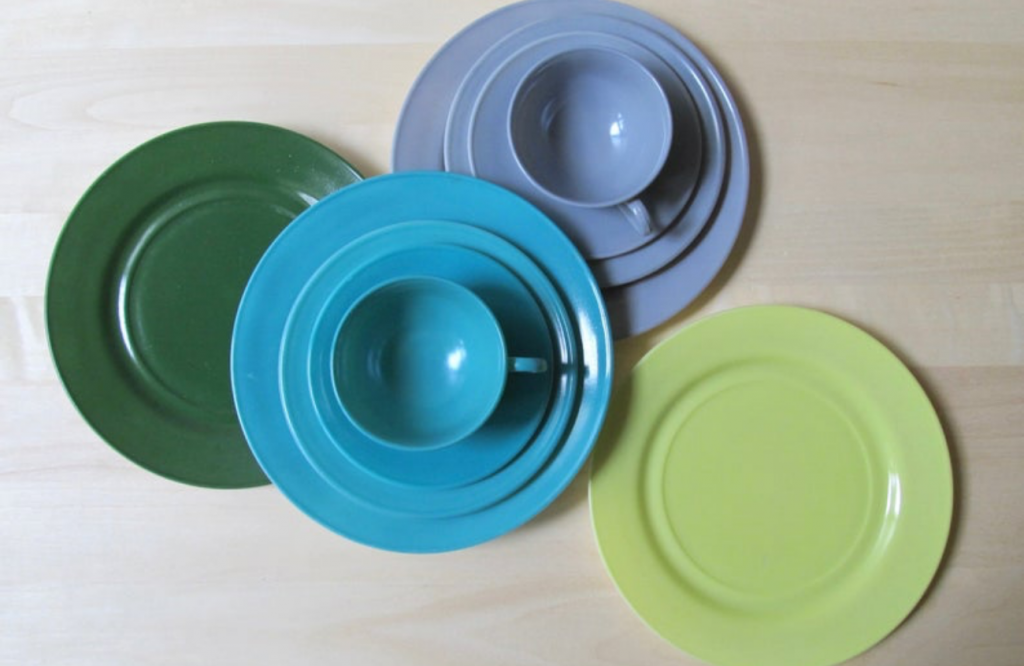 I love the idea of having a cheerful rainbow themed table with each guest having their own place setting all in one color. Start the hunt here.
During the 1930s, they also patented Platonite, an opaque glass that is often confused with milk glass. Their Platonite products included butter dishes, stacking refrigerator containers and ice buckets.
After World War II, Hazel-Atlas became known for fired-on designs on their glassware, like their Tom & Jerry Christmas punch bowls, songbird drinking glasses and designs that included Friar Tuck and sheet music. Some of these fired-on designs were actually made as peanut butter jars to be reused as juice glasses.
Tips for the Hunt
Not all Hazel-Atlas items are labeled, but the maker's mark is a good place to start to determine authenticity. It is a curved "H" with an "A" nested neatly underneath. It is often confused with Anchor Hocking, but you can easily tell them apart because Anchor Hocking's mark clearly includes an anchor symbol. Keep in mind that before 1902, the company went by a different name, and not all of their Depression plates are marked either. However, with a little research, you can verify that Hazel-Atlas made a specific pattern.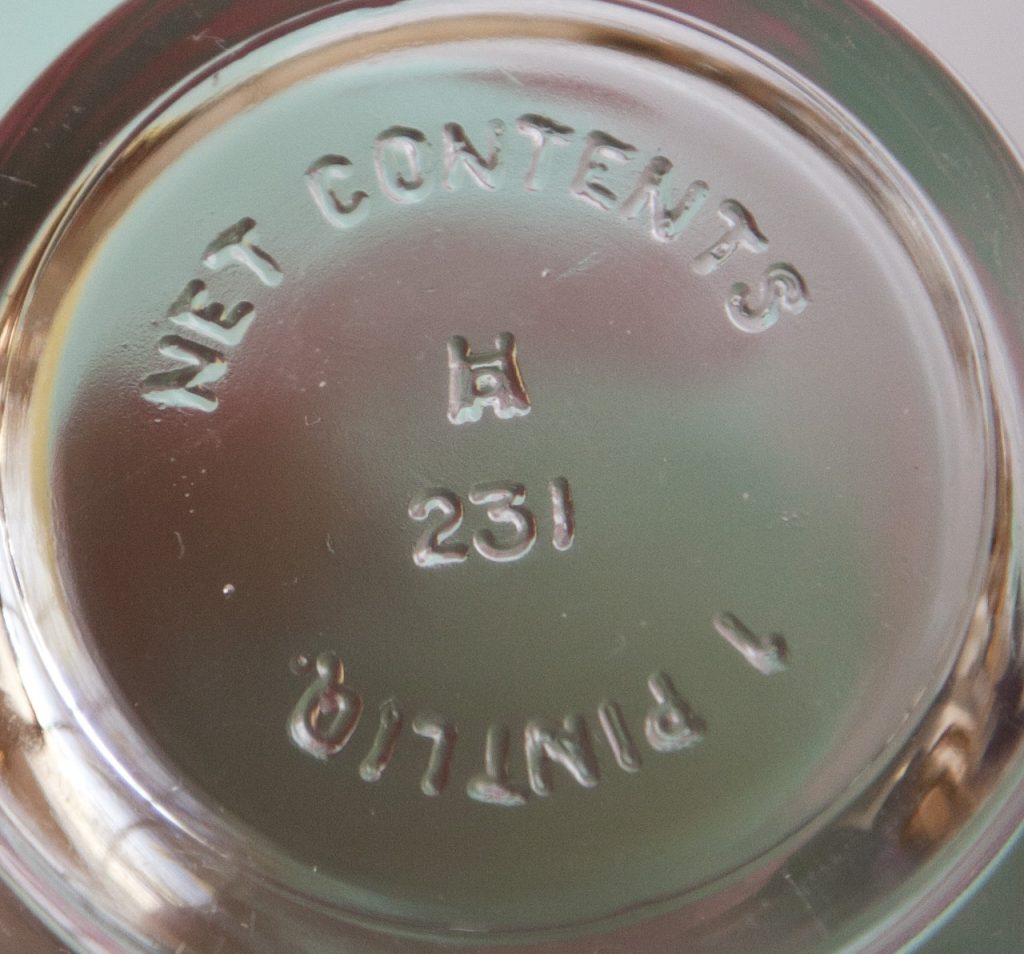 As with most collectibles, look for chips and cracks, since those will leave the piece vulnerable to more breakage, particularly for something thin like Depression glass. Browse online sites or your favorite flea or vintage markets to get a feel for going rates and what patterns and colors you like.
Taking Care of Your Hazel Atlas Glassware
When you give a new home to vintage glassware, here are some good rules of thumb:
Do not put vintage pieces in your dishwasher or even fully submerge them in water. Instead, use a padded mat in your sink, and wash with diluted mild dish soap or possibly use a dilute mixture of ammonia and water, depending on the material.

Avoid filling pieces with anything extremely hot or cold.

Store vintage glassware away from direct sunlight to avoid cracking.

Avoid cutting on a glass plate so you don't scratch its surface.
Jam Jars
Manufactured in the '30s and '40s, these jars were part of a promotion for Kix cereal. (If a customer bought two boxes of Kix, they could get a jam jar for one cent.) Hazel-Atlas also made a rarer pineapple-shaped jar. No maker's mark, and coloration varies a bit, which is part of the fun.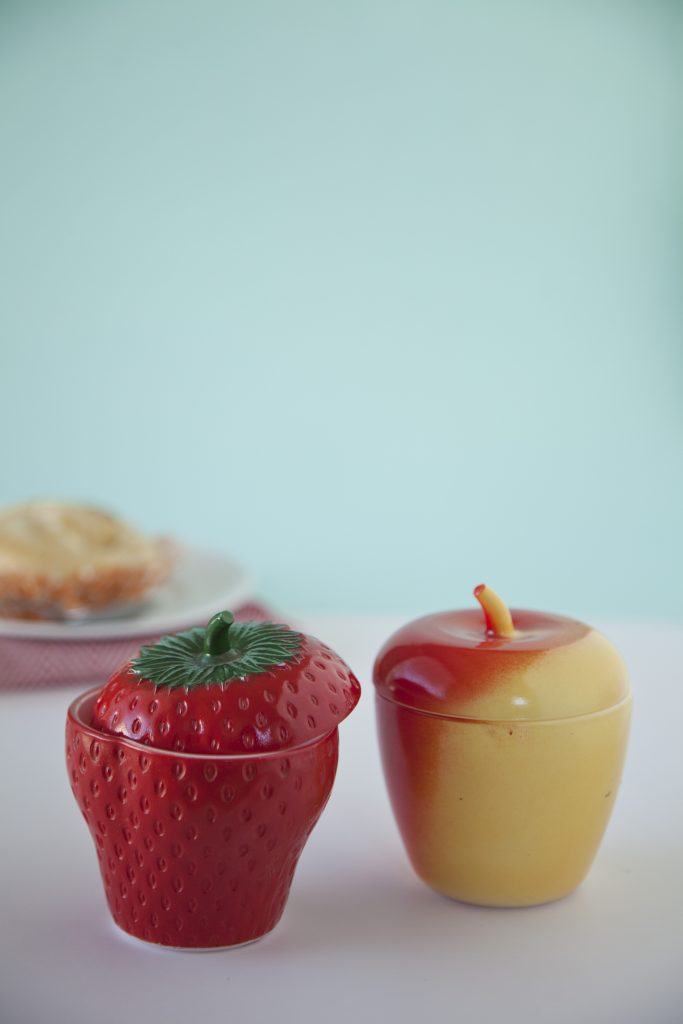 How precious are these jam jars?! We love the kitchy and fun element these could add to your space.
Snack Tray Set
Snack plates were a popular hostess serving tool. This version is clear, but you can also find it in an opaque white or in rare clear versions where the leafy portion is colored. Hazel-Atlas made other similar clear plates in orchard-inspired shapes such as apples and grapes.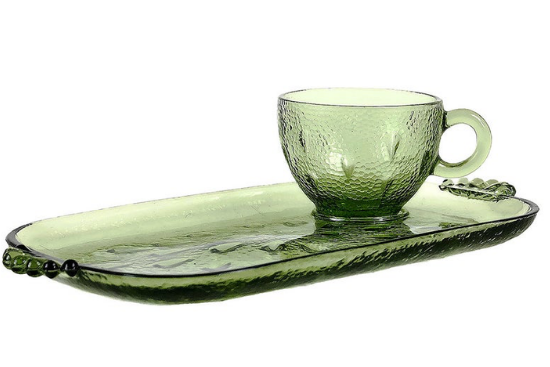 This snack tray set comes in it's original packaging and is still in beautiful condition. Invite your friends over, this call for a celebration.
Glasses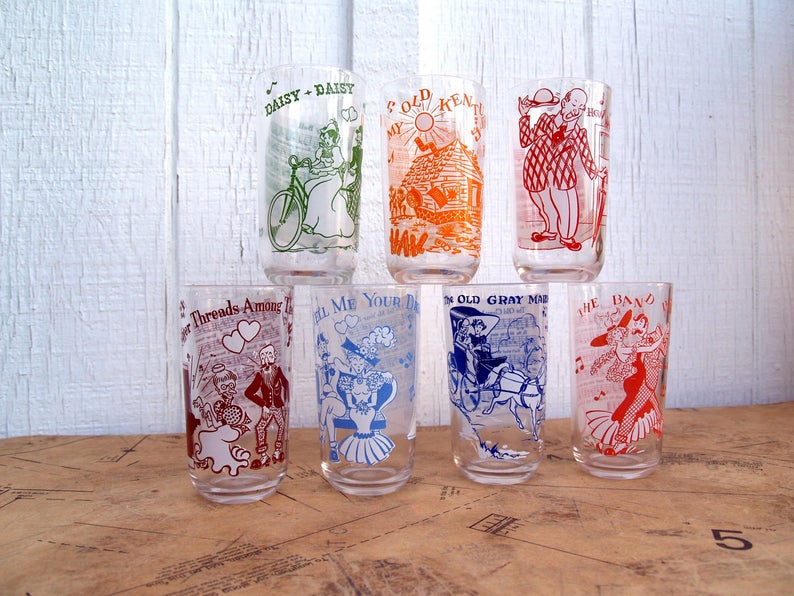 Fired-on designs like these were one of the things Hazel-Atlas did very well. These designs include birds on clear or frosted glasses, fox-hunt scenes and many more. One of Hazel-Atlas' claims to fame was their line made specifically for kids, with the words and music to nursery rhymes and characters like Friar Tuck and Shirley Temple.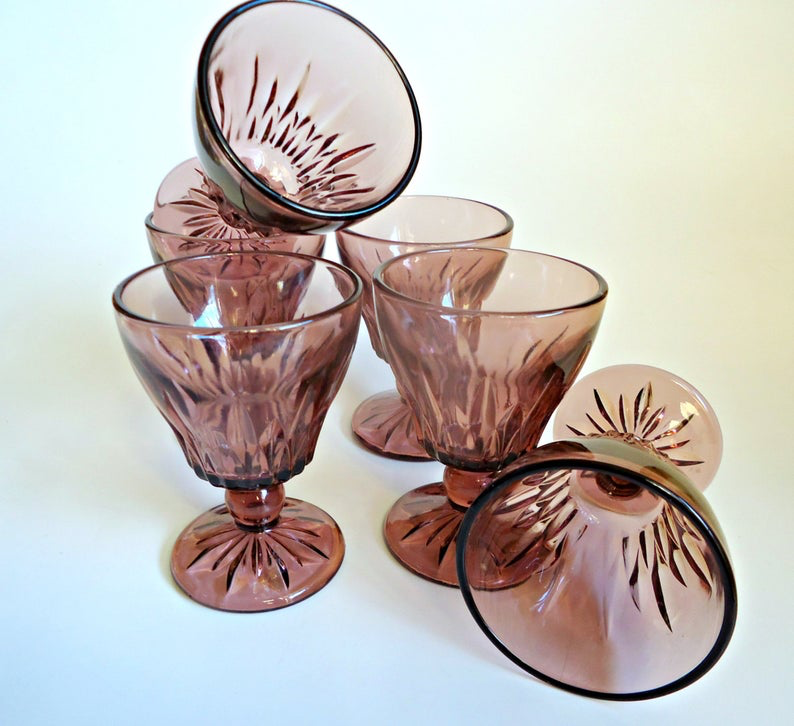 This set of 6 Moroccan Amethyst goblets is stunning, you could play off this tone for a tablescape in a million different directions.
Ice Cream Cups
Hazel Atlas Glassware also made adorable ice cream cups! Here is an example of their Platonite series, these diminutive ice cream cups tout classic diner-style rims.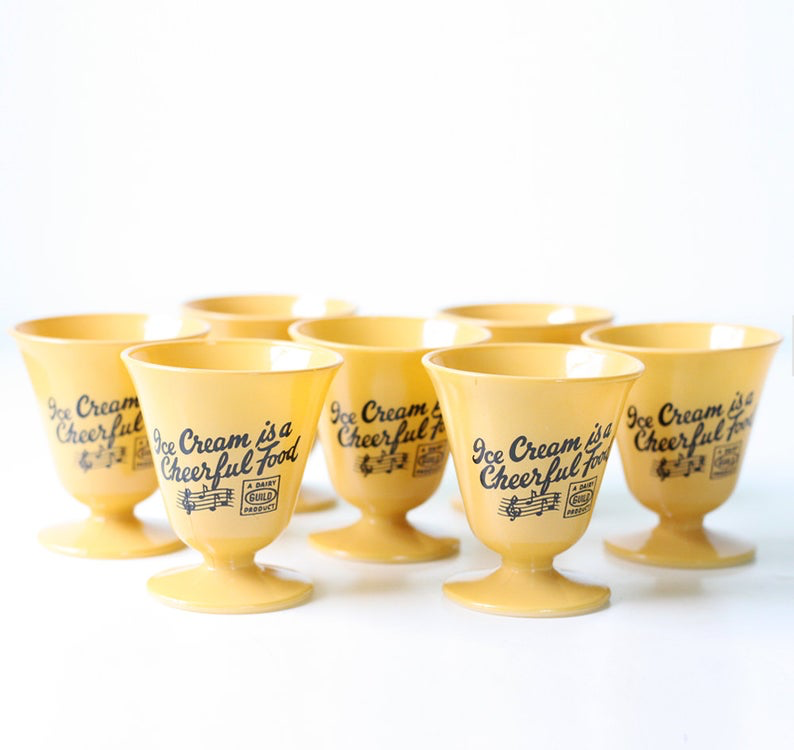 Want more simply beautiful ideas? Check out this post on Collecting Depression Glass. 
Of course, don't forget to follow us on Instagram, Facebook and Pinterest to get your daily dose of cottage inspiration!