Existing somewhat apart from a home's daily activities, the guest bedroom is a room sometimes forgotten and often yearning for a little love. Easily consigned to a storage room, it can become the exclusive repository of boxes and baubles that don't quite fit into our busy realities. If this rings true for you and you find your guest bedroom chock-full of this and that, with only a futon to wink at its original purpose, perhaps it's time to reinvent this space as a sweet, stunning retreat.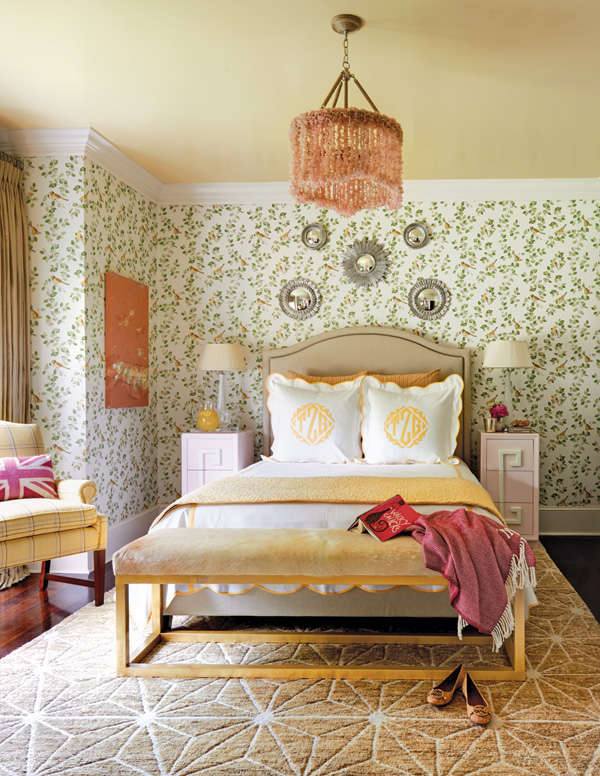 When designer Traci Zeller of Charlotte, North Carolina, redecorated her nice, but mostly neglected guest bedroom, the goal was to create a dreamy, functional get-away. So she collaborated with iconic heritage brand Laura Ashley. The combination of Laura Ashley's romantic, rural aesthetic and Traci's "crisp, classic and chic" sensibilities resulted in a room altogether bright, fresh and modern.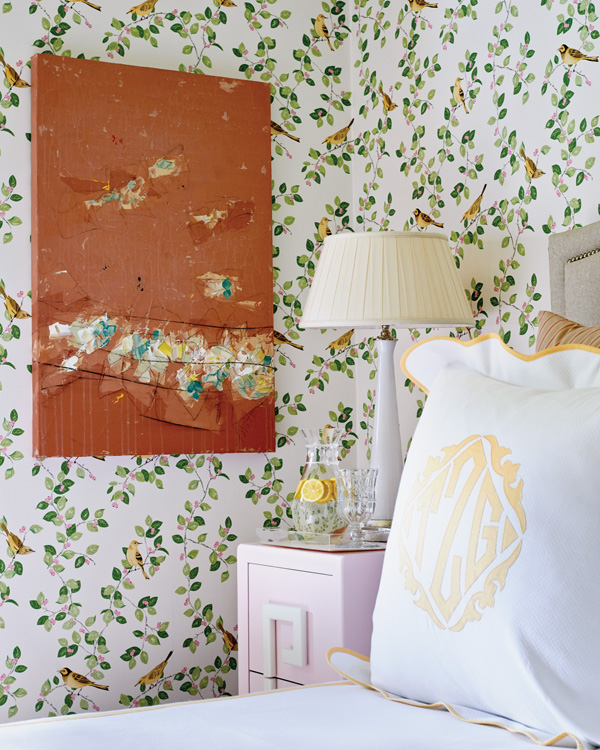 For the ravishingly revamped look, Traci began with a distinct vision of how she wanted the room to feel. With a husband and twin sons, Traci finds that "boy world" vibes pervade her home. This guest room redo offered a chance to express an atmosphere of drama and updated femininity otherwise omitted from her interiors.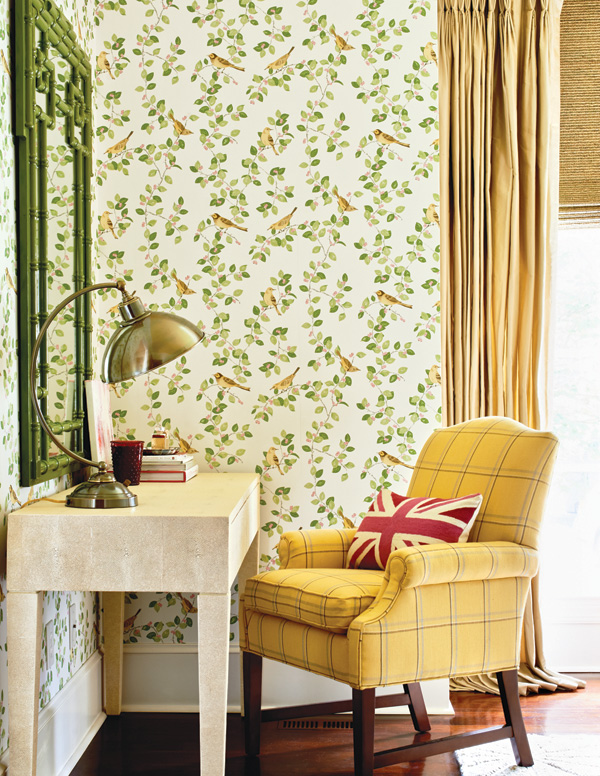 The drama of this room hinges on the show-stopping, garden-themed wallpaper. "This room would not be the same room without that wallpaper," she says, "And though it's a bold pattern, its soft colors make it appealing rather than overwhelming." For the rest of the room, she decided to avoid the "greens and pinks that can make a room look like a little girl's," instead choosing to ground it in neutrals and cheery yellows, with extra oomph supplied by the pair of upholstered, chamomile-colored armchairs.
With the wallpaper functioning as the grand statement, Traci treats the rest of the room with a more modern, edited approach. For her, "function follows beauty," and every item is chosen with strict intentionality, deployed to work on several levels. The sleek desk and metallic lamp playfully challenge the classical elements of the wallpaper, while providing the accoutrements of a fully outfitted workspace. The vintage bedside tables and Alexis Walter paintings lend depth and richness to a room that could look too "new" and cosmetic without them. The blushing quartz chandelier infuses an earthy, sweet quality while delivering key lighting. With these features as just as some examples, Traci certainly achieves her aim of providing "simple solutions that bring joy and spirit to the everyday."