There's more to the classic American farmhouse than shiplap and shutters. A closer look at Allison Stolar's Connecticut home reveals that creating the perfect farmhouse curb appeal is about a balance of details that give the exterior a fresh and welcoming look. Looking to boost your curb appeal with a bit of farmhouse flair? Follow these rules: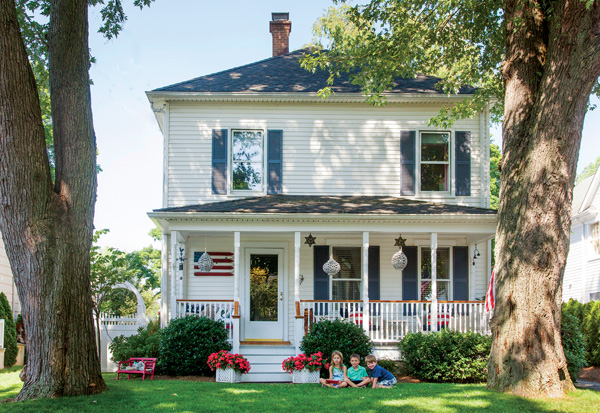 USE AN EDITED COLOR PALETTE. It doesn't get any more timeless than white shiplap for a farm-cottage vibe, but Allison kept her accent colors to a minimum. Denim blue shutters and a lively pine finish punctuate the architecture, while leaving the look perfectly simple.
DRAW YOUR EYE TO ALL THE RIGHT PLACES. A pair of trellis flower boxes leads your guests from the porch steps right to the welcoming front door. The glass door is also a more modern touch that keeps the façade looking light and airy.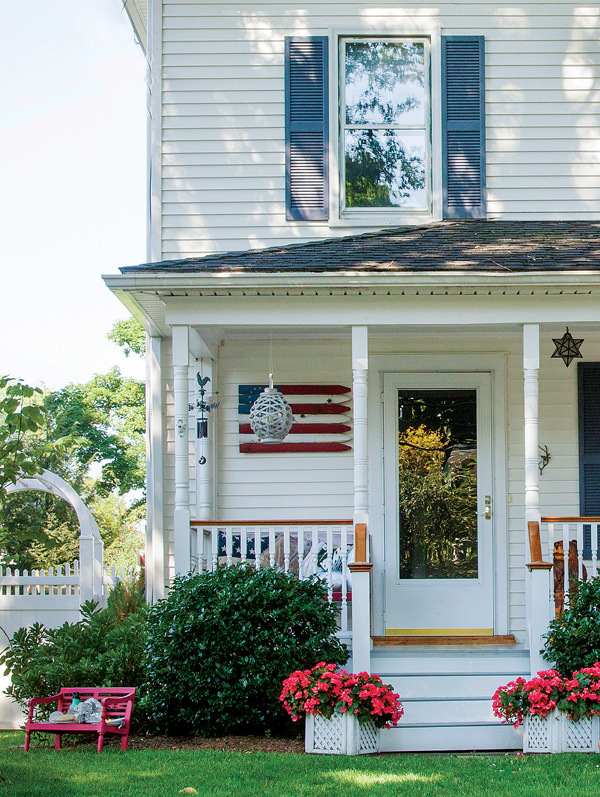 PREEN YOUR PORCH. American flag pillows deck out the porch with seasonal fun. Yet the furnishings and accent pieces outfit the porch with year-round coziness and warmth. A good farmhouse porch is always comfy, inviting and full of seating.
ADD HANDCRAFTED ELEMENTS. From the picket flag to the woven lanterns and stars that add a festive touch, the exterior shows that this homeowner appreciates artisan touches. Add a curated and well-edited selection of decorative arts to give your porch—and the overall farmhouse curb appeal– that final homey touch.