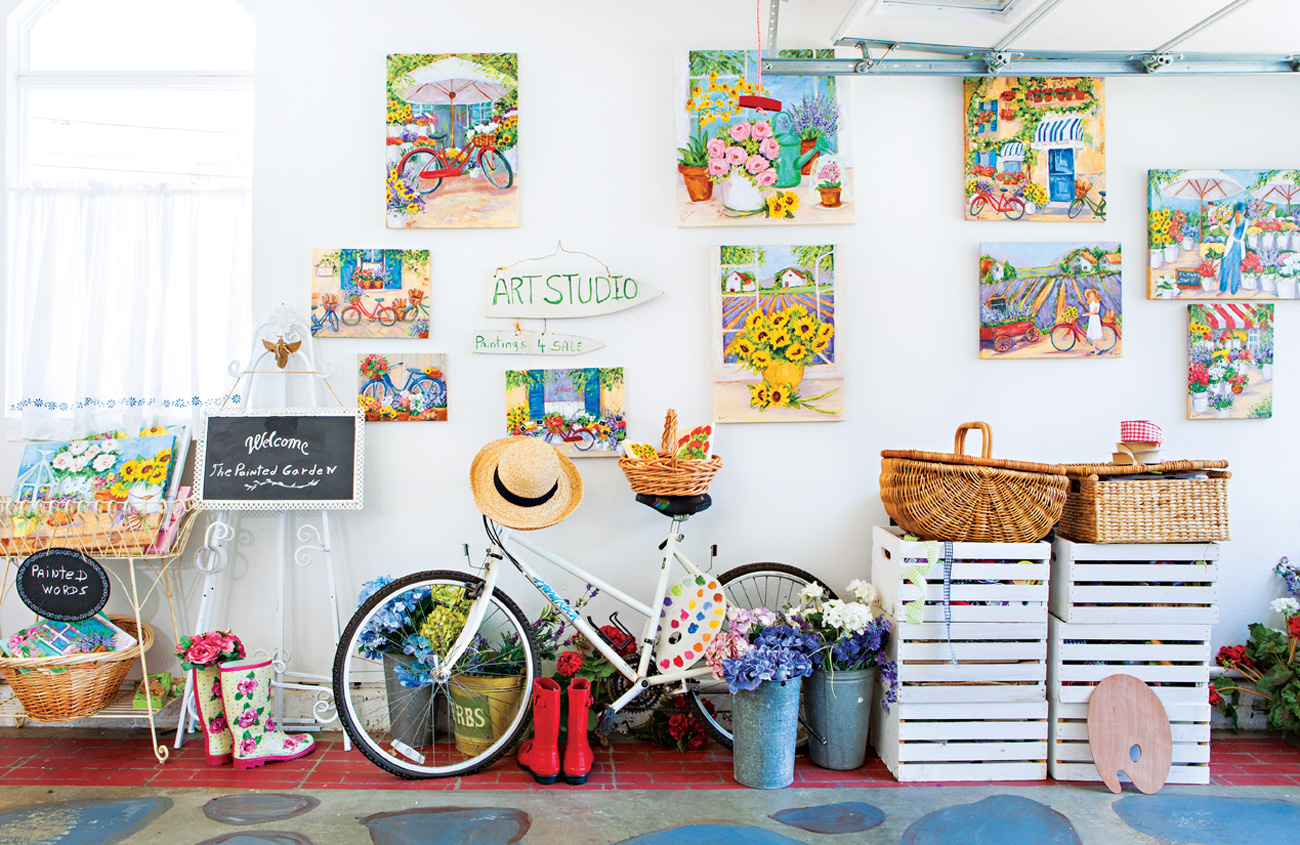 Using artwork to inspire your décor is a great decorating trick. But when you are an artist, your rooms become your blank canvas on which to create. Stepping into artist Erin Houghton's home feels like walking into one of her paintings. The similarities between her the décor of her artist-beach cottage and her artwork are striking, seamless and even a bit surreal.
When you arrive at the beach cottage's front door you see the same bright shade of red as
appears on a bicycle in one of her paintings. And the yellow gingham curtains on the kitchen windows match the sunflowers that pop up in her artwork as well as in her garden. Erin's attraction to vibrant colors is the basis for her aesthetic approach to her life and her work.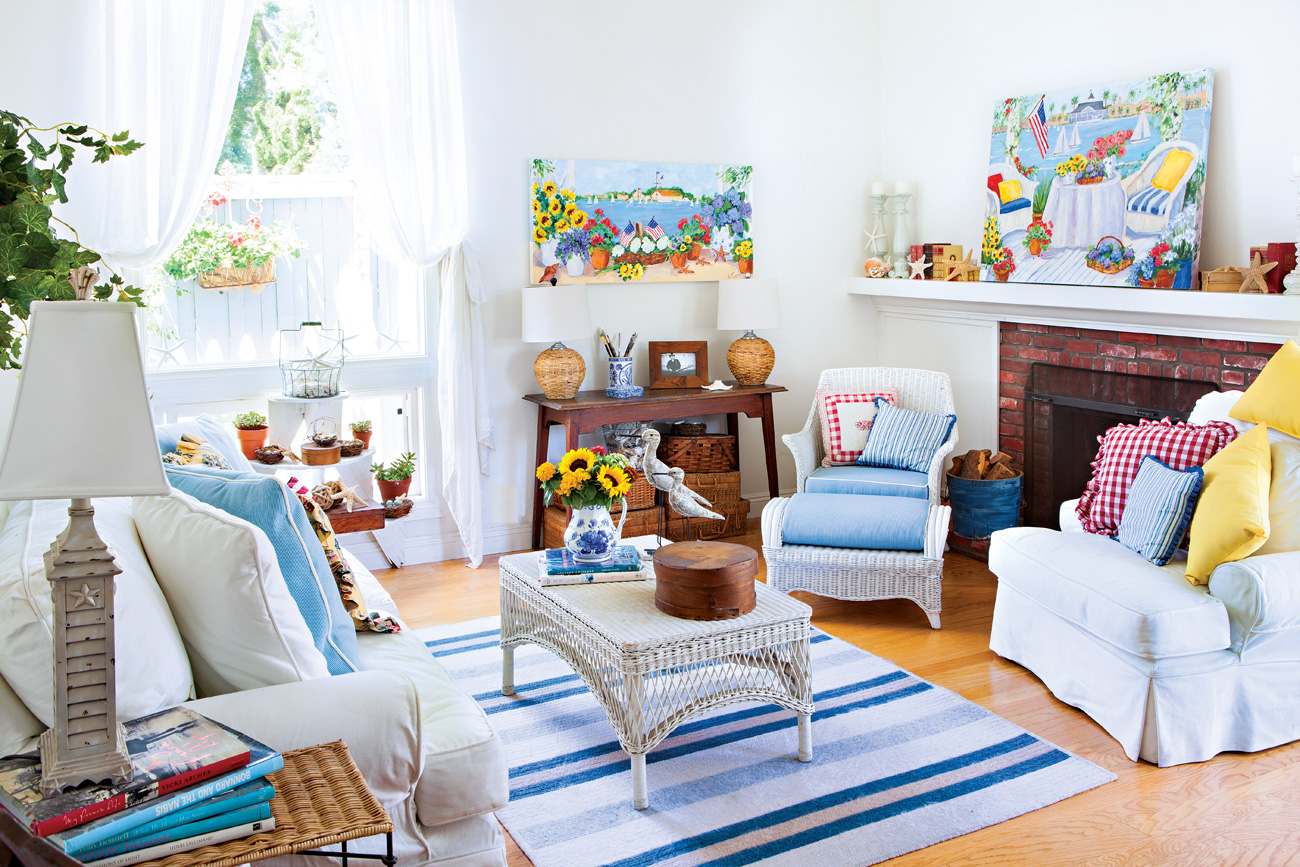 How does her ability to mix and match paint influence her décor? "I use the same skills to create harmony in decorating by repeating a single primary color throughout the garden
and home," Erin explains. "My favorite colors are ocean and sky blues accented with whites, reds and yellows," Erin says. "My style is a mix of classic and whimsy, as I use traditional beach-cottage blue and white elements, mixing them with vintage finds and collections, and then layering pillows and accessories in florals, checks and stripes."

"I love things that are well-worn, rusty, imperfect and handmade to offset the more classic elements."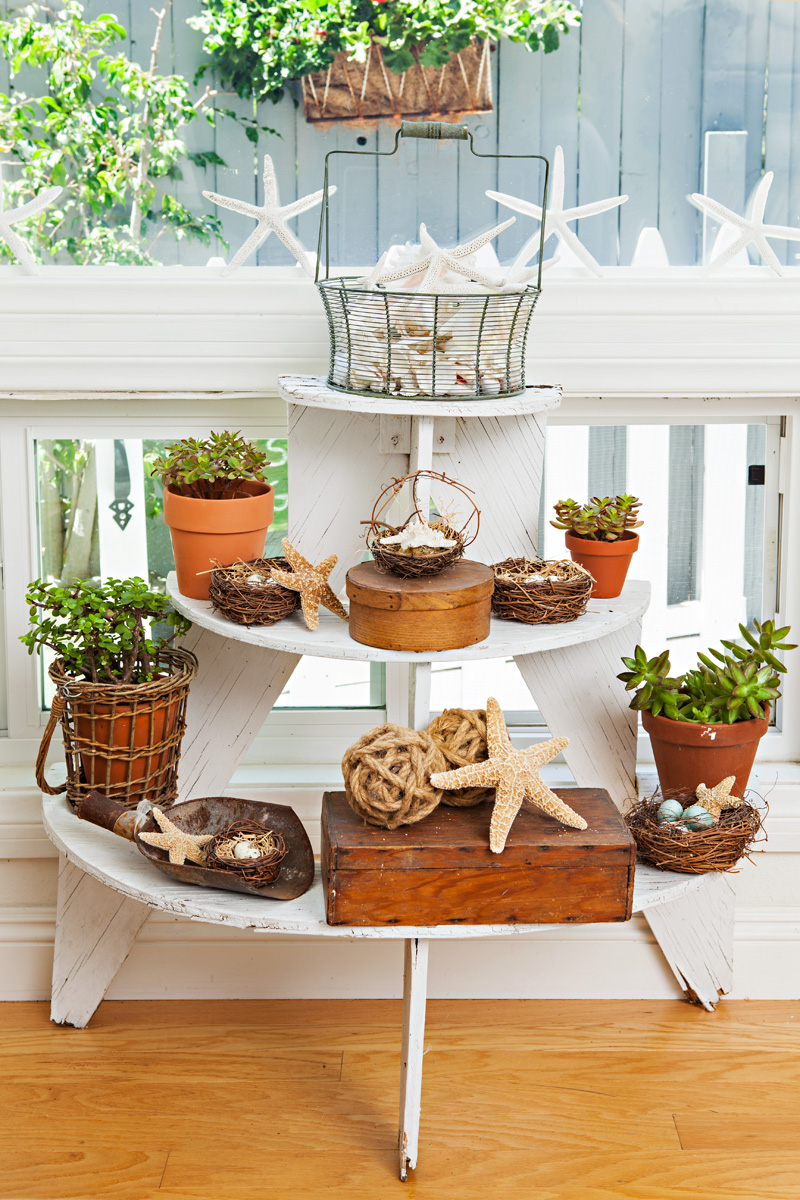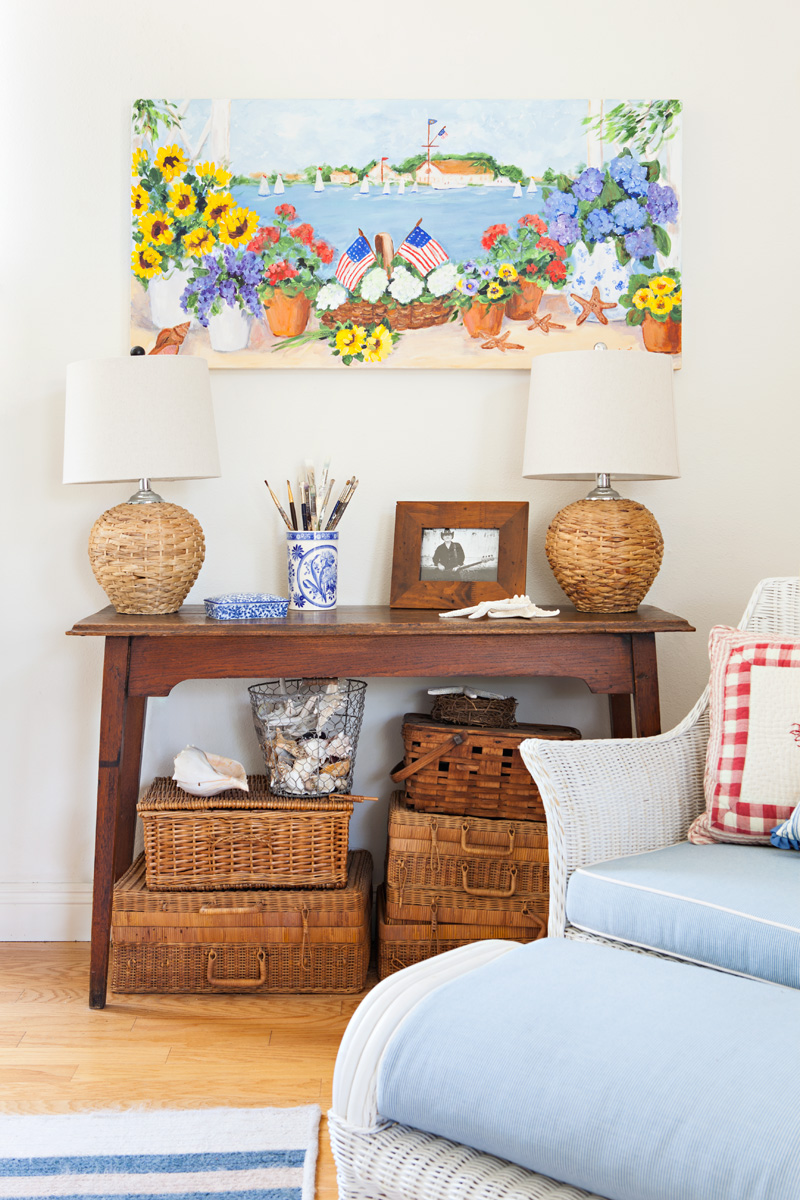 To add whimsy and texture to her beach cottage, Erin decorates with what she calls "vintage imperfect elements" and collections such as picnic baskets, which she uses to store books, boxes, metal clam baskets and seashells. "I love things that are well-worn, rusty, imperfect and handmade to offset the more classic elements," Erin says. "I collect vintage birdhouses in all sizes, shapes and colors, and signs, galvanized buckets and watering cans for the garden. The watering cans, when not in use, are filled with flowers or greens from the garden, and the buckets are used for charming planters."
"I grew up with and adore books. I have them stacked up everywhere and use them to add height to tables with lamps as well as to add touches of color."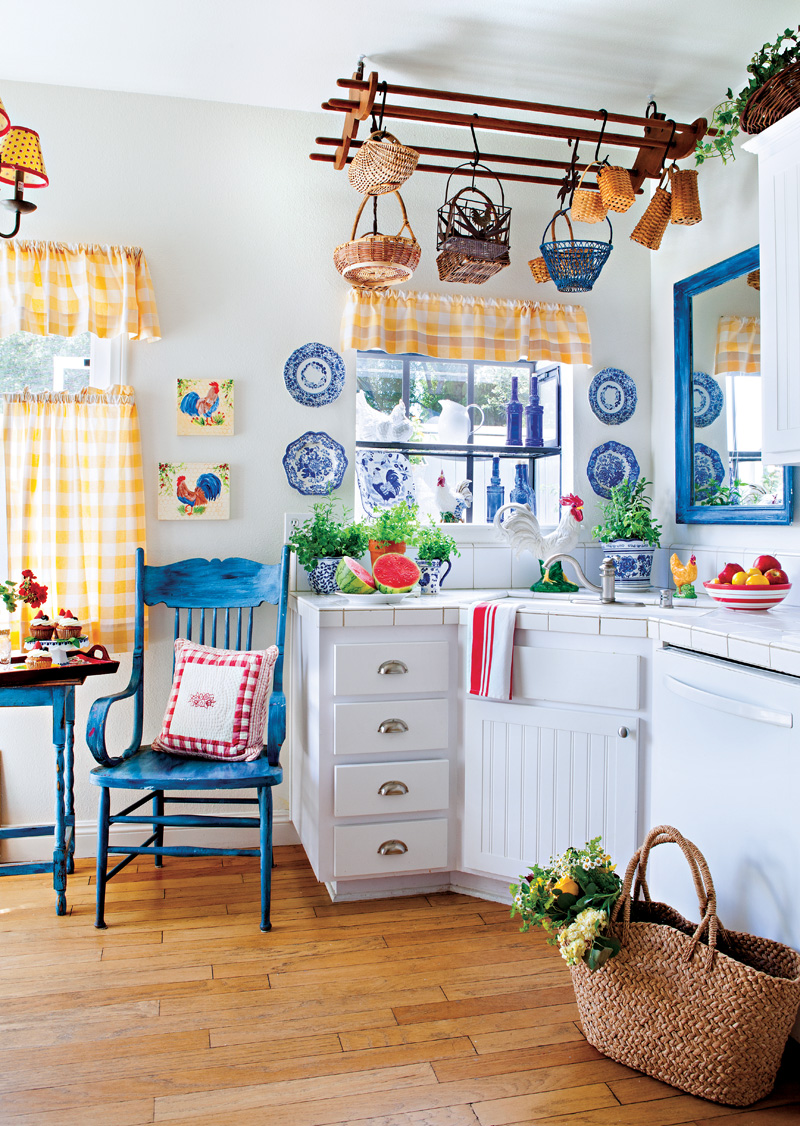 But with all her vintage finds, Erin's home and garden never look cluttered or busy. She approaches the spaces as she does her paintings. "I like to use white as a background and achieve this with the use of white walls and slipcovers in my home and white furniture in the garden. I add character and interest by using distressed blue-painted furniture and primitive wood antiques as anchors to the white.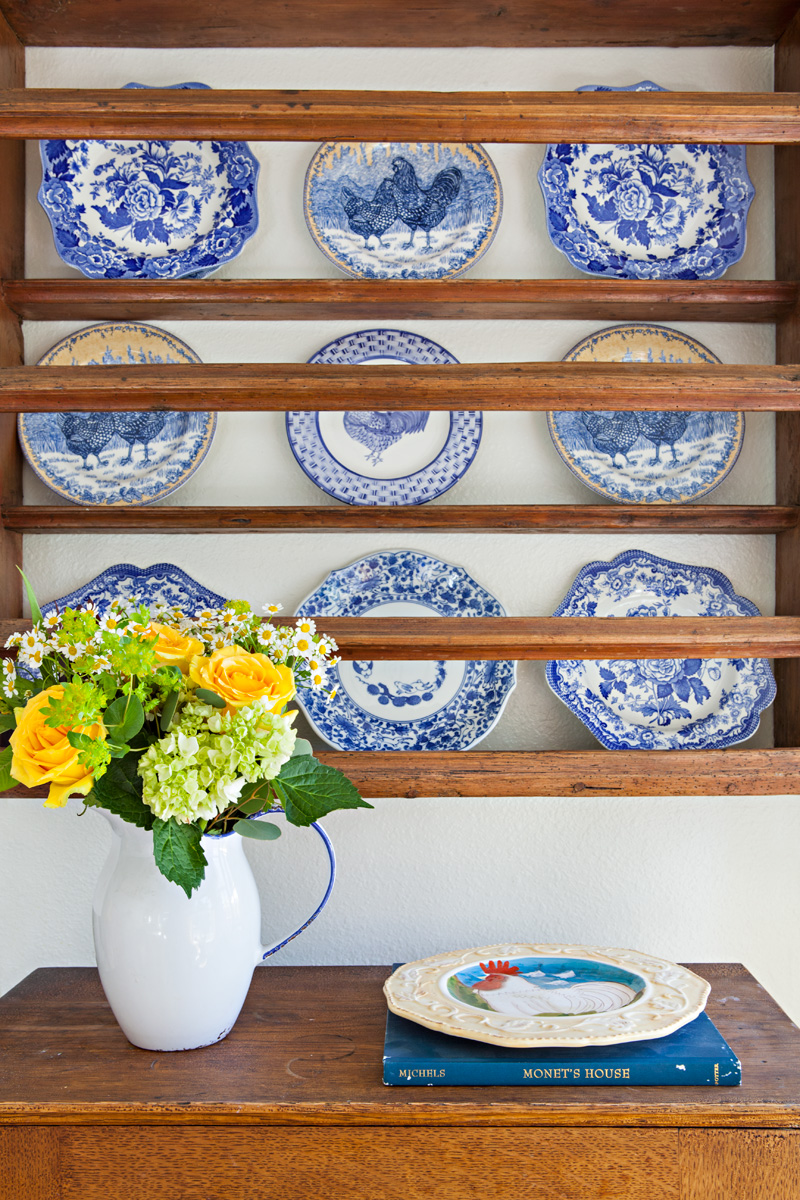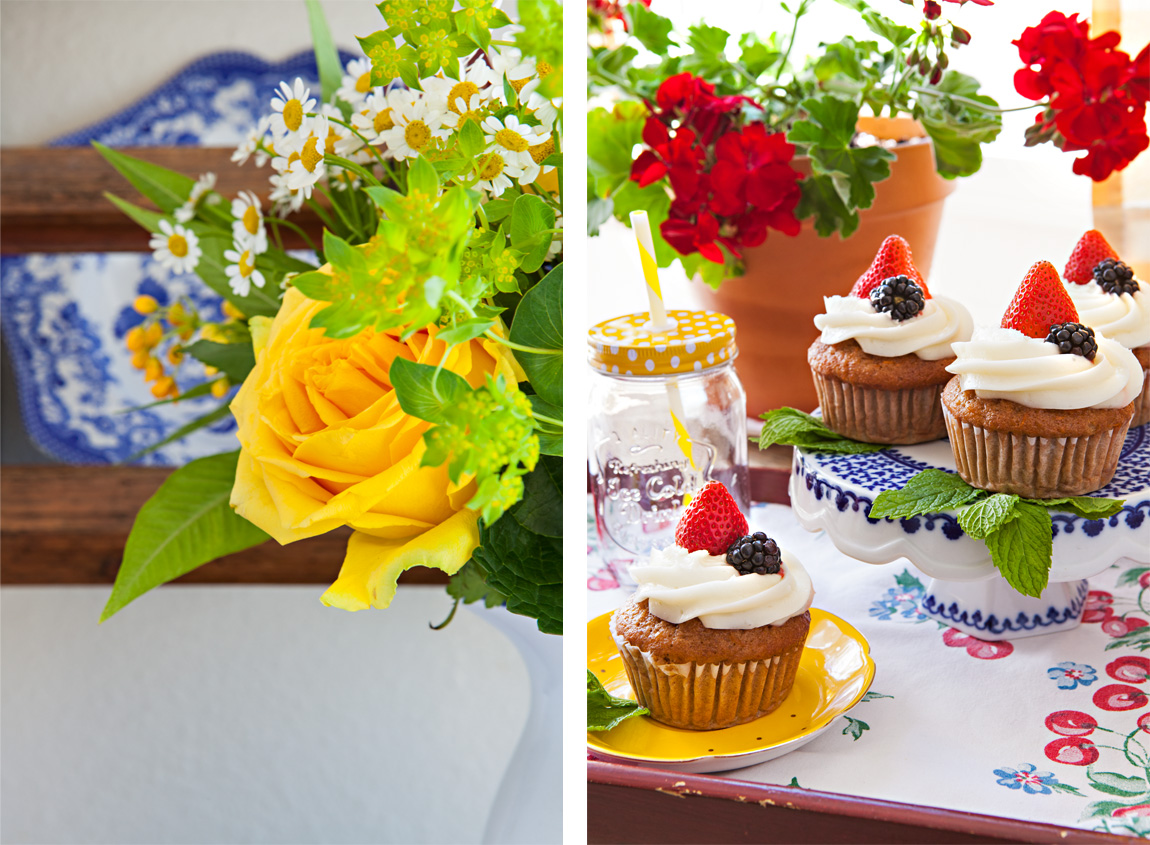 Even after decades of collecting secondhand items, Erin has no plans to modernize her living spaces. "I would buy vintage over new any day," she says. "Each piece has history and adds tremendously to the warmth of the house. Every room in the house has something old. If it has a chip or crack, it just gives it a little personality. Most things I buy are vintage and will show up in a painting later on; my vintage blue bicycle has been in many of my paintings."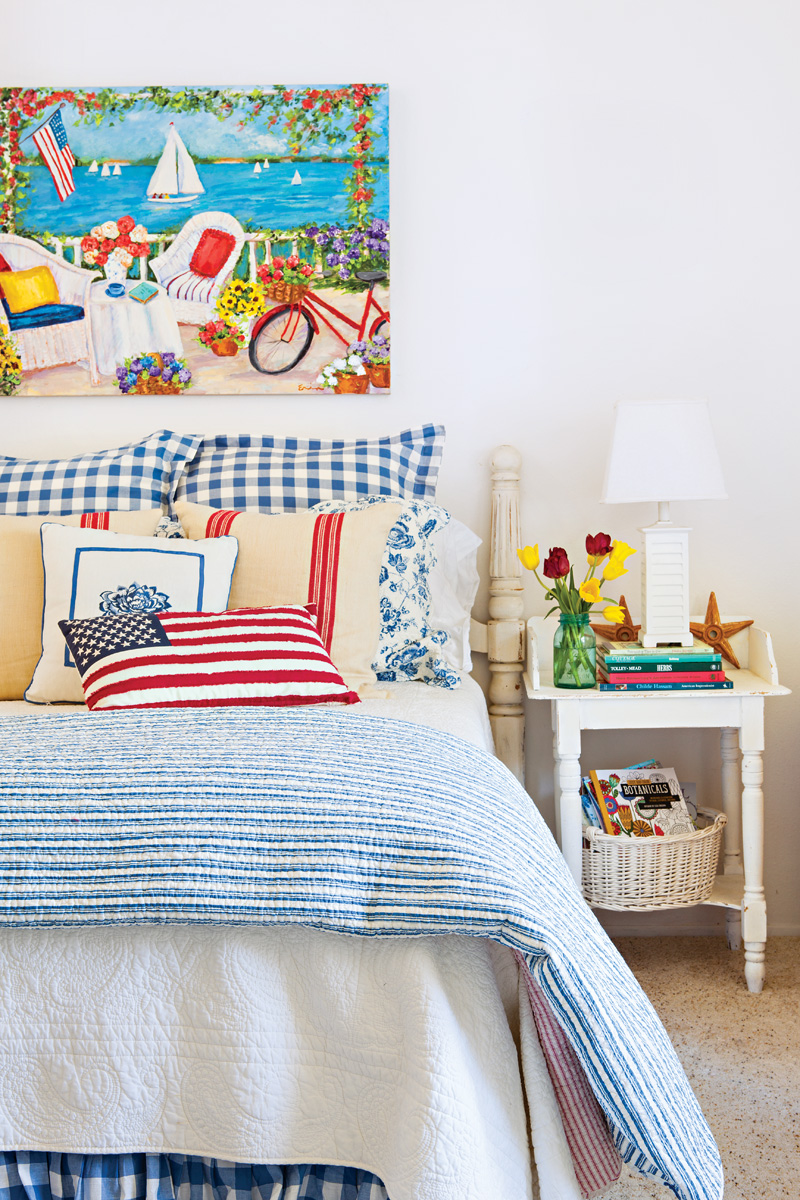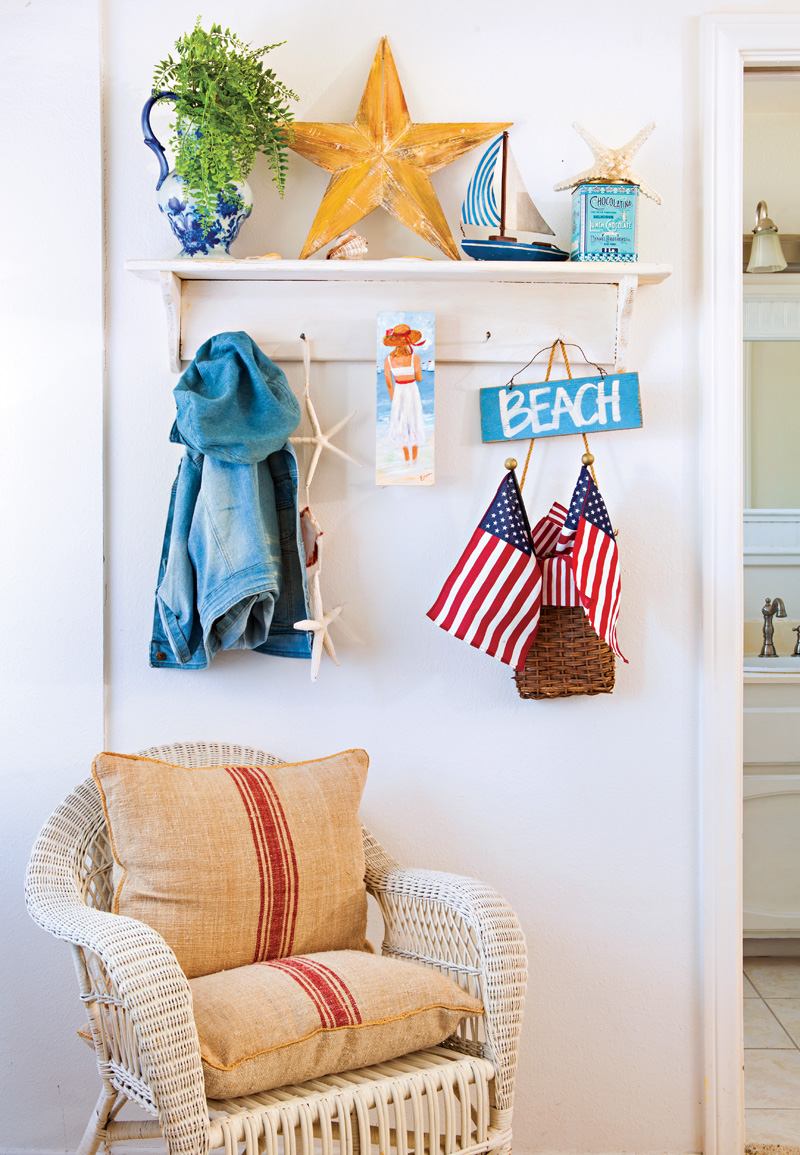 Erin's garage is her art studio by day, car garage by night. With high loft-like ceilings
and plenty of built-in cabinets to conceal storage, it's big enough to have meetings with 12 people. Erin painted a flagstone design on the floor to help warm up the space and amp up the creative atmosphere.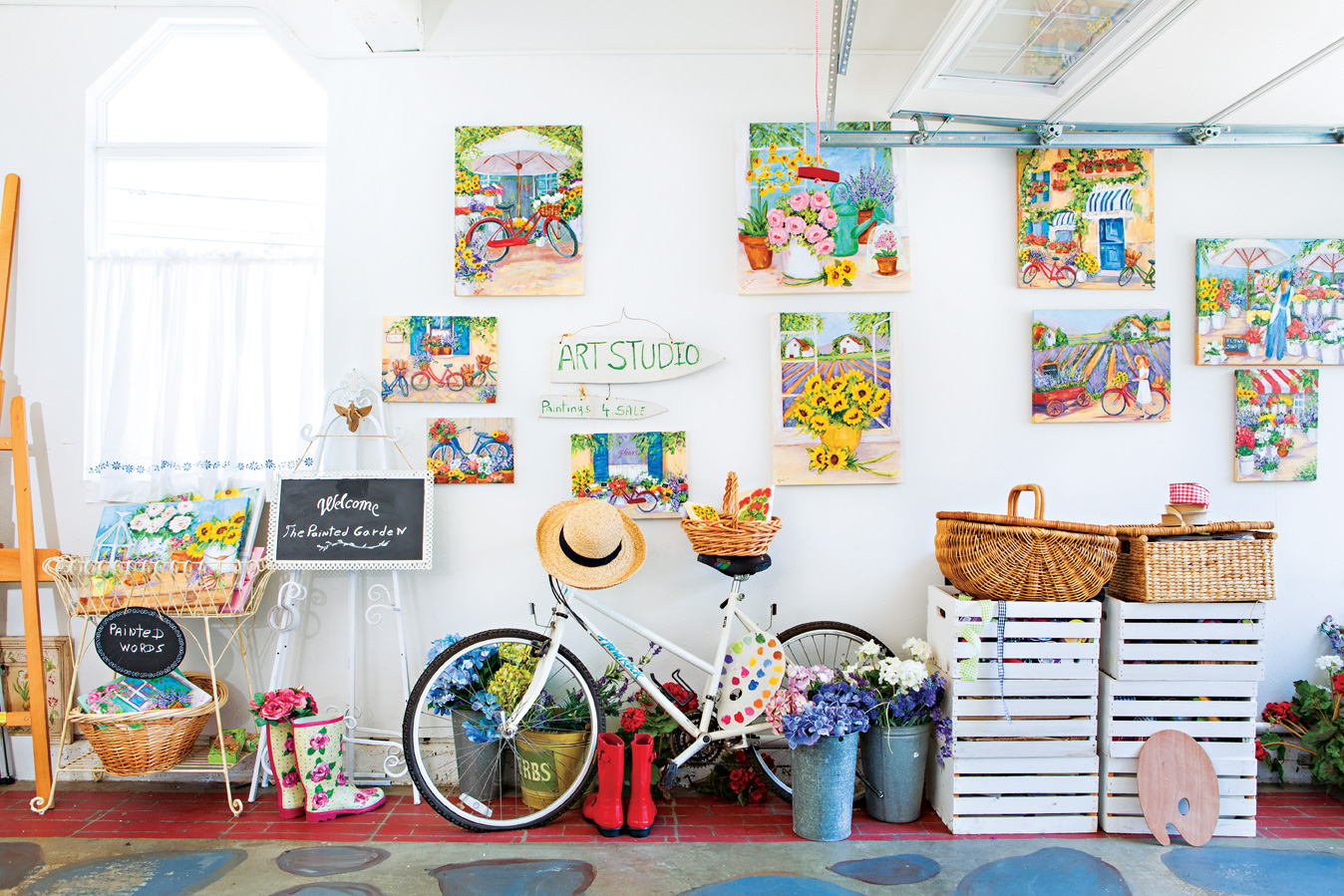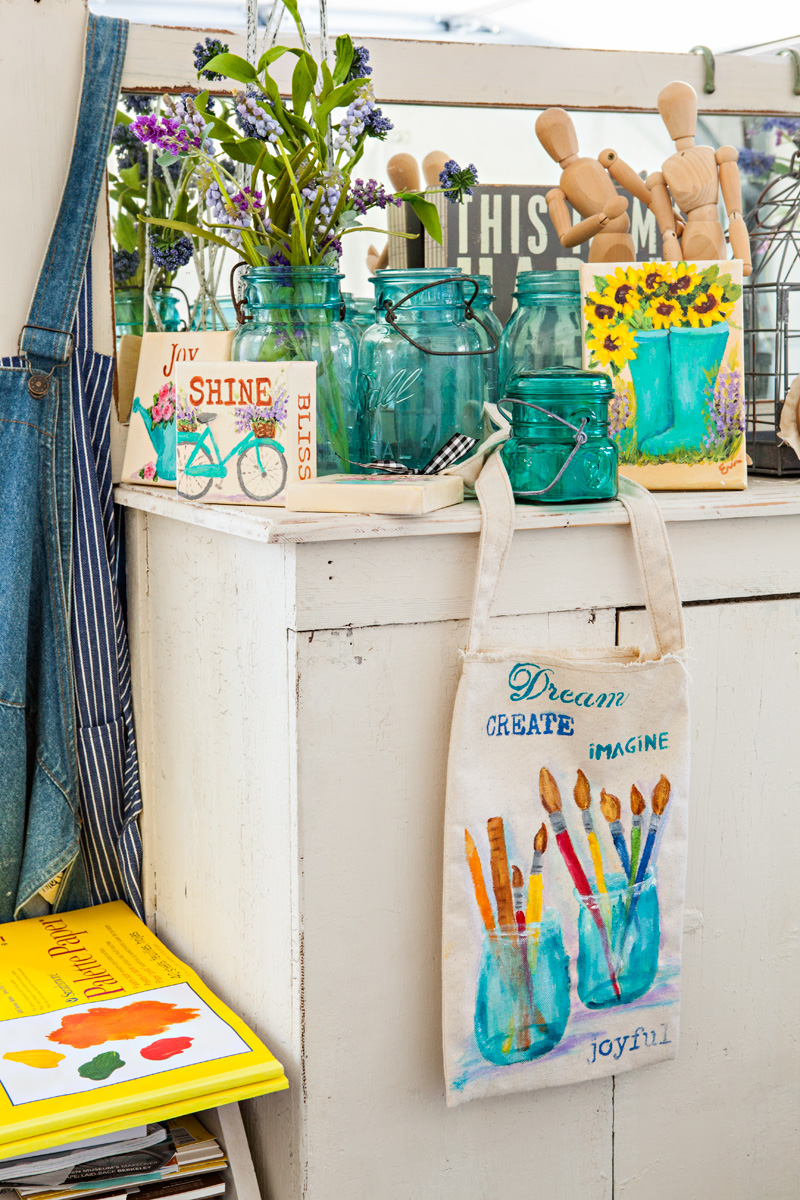 While it's been nice to carve out extra space for her studio in the garage, she's still mindful of space-saving tricks. Erin made the table curtain under her worktable out of an old shower curtain. She found the huge cupboard on the left in someone's trash, and
the old shutters behind the table hide her exercise bike. The garage doors have windows for light. People can't believe it's the garage. "I'm very good at hiding stuff," Erin says.
"I would buy vintage over new any day. Each piece has history and adds tremendously to the warmth of the house."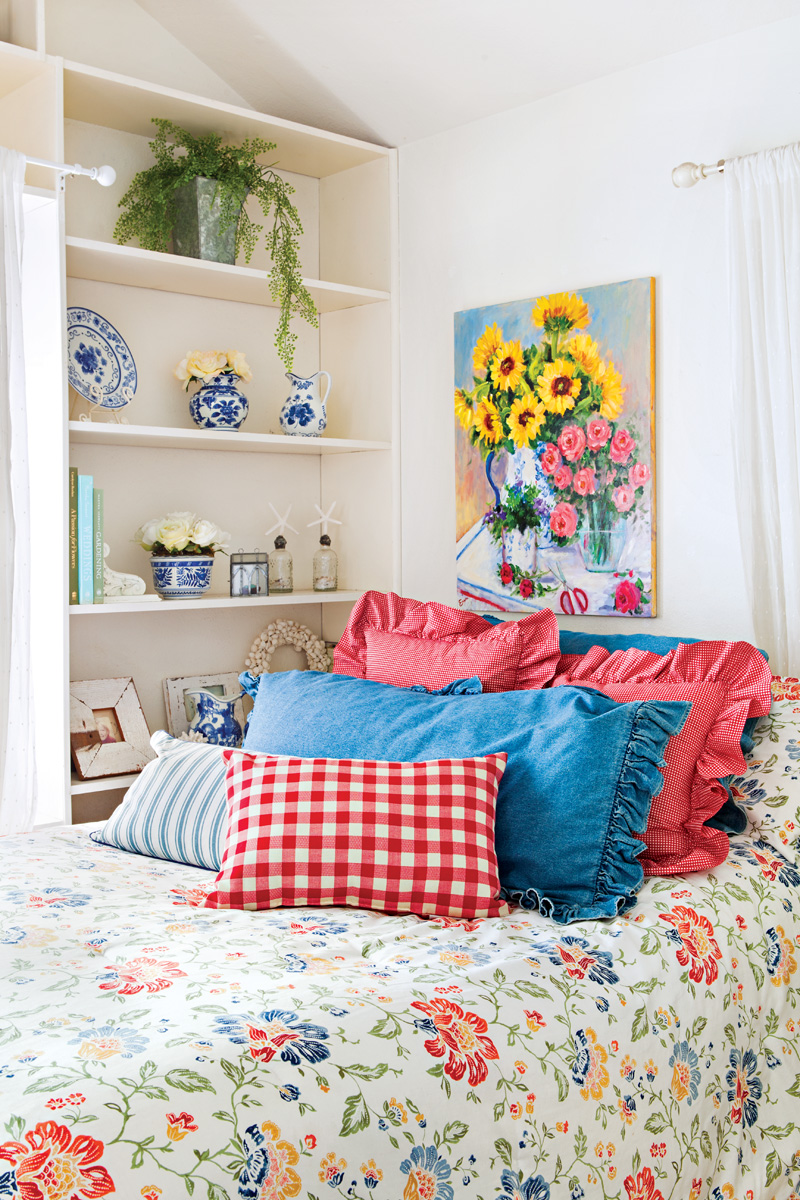 Erin believes her three-bedroom Cape Cod cottage, located a mile-and-a-half from the beach, is the perfect place to inspire her creativity and give her joy and serenity. "It's my happy place," Erin says. "And anybody who comes here to relax, it's their happy place too."