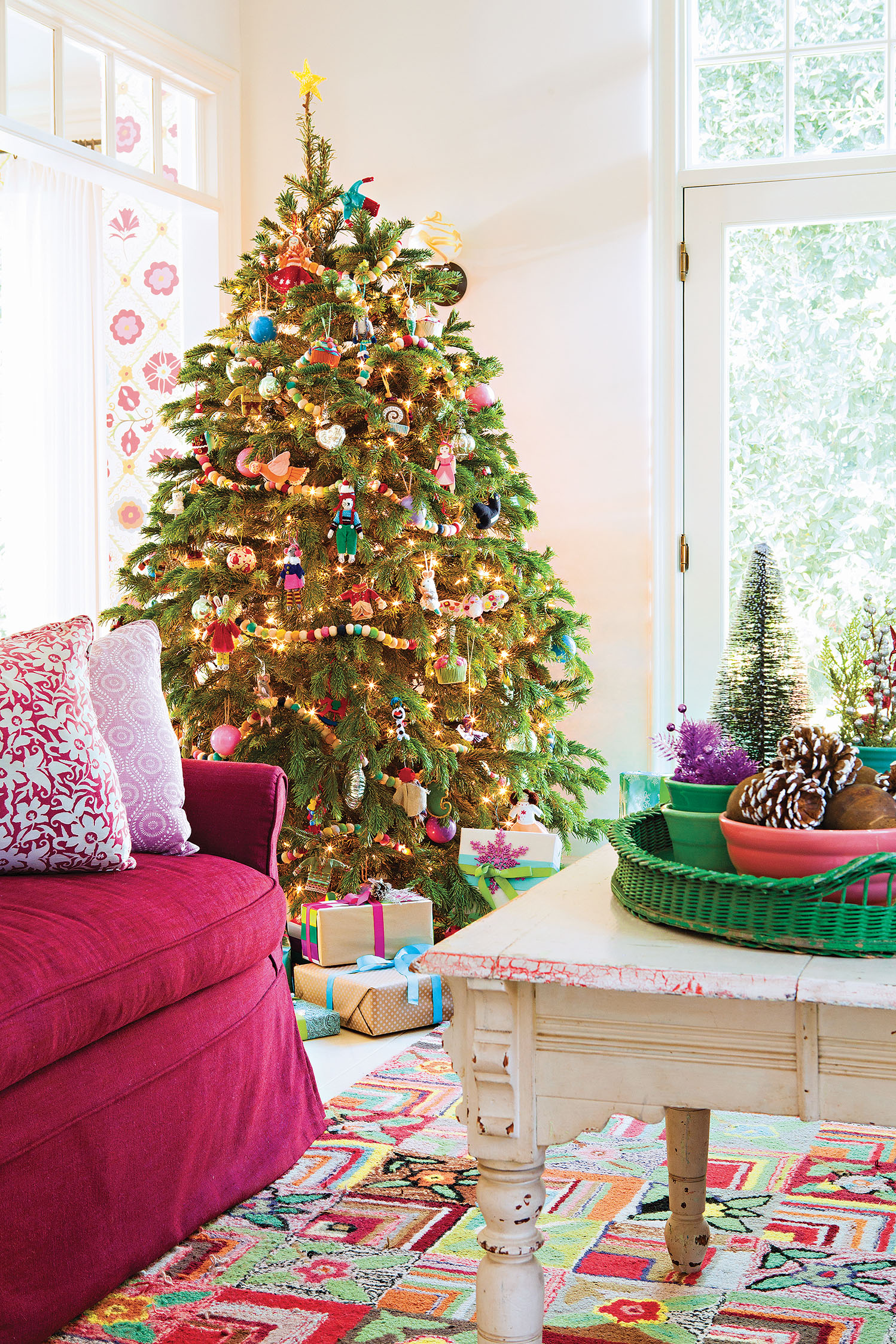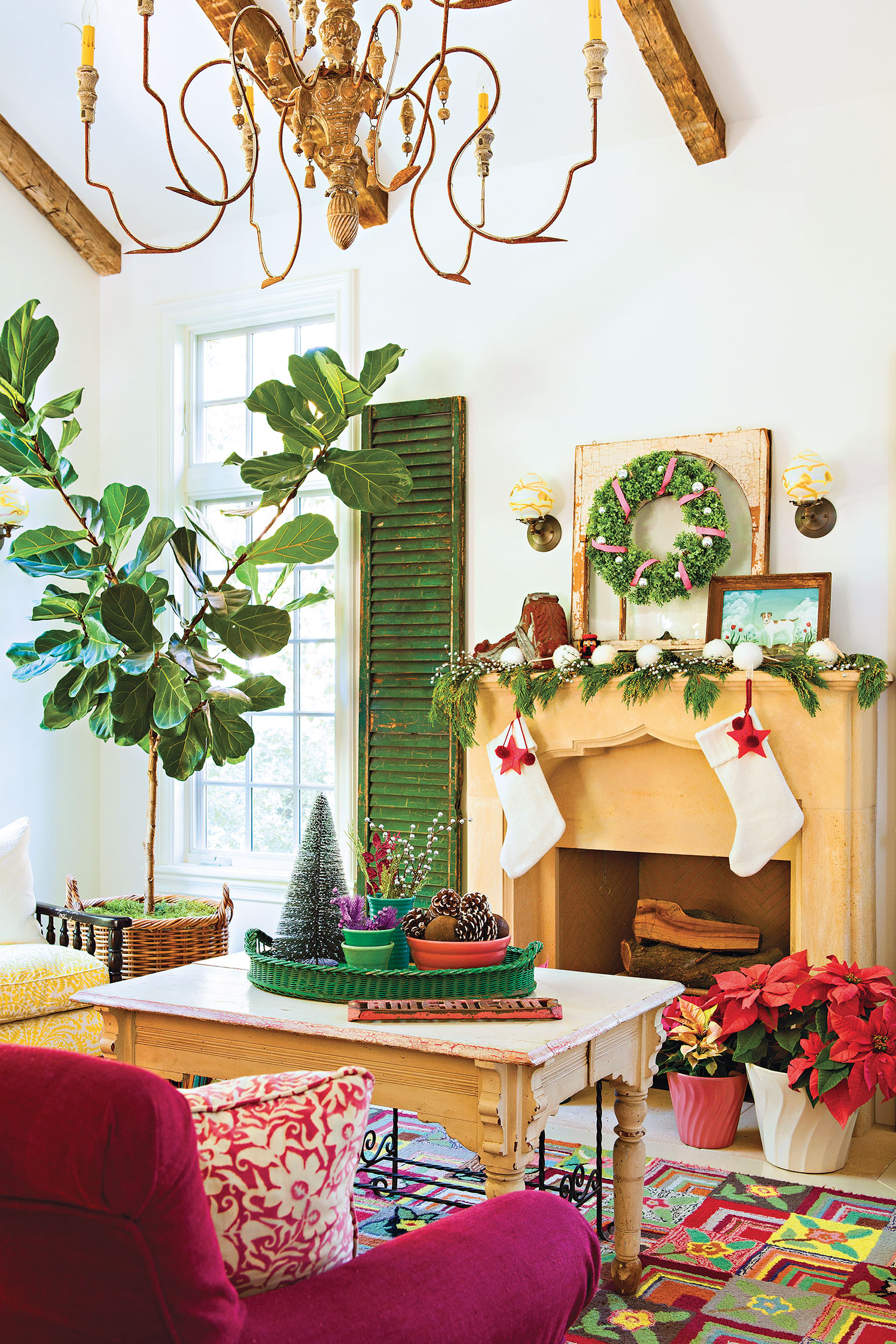 If you're a lover of the cottage aesthetic, chances are the word "new" isn't a good thing. Rainbows of color don't immediately come to mind when you think of time-honored Christmas motifs. When the holiday season arrives, shops fill their shelves with decorations of nostalgic themes such as snowflakes and snowmen, forests of evergreen trees and reindeer in sleigh bells. Interior designer Alison Kandler (alisonkandler.com) chooses to stay true to her style roots, and each Christmas she forgoes the jewel tones of red and green, instead opting for a world of candy colors that fit her sunny home and her year-round aesthetic without compromise. If you're a lover of the cottage aesthetic, chances are the word "new" isn't always a good thing.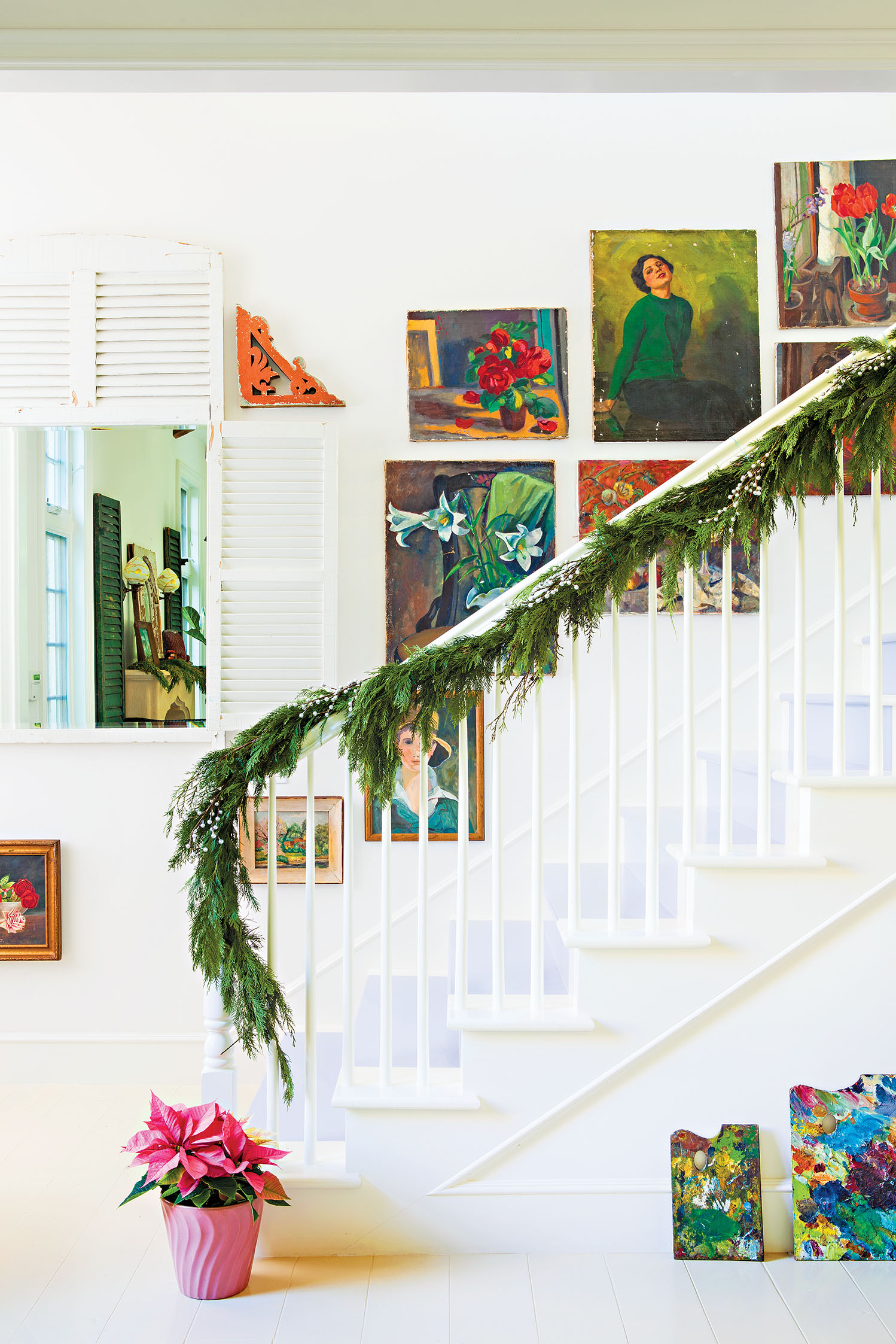 Traditional Touches with Modern Proportions 
Before the Kandler family bought their home five years ago, the tiny 1927 Santa Monica cottage was fitted to the Spanish revival style. This look is popular in the area, but it did not suit Alison's tastes or her vision for the building's potential. She worked with her business partner, architect Joan Swartz, to take the interior down to its studs and build it back as an English country cottage. They were able to almost double the square footage, but even with the added space the house required careful planning. "We downsized when we moved here," Alison explains. "So when we laid out our blueprints, we whittled down to the spaces which we'd really use. Every room has to multitask." Although Alison and Joan were essentially working with a blank slate, they chose to honor the heritage of the home by incorporating historic design elements from the 1920s and '30s while updating the spaces for modern living. "Homes made back then didn't have high ceilings and large windows like we build now," says Alison. "Those were two things we chose to modernize. We needed the rooms to feel open and to allow as much natural light as possible." Generous windows may be a modern expectation in new construction, but Alison's are designed with arches and multiple panes that fit the traditional aesthetic.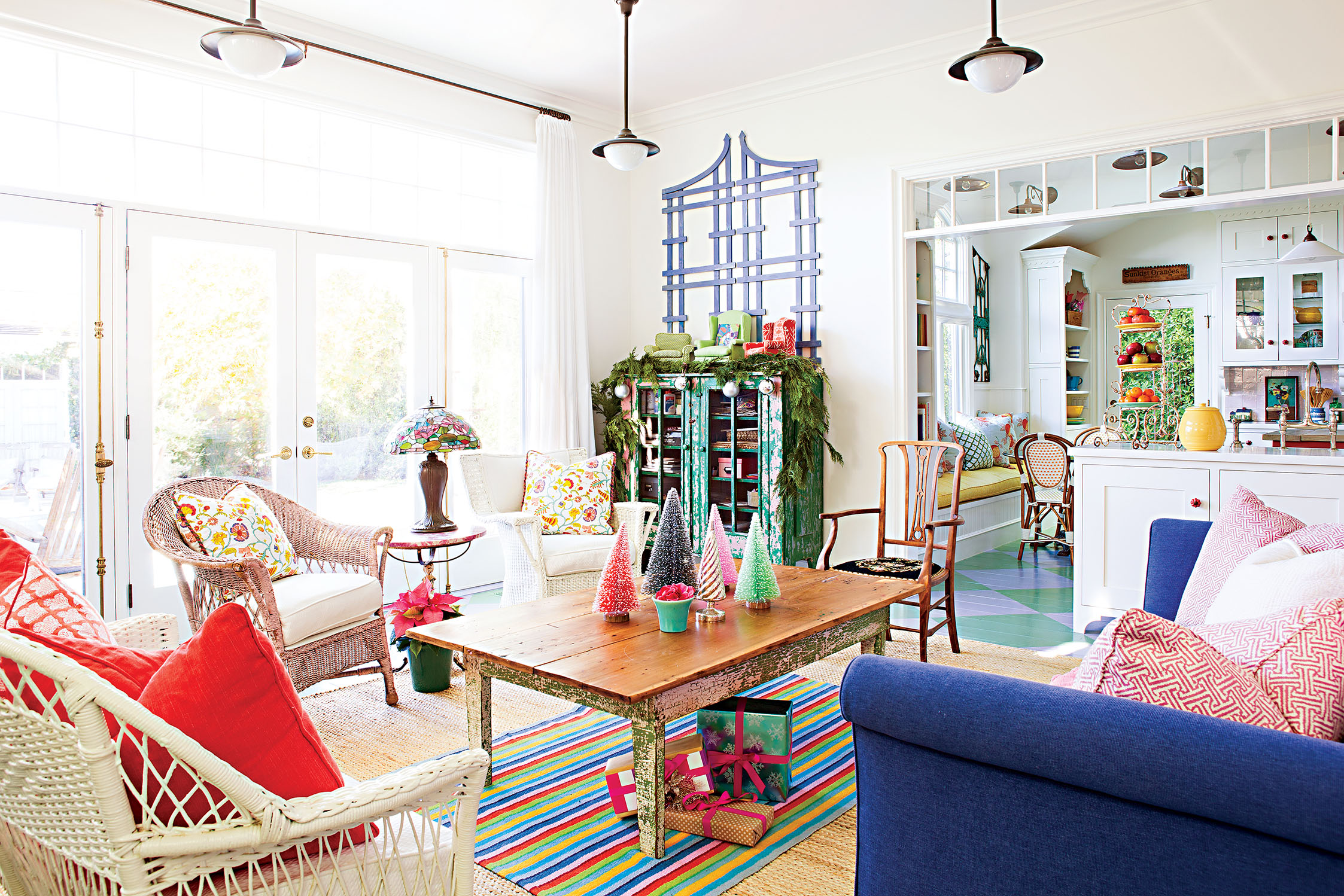 Before you even enter the home, the deep teal door hung with a white Christmas wreath offers an accurate impression as to what you can expect inside. Go through a Tudor-style doorway and you are greeted with rich patterns, vintage furnishings, and everything in color. "Color is my thing. I came to this project wanting color; it makes me happy," says Alison.
If color provides happiness, then there's plenty of joy to be found in every room of the house.
Underfoot through much of the downstairs is flooring painted with green and periwinkle checks. "Trust the colors you love," Alison advises. For those enchanted with the idea of unique custom flooring, the designer offers a bit of encouragement, "It's actually very easy to paint floors and to repaint them if you change your mind about the colors." One thing Alison refuses to paint, however, is vintage furniture. When it comes to tables, hutches, and other flea-market finds, she likes to look for old pieces that were painted far back in their history and show signs of subsequent wear and use. "I don't touch original paint. I love the patina a piece develops over time," she says. "It's similar to a new pair of shoes; they're uncomfortable until they're broken in." Alison's favorite piece, an eight foot- long table in the dining room, is well broken in. With wood and an underlying coat of red paint showing through the final layer of green, any scratches or dings that may happen will be unnoticeable among the others on the forgiving surface.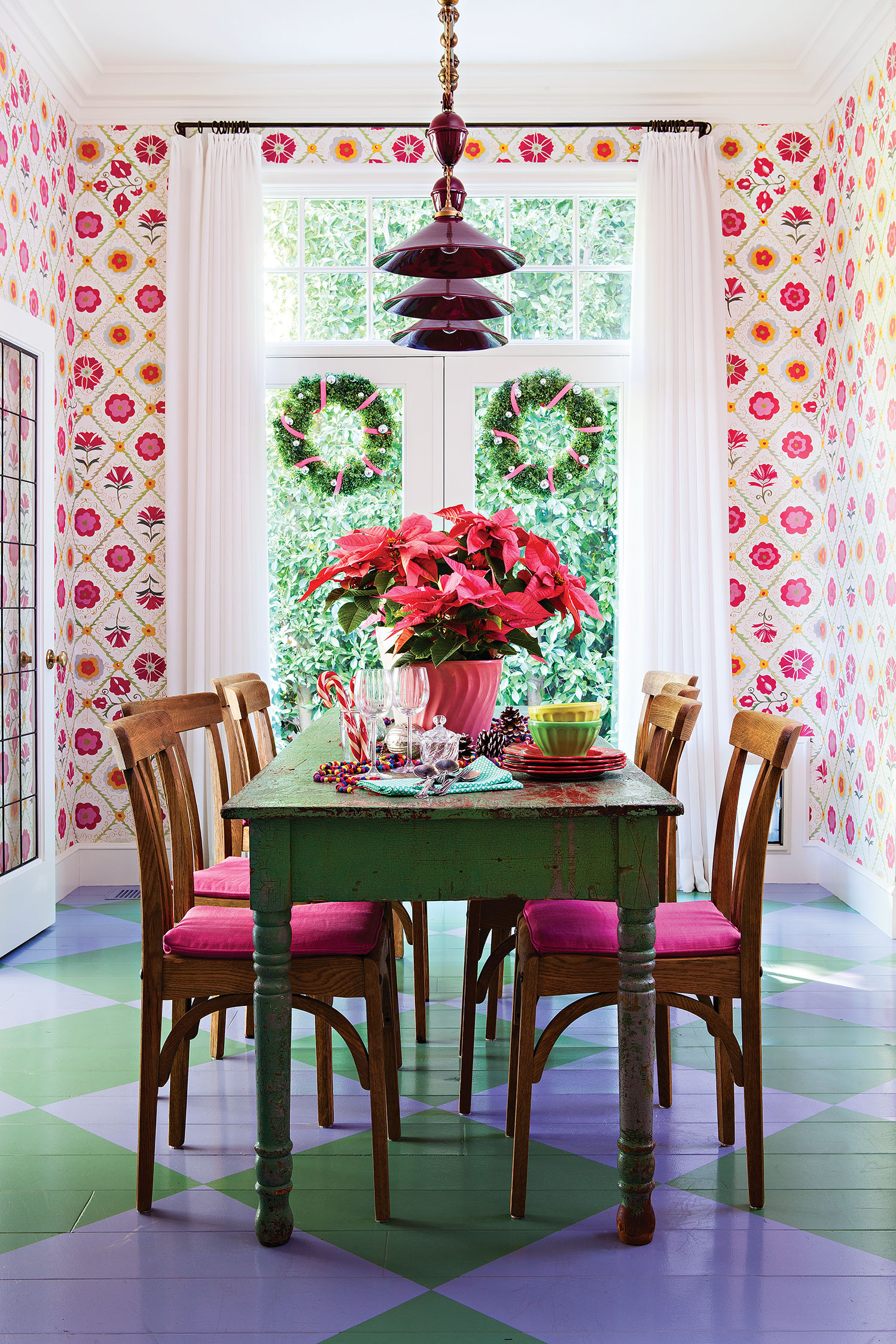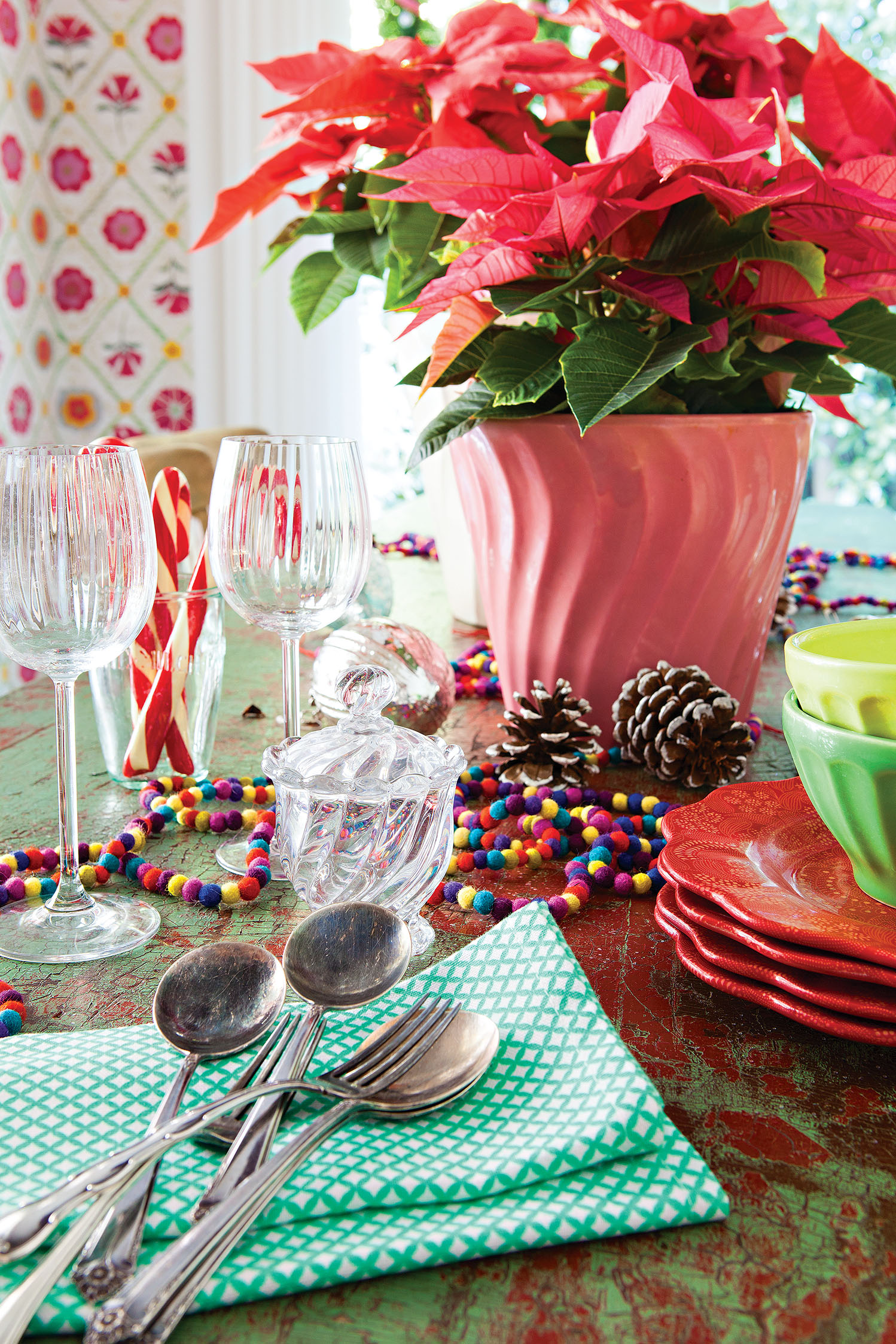 Deck the Halls with Whatever Suits You
Alison's dining room table may be red and green, but even during the holidays, the typical colors of Christmas are balanced among seasonal decorations in an expanded palette. On the living room Christmas tree, a spectrum of felted wool balls makes up a garland that weaves through branches hung with whimsical ornaments right at home among the room's vintage accessories. These ornaments are in the same shades of pink, purple, yellow and blue already used in her everyday décor. Likewise, in the family room, pastel-dyed bottlebrush trees on the coffee table and pink poinsettias in Bauer pots are seasonal symbols combined with the designer's cheery style that fit the mood of her home very well.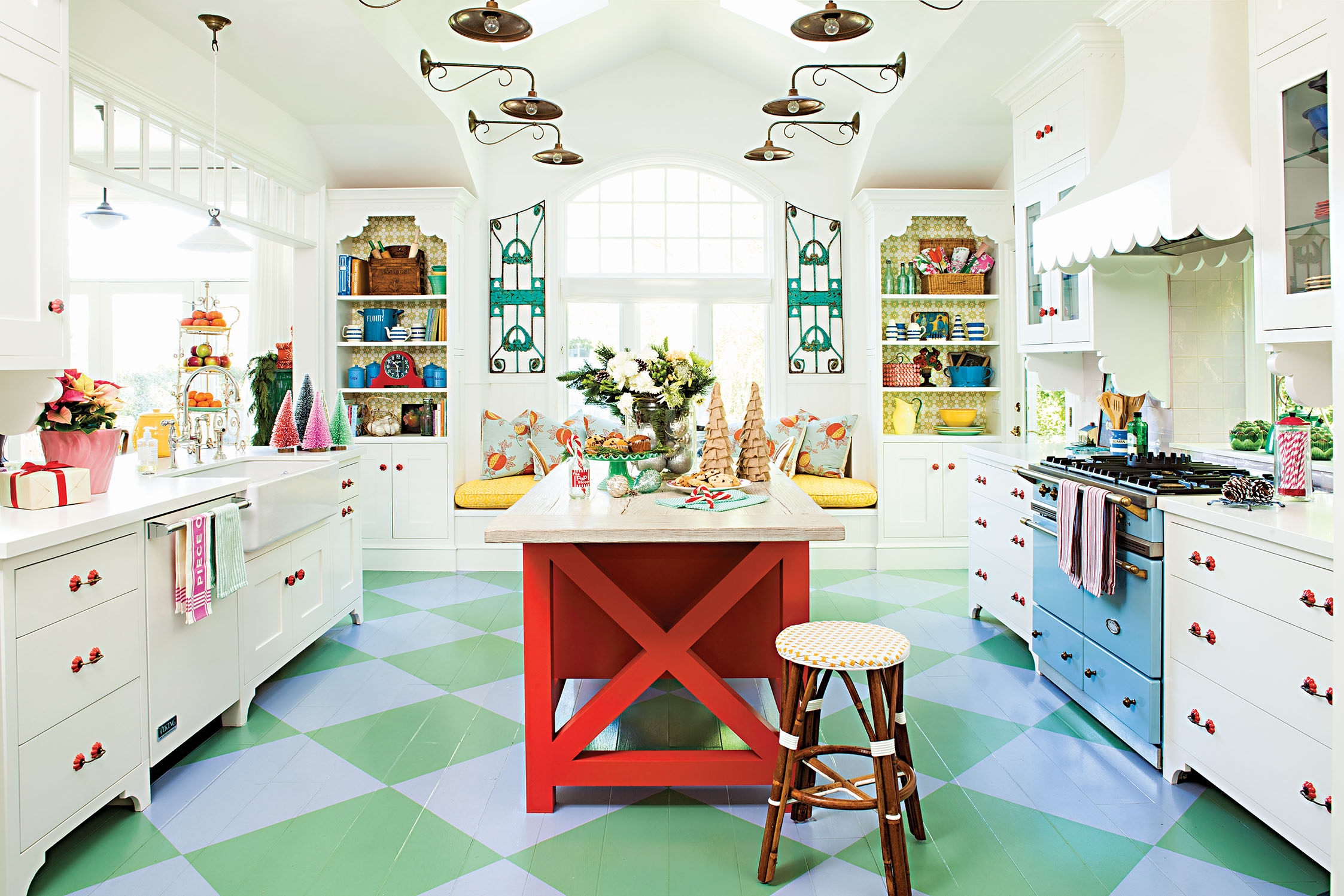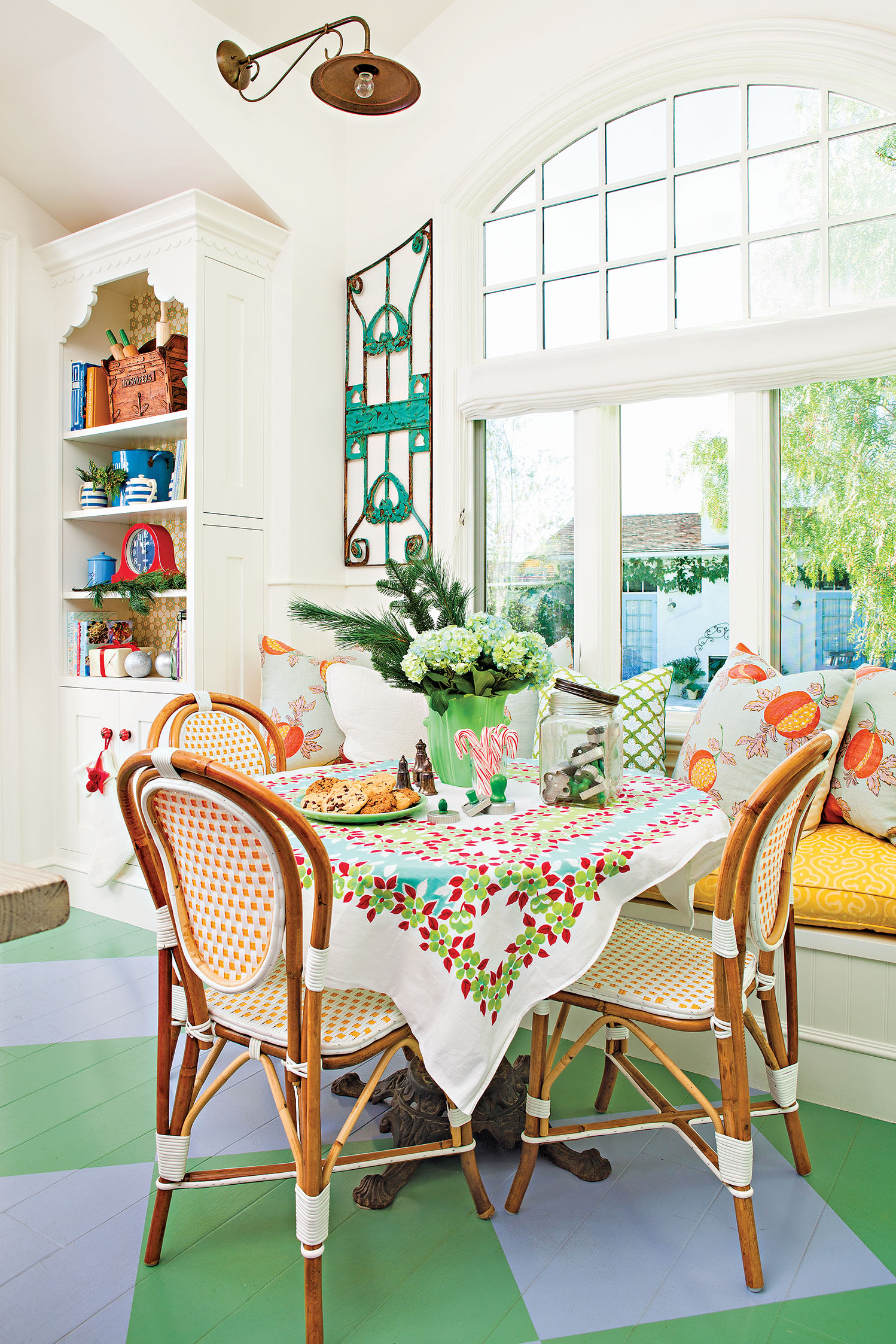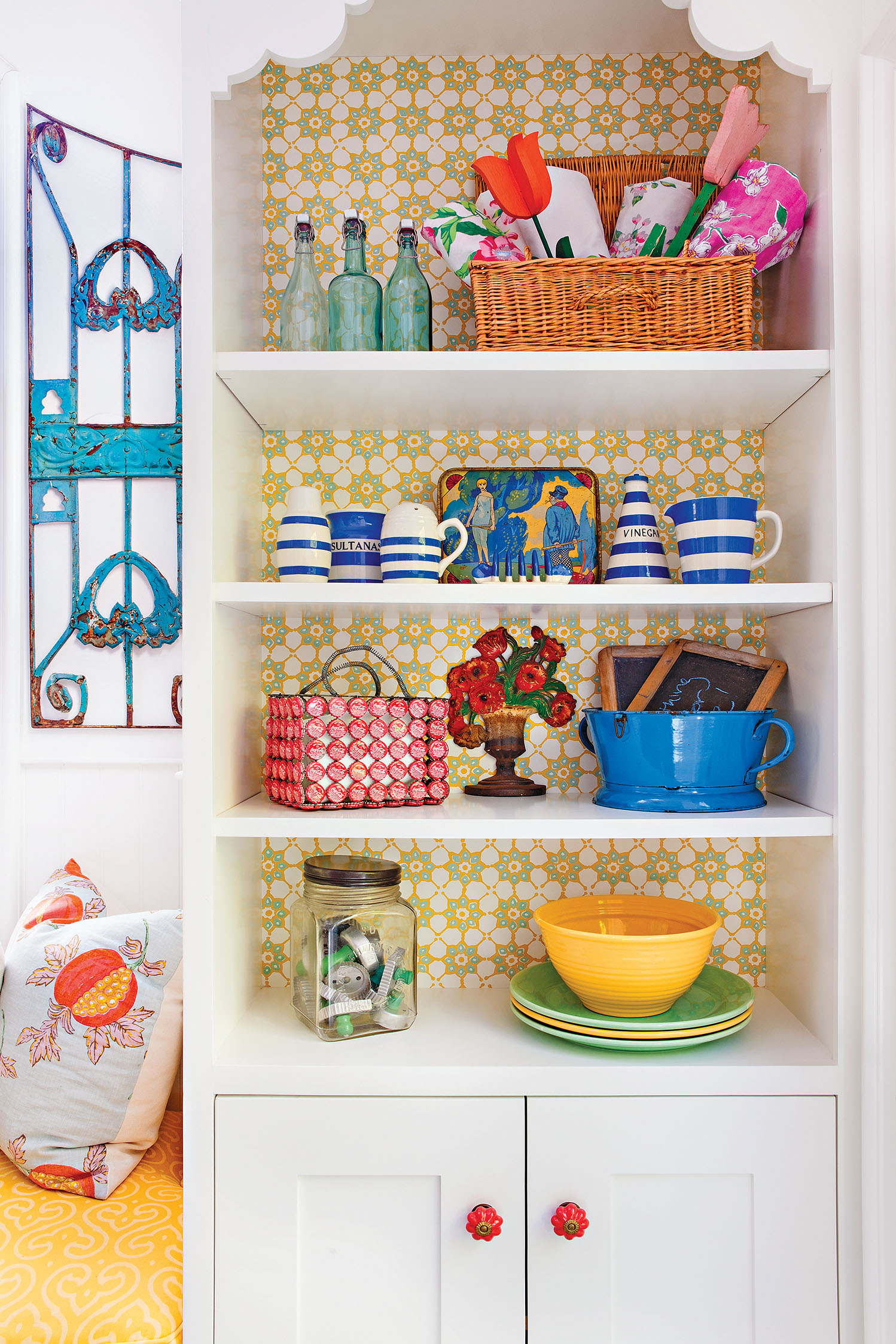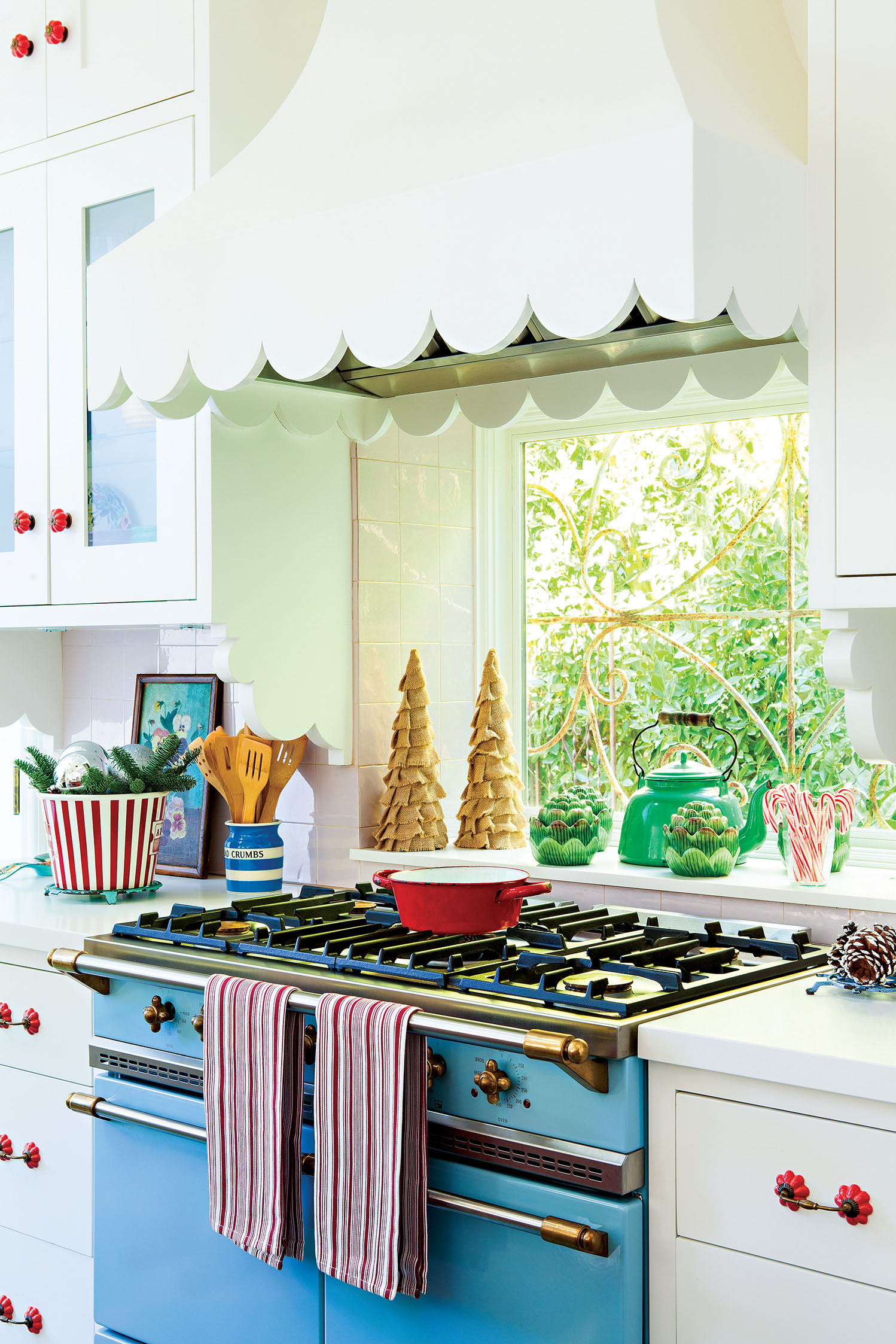 Alison knows that seasonal décor should complement a home's overall style, rather than create visual discord. She designed her home to enjoy the Southern California sunshine, but her quirky and colorful Christmas decorations don't seem at all out of place. Holiday cheer is anyone's for the making, no matter where you live.