Antique signs are a great way to bring character and history to a room, but they can be expensive and difficult to find. Although a wood panel works great, these pieces can be made out of almost anything. Paneled doors, shutters and bead board also make excellent signs. You can even add vintage graphics to the sign for additional charm. Collect some materials from around your house and make your own farmhouse favorite.
What you'll need:
12-inch wide pine board cut to desired length
Acrylic craft paint (at least three colors)
2½-inch sash brush
1-inch artist brush, 1.0 liner brush
½-inch angled shader
Computer
Printer and printer paper
Scissors
Tape
Graphite transfer paper
Ballpoint pen
80-grit sand paper
Dark brown soft furniture wax
Round brush or cotton cloth
Clean cotton cloth
Drill with driver bits
Tape measure or ruler
2 D-ring hangers
Hammer and nails
How to do it: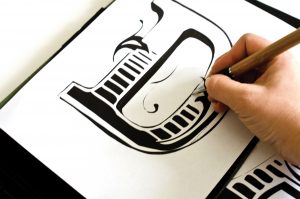 1. Cut a piece of 12-inch wide pine board to desired length or use a piece of scrap lumber. Distress new wood with a hammer and scratch it with nails to rough it up. Using the sash brush, paint the board in desired color. It is best to use a flat or matte acrylic or milk paint. Allow paint to dry.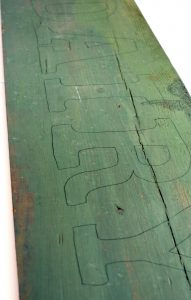 2. Use a word-processing program on the computer to design text for the sign. Sizing it to fit on the board may take some trial and error. Print only one or two letters at a time until the right font size is determined. Print the letters. Cut out smaller letters and words and tape them together. Place graphite transfer paper under the lettering and trace the outline with a ballpoint pen. Make sure lettering is level on the sign before tracing. One piece of transfer paper can be used repeatedly for entire sign.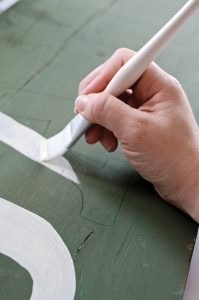 3. Use the 1-inch brush to paint large letters or a 1⁄2-inch angled shader for smaller letters. If desired, paint a border on the sign as well. Choose a darker, coordinating color to paint an outline and shadow around letters; this makes the letters stand out and gives the sign a three dimensional appearance. Allow paint to completely dry.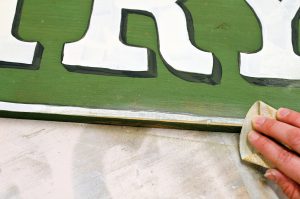 4. Sand entire sign with 80-grit sandpaper to distress lettering and paint. Allow wood to show through in some areas. Wipe away dust with a cloth.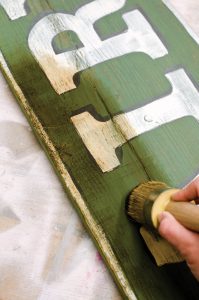 5. Use a round brush or soft cloth to apply a dark-brown furniture wax in a thin layer to the entire surface of the sign. The wax will settle in the imperfections in the wood, giving the sign an authentically aged look. Allow wax to dry for 3-5 minutes, then buff to a shine with a clean cloth.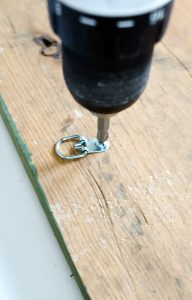 6. Turn sign over and measure approximately two inches in and down on each corner. Make a mark with a pencil or pen. Drill a pilot hole for the D-ring hanger screw on the mark. Attach D-ring hangers to the back of the sign using screws. Hang sign on nails. For heavy or large signs, locate a stud or use anchors to hang securely. Always use caution and wear safety glasses when using power tools.