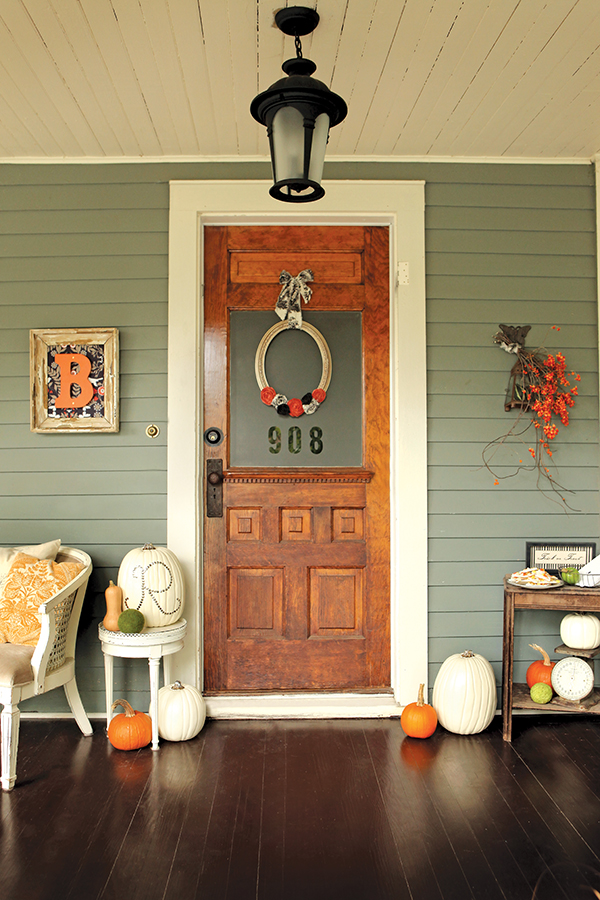 Autumn's bounty of pumpkins, fallen leaves, and rich colors provide the perfect rustic elements for decorating an informal Halloween party or fall-themed get-together with friends. Natalie Riesselman, who, along with Kim Rohwer, shares decorating tips, DIY projects and recipes with vintage farmhouse flair on the JosieJones blog, shows how to transform your space into the scene of a Halloween party using fall fruits, inexpensive craft materials and items you may already have at home. And these easy, budget-friendly DIY ideas can hang around long after the holiday.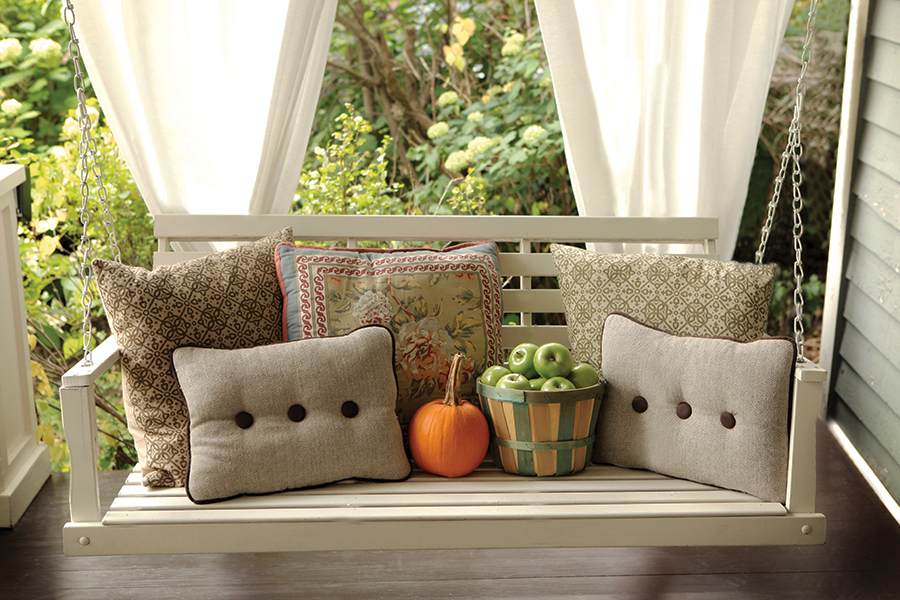 Creating a fun Halloween party with gorgeous décor needn't break the bank. For inspiration, look not only outside the box but outside—as in your own backyard. Natalie incorporated maple leaves from her backyard trees at her home in Stillwater, Minnesota, in addition to real pumpkins, apples, squash and gourds (and some faux ones too) into her party décor. "If you recycle, repurpose and redecorate, you don't have to buy all new," Natalie says. "Just add new touches." Here, Natalie explains how a few DIY accents, favors and treats go a long way in setting a festive ambiance for your guests.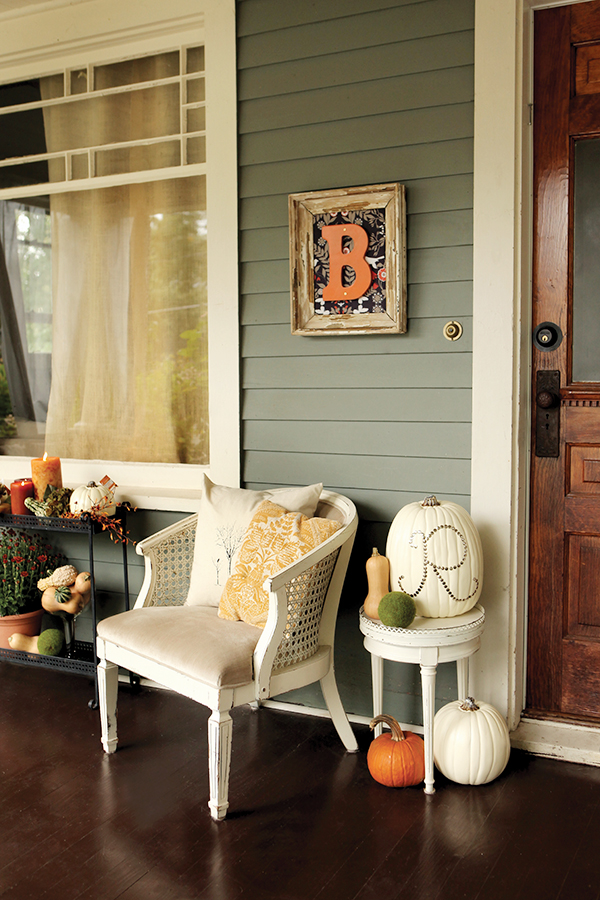 Faux-Real Décor
Seasonal fruits double as edible décor and delicious pops of color. Using what's readily available to her, Natalie adorned a metal candle-lit lantern with branches of orange bittersweet that grow wild in Minnesota and can be dried and used again. "That's the fun thing about fall," Natalie says. "Decorations you entertain with, you can also eat, bake or cook with later." Mixing in artificial pumpkins (or other fruits) with real ones is another stylish, cost-effective idea. A cream DIY monogram "funkin," for example, has the initial "R" traced onto it in nickel-finish thumbtacks as it mingles with the other pumpkins. "You don't notice what's real and what's not. It's a fun trick," Natalie says.

Creative Centerpieces
Direct your guests where to socialize with centerpieces that can be as simple or inventive as you wish. Natalie topped a dilapidated dining table with a chicken wire cloche containing a collection of apples, gourds and rust-colored candles, which added to the farmhouse feel. Also functional, the transparent cloche protected its contents and made it easier to chat over the centerpiece. An overflowing barrel of fresh green orchard apples prominently displayed on the front-porch swing, which was covered in cozy pillows brought from inside, invited guests to sit and relax.

Eats, Treats and Edible Favors
A generous spread of homemade goodies is a thoughtful touch, so present your offerings creatively by appealing to the senses. Caramel apples served on a formal china plate were missing something, so Natalie added a maple-leaf layer underneath. "The maple leaf just made it pop," Natalie says. Glass mugs of chai tea were spiced with cinnamon sticks, and homemade candy-corn almond bark was served atop black-and-white toile plates. "The almond bark looks unique, but it's so simple anyone can do it," she says. "The black-and-white toile felt fun for an autumn or Halloween get-together. It's the presentation that can make it special. Small pumpkins with metal initials tied to the stem with ric-rac ribbon, personalized for each guest, were just as much a party favor as they were part of the décor. Guests were also sent off with vintage-style Halloween motif treat bags—a reminder of everything they enjoyed at the party.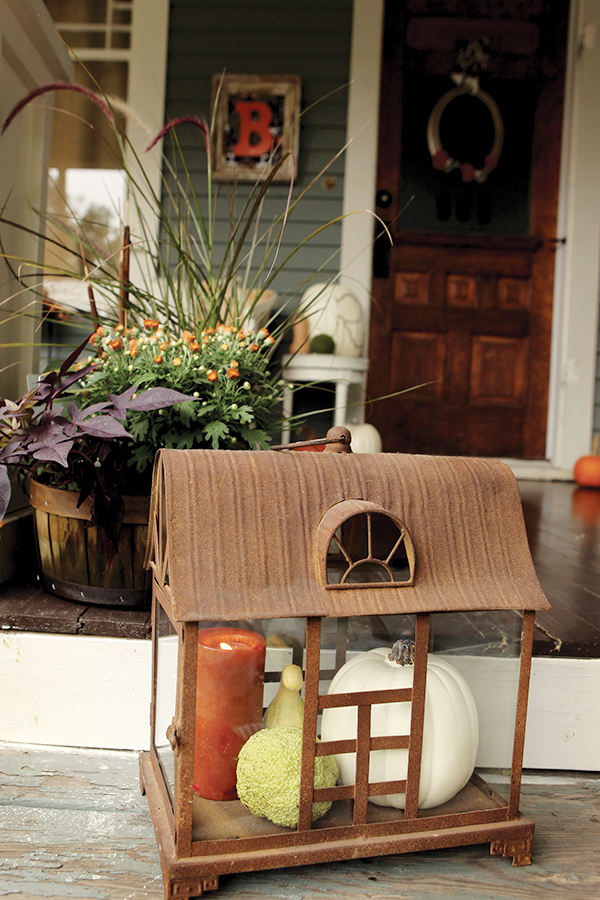 Find these DIY tutorials, printable treat-bag graphics and more at josiejones.com.
Homemade Chai Tea
This exotic, belly-warming tea is easy to make and will impress your guests. Natalie and Kim share their recipe.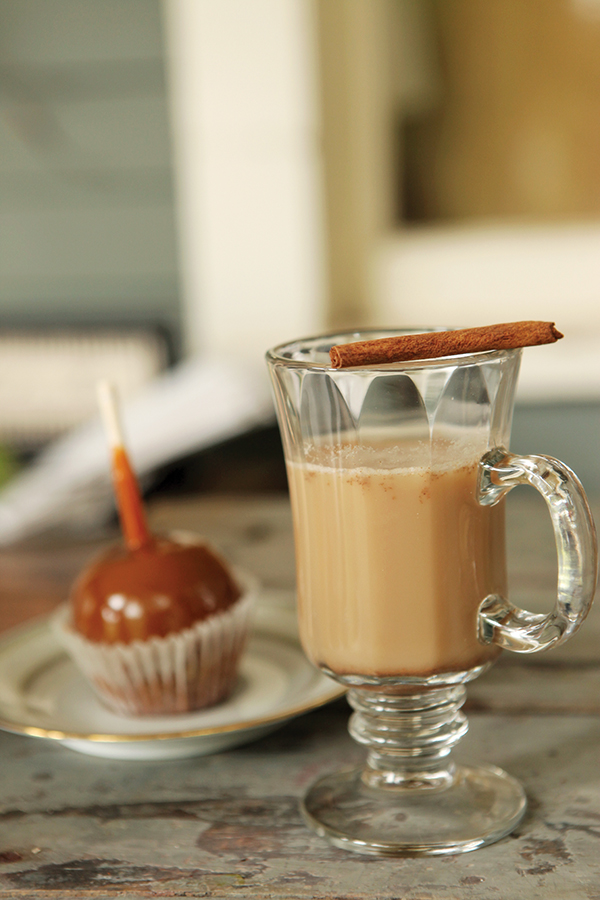 Prep time: 10 minutes
Serves 36
1 cup non-fat dry milk powder
1 cup powdered non-dairy creamer
1 cup French-vanilla-flavored, non-dairy creamer powder
2½ cups white sugar
1½ cups unsweetened instant tea
2 teaspoons ground cinnamon
1 teaspoon ground cloves
1 teaspoon ground cardamom
Directions:
1. Combine all ingredients. In a blender or food processor, blend 1 cup at a time until the mixture has the consistency of fine powder.
2. To serve, stir 2 heaping tablespoons of the mix into a mug of hot water.
Make your own Almond Bark
Try this simple recipe from JosieJones & Co.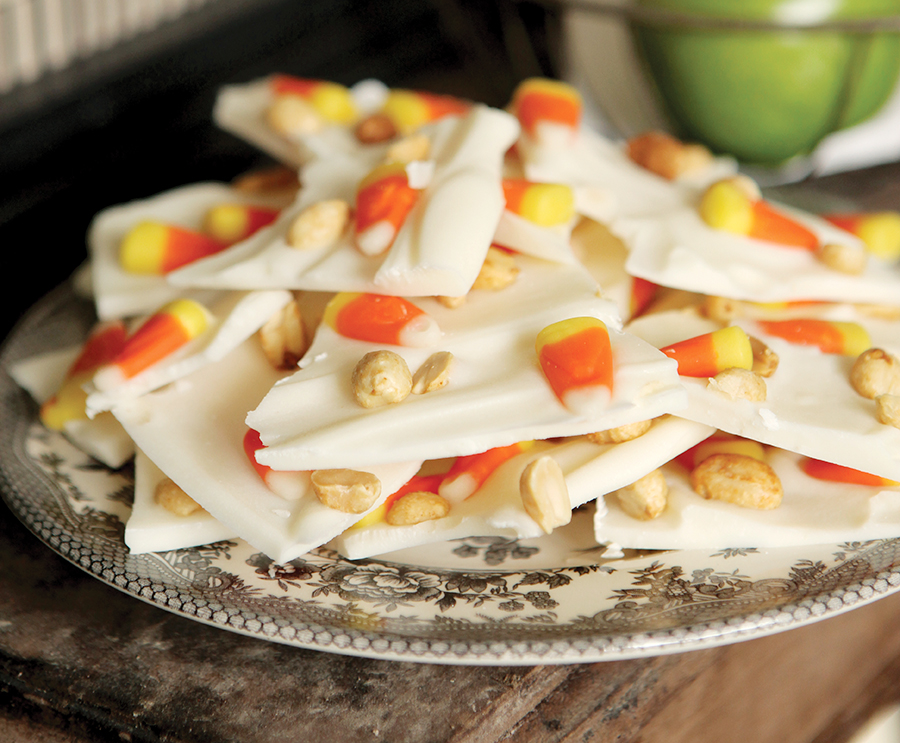 Almond bark (1 package per 9 x 13-inch sheet pan)
1 can of salted dry-roasted peanuts
1 bag of candy corn
Directions:
1. Cover a 9 x 13-inch sheet pan with wax paper.
2. Place the almond bark in a microwave-safe bowl. Melt it in 1-minute increments, stirring in-between each increment. Be careful not to scorch the chocolate.
3. Spread the melted bark onto the cookie sheet, smoothing it out in an even layer.
4. Sprinkle the peanuts and candy corn over the top.
5. Let cool in the refrigerator until the chocolate hardens. To serve, break the sheet of chocolate into smaller, single-serving chunks.
References:
Monogram foam pumpkins, funkins, paper treat bags, metal letters: Michaels, (800) 642-4235 or michaels.com.
Furniture tacks, Rustoleum frosted glass spray for front door: Menards, visit menards.com.
Treat bags designs: The Graphics Fairy, visit graphicsfairy.blogspot.com.
Plants and décor: Rose Floral, (800) 272-0715 or rosefloral.com.
Matching pillows: Pier 1, (800) 245-4595 or pier1.com.