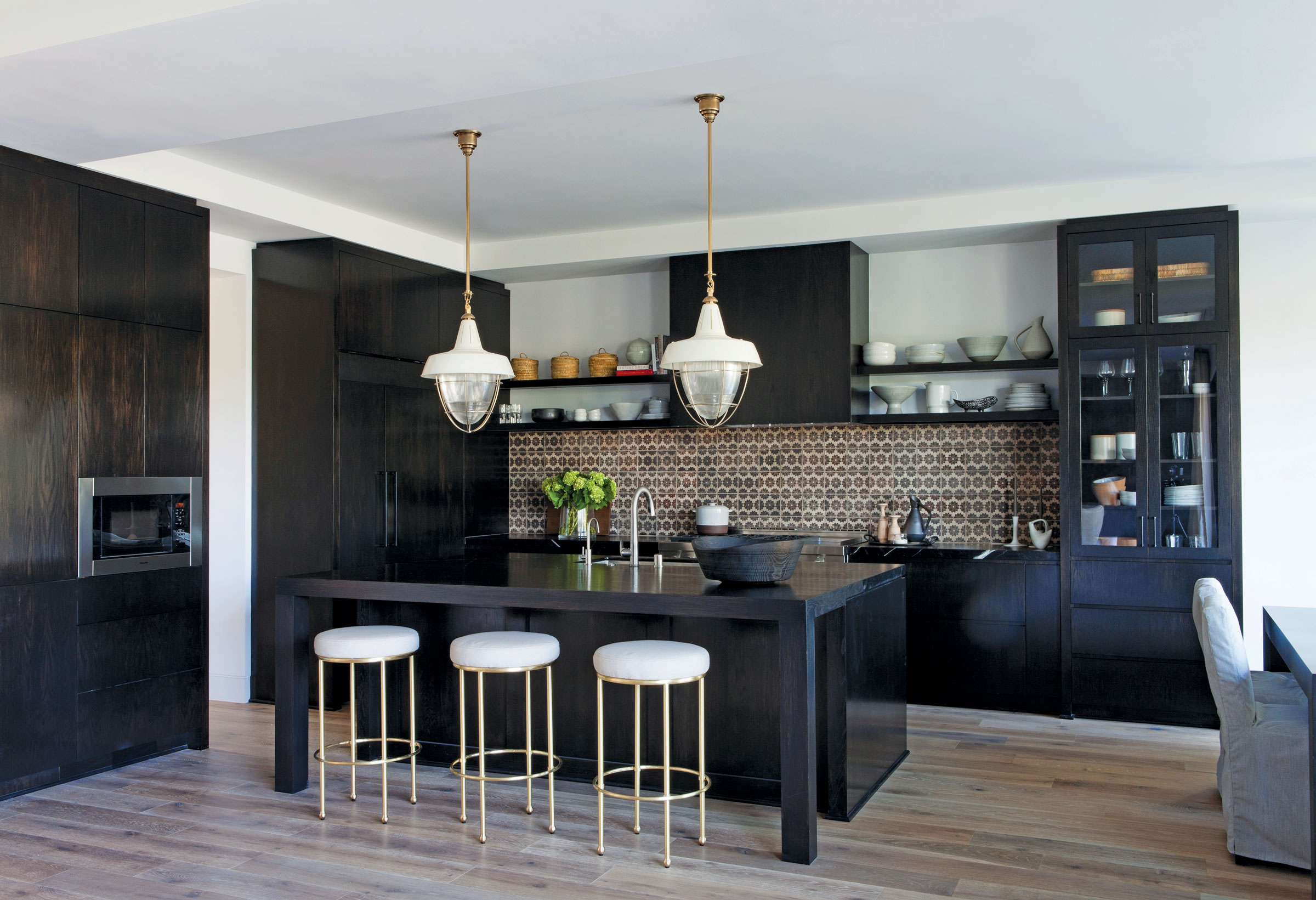 Smooth and sleek, this modern kitchen brings new definition to the term "beach house."
Beach homes often give off a very distinct vibe, taking inspiration from their proximity to the coast. When David Dick and Krista Schrock of DISC Interiors were given a home in Manhattan Beach, Calif., to rebuild from the ground up, they wanted to create a home that would feel like a modern palace—especially in the kitchen.
Unusual Palette, Functional Space
The kitchen, dining and living rooms of the home are one, open entertaining area. David said he wanted to "connect the spaces visually," which he and Krista did by incorporating clean, modern lines throughout. The inspiration for the kitchen design was
"modern, minimal architecture with handcrafted, personal elements,"
David says. To bring this modern, minimalist look to life, David and Krista opted for dark cabinetry and black granite counters. By enclosing otherwise intrusive appliances—such as the refrigerator, range hood and dishwasher—in fronted cabinets, the kitchen truly takes on a modern presentation. The custom-designed, floor-to-ceiling cabinetry defines the kitchen amid the open floor plan and makes the area feel grander. Additionally, a pantry wall opposite the dining area efficiently eliminates the need for upper cabinets over the island.
The cabinetry's black-oak finish brings a rich, dark feel to the space, David says. An oversized island anchors the kitchen as it sits square at the room's center. By placing the sink in the island, the kitchen feels connected to the rest of the large room. This custom-built monolith is made from wood and soapstone (making it ideal for food prep), and it
also acts as a place to gather guests and host casual dining.
Bold Impact
A neutral palette prevails in the space, featuring contrasting shades
of white, cream and black.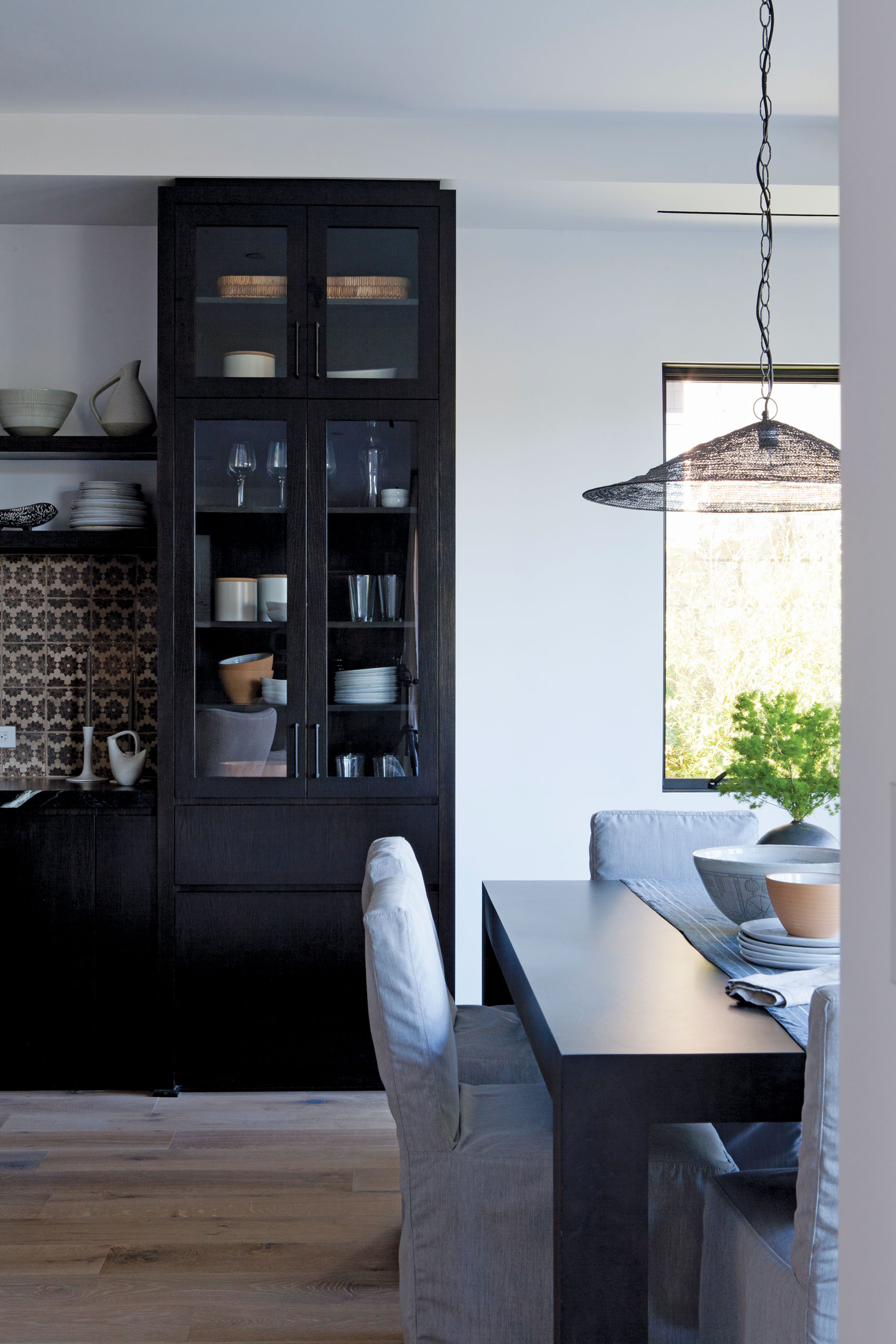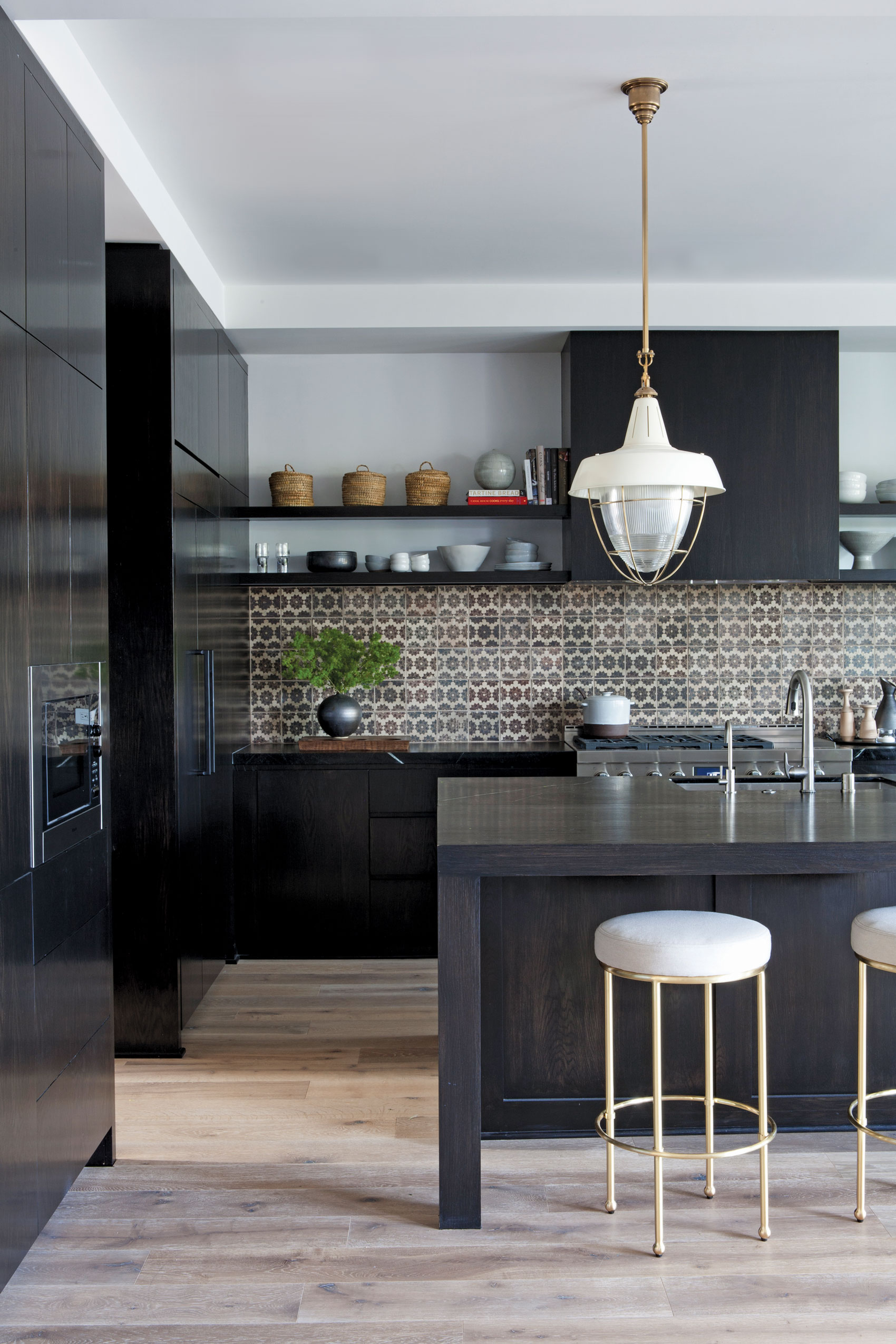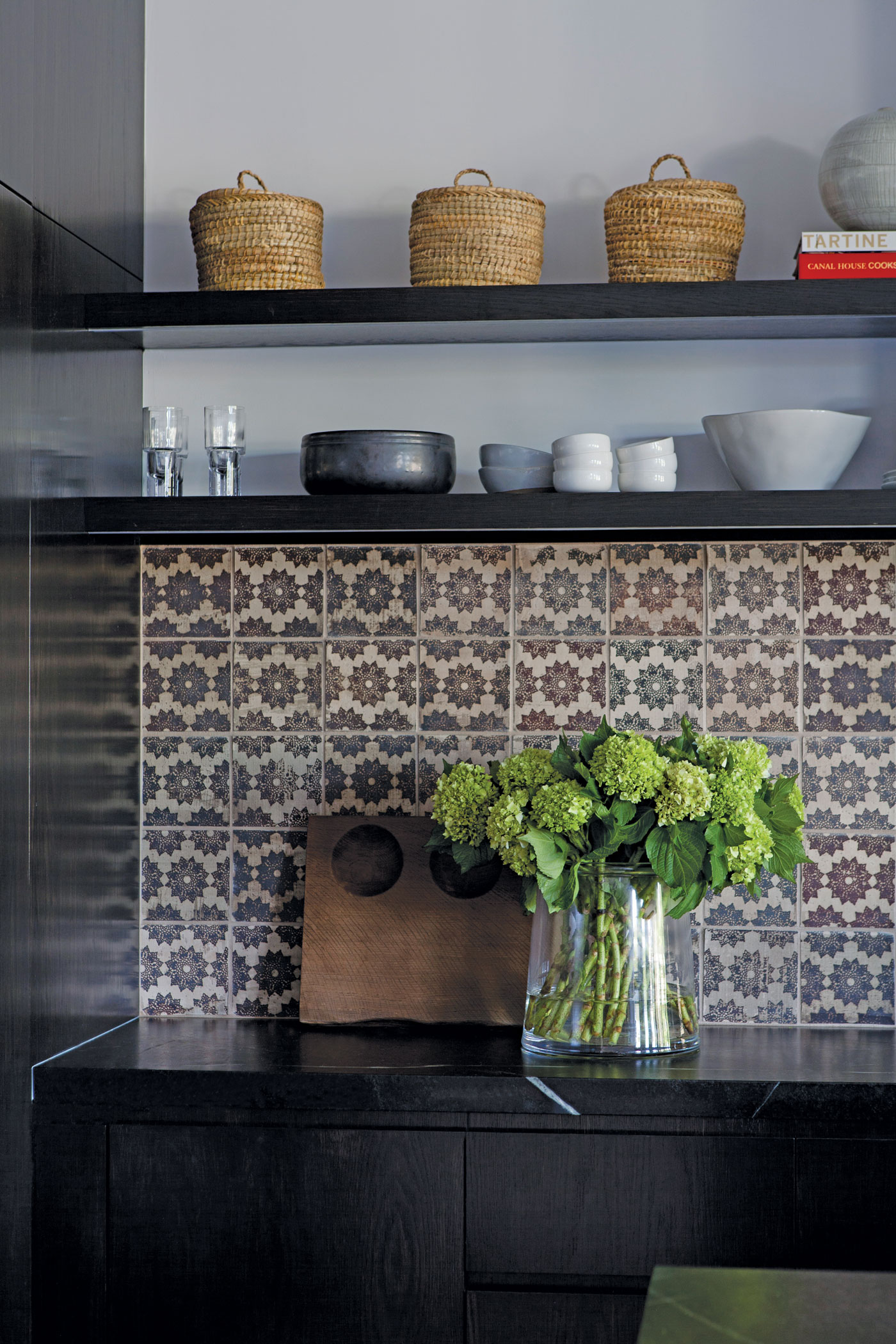 "You don't need color to be impactful," David says. He and Krista incorporated a natural, beach feel by using subtle, handmade elements like light fixtures and ceramic accessories. "We wanted to evoke a handmade quality," David says.
Ceramics handcrafted by local California artists are on display on the open shelving and behind the glass of the display cabinet near the dining area. Furthering the handmade element, the kitchen backsplash is made of hand-painted tiles by an artist with Cle Tile. "We were really drawn to the pattern," David says.
Neutral accessories draw the eye away from the modern lines of the furniture and cabinetry. Bold, nautical-inspired pendant lighting over the island, and LED lights under the backsplash, provide visual comfort without compromising on the modernity of the space.
Kitchens tend to be one of the most closed-off spaces in a home, making dark kitchens an unusual find. But David wanted to take advantage of the beach house's bright and open surroundings, opting for a black kitchen to bring atmosphere to the open space and make it feel less blown-out.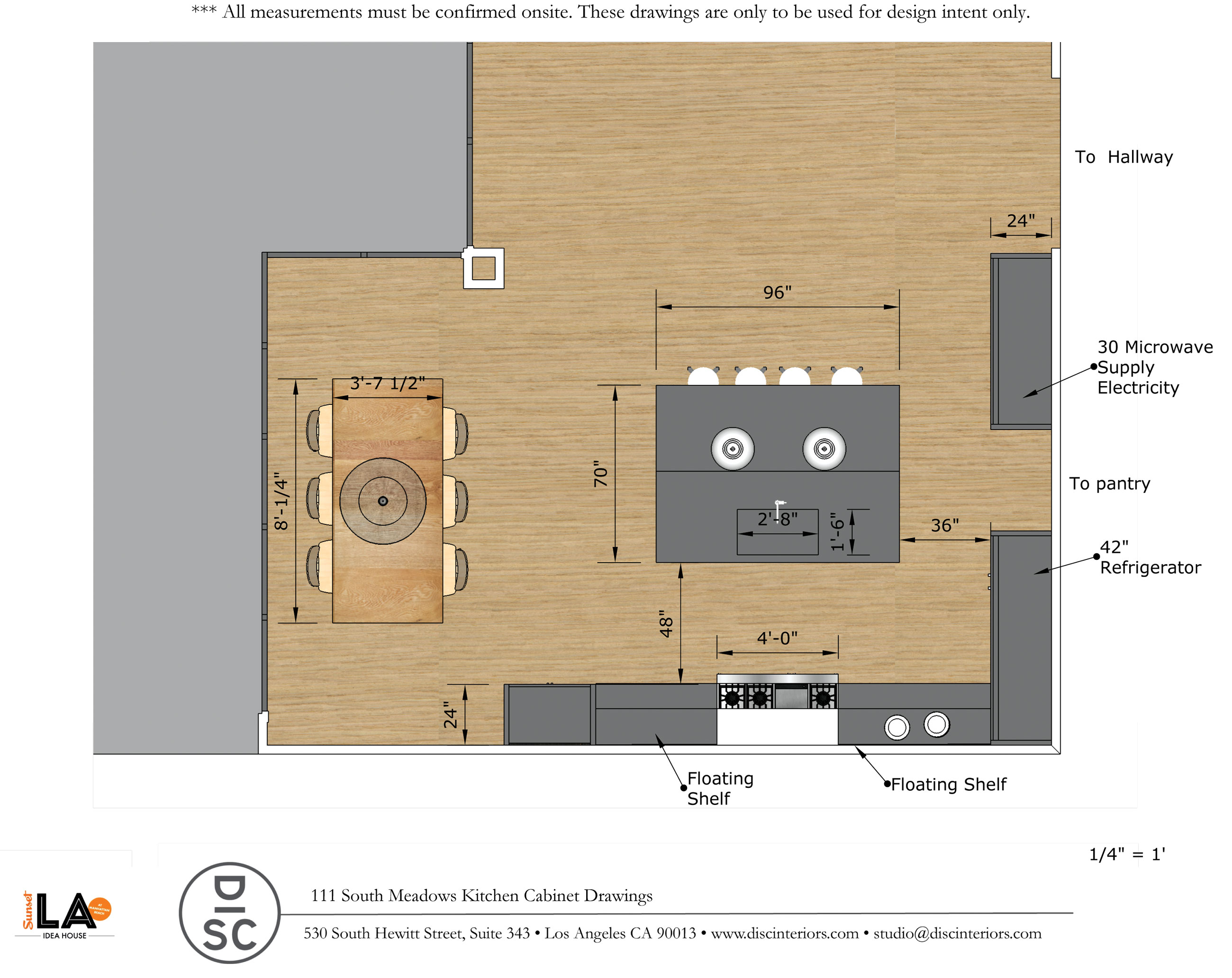 For more information on David Dick and Krista Schrock, visit discinteriors.com.