Growing up in St. Louis, Missouri, Nancy Platt had never seen a California bungalow. In fact, even when she purchased her own, she still hadn't fully seen it.   Twenty-four years ago, Nancy picked up her Midwestern roots and moved 2,000 miles and a world away, to Southern California. She spent several years contentedly living near a harbor, but an epiphany while driving one Sunday afternoon led her to change her mind as well as her address.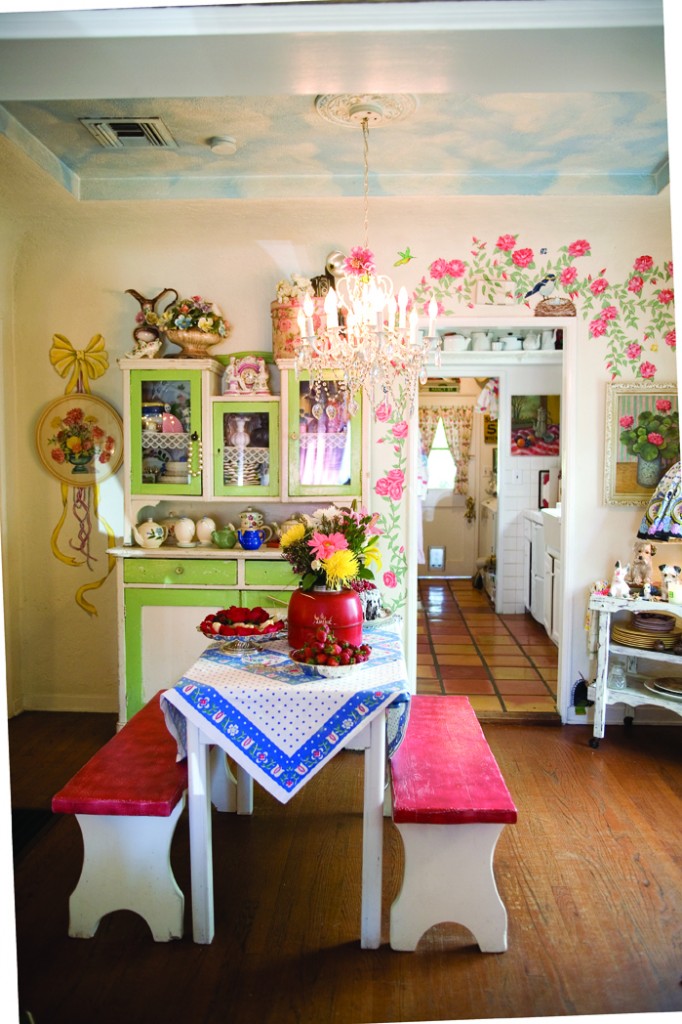 Heading south on the Pacific Coast Highway, Nancy passed many beautiful seaside villages, but one neighborhood commanded her attention. So taken was she with the area that she pulled over to a store and asked an employee where she was. The answer came back: San Clemente. Beach bungalows with Mission-style architecture and red tile roofs dotted the hills, and Nancy felt like she had come home to a place she had never been before.   "I researched the area," she says. "I learned that the houses I was attracted to were designed by Ole Hanson, the developer of San Clemente, and I knew I had to have one."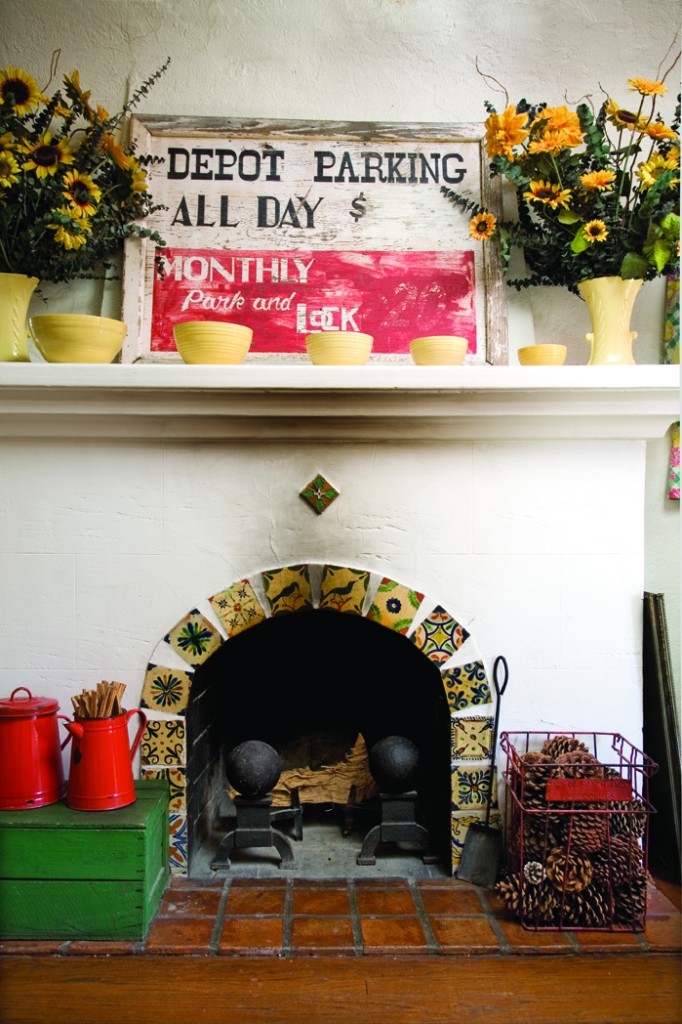 It took nine months for a Hanson house to come on the market, and Nancy acted quickly to beat the anticipated "feeding frenzy," as she calls it. She drove with her real estate agent to the 1926 dwelling, marveled at the architecture and declared her intention to purchase it on the spot— without even setting foot inside. (There was no front-door key as the vacant house hadn't gone on the market, but her agent said it was rumored to be going on sale, so she placed a closed bid on it.)   "It spoke to me," Nancy recalls. "It spoke to my soul." And 14 years later, she still loves to hear what it has to say.   "I find enchantment and romance in a home that was built in the 1920s. Old things represent touchstones; everything old has a story to tell," she says.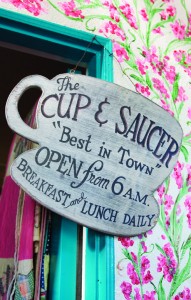 However, as with all good tales, there was a dramatic scene to the story. When Nancy, as the new homeowner, finally opened the front door to have a look inside, she was unprepared for the extent to which the interior had been neglected.   "There were large, gaping holes in the wood floors—you could look down them and see the ground; the kitchen was dark and dismal; the carpet was dirty, and there was evidence of animals living in the house—possums and maybe raccoons," she says. "The first thing I did was rip out the carpeting, and I found beautiful wood floors underneath." Then she replaced the damaged flooring, putting Spanish pavers in the kitchen, laundry room, bathroom and master bedroom.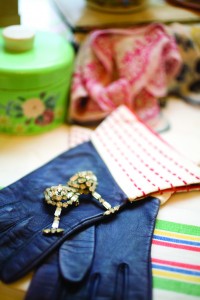 "The pavers were plain terracotta, but I remembered reading in Romantic Homes about a homeowner who lightly spray-painted her terracotta tiles white to make them look older ["Beauty on a Budget," June 2008], which I thought was a great idea, and I did the same thing," she says.   Perhaps as a cosmic reward for her laborious efforts inside, Nancy's next discovery—this time a most welcome one—happened as she turned her attention to sprucing up the outside.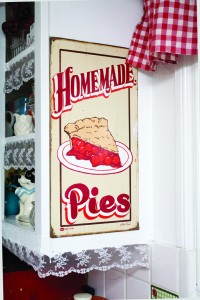 "A trash can lid had been thrown up on the roof. I got a ladder to retrieve it, and when I got up there I had an 'aha' moment," she says. "I could see the ocean from up there; the view was breathtaking. So I decided to build a big deck there. It's an enchanting thing to get a bird's-eye view from this area." Nancy has enjoyed many beautiful sunsets and fireworks displays from that vantage point.   Nancy's love of color and nature is evident everywhere, and she has managed to combine them to great effect. Bright pink bougainvillea drape over the entire façade, and the home's pink front door heightens their impact. To add contrast, Nancy used turquoise paint on the window trims. Flowers in a full spectrum of colors bring the grounds to life. Roses are her favorite, and they bloom heartily in shades of yellow, white, pink and red. "It's like walking into an enchanted garden," she says. Jasmine grows under her bedroom window, its soothing, musky scent filling her room at night. Nancy likens it to sleeping in a garden. Nature also provides music for her home. Light breezes gently sway the wind chimes, birds offer their chirping serenades and fountains provide the relaxing sound of flowing water. "It's a tranquil bit of paradise; a slice of heaven," Nancy says.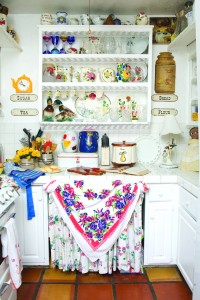 Inside her home, Nancy's style philosophy is, "Dare to be yourself in decorating." And she has done just that, adding her personal touch to each room. An avid collector, Nancy displays her treasures on every surface and in every corner. Blue Ridge pottery, silver and crystal pieces, a vintage Bauer bowl filled with spools of thread that had belonged to her mother and French poodle figurines from the 1950s showcase her     style. Nancy also has a knack for repurposing flea market finds and sentimental possessions in unique ways.   For example, a vintage Maytag washing machine from her childhood home now sits outside on her patio filled with ferns. Handmade "cutter quilts" were made into pillows. Vintage tablecloths drape the tables and counters in the living room, dining room and bathroom ("If there's a hole in the fabric, it won't show when you're draping it," she explains).   One of Nancy's favorite areas in her home is what she refers to as "the magical little foyer," the focal point of which is a large mahogany breakfront that belonged to her Aunt Thelma, whose attic Nancy "raided" to decorate her home. What makes it magical is the personal memorabilia housed within it, such as Nancy's own baby dishes; a stuffed animal horse given to her mother when Nancy was born; crystal glasses that belonged to her great-grandmother; her family's vintage Christmas ornaments and "oodles" of Blue Ridge china.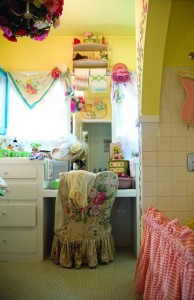 Nancy shares another side of her personality in her décor by incorporating whimsical murals throughout the house. The inspiration for her kitchen mural came from a cheese board her mother used.   Her mother had two little wooden mice that she would put on the cheese board when serving, and Nancy wanted to capture that happy memory in her own home, so on a kitchen wall she painted a mouse hole with an elegant mouse standing in front of it dressed in a pirate costume. "Every house should have a mouse," she told her grandson.     In addition to her trompe l'oeil companion, Nancy  has befriended various neglected animals that needed love and shelter. She welcomed them with open arms in the same way she describes her home as giving her a "hug" when she walks through the door.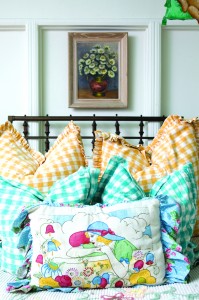 If she decides to move someday, Nancy feels certain that someone will come along to embrace the house, and it will be the right marriage for both the home and the person.   "When I bought this house, it was a star that needed to be shined," she says. And just as she provided a safe haven for the animals she rescued, she believes there will be another house waiting for her special TLC.     "If it's meant to be, there will be another house that will need me to rescue it," she says. "Something wonderful is on the other side of the wall."