In this fast-paced world, we crave a soft, welcoming nest to retreat to. We love cozy elements in our home, but our dining rooms, which are typically filled with lots of wood furniture, plates and glass, aren't exactly warm and inviting. So, to create a cozy space that gets used more than once a year, we can add unexpected elements, to trick our brains into thinking our dining rooms are not so practical and cold after all.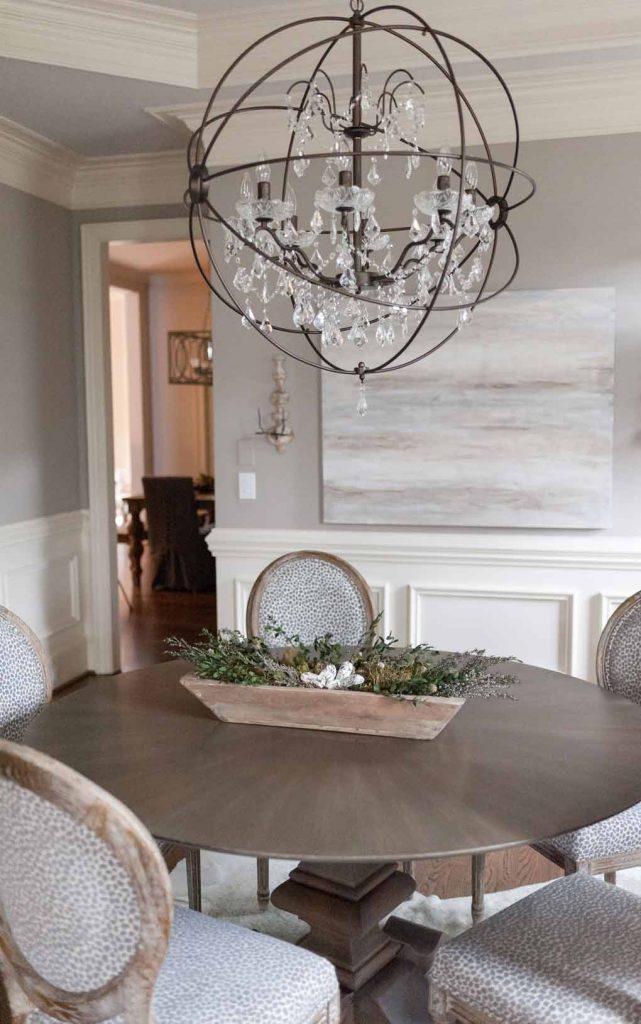 You might also like Tried and True Neutral Paint Colors

As an interior designer, I wish I could say I knew exactly how to add that warm, welcoming feel into my own dining room. But, when designing my own spaces, I struggle with many of the same concepts my clients do, so I know first-hand what it's like to feel stuck. But after several months, I was on a mission to determine why my dining room didn't "feel" like the rest of my house. And then I figured it out: it had no personality.
I call my design style "Romantic Transitional," and to me this is all about the use of soft and natural elements in transitional spaces to create a timeless and functional home. When thinking about my dining room, I realized I was adding soft elements to all other areas of my home, except this one. Perhaps I was afraid of my kids getting their sticky fingers on anything soft, but I had walls and a room full of wood furniture, and that wasn't working!

Eventually I sat down and designed a space that checked all the boxes. Here are my five tips to create the perfect romantic transitional dining room.
1. Mix in nontraditional dining room elements to make it work. To soften an otherwise sterile space, I added in textures that felt warm and welcoming like the rest of my home. I included fur pillows and throw blankets for my chairs to make it feel like someone could cozy right up to the table, pour themselves a glass of wine and relax.
2. Let the accessories tell a story. I used vintage dining-related accessories throughout the space. I loved the idea of using an old dough bowl filled with loose greenery on the table for a centerpiece. I also styled the vintage buffet with character-filled pieces, such as the antique wine jug, to create an authentically collected and casual feel.
3. Use traditional elements and put a creative spin on them. Instead of storing crystal in a china cabinet, I added crystal elements to the chandelier, which brought a bit of glam to an otherwise casual space. It's this kind of twist on traditional elements that will help infuse your dining room with warmth and personality.
4. Don't be afraid to use a wild card. I loved how unexpected the leopard dining chairs were for this space; it was a great way for me to add visual interest to a monochromatic room. And the cowhide rug and deer head sculpture on the wall added masculine elements in a very balanced and beautiful way.
5. When in doubt, add greenery. I can't design a space without greenery. Pair real, preserved or faux plants in unexpected places, such as inside a birdcage or on top of a stack of old books. Greenery gives the space life, which in turn, invites us in.
Thinking about my dining room, I realized I was adding soft elements to all other areas of my home except this one.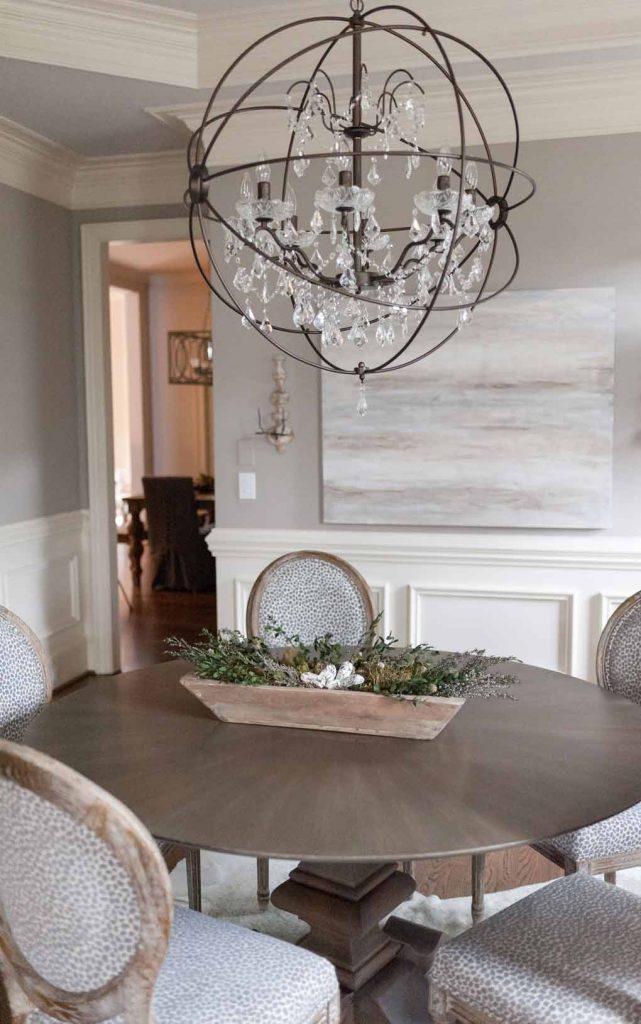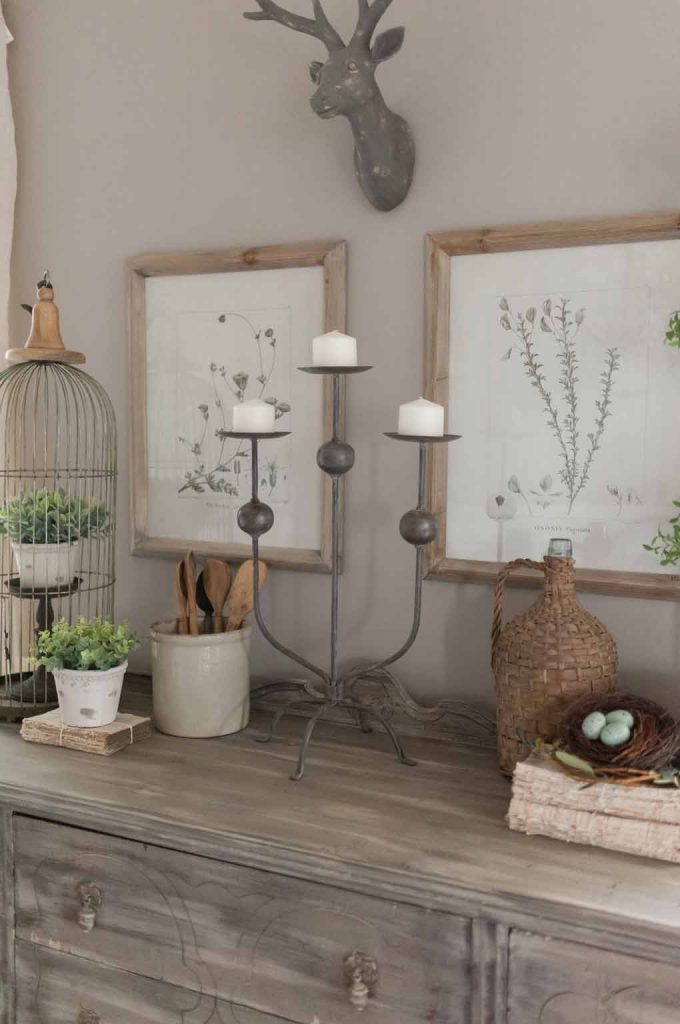 Want to see more of Sara's beautiful ideas? Check out this post on a Rustic Craftsman Living Room. To see more of Sara Lynn Brennan's work visit her blog here. 
Of course, don't forget to follow us on Instagram, Facebook and Pinterest to get your daily dose of cottage inspiration!