Searching for a look that's fun and fresh this season?
We love this room that embraces the brightest part of fall and combines it with bold patterns and cozy handcrafted accents and while there many great ideas to glean here, each separate item makes for a great fall makeover for any space. Georgette Westerman designed the space to be family friendly without sacrificing on chic style. "The vibe of this room is very warm and welcoming, both as a sophisticated adult entertaining space and as a playful kids' place," she says. "The design is timeless." Here are her tips for getting the look, even if you do just one of these changes, your room will have a whole new feel.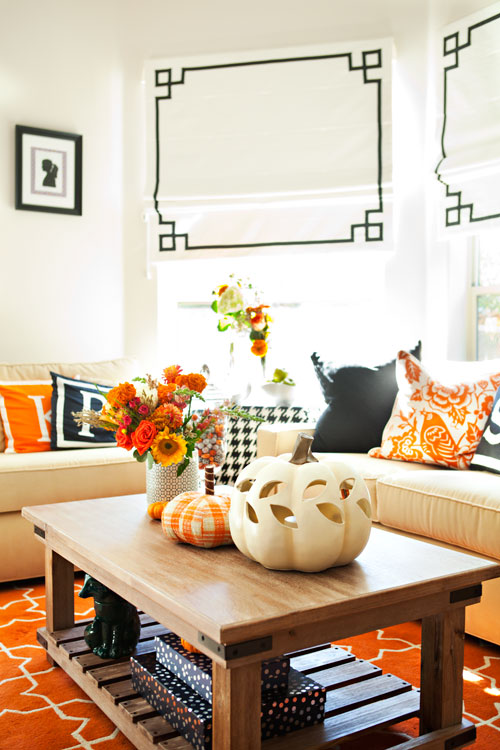 Mix patterns with abandon. "Just make sure they don't fight each other for attention. Rather, they should complement one another," Georgette says. Stick to similar qualities for a no-fail look. Here the thread tying everything together is simple bold lines and two-color patterns.
Update your rug. Sure it's a big investment, but watch your entire look change by switching a color or changing to a modernized pattern–the true definition of a one-step fall makeover. "My best advice for picking a rug is to think about how it will be used," she says. "Do you want it to be soft and cozy so you can play on it, or do you just want it to look pretty? This will help determine the type of rug you need. Size also plays a very important role. I like when furniture sits on a rug, rather than half on half off or not on at all!"
Change your window coverings. The bold trellis pattern on these Roman shades is a sophisticated style that gives the room a modern focal point. "It's not a pattern you see every day and it's definitely eye-catching," Georgette says.
Make it whimsical. The fall is a great time to have fun with your décor. A ceramic fox and a few unexpected pumpkins keep the mood light and happy.
Looking for more fall inspiration? Tour this fall mountain house full of natural woodsy style.
Are you following us on Instagram, Facebook and Pinterest? You better! That way you'll get your daily dose of cottage inspiration!