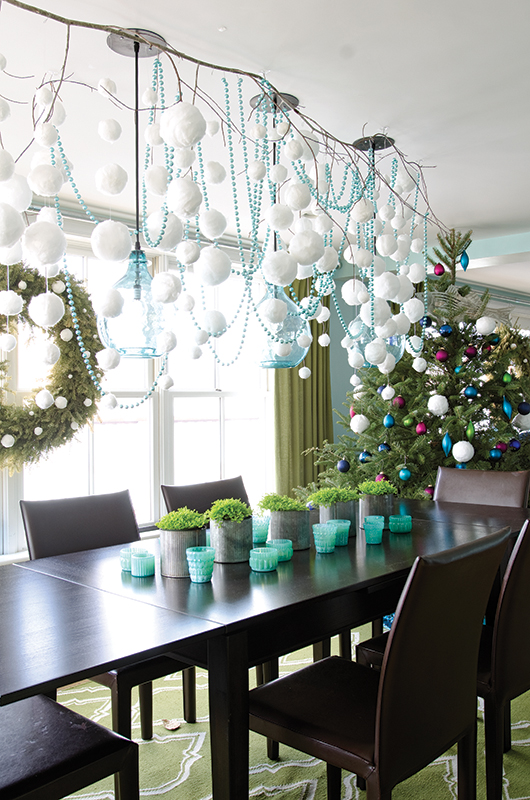 Sometimes the holidays feel smothering and stressful, whether you're cleaning the house for a big bash or choosing gifts for everyone you know. But New England-based designer Kristina Crestin takes a more casual approach, and even arranges her décor to match.
Christmas is a time for this designer to spend time with friends, relax with her husband, and explore new colors. With these simple goals, the holiday loses the fuss and muss. At the beginning of every season she asks herself, "How many colors am I feeling this year?"
A Modern Christmas
Christmas is chock full of decorations, from the nativity and the star to Santa and his reindeer. With so many visual themes cluttering the space, it's understandable that stress creeps in. Kristina doesn't go for carolers or even the traditional red and green. Instead, she unifies her holiday décor under one theme: the crisp, cold season of winter.
Like a fresh blanket of snow, Kristina's modern sensibilities reflect a minimalist approach. "We're very cognizant that we live at a lake house," she says.
"It's casual; people are in and out." She creates a holiday feel without the clamor, to keep her home open and relaxing. No figurines clutter table surfaces. Simple greens from the forest around her lakeside home garnish the entry console.
With a few mercury-glass Christmas trees, the entry suddenly feels like the holidays. Settled between the dining room and living room, the Christmas tree is adorned with simple glass balls. Kristina's relaxed decor keeps the home casual and homey throughout the season.
"To me it's not about being stuffy and overdecorated; it's about having fun."
But Kristina's minimalism comes with a quirky flair. "It's usually the dining table area that starts it, and the rest goes from there," she explains. The décor originates in one dramatic display and then spreads through the house. "This year I specifically wanted to have fun with the dining area and create some sort of focal point that was over the top but still cohesive enough that it could live in my house for two months.
Over the dining table, a makeshift chandelier hangs around the pendant lights. The theatrical display evokes the effect of falling snow. Its colors are fresh and clean, balancing the decadent draping with crisp simplicity. The bold focal point hangs invitingly over the dining table.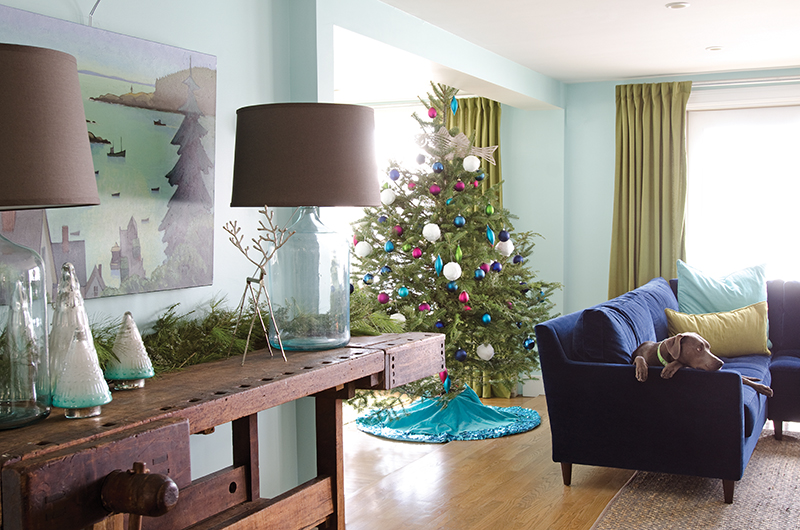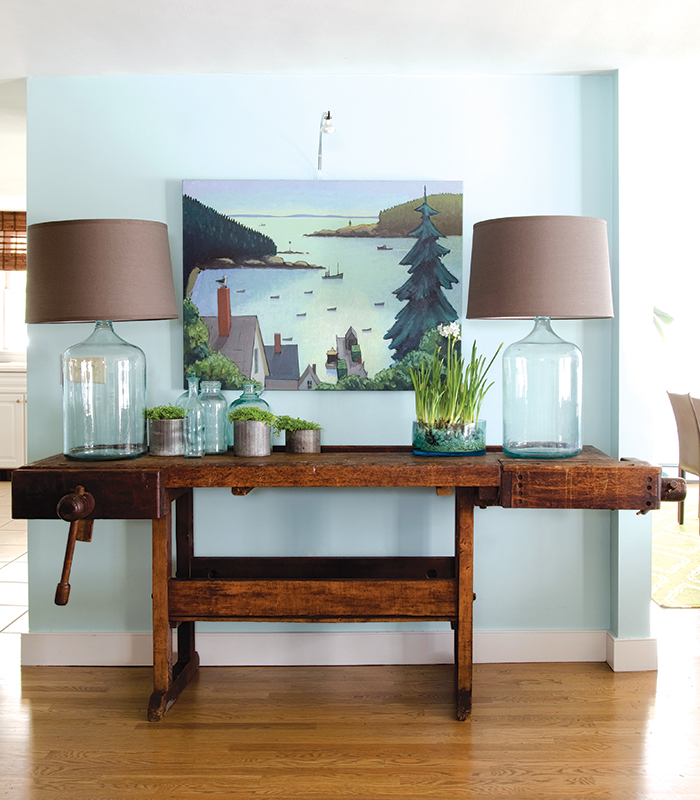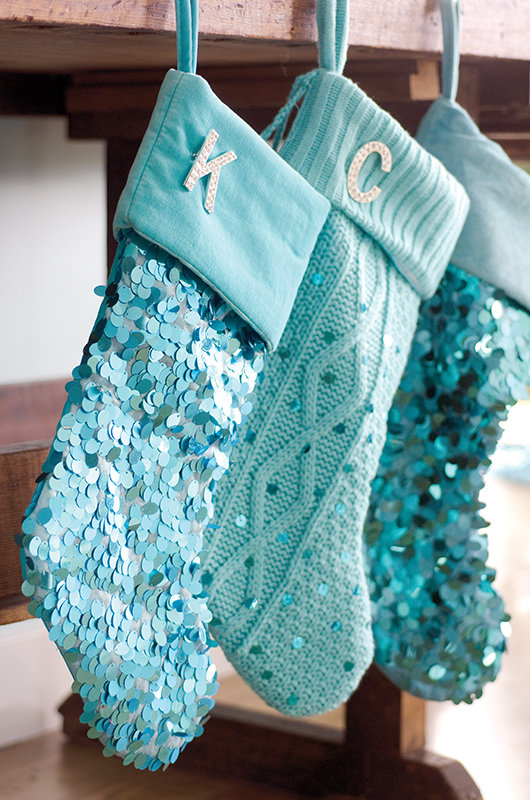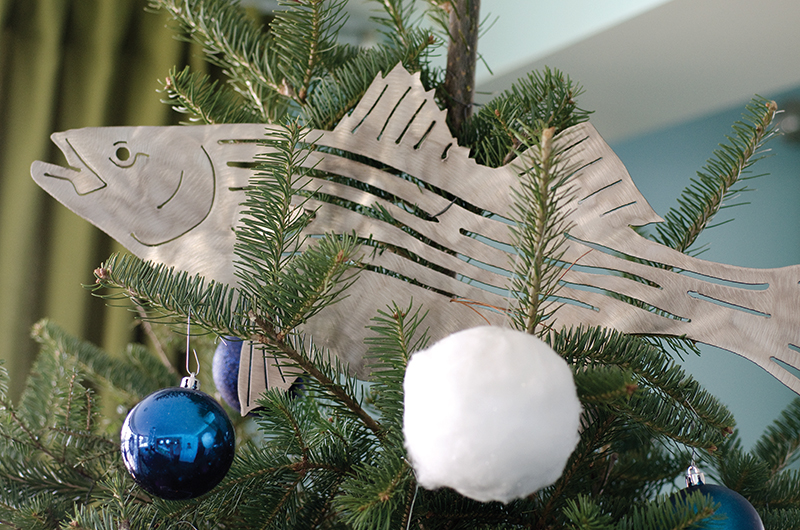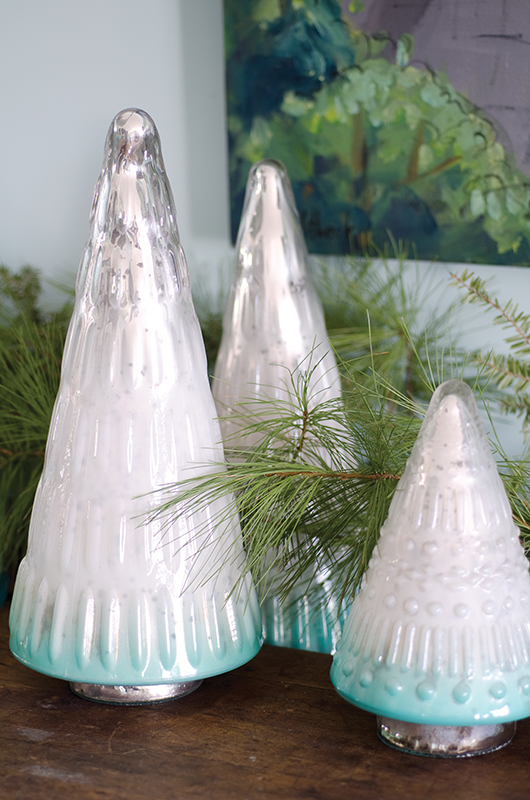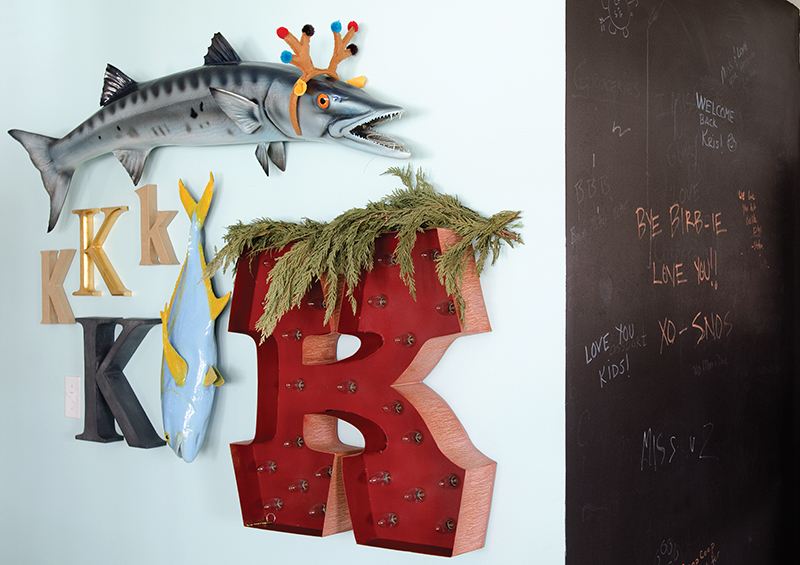 Hosting the Holidays
"I love to set the food out and do the table display and come up with what the cocktail looks like," Kristina shares. "I don't have a bash anymore, but I like to have these mini holiday events with people." Her décor thoroughly meets this hospitable goal. Through trial and error, she has learned to keep her home full of usable open space. For example, last year she hung clustered ornaments over the kitchen island. "We loved that different cascading effect, but we realized that it got in the way when we were entertaining." In response, they relocated to the dining table.
It's important to keep your home fully functional when the décor is up. Kristina has also found that holiday décor can be useful throughout the year. In the dining room, she leaves adhesive hooks on the ceiling so that she can use them for other occasions as well. "I have a vastly large collection of paper lanterns, and tend to throw up lanterns and streamers all the time," she says.
Family Traditions
Since Kristina came from a small family, she doesn't have many traditions. Encouraged by her husband's enthusiasm, she's built a few of her own over time. When it comes to stockings, their dog Cooper gets his own treat. The shimmering turquoise stockings come out every year without fail. Though Cooper and Kristina have monograms on theirs, Kristina's husband has remained skeptical of the rhinestones and politely opted out. "The glitter is about all he can take," she says on his behalf.
Though Christmas always brings out a different side to style, Kristina draws on their year-round décor for inspiration.
A fish from the living room wall display nestles on top of the tree. "That stainless steel one is made by an artist up in Maine who cuts them out of steel … and we actually have another [fish] wall in the living room that's covered in barn board."
A school of fish swims across that barn-board background, missing the tree-topper fish as he takes his place of honor during the holidays.