So it was there, in the first of many rented houses, that Bonnie Mae and Don Barnard began their California dream.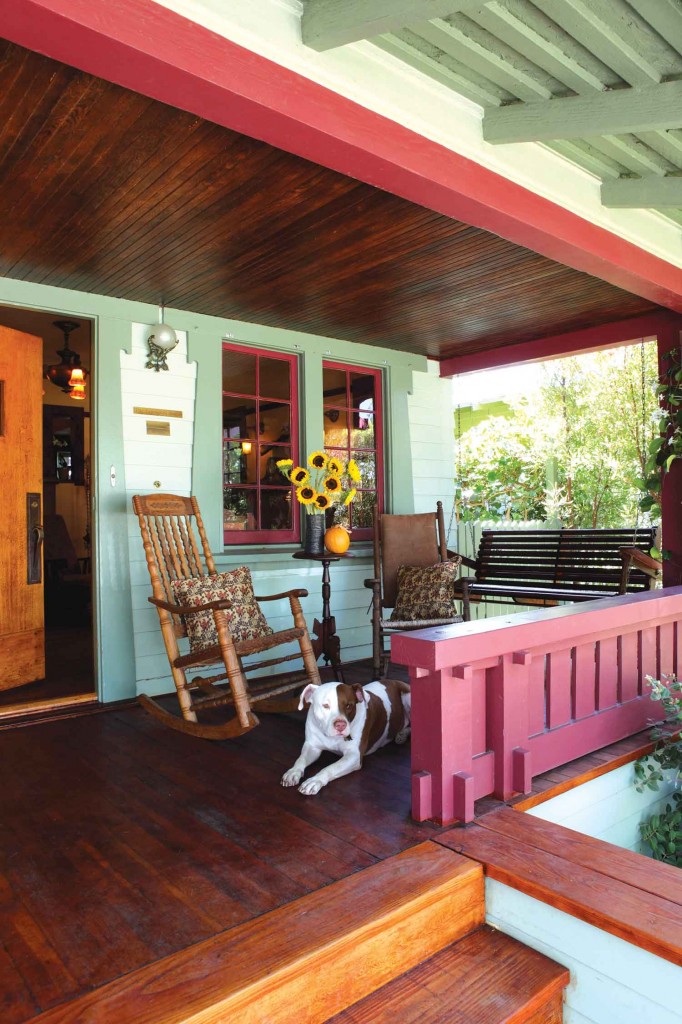 Max the dog relaxes on the classic Craftsman porch that his owner, Don Barnard, built using salvaged Douglas fir planks. Don uncovered the beautiful wood ceiling after scraping away many layers of paint. Family heirlooms take center stage: one rocker once belonged to Don's grandfather and the other to his wife's grandfather. The table belonged to Don's grandmother.  
Through the years, they lived in a series of historic rental properties as they raised their growing family. But, in 2000, Don and Bonnie Mae were ready to realize their long-held dream of home ownership. Married for more than 25 years, with their children grown and out on their own, they were ready for the next phase of their lives. The couple spent months looking through available properties—Don guesses they viewed more than 100 different locations.
As often happens, the house they ended up buying was one of the first homes they saw. Located on a quiet street in their favorite part of town, the 1912 Craftsman suffered from a host of maladies—not only was it neglected and just plain ugly, it had foundation problems.
Through the years, the house had also gone through a series of interior remuddles, the most unfortunate of which occurred in the 1960s—built-ins were torn out, the tub and sink were switched out for mid-20th century designs, casement windows were replaced with louvered ones, and paneling and drywall disguised the plaster walls. Still, the couple was sure about the house.
"It had everything on our list: three bedrooms, a large garage, lots of storage and generous front and back yards. After looking at everything else, we knew this was the one," Don says.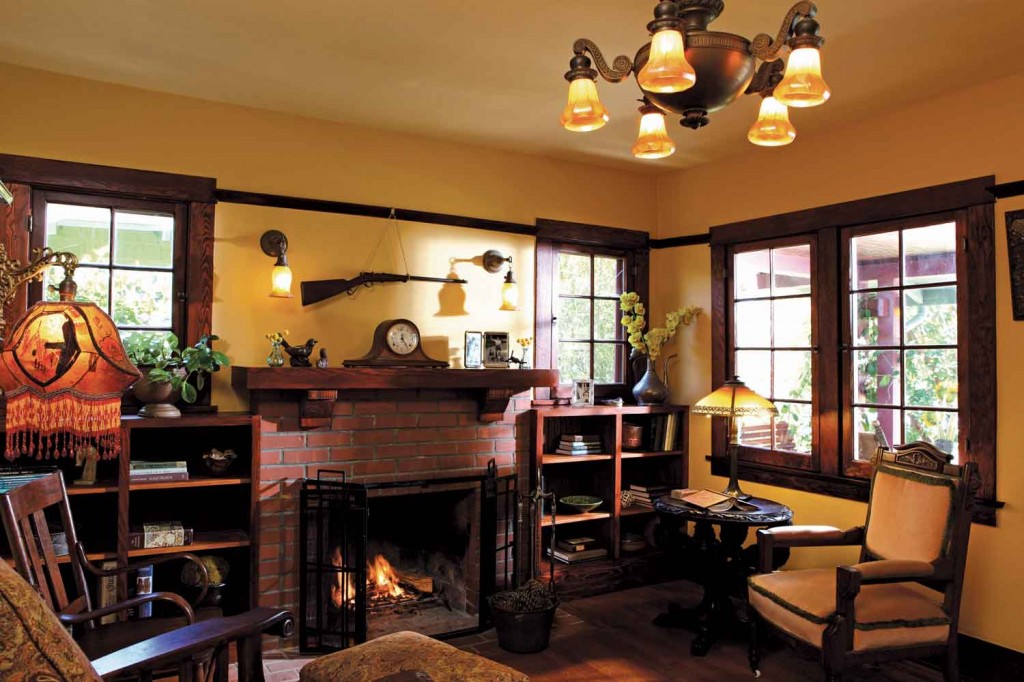 As with most projects in this home, Don used his vast knowledge and talents to mend the circa 1880 Victorian floor lamp and the armchair upholstered in mauve mohair. Though he had a contractor build the fireplace, Don made the bookcases and mantel using the reclaimed Douglas fir.
Intriguing History
A few months after moving in and before any renovations began, one of the couple's neighbors told them that the home once had a famous inhabitant—a local icon by the name of Louis Zamperini.
This tidbit of information sparked Don's interest and he set about researching this curious name. Don found out that Zamperini was not just a hometown legend, having run in the 1936 Olympics, but a hero from World War II as well. Don located a current number for Zamperini, called and left a message.
To his surprise, Zamperini returned the call and they ended up talking about the house and Zamperini's life in Torrance. With this discovery of their home's place in local history, Don and Bonnie Mae felt compelled to renovate.
"We believed that it was no mistake, that we were now the caretakers of this house. We felt that it deserved to be brought back to its original grace and glory," Bonnie Mae says.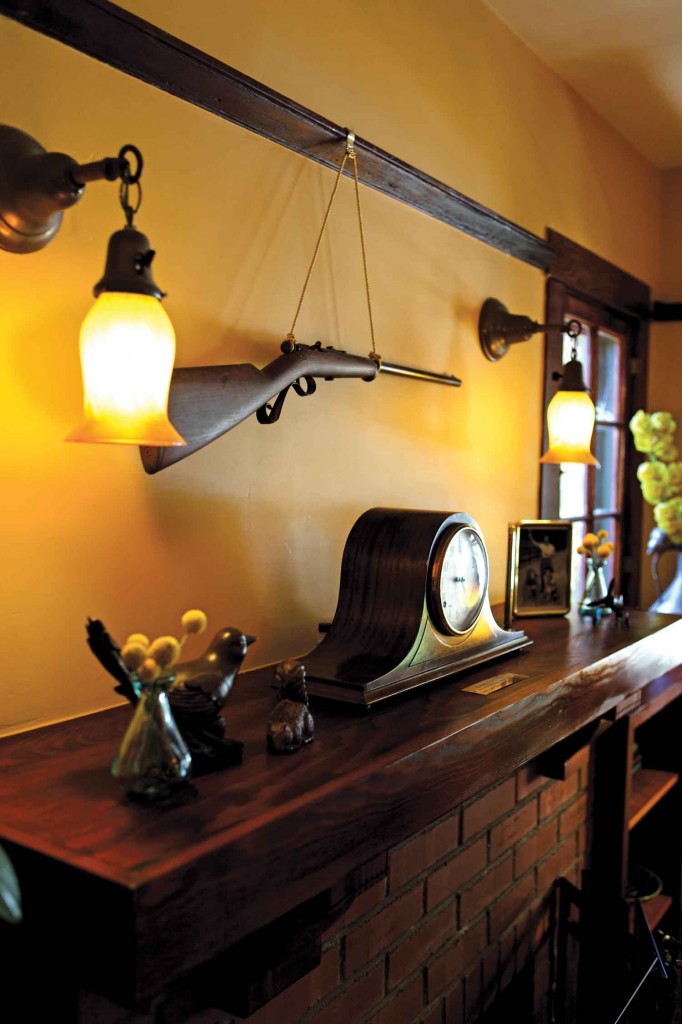 The early-1900s Winchester rifle once belonged to Louis Zamperini. Don gave it a place of honor above the fireplace. The mantel clock is an original by the Seth Thomas Clock Company, model no. 89, with "eight-day pendulum movement."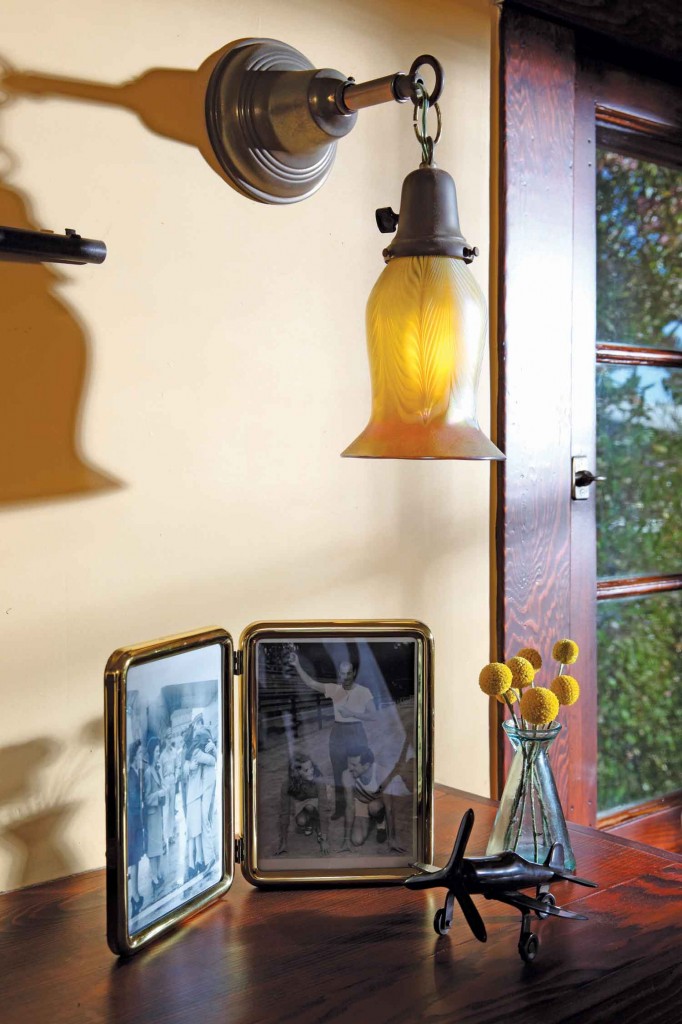 A perfect accent to the ceiling lamp, the signed Quezal wall sconce sports "pulled feather" shades. The photos are of the home's most famous resident, Louis Zamperini, as he arrived at the Long Beach, California, airport in 1945 after being a POW in World War II.
Salvage Rescue
With a full renovation on their hands, the couple looked for ways to save on building materials and it was Don's ingenuity that enabled them to procure materials for next to nothing.
He scoured nearby neighborhoods for historic homes that were undergoing construction in the hopes that he could find affordable salvage materials—what he found was astonishing. Scheduled for demolition was a site upon which stood 12 historic bungalows.
"We couldn't save the buildings, but at least we were able salvage many of the elements from them," Don says.
Among the items he took home were a claw-foot tub, a medicine cabinet, windows, sinks, door trims, molding and wood flooring—all at the cost of sweat equity.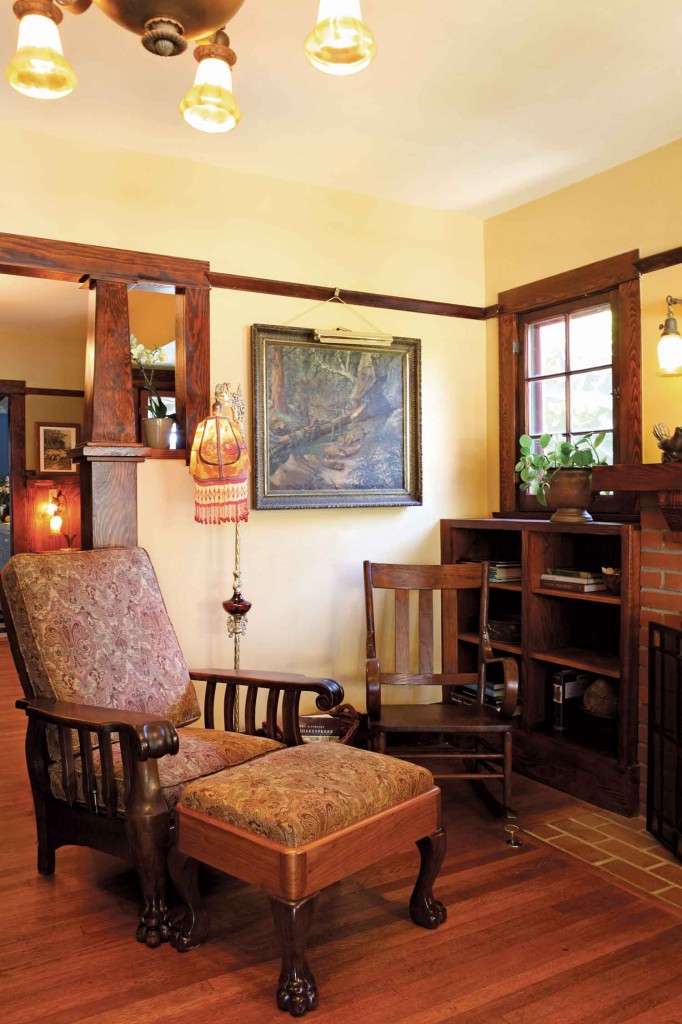 Made of walnut wood, the chair once belonged to Don's grandfather. Don and his daughter, Sarah, made the matching ottoman as a project when she was in design school.
Don was trained in antique restoration and has spent his life working in the field. With a grandmother who owned an antiques store, he also learned to appreciate the unique qualities of historic objects, from furniture to light fixtures. Armed with a lifetime of experience, his treasure trove of found elements and a willingness to do whatever needed to be done, Don went to work. He also had historic pictures of the home; Zamperini had shared not only his memories of the house but documentation as well.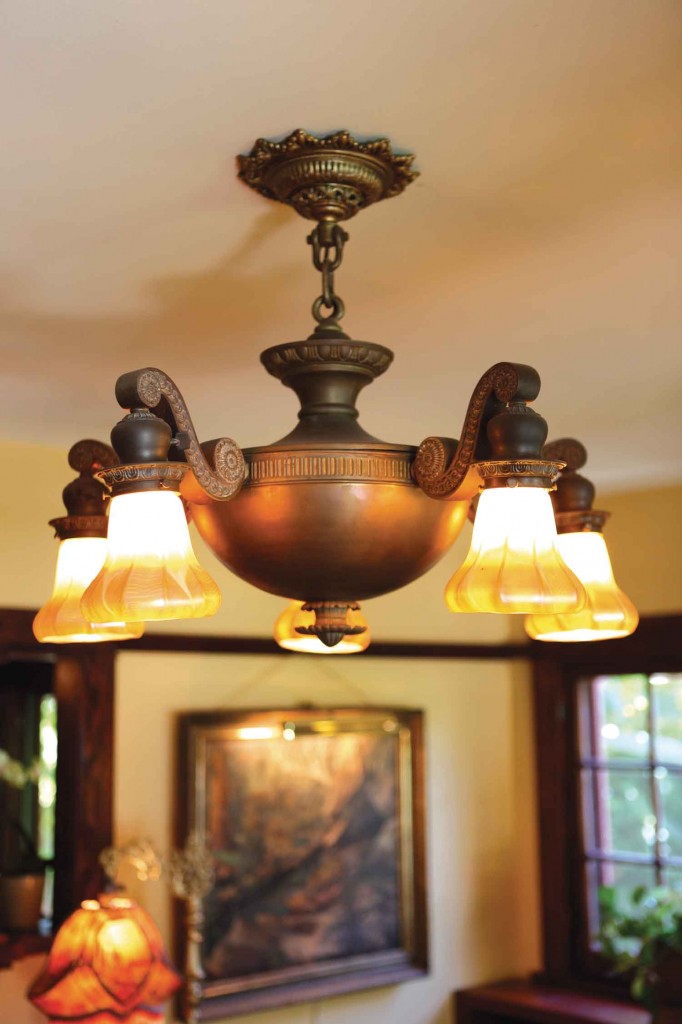 A circa 1901 signed Quezal brass ceiling lamp graces the ceiling in the living room. Its shades are in the "pulled feather" design, which can also can be seen on the room's sconces.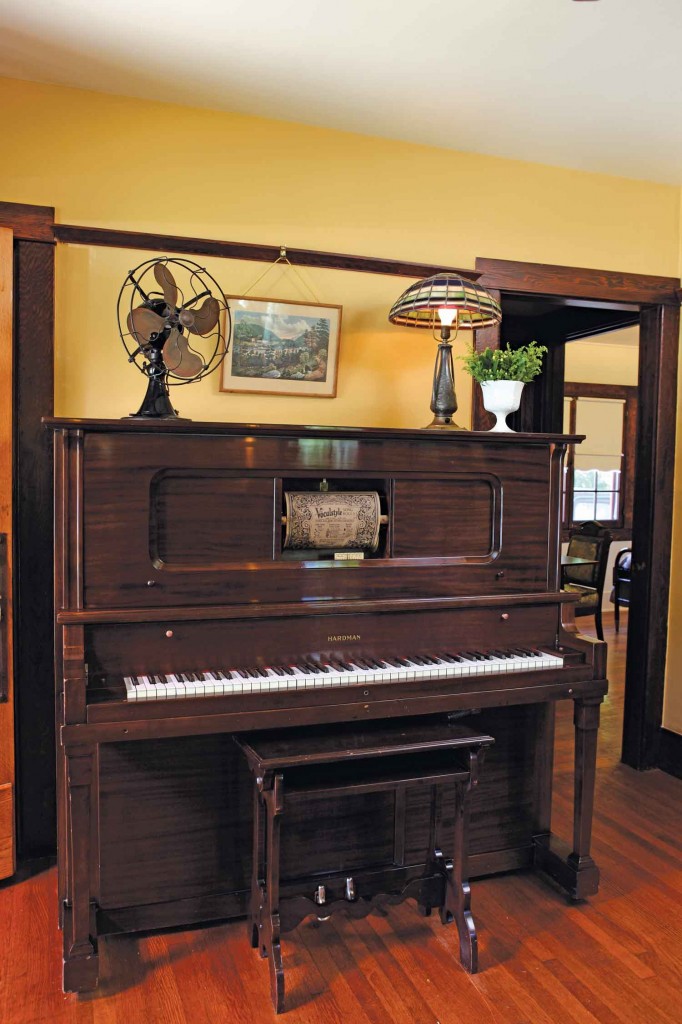 Bonnie Mae found this circa 1912 Mahogany player piano at a yard sale when her children were young. At the time, it was in dilapidated condition—it had no ivory on the keys and was scratched and dinged. She saved for more than three years to be able to have it fully restored. A 1935 Edison brass blade oscillating fan, antique globe lamp and early-1900s painting create a balanced composition.  
Don uncovered a few secrets along the way, such as the wooden shell of a built-in cabinet in the dining room. The living room, however, held the biggest surprise: behind some paneling were two boarded-up windows, the markings of two bookcases and the bones of a brick fireplace. Using
Using Zamperini's images as reference, Don recreated the dining room cabinet and added wood molding and trim. But when it came to rebuilding the fireplace, Don knew he had had to call in reinforcements. It was the one job he did not do himself. The contractor used the scarring on the floor and wall to gauge the fireplace's size and placement. Don then built bookcases on each side.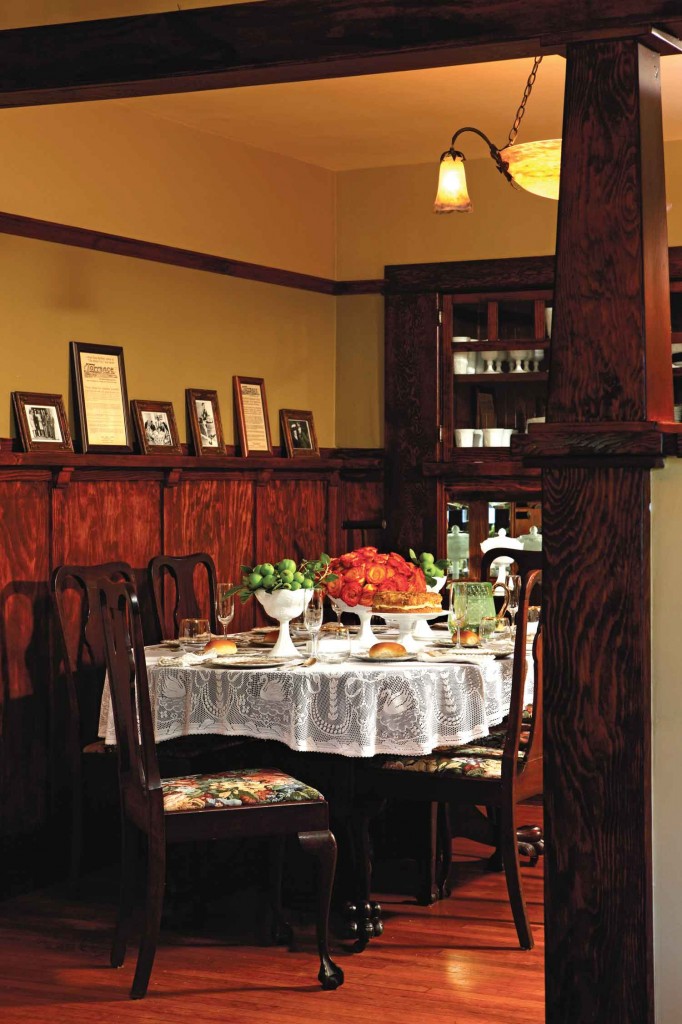 Don uncovered a few secrets along the way, such as the wooden shell of a built-in cabinet in the dining room. Don and Bonnie Mae purchased the circa 1920 Queen Anne table and chairs from Don's grandmother shortly after they were married, more than 38 years ago.

Don designed and made the dining room's built-in buffet of Douglas fir, based on photographs of the original one that had been torn out in one of a series of remuddles.  
After measuring the home's window frames, Don knew that the salvaged casement windows would fit perfectly. With a few minor adjustments, he set about replacing the louvered windows. He put the other salvaged materials to good use including the flooring, tub, sink and medicine chest.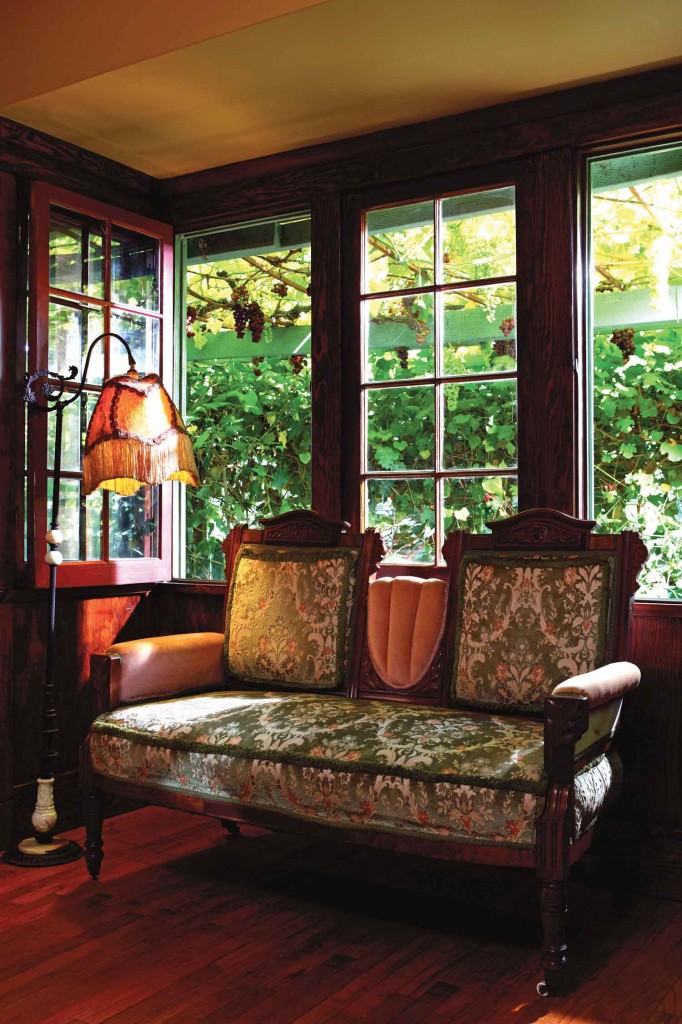 The circa 1880 Victorian loveseat in mauve mohair and cut Belgian velvet graces the boxed bay that Don designed and built. The casement windows were salvaged from a demolition site and, with minimal adjustments, perfectly fit into the original window frames.

The claw-foot tub, pedestal sink, toilet and medicine cabinet, all circa 1912, were salvaged from the bungalow court where Don saved many items from going to the landfill. The light fixture is a reproduction.
Color Choices
Once the construction was complete, Don and Bonnie Mae called on their daughter, Sarah­, a licensed interior designer who specializes in historic properties, to help with the interior design.
"The interior paint colors are all registered historic colors that I selected," Sarah recalls. For Bonnie Mae, watching the paint go up was not an easy experience. "I had never lived in a home where the walls were not white. When the painter was putting on the first coat, I had to talk to Sarah about it."
Now she loves living with color. "I could never go back; color adds such charm and personality."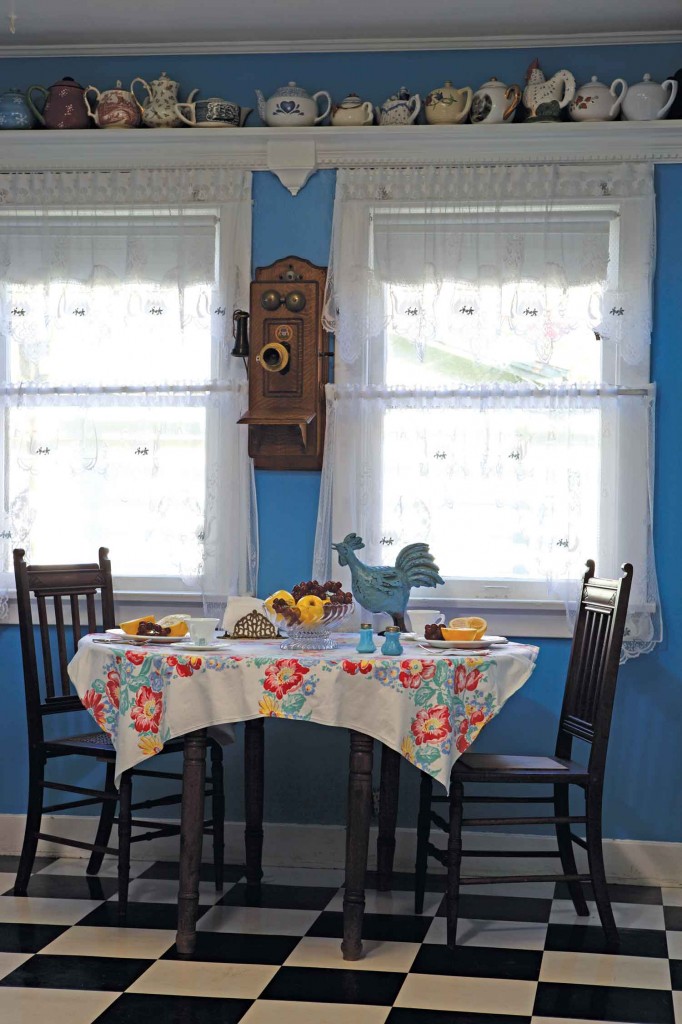 The cheery kitchen holds Bonnie Mae's prized teapot collection as seen on the display rail built by Don. A circa 1900 oak crank wall phone rests above the circa 1889 oval drop-leaf table and chairs.  
The antiques throughout the home are from Don's grandmother's antiques shop. "We kept them hidden in boxes throughout the years," he says.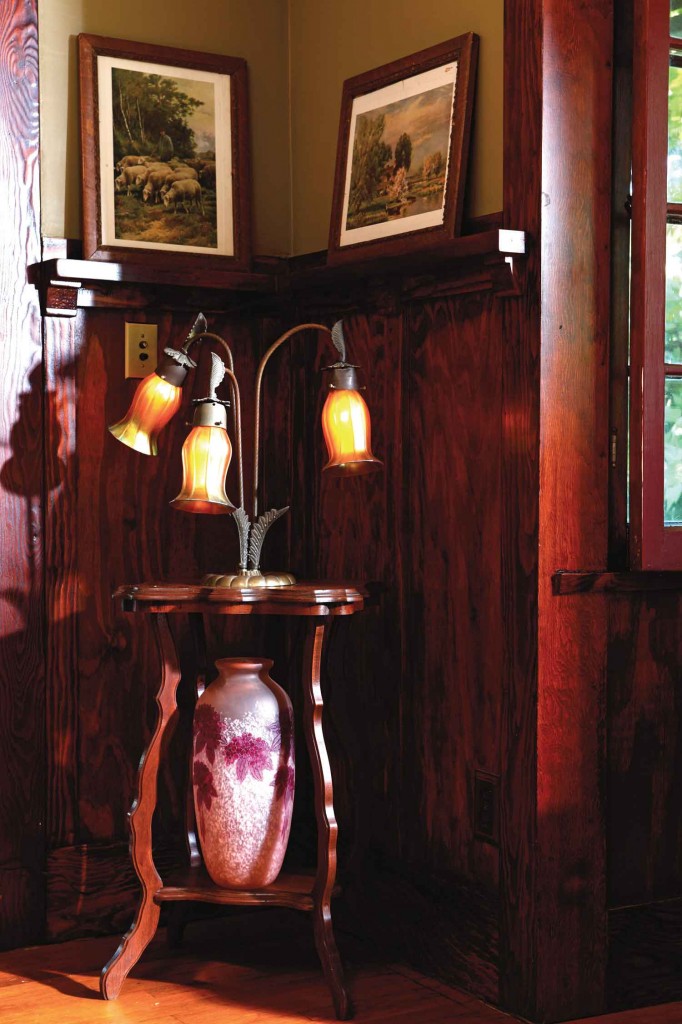 A walnut Victorian table topped with a c. 1901 signed Quezal lamp and signed Leegras vase turns a plain corner into and artful display.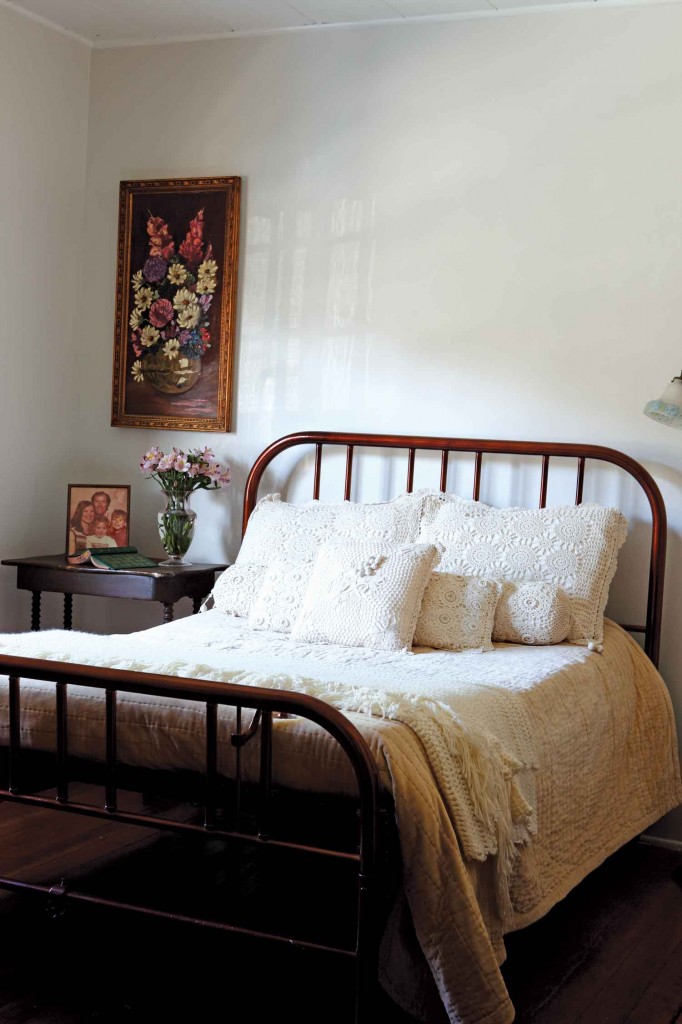 Vintage lace bedding, a recent thrift-store find, graces the circa 1900 iron Murphy bed.  
To ready the house for a new exterior paint scheme, Don used a torch and a scraper to remove layers of old paint. He also had to demo the concrete porch then build the new porch with the remaining salvaged Douglas fir planks.
Sarah chose historic colors for the home's exterior and, with her mother's wish list of native California or drought-tolerant plants, she hired Environmental Concept to landscape the property. To create a curving pathway, they broke up the old concrete sidewalk and used the material to create a curving pathway in the garden. "I got everything I wanted," Bonnie Mae says.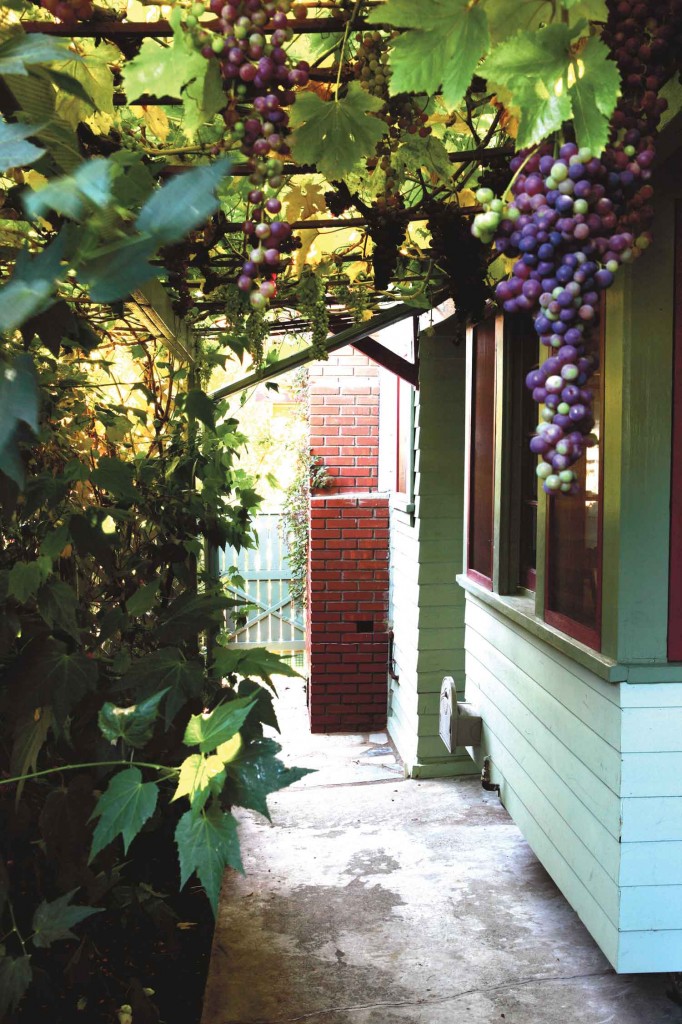 Don built the grape arbor from redwood trellis. The arbor is visible through the boxed bay windows.  
Don and Bonnie Mae love the results of their home's renovation. About living there she says, "It's a wonderful responsibility and one that we enjoy. I wake up in the morning and think 'I get to live here!' We love it."