Home is your personal space to relish life's richness—so why chase trends? Trish Grantham, an artist and interior designer from Portland, Oregon, encourages her clients to "stay away from anything super trendy." Instead, she advises them to "go for things that they love and see how they can bring it all together."
Trish follows her own advice as she covers shelves and windowsills with figurines, many of which are gifts imbued with memories. "I've been collecting vintage finds and art for 15 years…I figure in another 15, I'll have an over-the-top floor-to ceiling art collection and shelves full of trinkets!"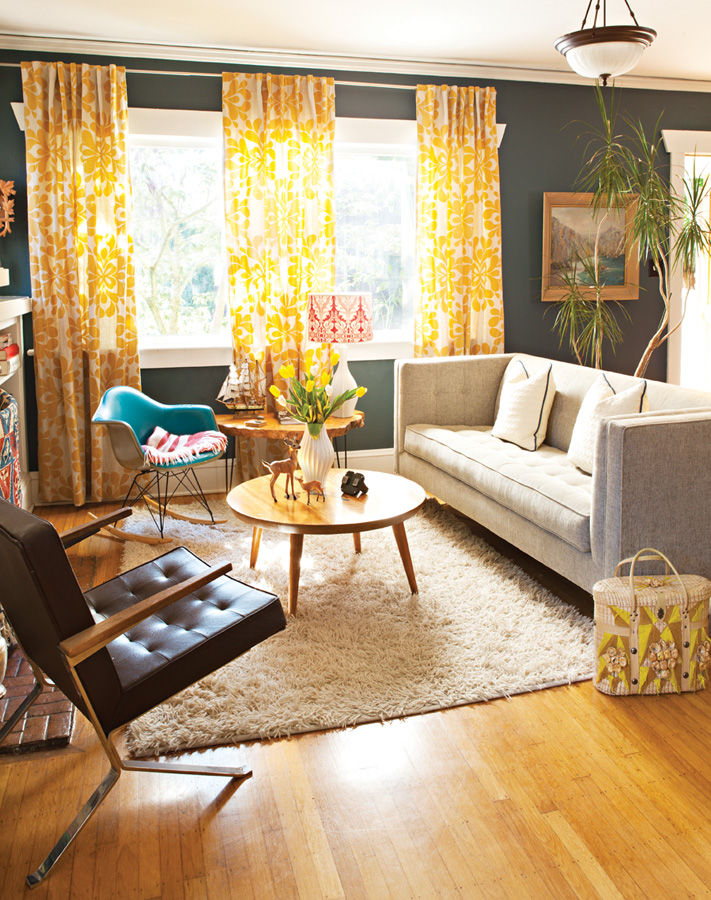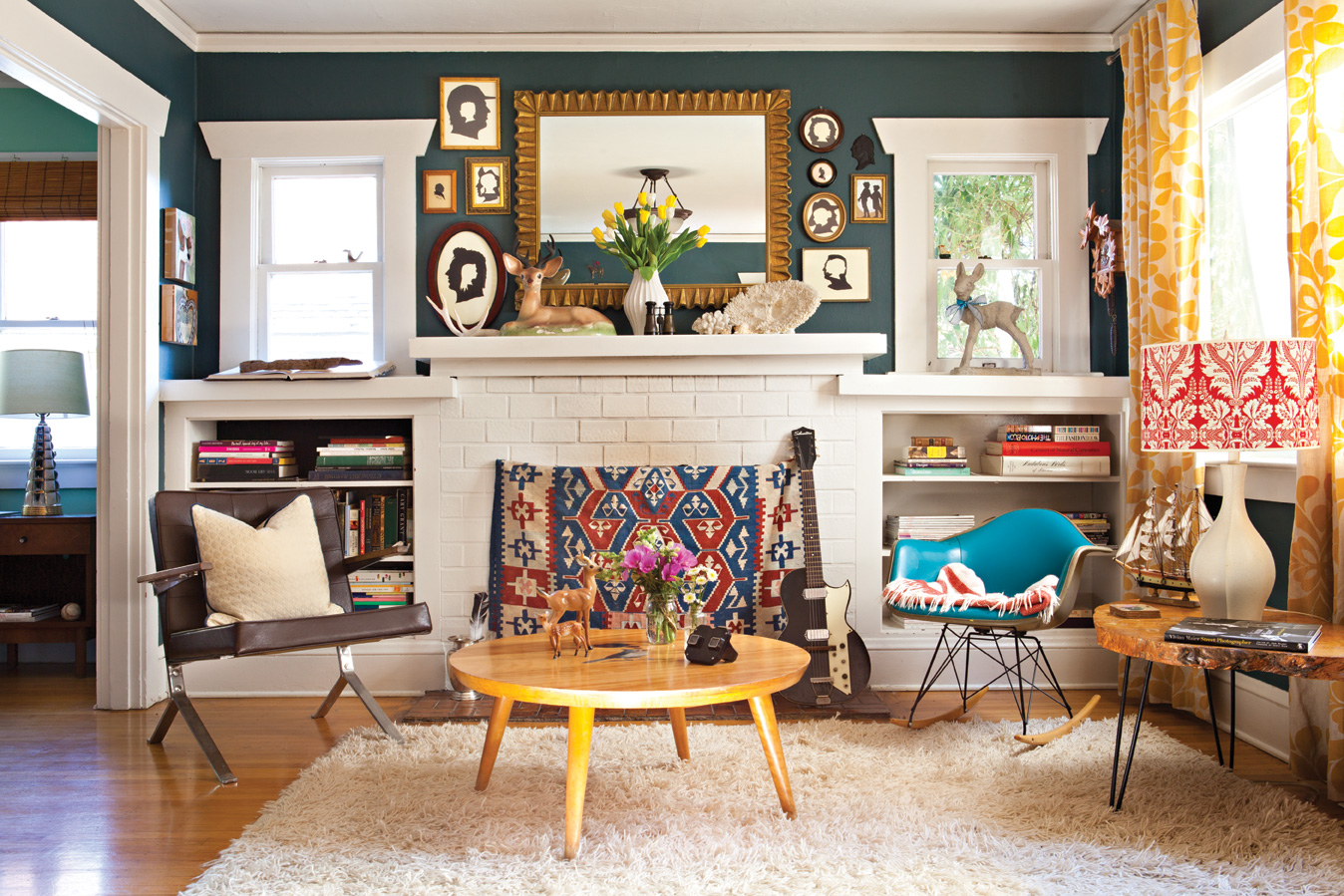 Although Trish jokes about her propensity to overstuff, she understands that it's an expression of her personality. She is a collector, and she understands how your personal
style grows over time. "My house is a reflection of my life; it always will be. I will never get rid of everything and start over," Trish explains. The evolution of personal style parallels your growth from childhood into adulthood. "It's a lifelong project," she says.
Especially at night I have only lamplight and it's very moody. I like moody," Trish says. She always paints the living room darker than other spaces, because its romantic and moody atmosphere sets the tone for the entire house.
While her home is layered with textures and patterns, Trish also layers with different eras. Most of the furniture is from the 1950s and '60s. The table in the dining room sports piano legs from the 1800s, adding a dose of antique charm. "Pieces from every decade really make things look more real and more comfortable than if you have everything from one store," Trish says.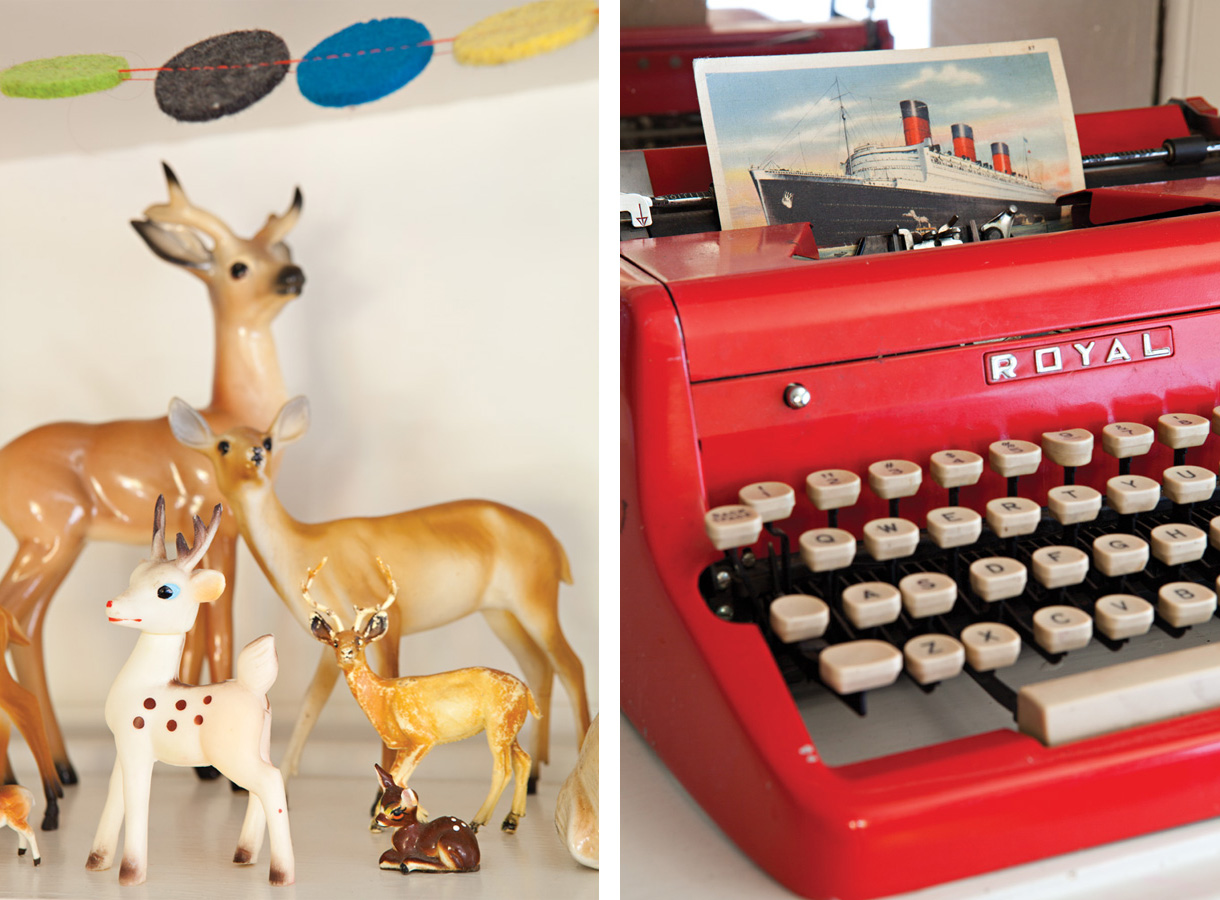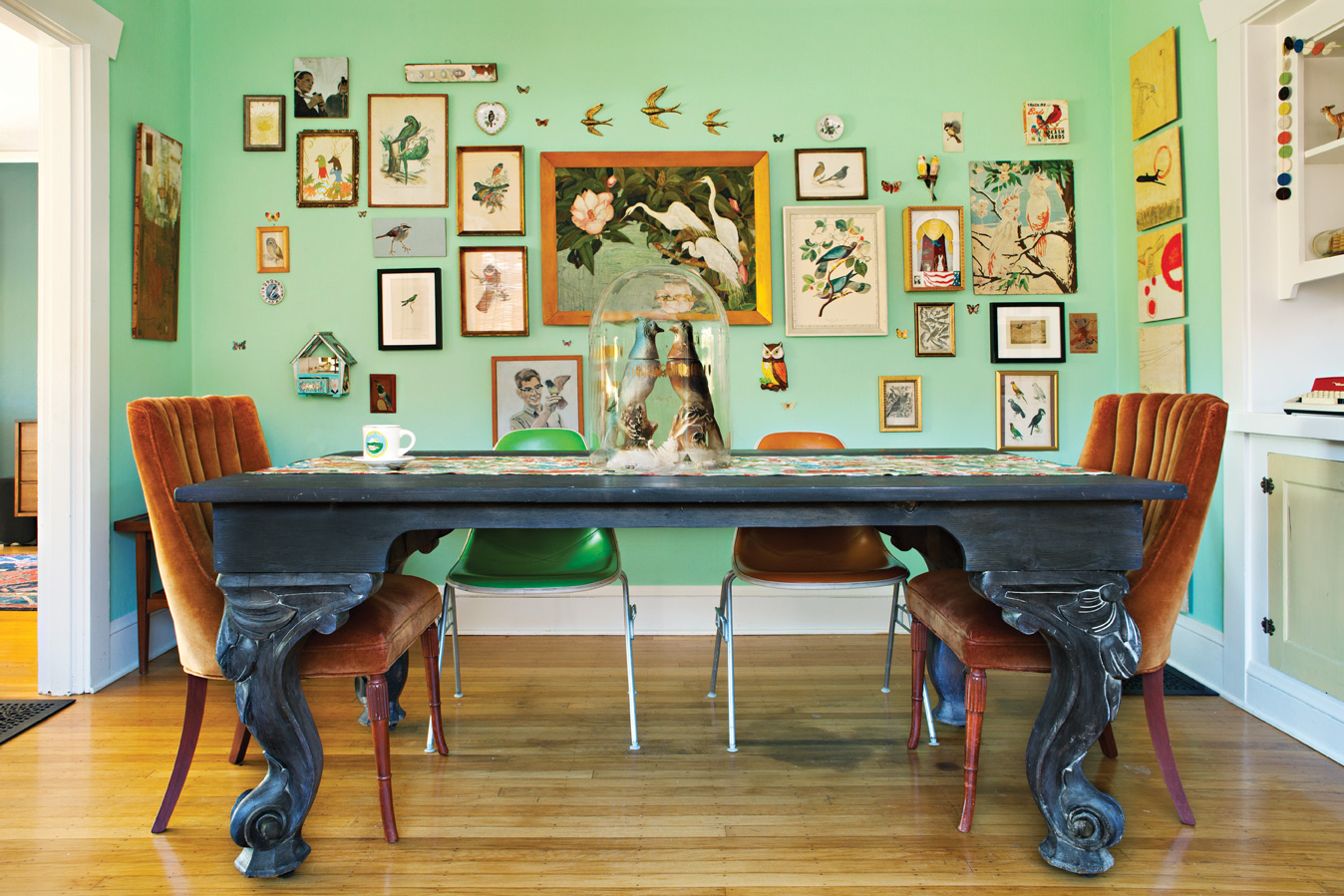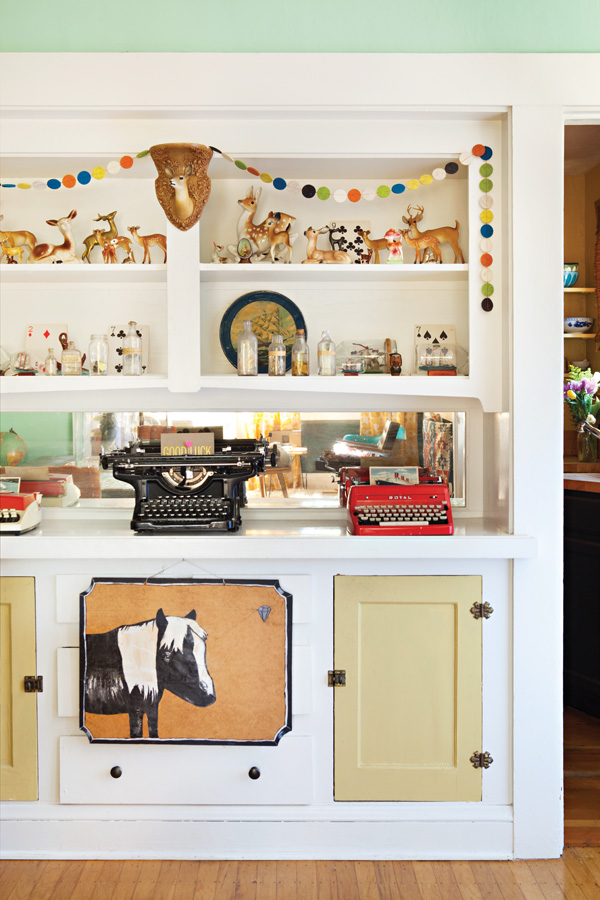 A rich sense of character is built piece by piece. Trish's propensity for embracing art of all ages spreads from room to room. Paintings from the 1920s and '30s appear in the aviary above the dining table. Even the Chinese checkerboard on the kitchen wall is a vintage game set displayed as art. Vintage dishes, a hallmark of everyday Americana, are nostalgic remembrances. Though Trish's entire house is treated as a display, you'll rarely see her own art hanging on the walls or nestled on the shelves. She gathers her inspirations in her home, while sending her art out to galleries and Etsy buyers.
Vignettes may set the mood, but every element plays a part in the atmosphere as a whole.
Keeping with your personal style doesn't have to feel static. Trish repaints the walls about once a year. The neutral-colored furniture allows her to play with dramatic paint colors. "Usually it's around blue and green, and there's a splash of yellow because that pulls it all together," she explains.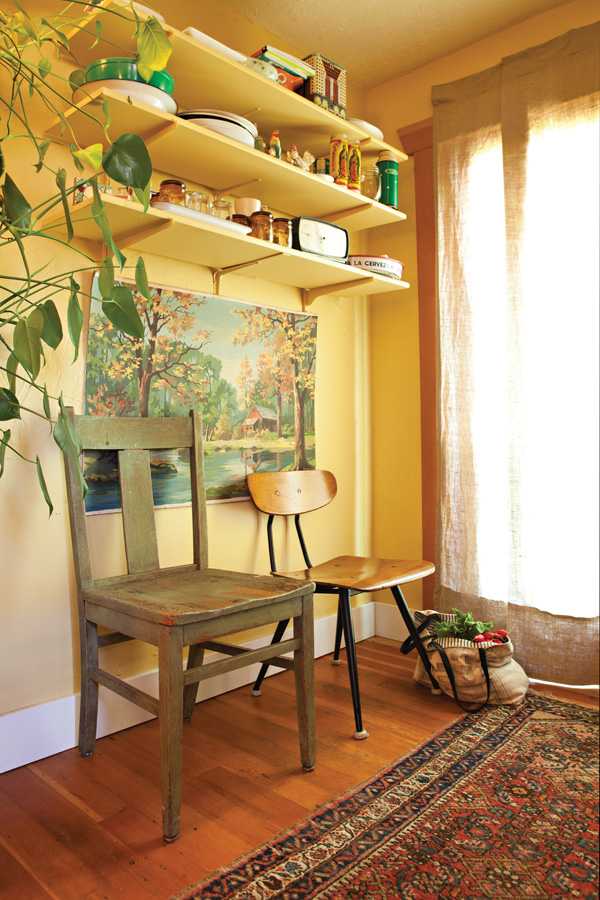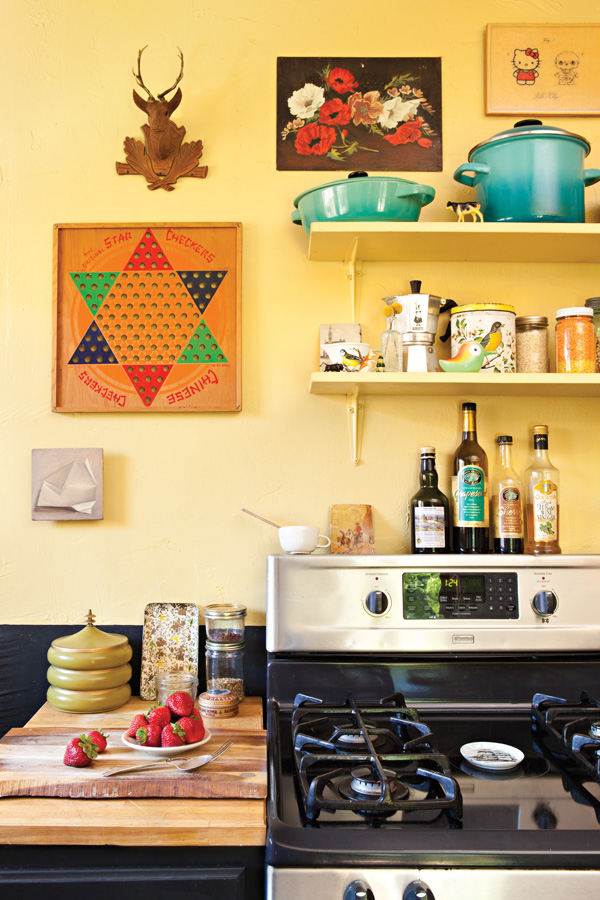 Each display has the opportunity to create a mood, so why not build a set? "I want you to feel like you're in a movie," Trish says." Natural themes play out with Trish's collectibles. Take a look at her collection of deer figurines or bird paintings and you'll see a forest-like warmth to her home. Sometimes her fascinations are nautical; sailing ships are scattered from the living room to the bathroom. "There's something about sailors and the ocean; it's all romantic," she says.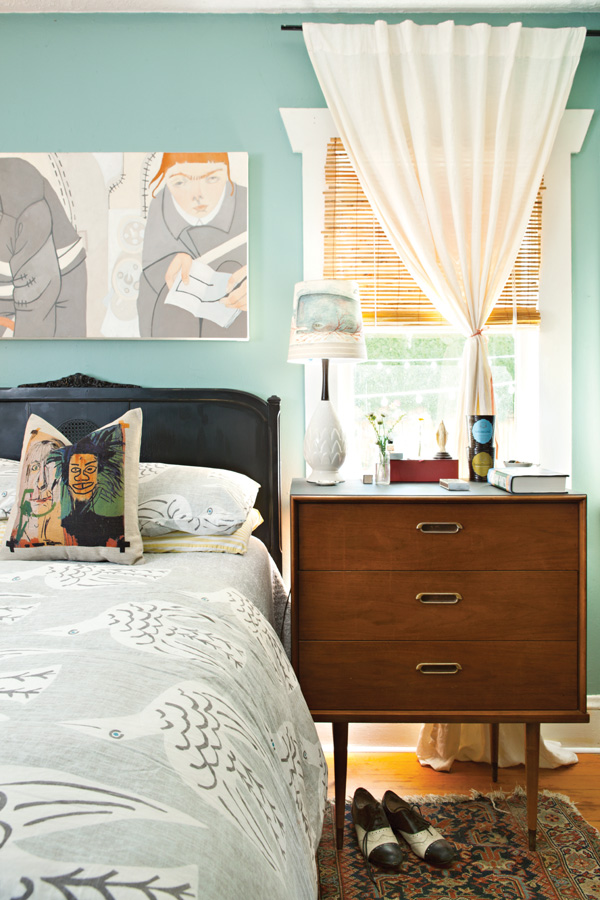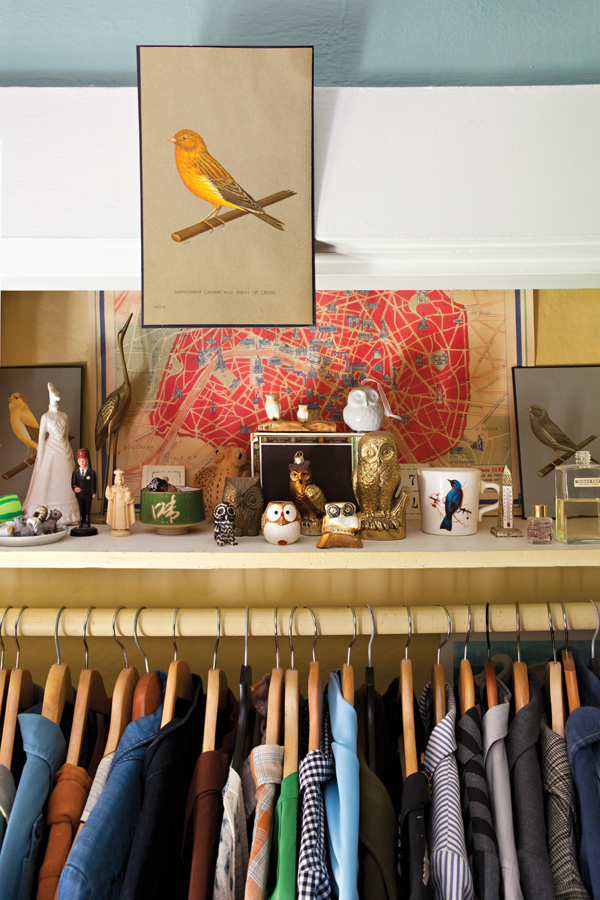 Perhaps the best part about Trish's home are the small collections that you stumble upon. Trish approach to decorating is both about the big picture, but also those tiny delightful details that you just sometimes feel lucky to have spotted. Case in point: Tiny owls embellish her bedroom closet, creating a unique vignette in an unlikely place, proving that you can always find room to express your style. Though many would limit their decorative touches to more visible spaces, Trish's artful imagination draws her collections into the recesses of her home. She removed the doors of her closet to make the room feel bigger, and then simply decorated the inside to make it attractive.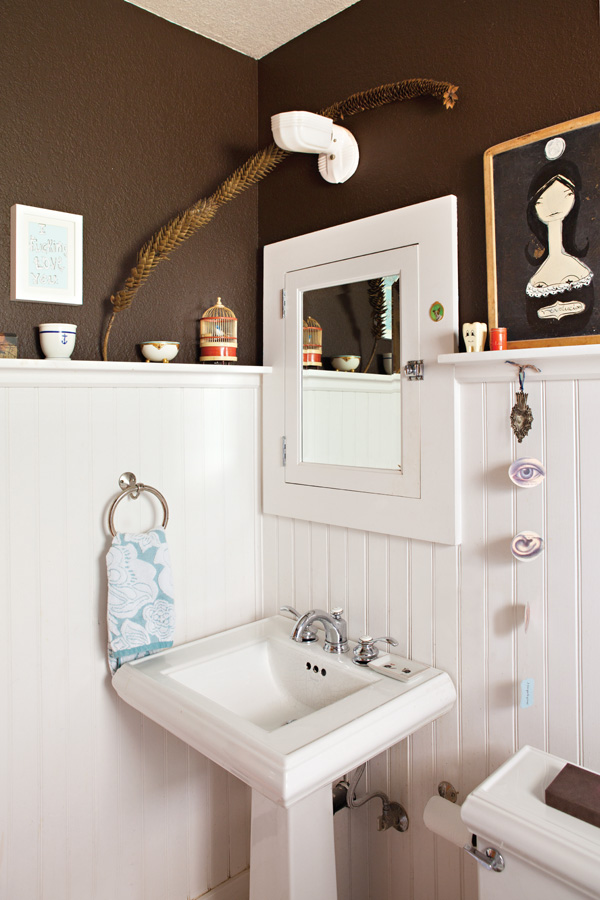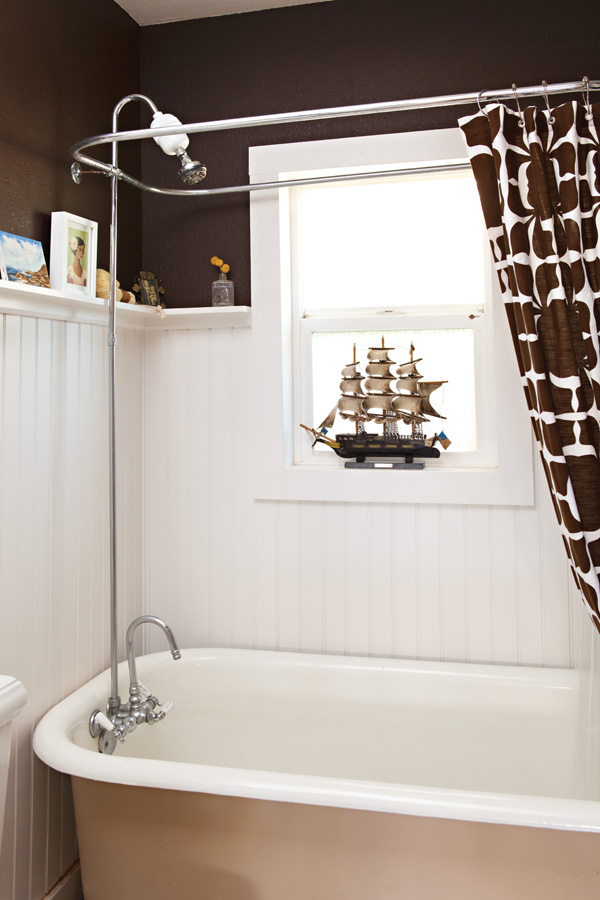 Vignettes may set the mood, but every element plays a part in the atmosphere as a whole.
"I tend to like it really dark in the living room," Trish says. The paint has a deep, blue tone. The lamplight sends shadows across the walls. Spots of brighter light reflect back to classic film noir, where the hardboiled detective stands under the street lamp. "It's very moody," she says, giving the home a sense of alternate adventure.
Sources:
Paint: Living room: Underwater by Behr  Dining room: Spruce Green. Kitchen: Yosemite and Black Night. Bedroom and closet: Stratton Blue and Yosemite Yellow all by Benjamin Moore
Custom sofa: Perch Furniture