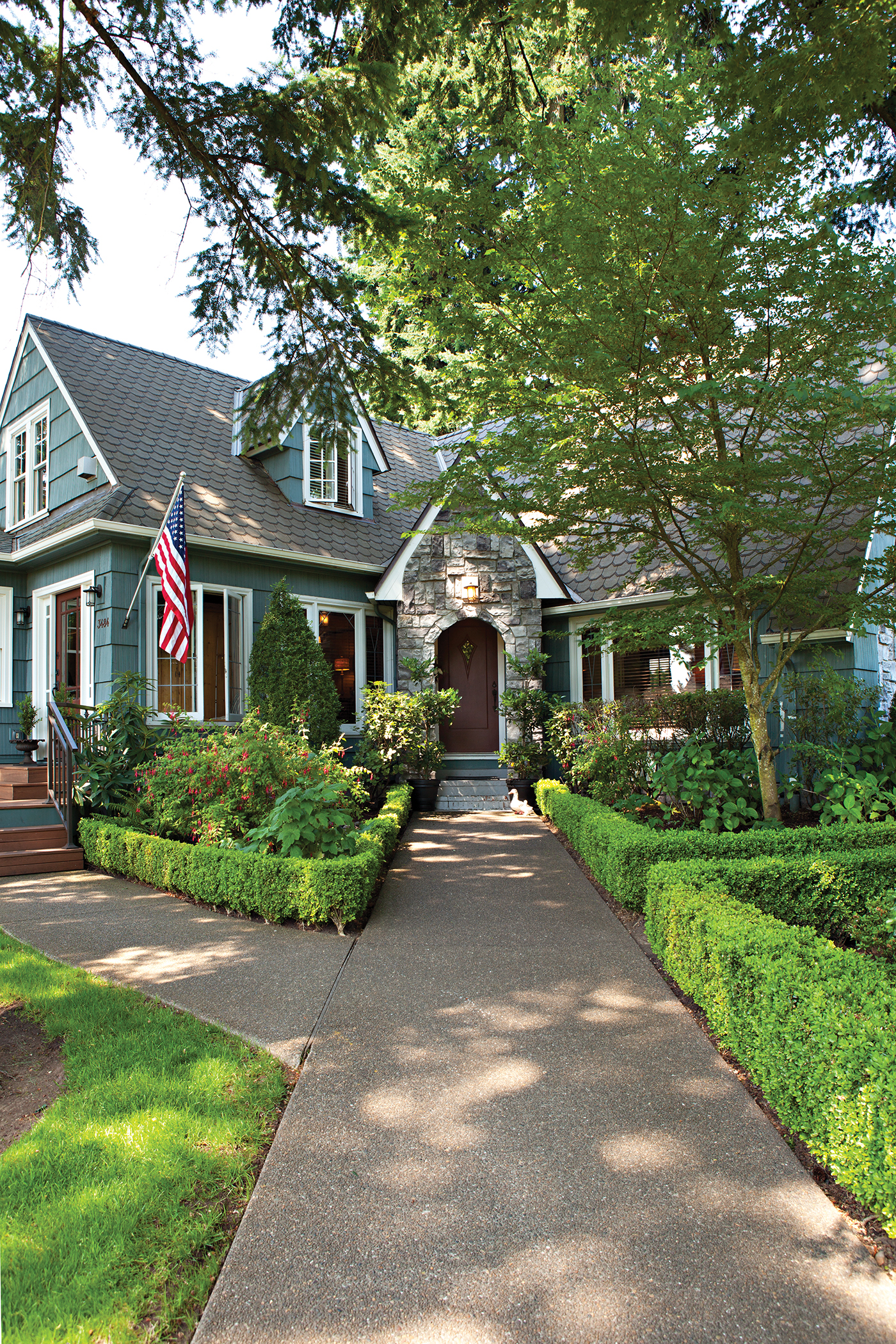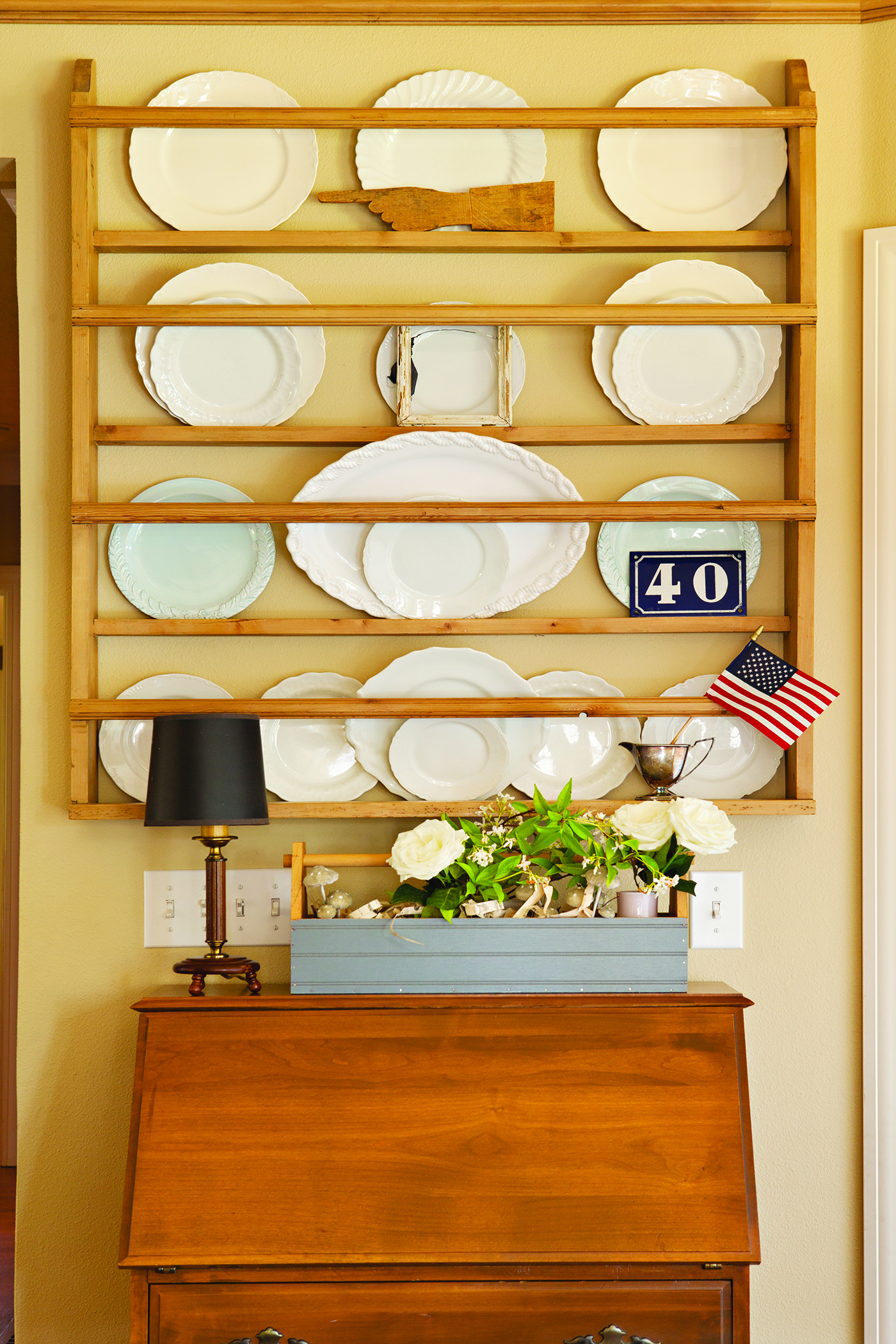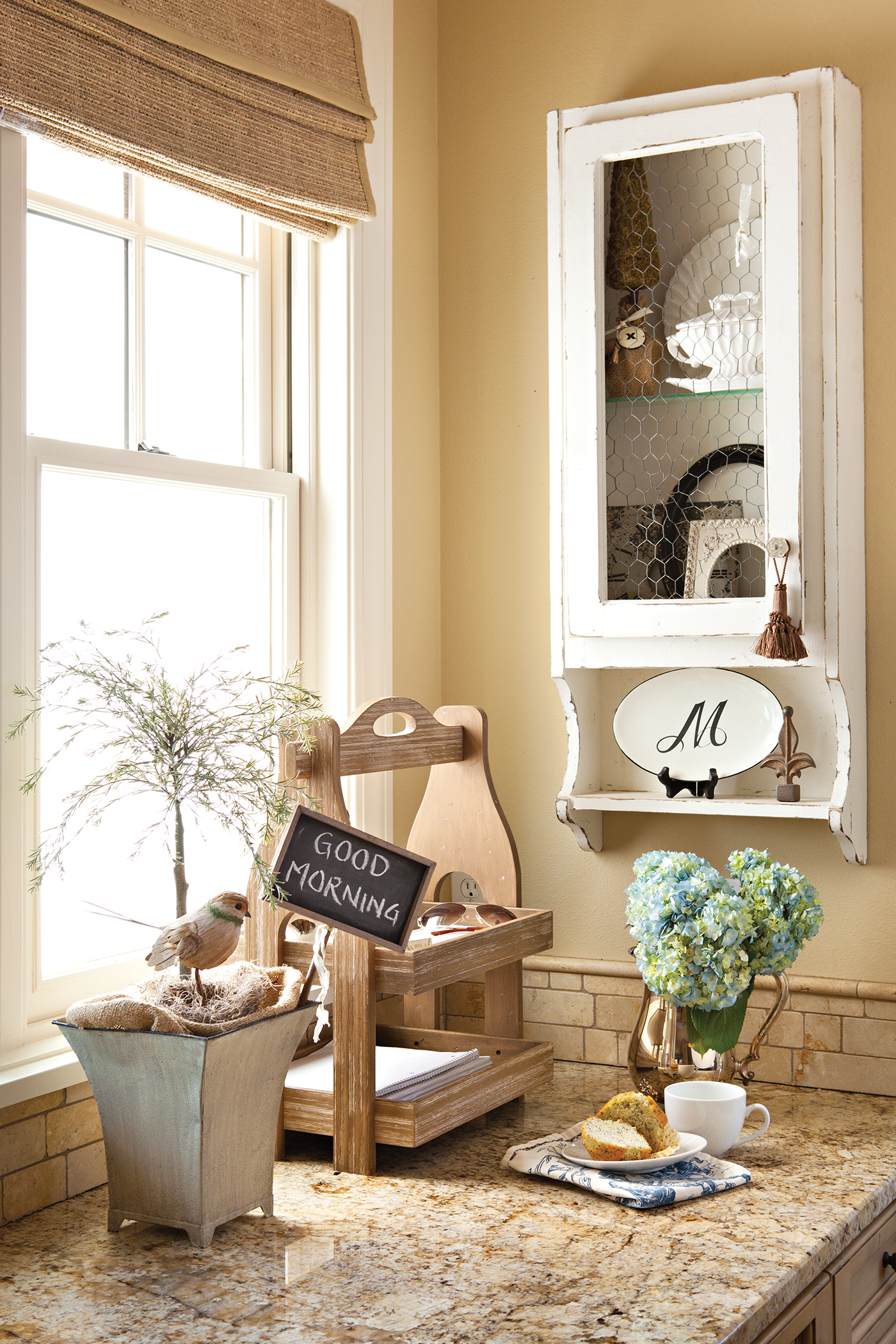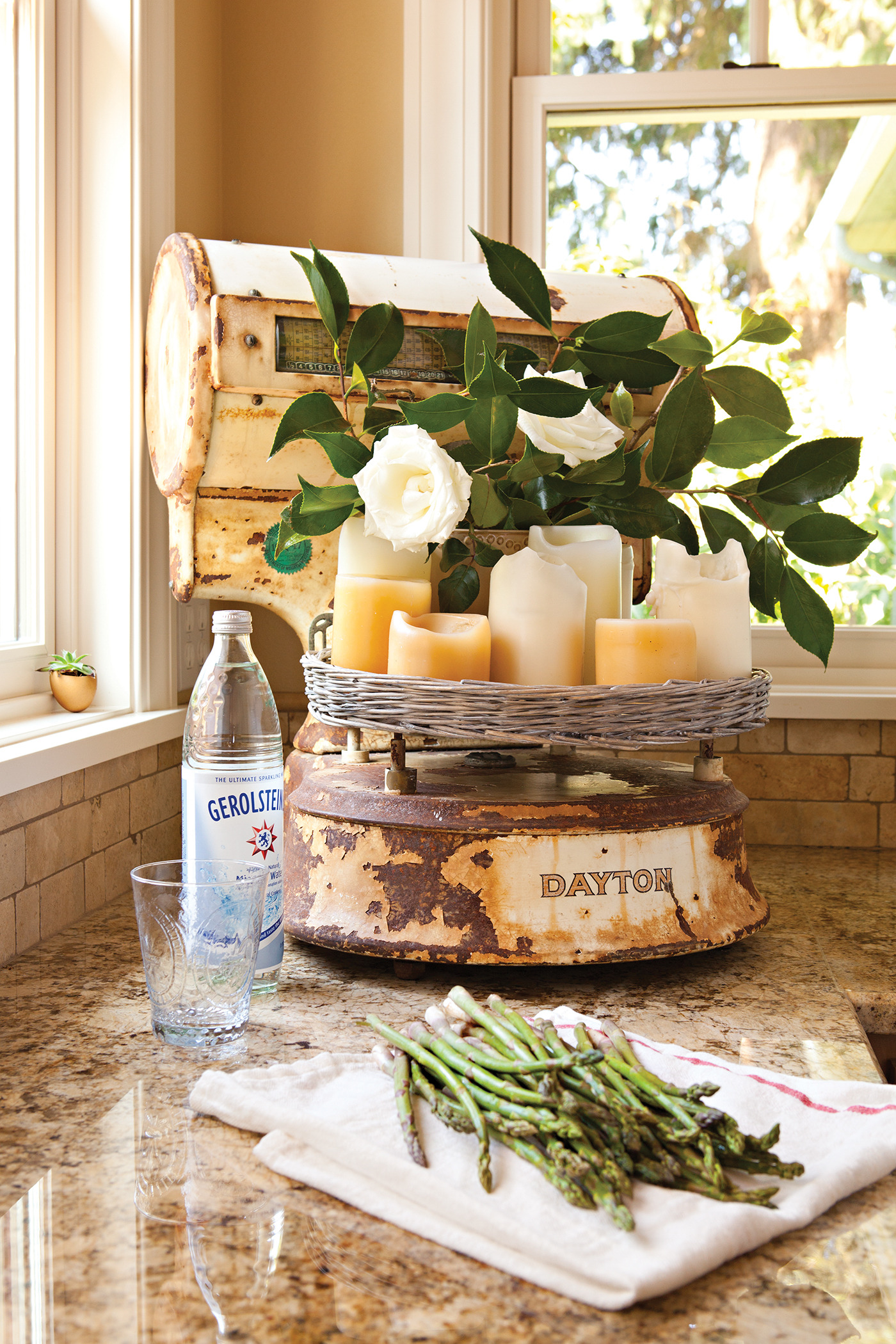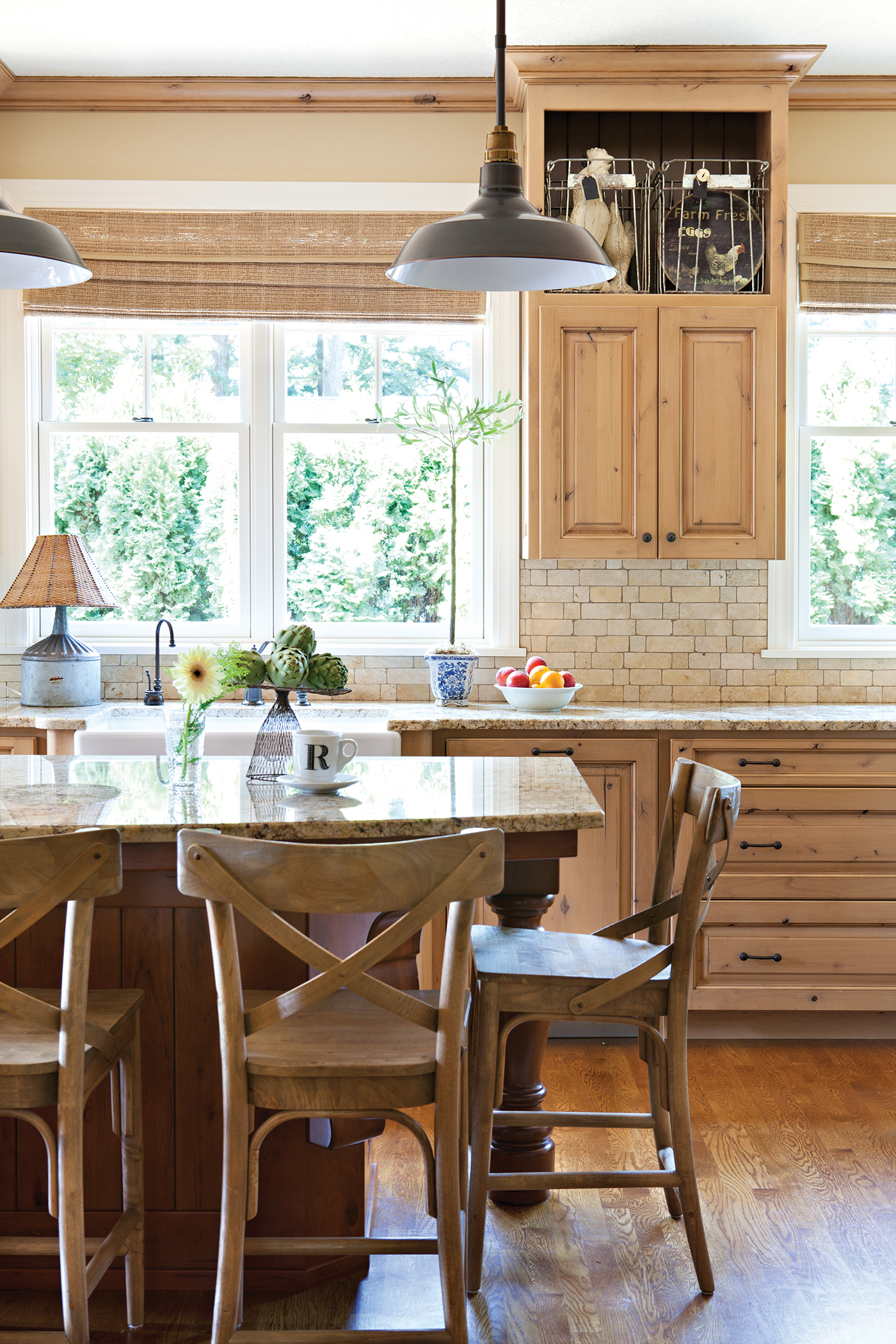 Surrounded by fir trees and situated on a spacious former hazelnut orchard, this classic cottage near Portland, Oregon, was originally a farmhouse built in the 1940s. Today, its idyllic setting is home to Meg Muschlitz and her family of six, whose busy lifestyle begs for a space that is as flexible as it is charming.
At nearly 3,800 square feet and sitting on a 1⁄2-acre property, the historic home is unusually large. The family has maximized the three-story, four-bedroom cottage that has historic appeal and welcoming comfort while also accommodating their needs.
Vintage-Modern Balance
Upon moving in, the family made a few key modifications to balance the vintage-style charm of their home with modern functionality. They updated the kitchen and equipped it for two cooks and added a double sink and an extra refrigerator and dishwasher tucked away inside the cabinetry. The walls on the downstairs level were extended to add sliding barn doors, sectioning off a fourth bedroom.
Meg also updated lighting fixtures throughout the house, intentionally choosing pieces with more of a modern bent, such as Restoration Hardware pendants in the kitchen, to contrast the cottage's rustic features. Striking this balance helped Meg keep the home from looking dated, while still accenting its historic charm.
The living room takes a similar approach, where a vintage-industrial style coffee table and Williams Sonoma armchair and sofa offset nearby flea market-style elements like antique signage and a grain-sack chair.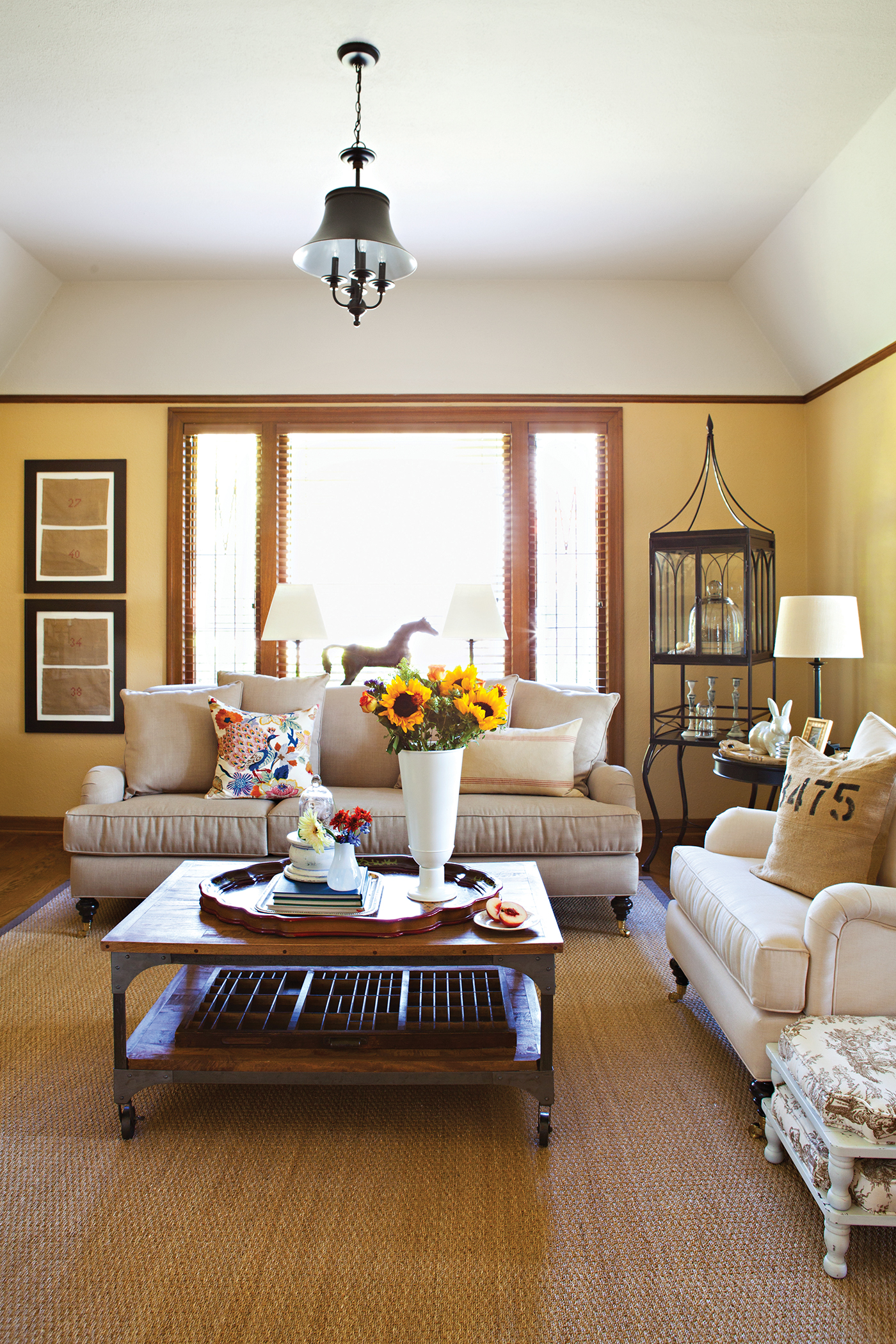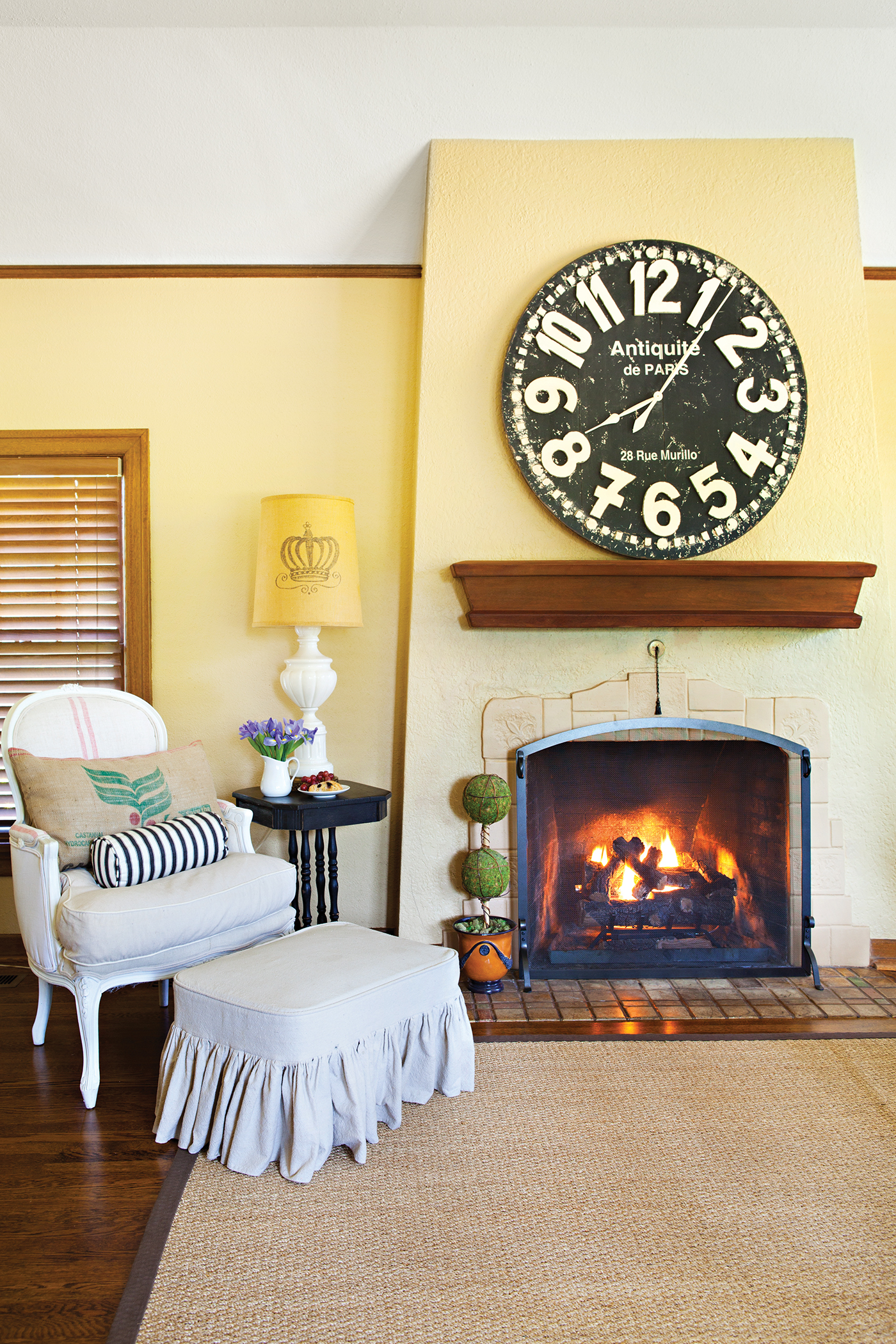 Neutrals & Naturals
Meg keeps the many windows of her cottage covered simply or not at all because she loves to bring the lush greenery outside into her home.
Original dark-oak flooring runs through most of the house, providing the perfect contrast for antique pine pieces. Neutral furniture pieces, including an ecru sofa and armchair, lighten up the room, while a textural seagrass rug anchors everything.
Meg added a sisal or seagrass rug to each room for a grounded, warm feel. These durable pieces are able to withstand the wear of everyday life.
"Our house is about real life. We want our home to look comfortable, inviting and lived in. I like a clean, uncluttered look, but not perfect," Meg says.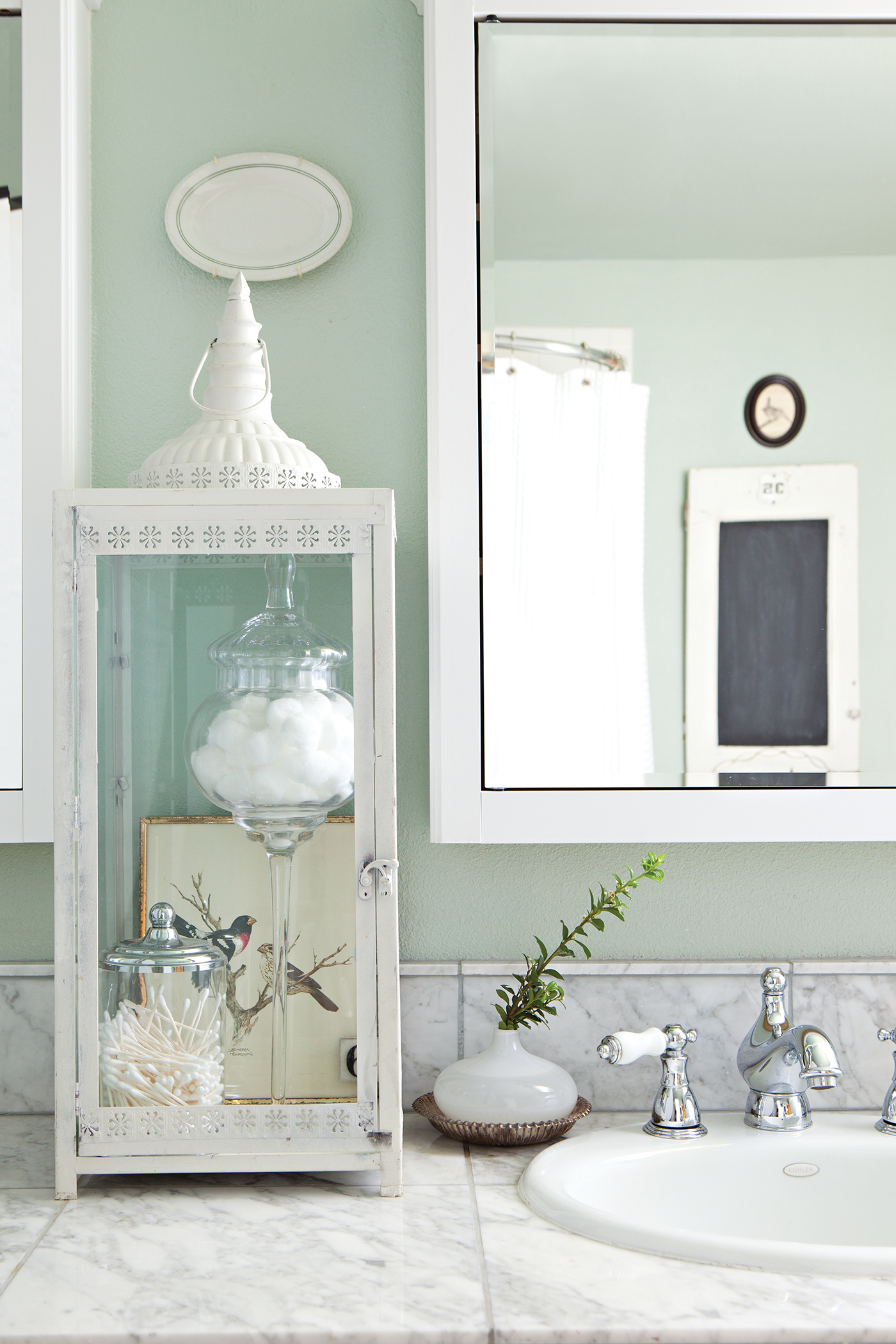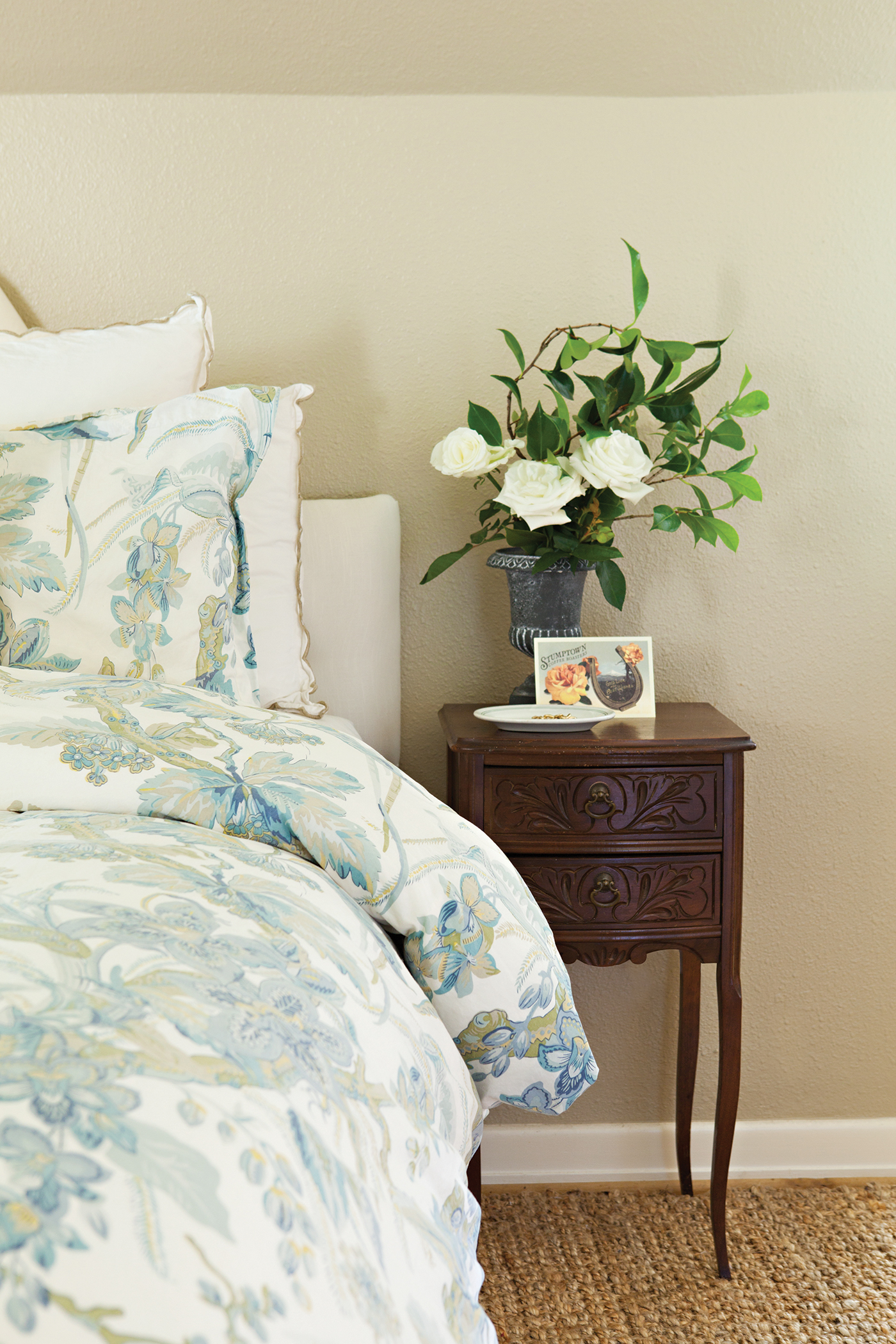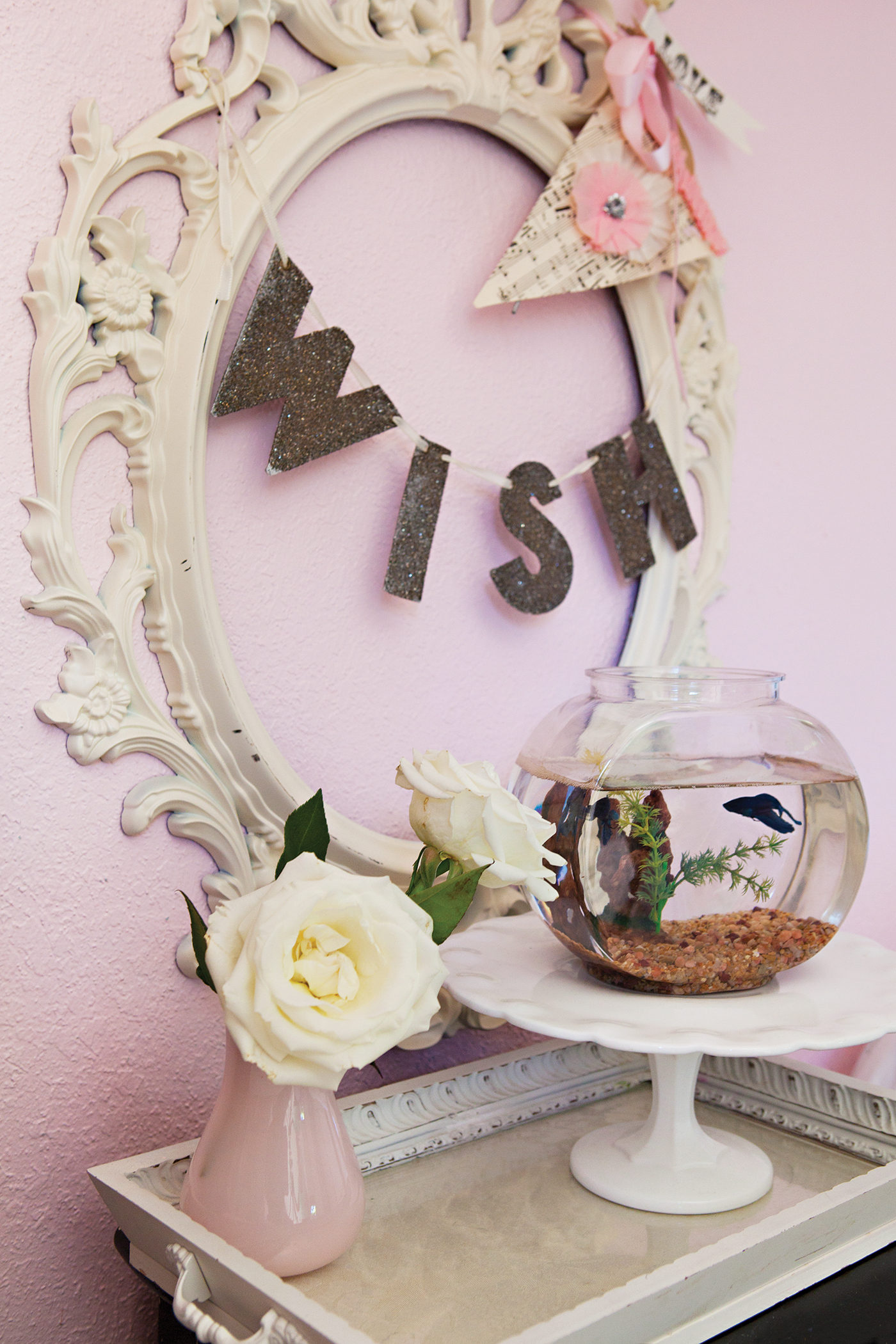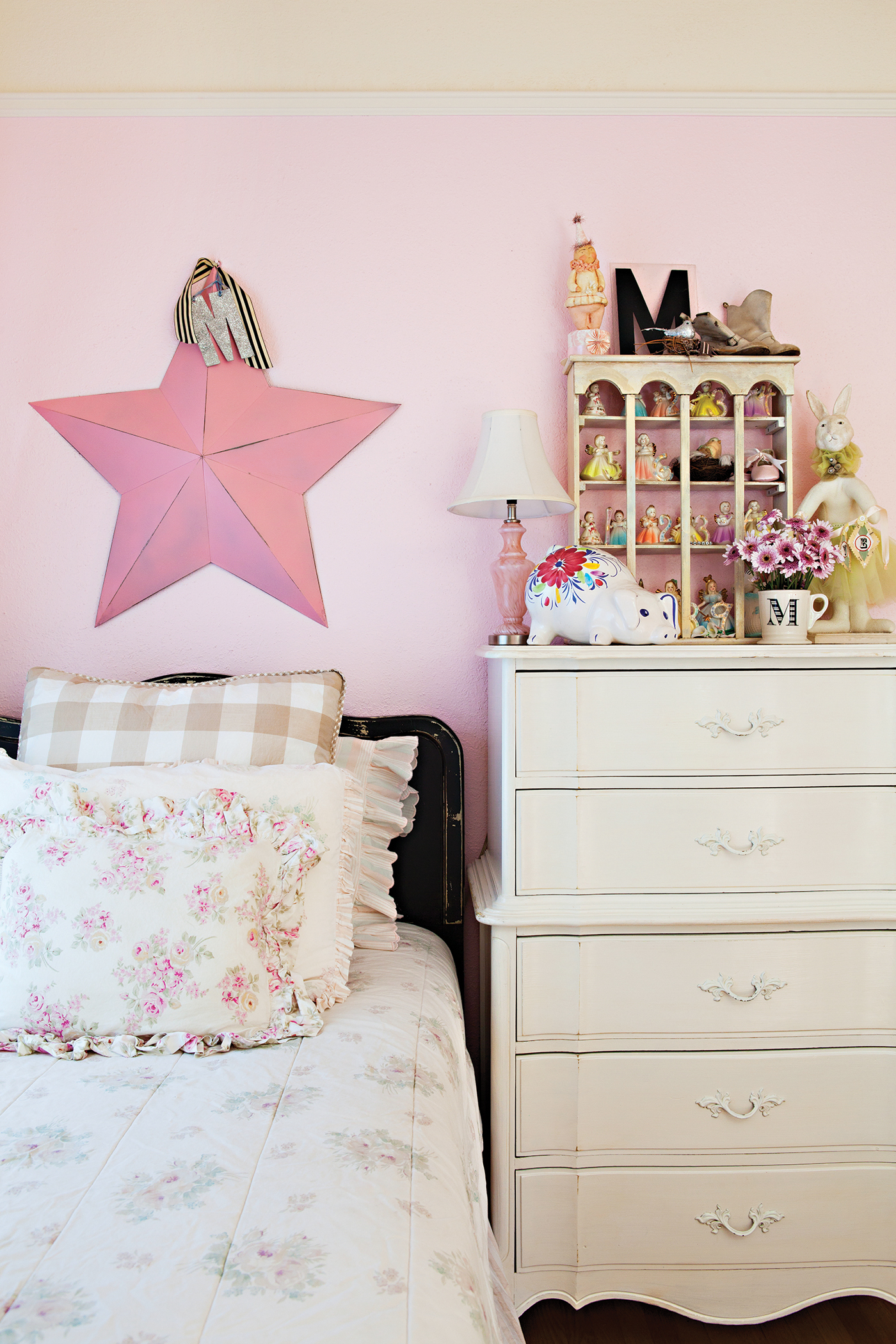 Resources
Plate rack: Flea market
Secretary, Josef Originals birthday figurines: Family heirloom
File shelf piece on the counter, floral pillow, entryway mirror, master bedroom bedding, seagrass rugs: Pottery Barn, visit potterybarn.com.
3 18 vintage barn pendants, egg crates (above cabinets), floor lamp: Restoration Hardware, visit restorationhardware.com.
French Bistro barstools, Aiden coffee table, sisal rugs: World Market, (877) 967-5362 or worldmarket.com.
Dayton scale, sign in living room, urns, nightstand: Monticello Antique Marketplace, (503) 256-8600 or monticelloantiques.com.
Lakeside sign, buffet, Grain sack chair and ottoman, baking table/desk, Black French-style twin beds and nightstand, pink stars: Antique
Bathroom lantern: Home Goods, visit homegoods.com.
Bedford sofa and chair: William Sonoma Home, (877) 812-6235 or william-sonoma.com.
Clock: Pier 1, visit pier1.com.
Antique pine hutch (partial piece): Partners in Time Antiques, Portland, Oregon, (503) 228-6299.
Girls-bedroom bedding: Pottery Barn, visit potterybarn.com.. Rachel Ashwell Shabby Chic, visit target.com.
Paper pom-poms: Martha Stewart, visit marthastewart.com.
Lanterns/Balls: Cargo, Portland, Oregon, (503) 209-8349.
White tray: Rachel Ashwel Shabby Chic, visit target.com.