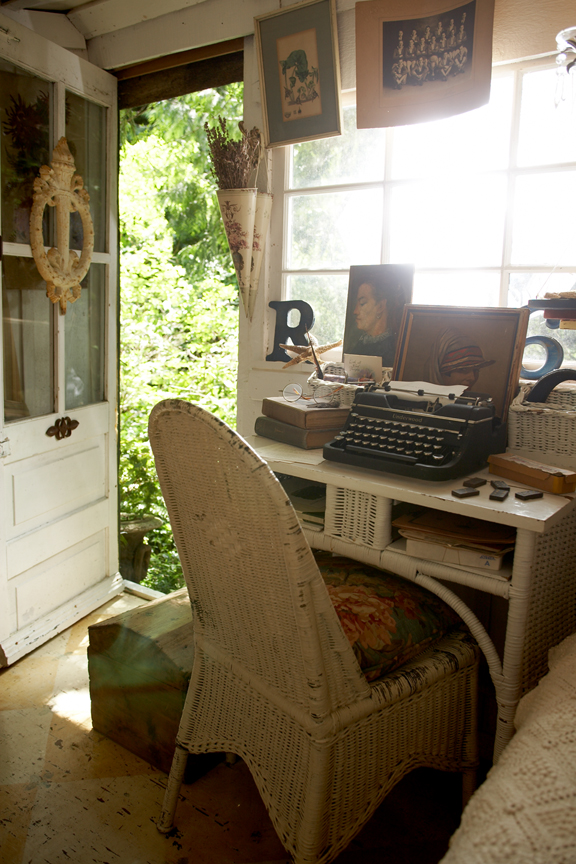 1. Work from the outside in. The most inspiring spaces capitalize on the view so start by placing your desk by a window or a spot with a prime view. It also provides great natural light to illuminate your work space.
2. Choose furnishings that speak to you. Sometimes it not about the desk-in-a-box convenience with all the bells and whistles. Choose something with a past, with stories that will move you to get in the creative mood. The rest of the compartments and filing systems you'll figure out as you work in the space.
3. Get creative with your organization systems. Use old baskets to file your papers, small trays to keep pens and paperclips handy. Have fun infusing your personality with the items you choose to repurpose. In this room, an old trunk by the desk holds larger or less-used items that can be pulled out at a moments notice.
4. Make it comfortable. Grab a big plush pillow for a cushion and keep a throw nearby to ward off chills; it's a great opportunity to add color and pattern to enliven your space.
5. Add some artwork. Surround your desk with objects whose only purpose is to pretty up the space and stir up your imagination. Use the ledges and wall to keep control over the clutter and you'll have a work station that is both attractive and efficient.