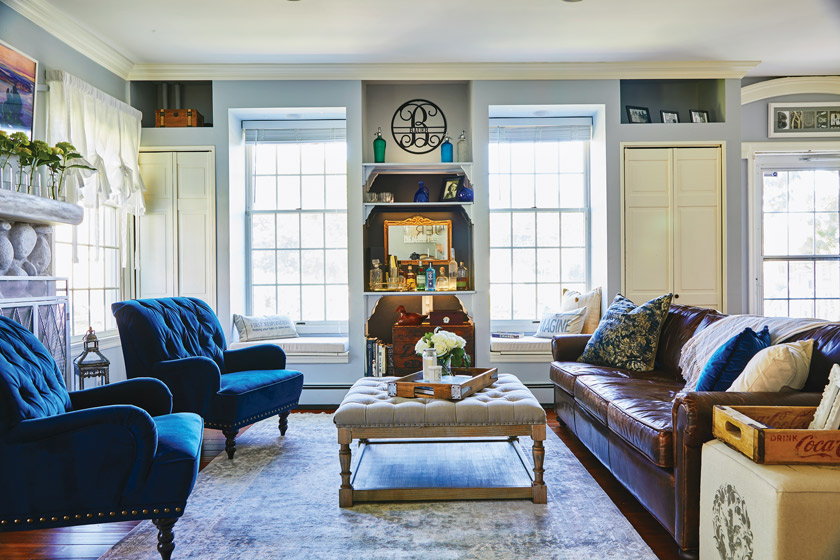 If your dream cottage would be a blend of charming pieces from hunting treasures from the past and fresh accents from the present, then you'll find Kristin Bauer's home in East Brunswick, New Jersey, enchanting and inspiring.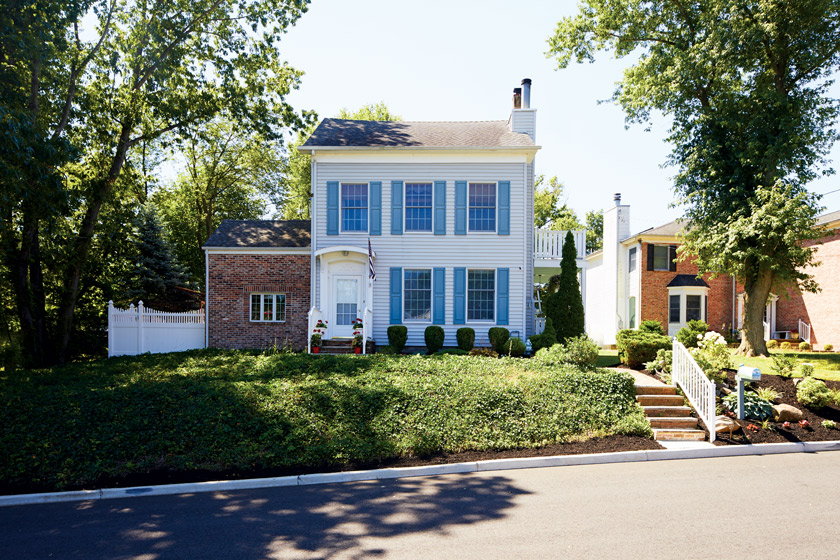 Kristin, an art teacher and realtor as well as an interior stylist, and her husband knew they had found their dream home on their first visit. "When we bought the house two summers ago, it was listed as an 1800s home," Kristin says. "We fell in love with its character immediately when we saw it. We put the offer in from the driveway and said, 'We'll pay full price! Take it off the market!'" In researching the historic home's timeline, Kristin learned that it was once owned by the Herbert family. "They basically settled the area that's now called East Brunswick," she says.
Laying the Groundwork
Luckily, even though the home was more than a century old, it did not need any major structural renovations, and the new homeowners didn't want to disturb the architectural integrity. "It only needed minimal work," Kristin says. "We had to redo the downstairs bathroom, lay in all new carpeting, paint everything and redo the kitchen a little bit. It was more or less all cosmetic, nothing structural, because I didn't want to mess with the structure; it is so old and I wanted to keep with the original footprint of the house."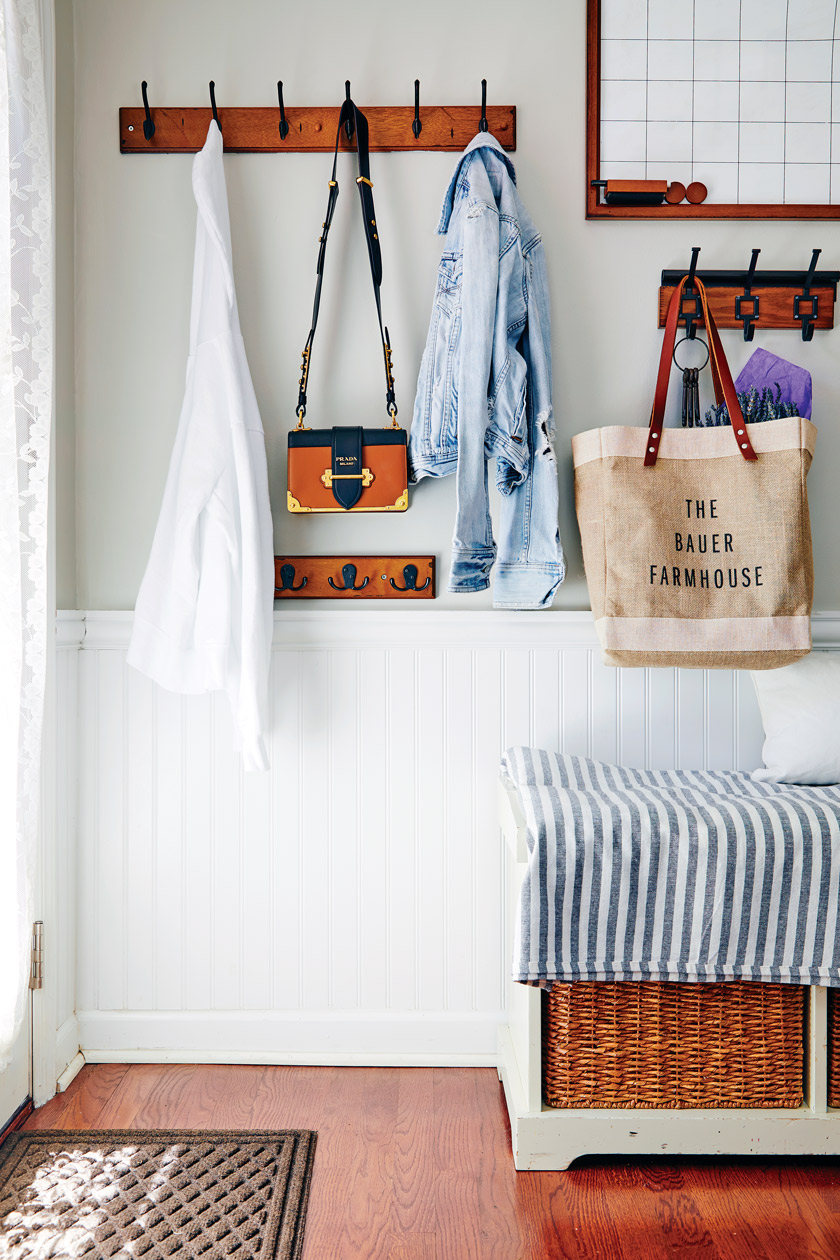 Designing the Rooms
After the minor renovations were done, the stage was set for decorating, starting with the color scheme. "I always start with a neutral palette," Kristin says.
The new living space was also an opportunity for Kristin to try new décor. "My style has changed so dramatically," she says. "My first house was all black and white. It was very glamorous. Something just switched in me. I started introducing a mix of new with old—I can't even name what my style is. It started as farmhouse, but there are some pieces that are very French country and some that are more modern. I like mixing new with old but having it look cohesive. So I can go into a Pier 1 or Pottery Barn, but I can also go to a mom-and-pop shop down the street and find something that would work perfectly with it."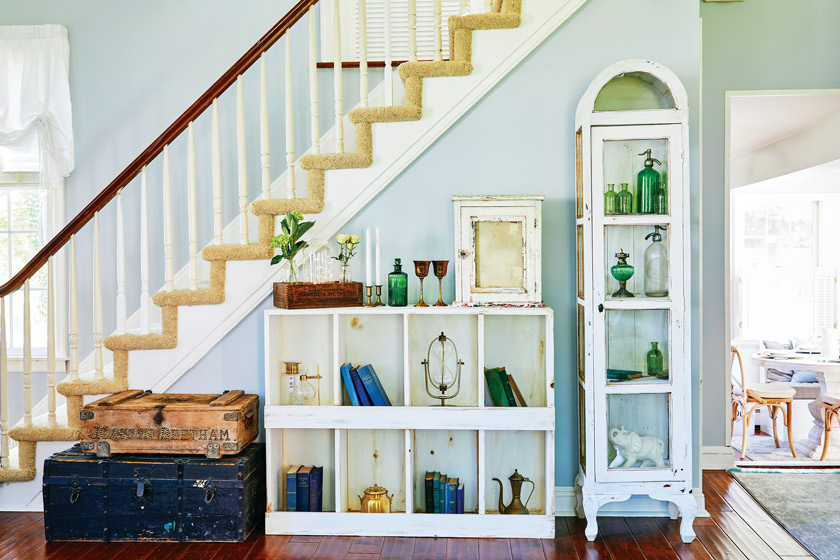 When it comes to sourcing room elements, Kristin enjoys the journey. "I like the discovery; that's the most fun to me," she says. "So I'd much rather go to a place and find something accidentally than run a search online. I like the hunt because I think it becomes more fun, like a treasure hunt."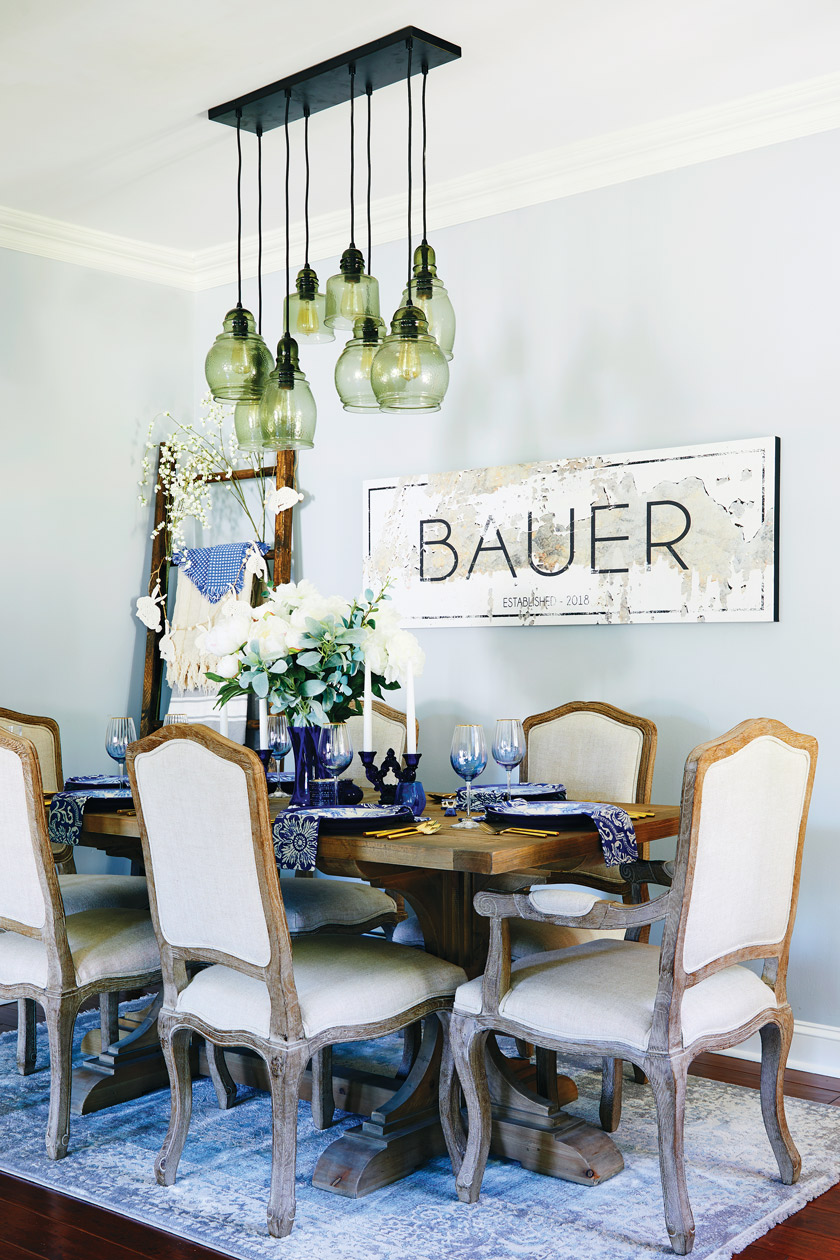 You may also enjoy Tips for Blending Different Styles.

---
Curated Collections
Keep your keepsakes on display and under control.
Kristin has amassed many cherished pieces over the years, and she loves to showcase them throughout her home. Her collections include her grandmother's teacups, old seltzer bottles, milk jugs and wooden trays. But she cautions that collections can spiral out of control if they are not carefully curated and stored. Here are her tips.
Don't clutter. The minute a space starts looking crowded, it will look like it was done too purposefully. Less is more.
Buy new "old" pieces. Try to find some pieces that may be new but have an element that's antique-like. For example, my lanterns have a brown tone to them. So if I buy a new brass lantern, I can go to the antiques store and get a 100-year-old piece of brass, and they would look like they go together.
Display vintage photographs. We have elements from my grandparents all throughout the house. There's a black-and-white photo of my grandmother. She was a model—probably in the 1940s.

Blend old and new.

All my seltzer bottles are on a shelf and the little gold tray is from World Market. So that was a new find I mixed in with the old.
---
Turning the Tables
Kristin finds that having serving trays handy suits her lifestyle better than side tables would. "We always use little wooden trays throughout the house," she says. "I'm an avid tea drinker and the teacup [in the master bedroom] was my grandmother's. We had all these little teacups from my grandmother and [her tea kettle] kind of fit that time period more so than if I went out and bought a new one. I don't actually use it—it's more decorative—but it looks so cute when you have your actual teacups with it."
"I love faux greenery because it's so easy to swap out when you want a different look."

Related Reading: The Designers' Guide to Decorating with Antiques
With her talent for creative styling, Kristin found alternate ways of achieving the comforts of home. "In our living room area, instead of coffee tables I'd rather have something that's more comfortable [like an ottoman], because then you can use it as extra seating when you have a party and just simply remove the tray … So the trays are kind of quick tables when you need one or can be removed when you need the area for sitting. For the one in the living room, I try to leave a little bit of space for people to put their drinks, but I always add some flowers."
Hats Off to Storage
Kristin has a clever way of managing storage in the master bedroom that's also decorative. "I use small hatboxes to store clothes. It's just extra storage, but no one would know," she says. "I'm actually keeping shorts and bathing suits in them." In the makeup area, a little table adds a touch of glamour to the otherwise farmhouse-style bedroom. On top of it are small candelabras. "They're nicer than having two lamps, and we have the recessed lighting above so we don't really need to have bedside table lamps. I like the French country look, so anywhere that I can sneak in extra candelabras or chandeliers, I'm all for it," she says.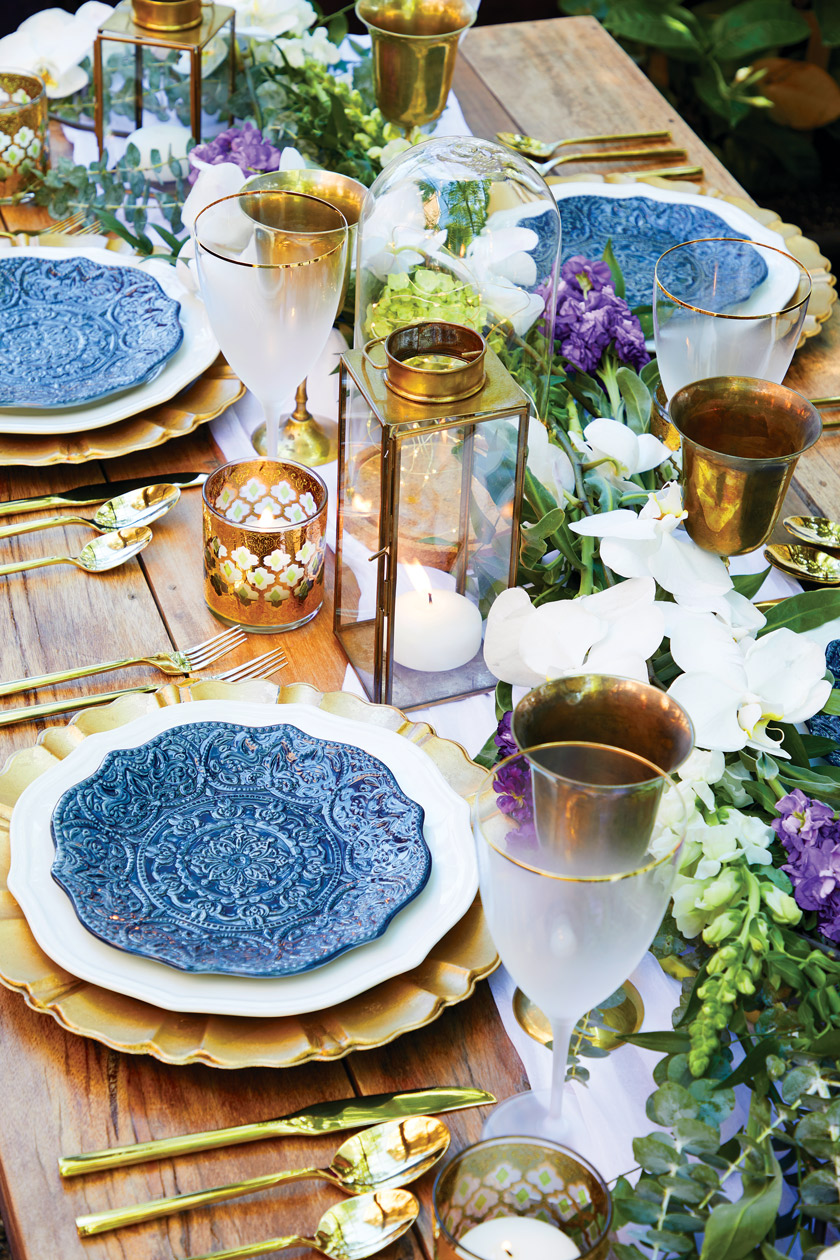 For more kitchen ideas, peek here

Vintage Kitchen Collections
"Because the kitchen is so white and gray and very bright, I think adding copper and wood gives a sense of warmth to the room." Old milk jugs and seltzer bottles look right at home in the historic house. "My favorite thing in the kitchen is my collection of seltzer bottles," Kristin says. "The cake in the cake holder is actually fake; I put flowers on it to make it look like a decorated cake."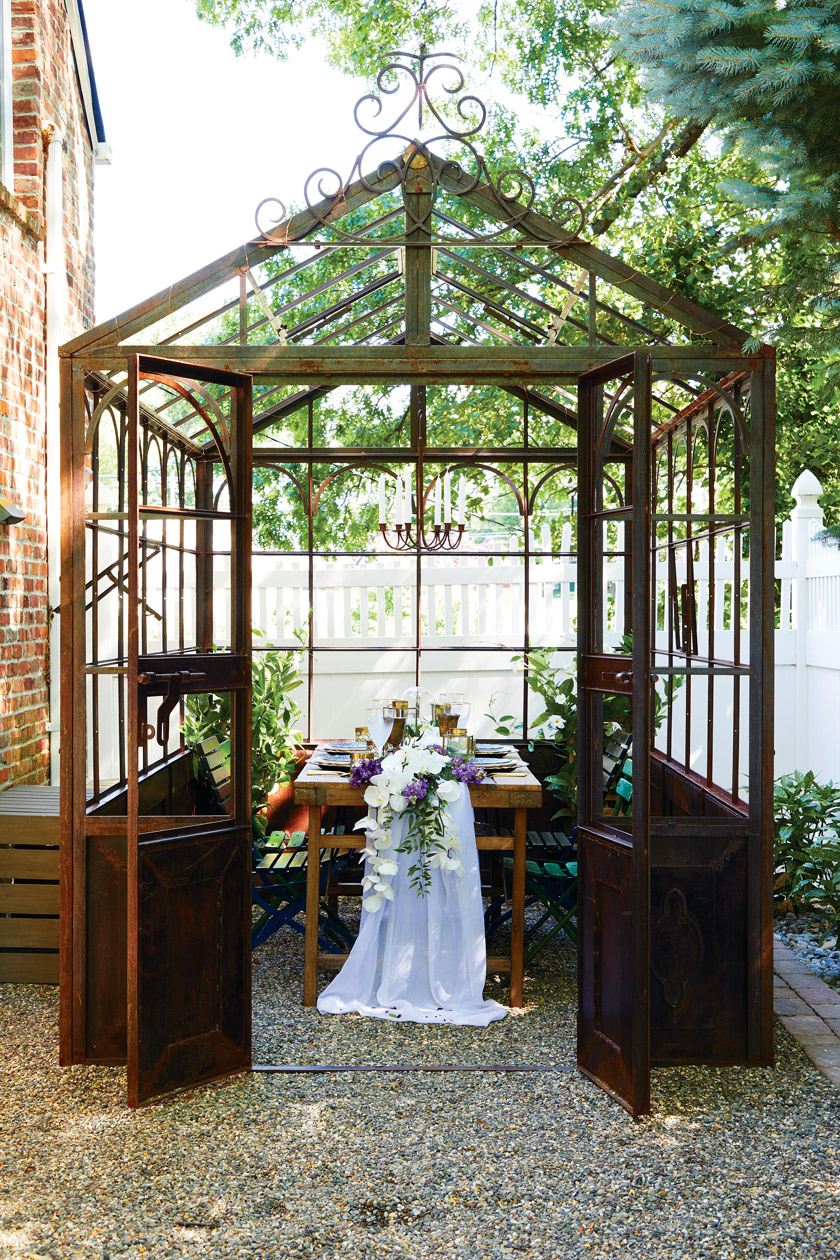 "This is my favorite tablescape I've ever done. And it's all completely a combination of old and new things, which is what I love."

Kristin's art studio, where she is creating drawings for her towel line, is a room that's hidden in the stairs. After her grandmother passed away, the family had to sell her home. "I was trying to take pieces of the house since my grandfather built it by hand," Kristin says. "What you see sitting on top of the bathtub, acting as a table, is actually one of the windows from their house and a tool that my grandfather used to build it. I like having it and the tool there because it's my creative space, and what better thing to have [for inspiration] than a piece of my grandfather's home that he built."
" You wouldn't normally see a lantern in a bathroom, but mixing things that don't necessarily fit the space actually ends up working really well."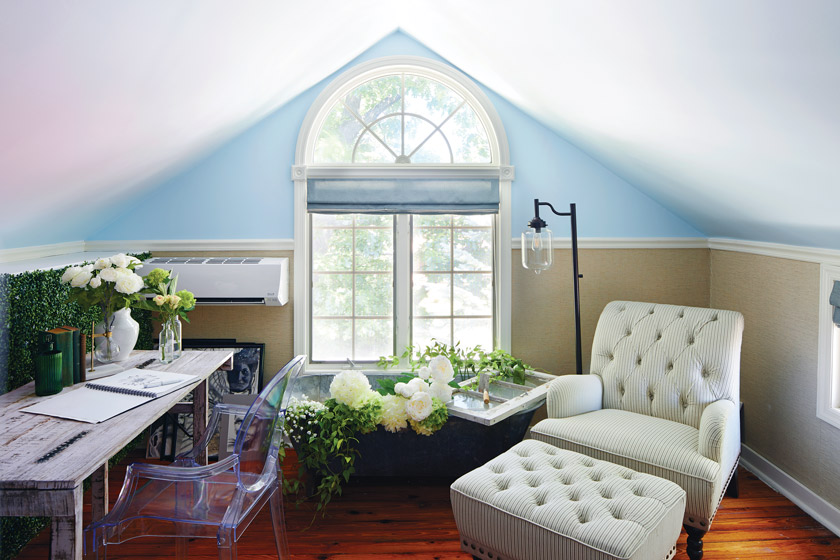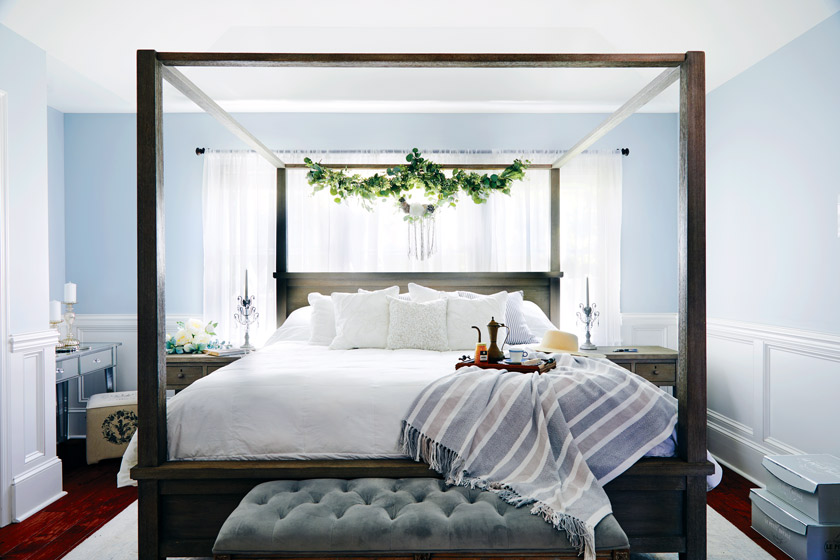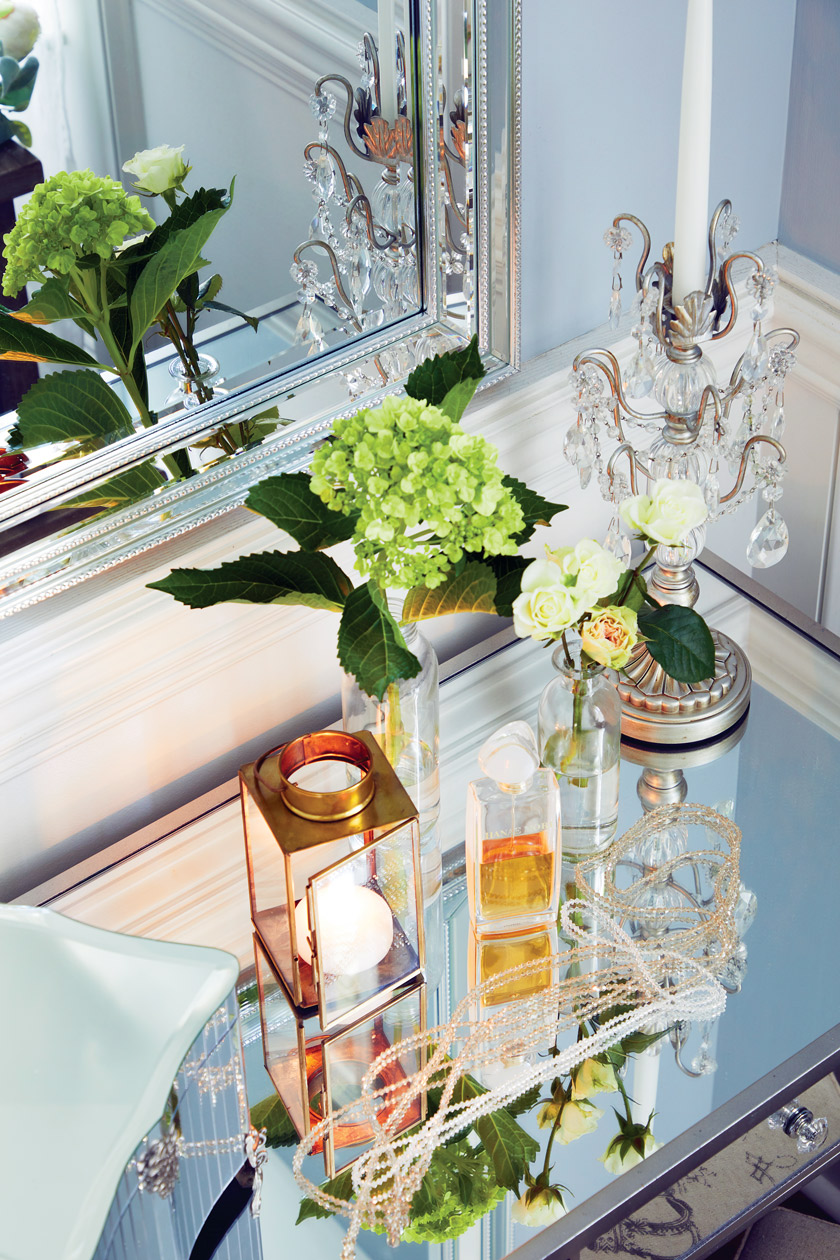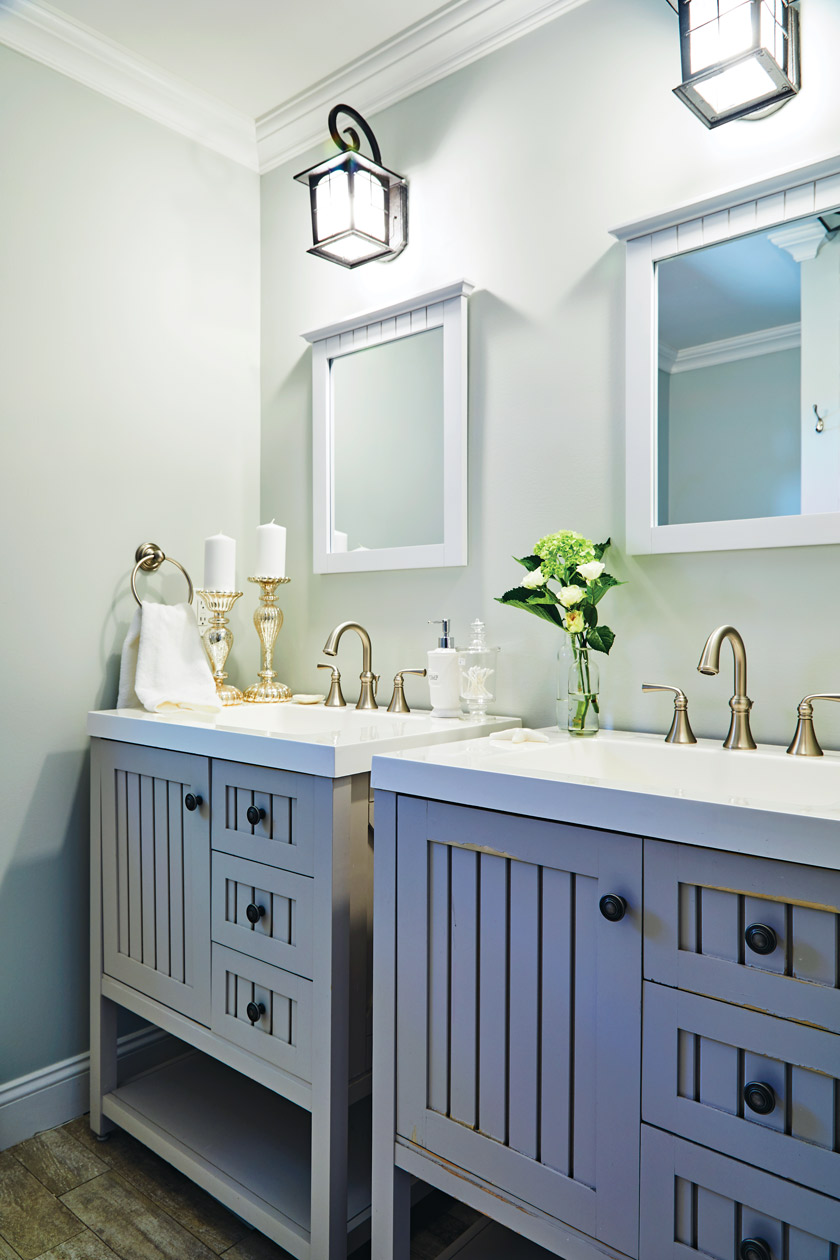 To see more of Kristin's home visit her on Instagram: @thebauerfarmhouse 
Of course, don't forget to follow us on Instagram, Facebook and Pinterest to get your daily dose of cottage inspiration!