Sometimes when you buy a home, it comes with a dream. When Mickie Johnson and her husband, John, purchased this darling cozy country cottage outside Chicago almost nine years ago, she made it her goal to return the house to a sense of its former glory. "I wanted to bring it back to what it should be," Mickie says. Originally built in 1925, this country cottage is what Mickie calls "a true fixer-upper" and was in desperate need of some love and rejuvenation.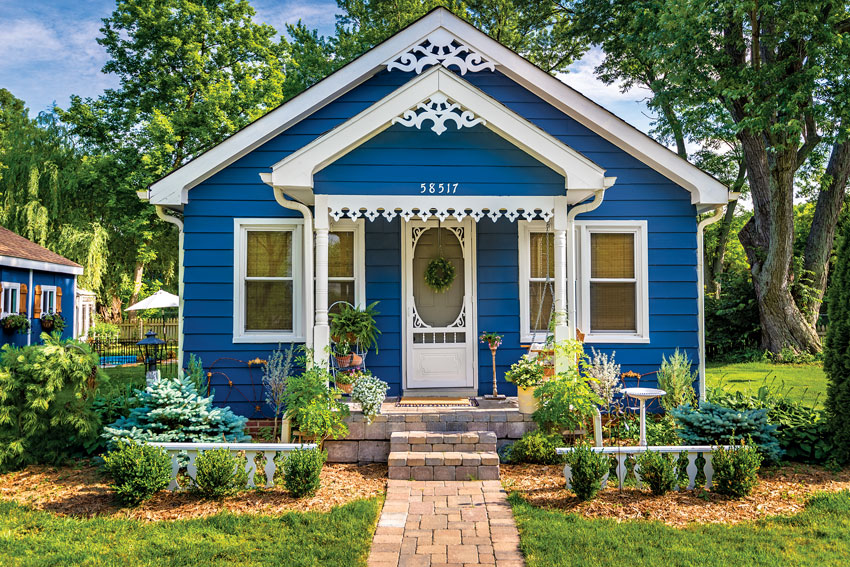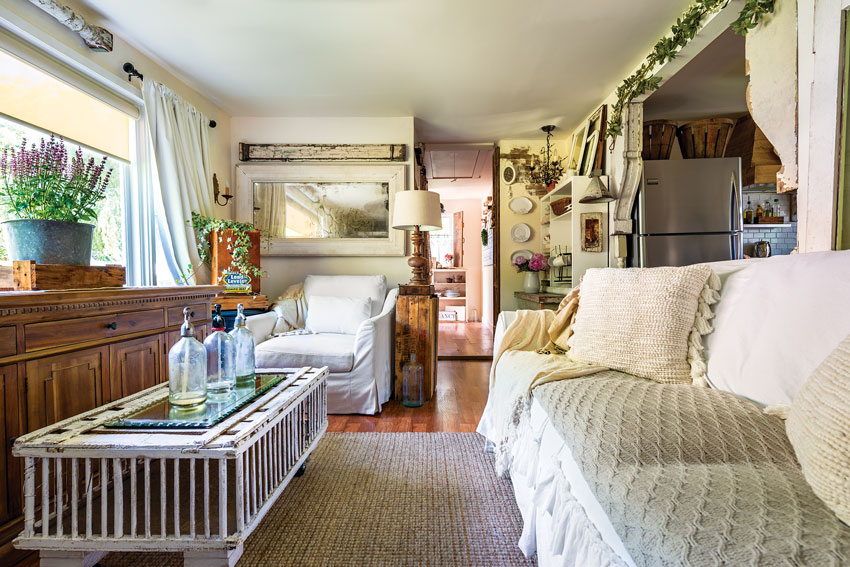 You may also enjoy How to Preserve Historical Charm During a Renovation

"There's a timeless , worn look about vintage items, and I love collecting them."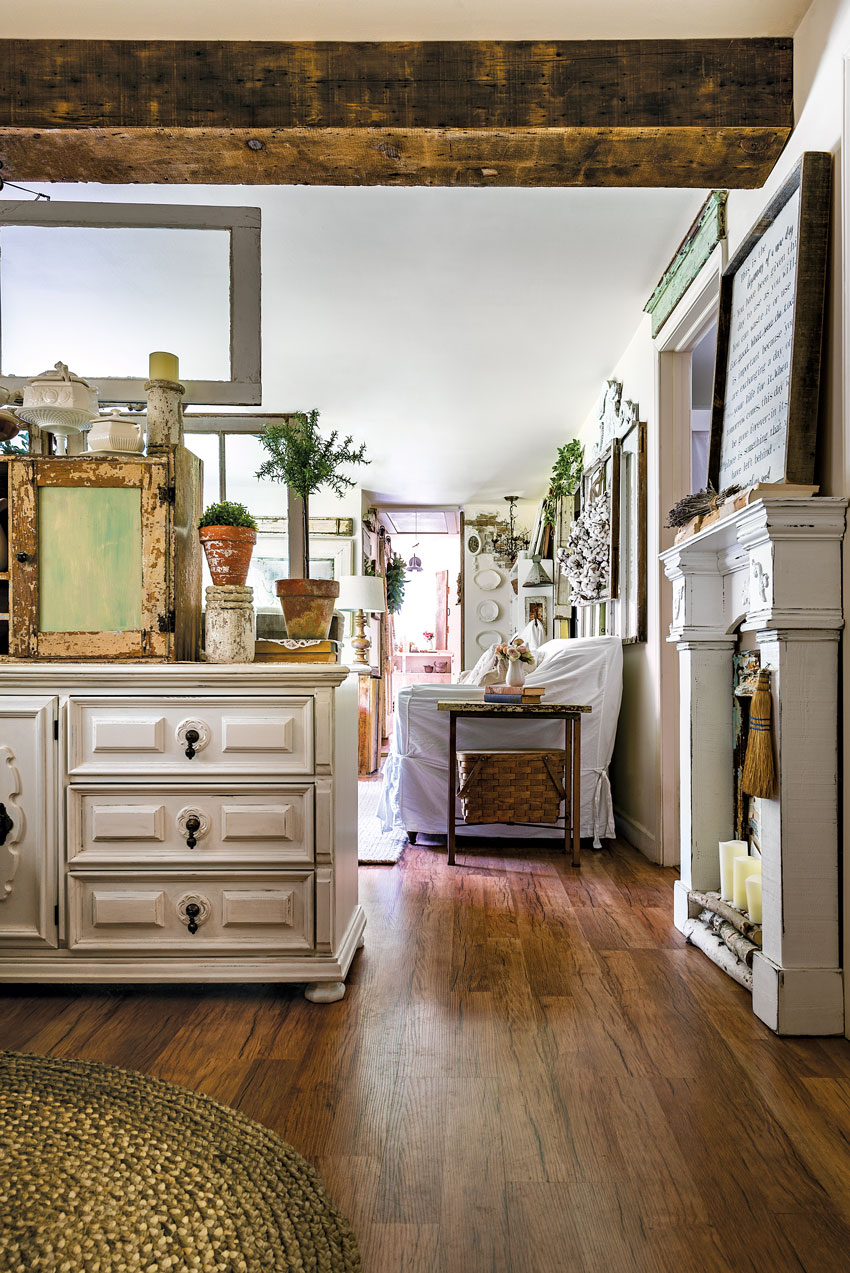 "We just took it room by room," Mickie says. "We pulled everything out and kind of rebuilt it." They tore out old flooring, added a ceiling beam to the main living space and made major layout changes too.  Inside, the original bathroom was particularly small, so Mickie made the decision to convert one of the three original bedrooms into a larger bathroom, while the former bathroom became the laundry room. Outside, the couple made a bold choice to paint the home's exterior bright blue and add gingerbread details.
Larger Than Life
The country cottage is small, but Mickie uses the challenges of having limited space as motivation to be even more creative. In the master bedroom, a salvaged, sliding barn door adds both charm and functionality as a closet door. In the tiny kitchen, open shelving maximizes storage space, and throughout the home, Mickie uses light and warm colors to keep the space from feeling cramped. "With everyone who comes and visits, they're always so amazed by how much larger it looks than it really is," Mickie says. "I think it's the way that we utilize the space by keeping on the lighter side with colors. When you use darker colors, it tends to draw everything in and make it look so much smaller."
This country cottage has become a cozy escape and a continual creative outlet.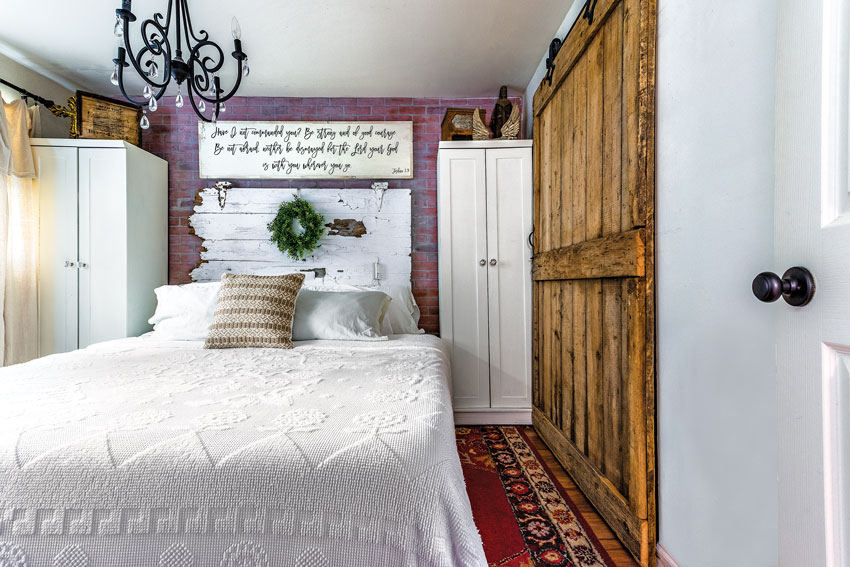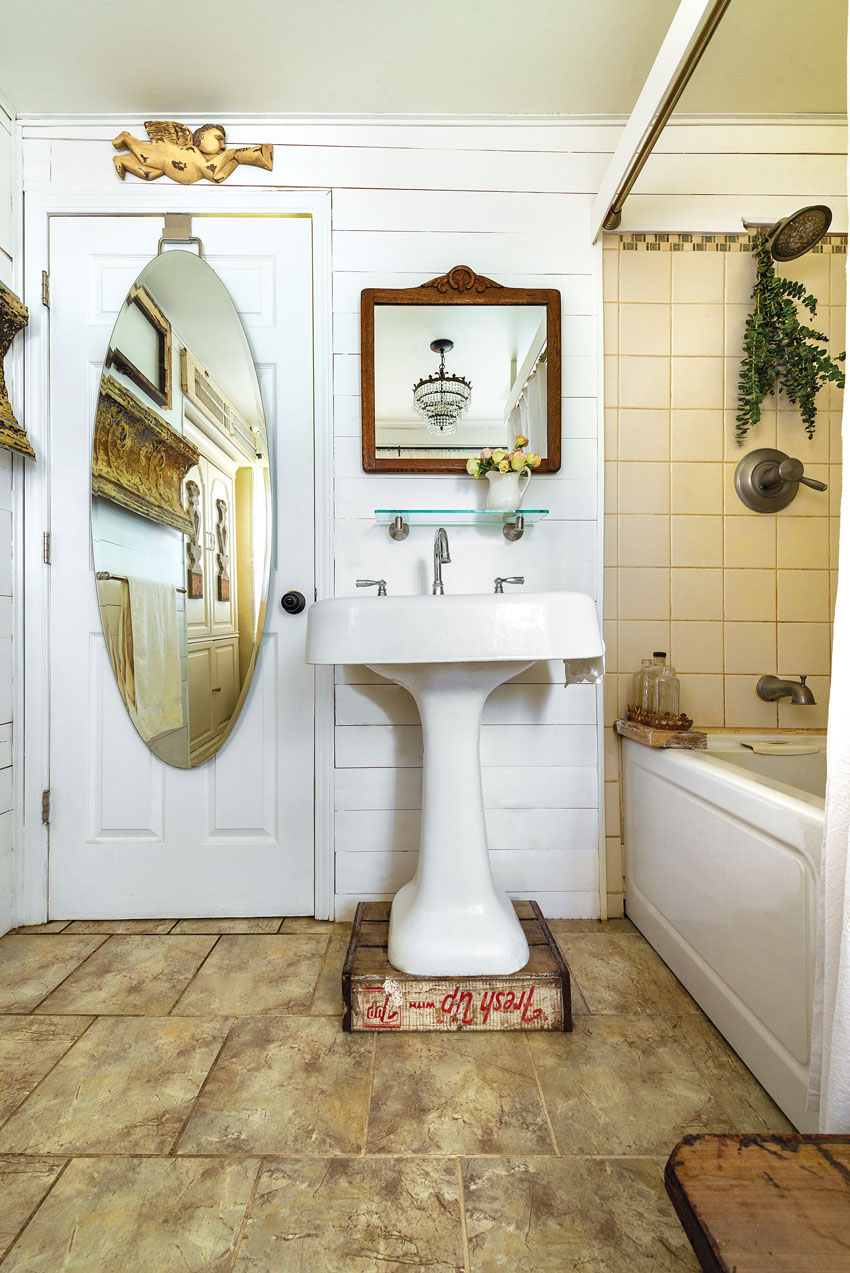 With such a small space, the house flows from one room to the next without much separation, but Mickie wanted more clearly defined lines between rooms. This desire inspired the addition of a ceiling beam between the living room and dining room of the country cottage. When decorating, Mickie creatively placed a large dresser between the two rooms and added a charming architectural cabinet on top of the dresser to hold her collected ironstone pieces.
To finish creating a sense of separation, she hung a vintage window frame from the new ceiling beam. "We tried to add a lot of visual interest but also divide the two rooms a little bit," she says, "and the dresser provides so much storage that we so desperately need." The end result is an eye-catching display that adds unique interest to the space.
Finding the Perfect Piece
Architectural salvage pieces are a staple in Mickie's design aesthetic. "There's a timeless, worn look about those items, and I love collecting them, "she says. "You can look at them and just know there's a story behind them." She and her husband frequent flea markets and antiques shops so she can hunt for ironstone, vintage mirrors and more.
Once Mickie discovers these treasures, she finds unique ways to incorporate them into her home.

"Nothing really stays in one place for a long time. I'm constantly changing things around," she says. On the dining room wall hangs an assortment of vintage spindles. In the master bedroom, an old barn gate serves as a headboard. The living room coffee table was once a chicken coop, and in the kitchen, a vintage tulip crate hangs from the ceiling. "I let flowers drape out the top of it, or I hang herbs from it in the kitchen," Mickie says, "I think that adds a bit of coziness and charm."
The Charms of Vintage Living
Mickie credits her husband with much of the work that has gone into creating their charming cottage. "I give my husband so much credit for being the guy that he is and taking this on," she says. "I knew instantly I wanted this little fixer-upper country cottage, but he was unsure." In addition to working on the plumbing and electricity, he even creates unique pieces from scratch like a set of interior shutters he built for a hallway window. "He had the salvaged wood, and he went out to his shed and came back in with these shutters that I just can't get enough of," Mickie says.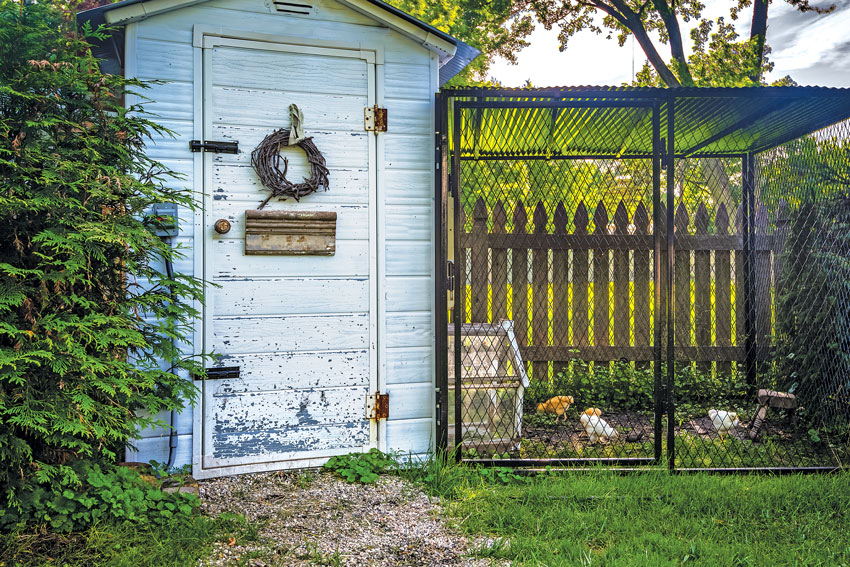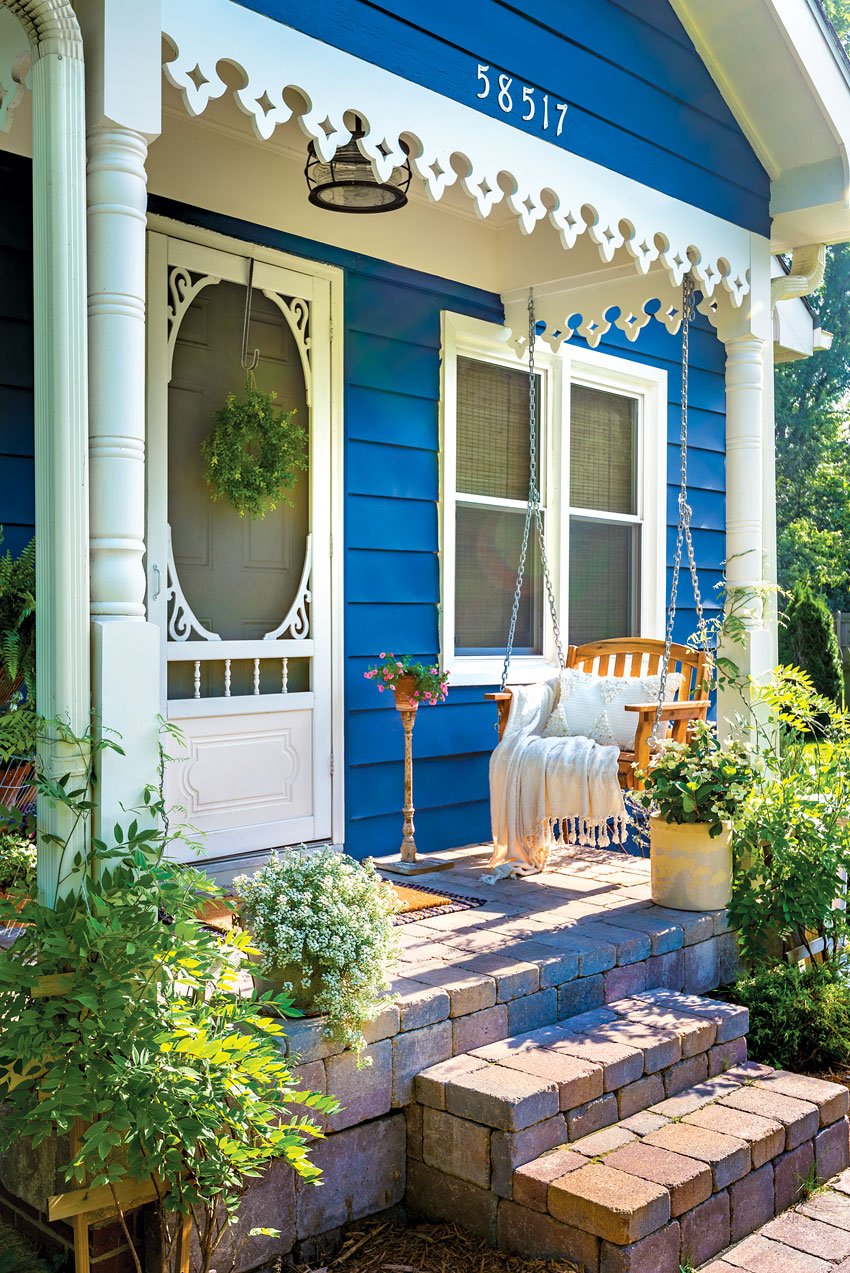 Beyond the work it takes to renovate them, old homes are not without their daily challenges. One winter, John had to crawl under the house with a blow dryer in an attempt to thaw a frozen pipe. Even with the challenges and the work, Mickie feels the home they have created is well worth it. This country cottage has become a cozy escape and a continual outlet. "I try to be creative here," she says. "That's what this little cottage speaks to me, and that's just what I want to bring out."
Sanctity of Mind in Small Spaces 
Close quarters can be cozy and comfortable, but they often come with both practical and design challenges. Here are a few of Mickie's tips for making small spaces both functional and aesthetically pleasing.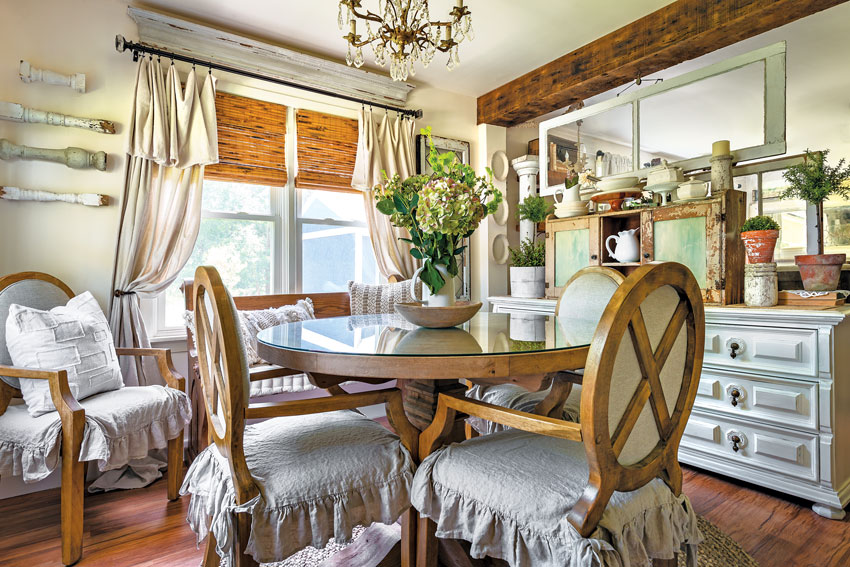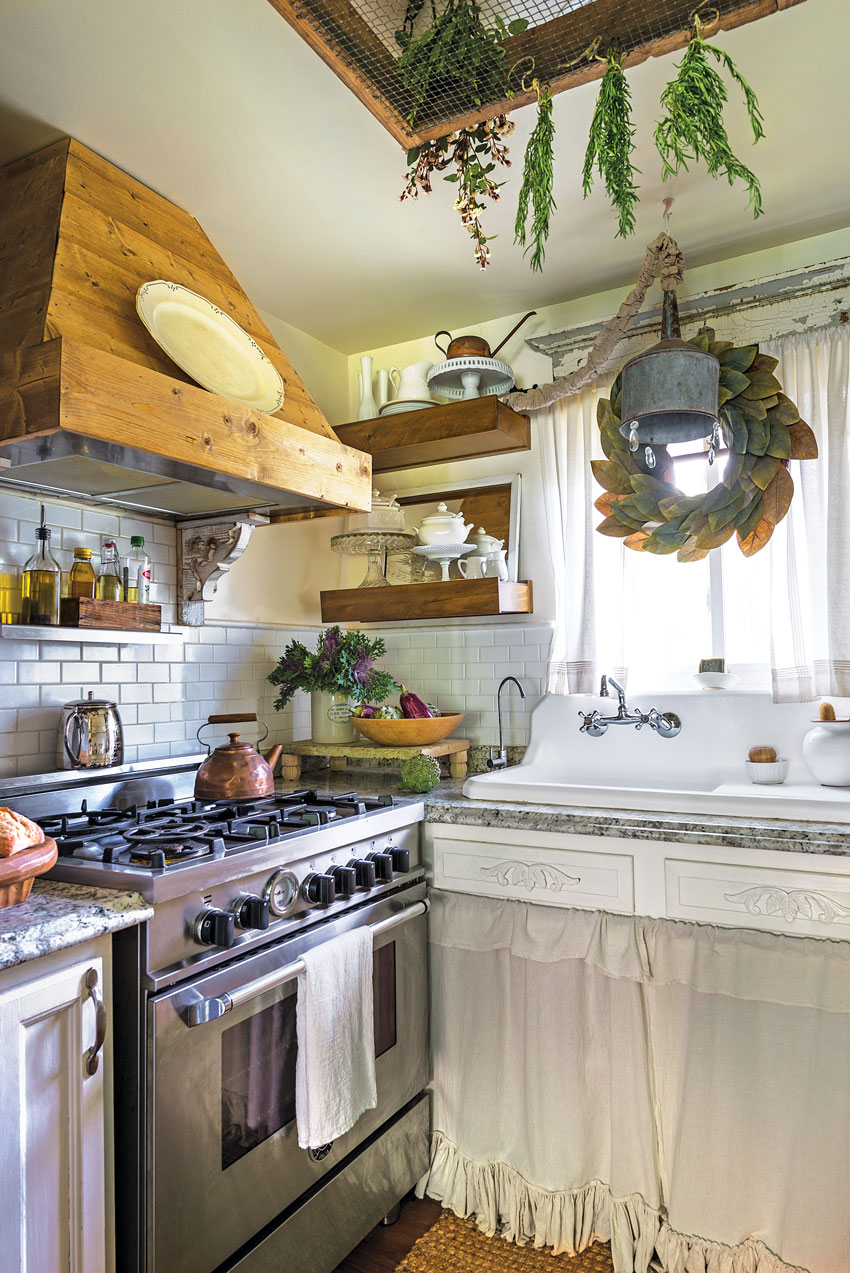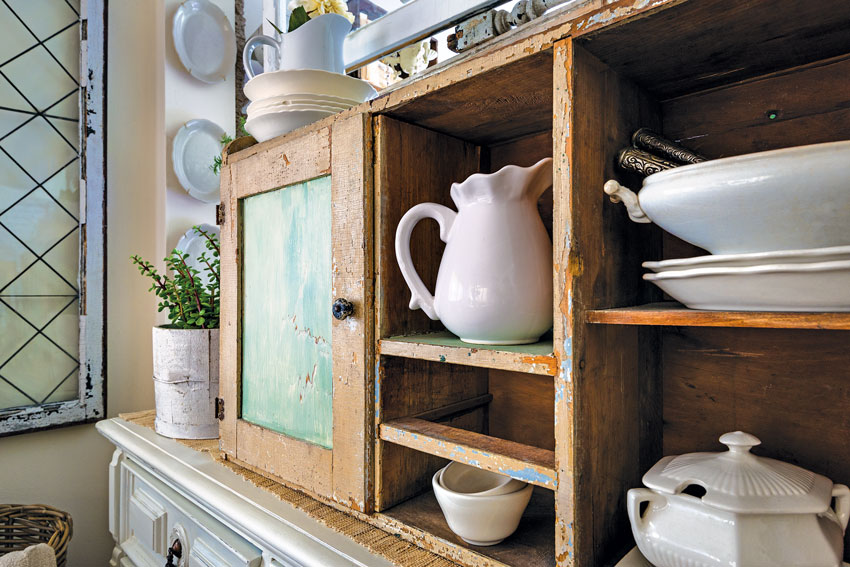 Large Cabinets. An inevitable struggle in small country cottage homes is the lack of storage space. In bathrooms and bedrooms, Mickie suggests incorporating large cabinets in which you can place linens, folded clothes and whatever else you need to stash away.
Light and Bright. "Keep things as light and airy as you can," Mickie says. This will make your space feel more open than it actually is. Dark colors make spaces feel cramped and closed. Choose paint and furniture colors like white (or something close to it), and you can't go wrong.
Mirror, Mirror. Want to create the illusion that your country cottage home is bigger than it actually is? Incorporate mirrors into the design. The reflections can make an entire room feel larger and more open, and Mickie's small home is full of them.
Mickie is constantly updating her home, working on projects and sharing her progress on social media. For a closer look, check out her Instagram feed: @cottageonmainst.
Need more ideas for cottage styling? Learn about Art Deco Decor for Your Cottage
Of course, don't forget to follow us on Instagram, Facebook and Pinterest to get your daily dose of cottage inspiration!