You'll want to be sipping on some sweet tea for this tour as you're transported through the splendor of the Rose Hill Mansion. Often called the South's most beautiful plantation house, historic Rose Hill in Bluffton, South Carolina, is now open to visitors.
A Gothic Revival Beauty
The Rose Hill Mansion, as it's now called, started out life in 1858 as a beautiful plantation home. Originally built for John Kirk and his wife Caroline, the house was then labeled a "cottage" to sit among 1,000 acres of valuable land growing sea-island cotton, indigo and mustard. When finished, this cozy cottage turned out to be a 10,000 square foot Gothic Revival Mansion, built of bright white board-and-batten cypress siding with a steeply pitched roof and brick foundation.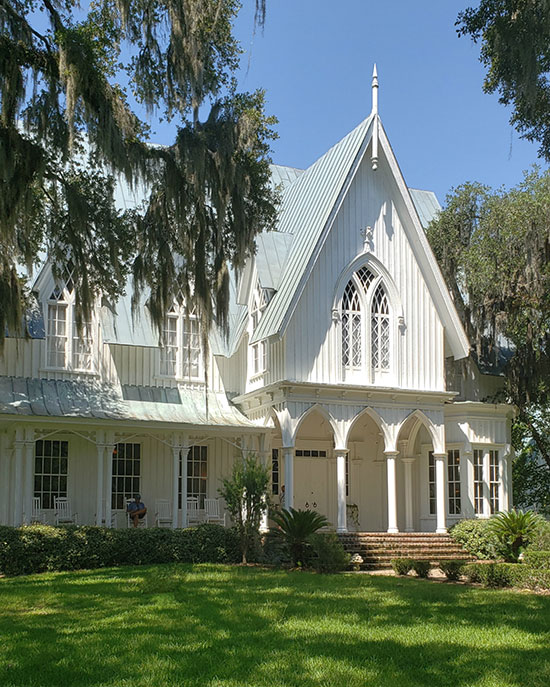 A Rose By Any Other Name
Rose Hill is named after John Rose, the original owner of this land who purchased the property in the 1770's. After his death, he gifted the land to one of his stepsons in the Kirk family. Now the property is surrounded by hundreds of real-life roses, in honor of its namesake, founder of Rose Hill.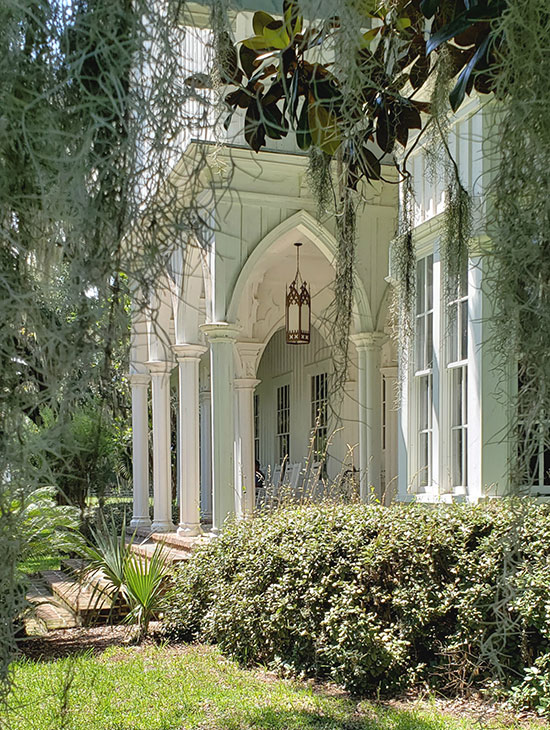 Quite a History
Legend has it that when Yankee troops invaded Bluffton during the Civil War, they chose not to burn this mansion because of its resemblance to a church, and felt it was too beautiful to destroy. It survived until, as luck would have it, a fire destroyed most of this home in 1987.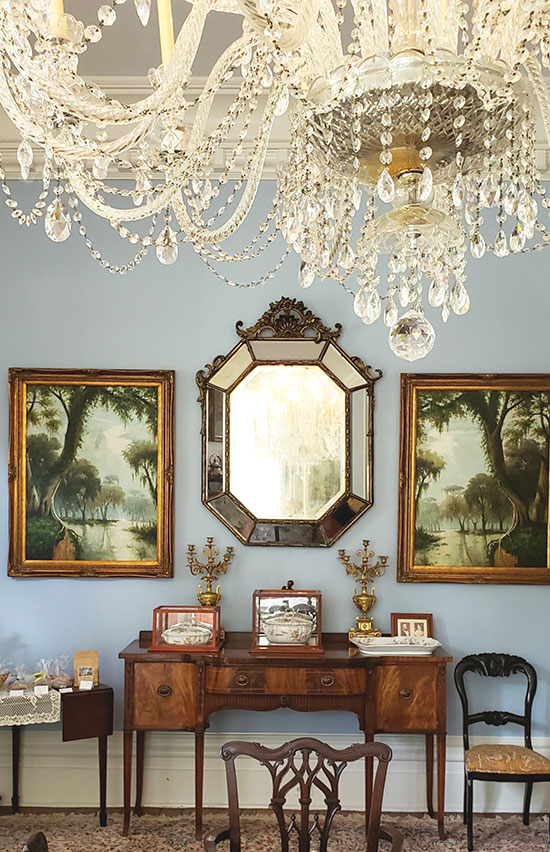 Bringing this Home Back to Life
Current owners Robert and Robin White purchased the charred structure in 1995 with the dream of restoring it back to its original splendor, and they've succeeded in bringing back this amazing architectural dream and saving it from total destruction.
Although the Whites are full-time residents of the Rose Hill Mansion, they generously open their home to guests who can reserve a guided tour. Rose Hill is also a beautiful location for weddings and other festive occasions.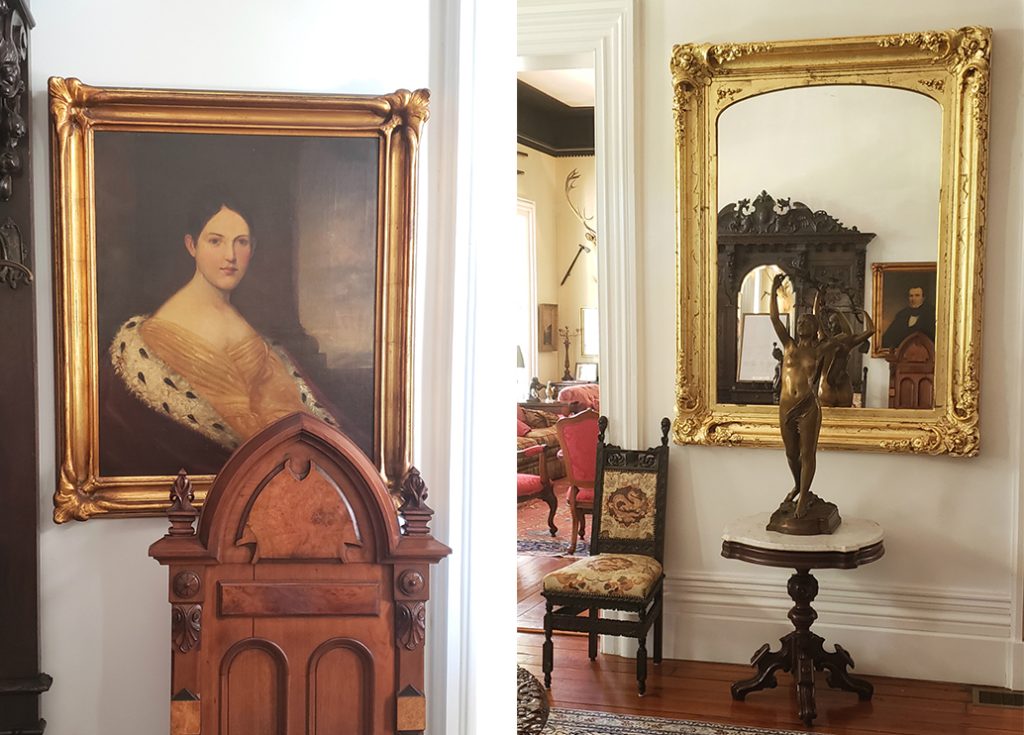 Beauty for All to Share
Driving into the private community surround Rose Hill, we were really wowed by the sheer beauty of the surroundings. As we approached this home along the winding road, we suddenly saw the magnificent white peaks of the roof appearing behind centuries-old oak trees that were just dripping with Spanish moss. Up close the home is equally as stunning as it is viewed from afar.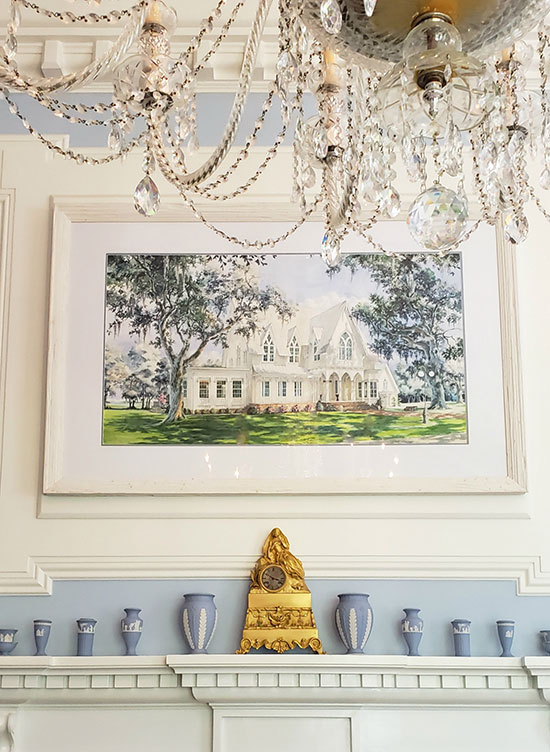 A Guided Tour
A short drive from Savannah or Hilton Head, the Rose Hill Mansion is open during the week at 2pm for guided tours. On the tour, you'll visit each room on the first floor while hearing the fascinating history behind this pretty home. The tour concludes in the dining room with a delightful variety of regional appetizers and desserts to sample.
Thinking about seeing Rose Hill yourself? The property is a private residence so no unannounced visits but you can book a reservation for a guided tour here.
Creating beautiful tablescapes is one of Fabiana's many talents and passions. She regularly shares her delicious recipes on her blog, Ciao! Newport Beach and on Instagram.
Looking for more travel ideas check out this post on charming English cottages that you can rent.
Of course, don't forget to follow us on Instagram and Facebook to get your daily dose of cottage inspiration!