When fine art photographer Gray Malin revamped his classic 1920s bungalow in California, it was less about needing a complete makeover and more about updating the look to match the current vibe he was looking for. He wanted to better reflect life on the West Coast. "When I moved from Boston to Los Angeles, the essence of coastal living attracted me," Gray says. "I was motivated to explore this décor style, but I wanted it to feel elevated and sophisticated." Driven by his love for the water and the refreshing nuances of navy blue, Gray and his husband transformed their kitchen and dining room into a nautical-themed paradise.
Let your artwork define the room's color palette and become a focal point.
Gray's kitchen and dining area before the redesign was functional but his goal wasn't to rescue a bad space, but to welcome the spirit of coastal life into his home. "We completely redid the kitchen in navy and white. We added a white subway-tile backsplash, white cabinets above the counter and contrasting navy cabinets below," Gray says. "In my work, I'm drawn to the water, and my husband and I are both naturally attracted to navy blue, so nautical was something we agreed on without hesitation."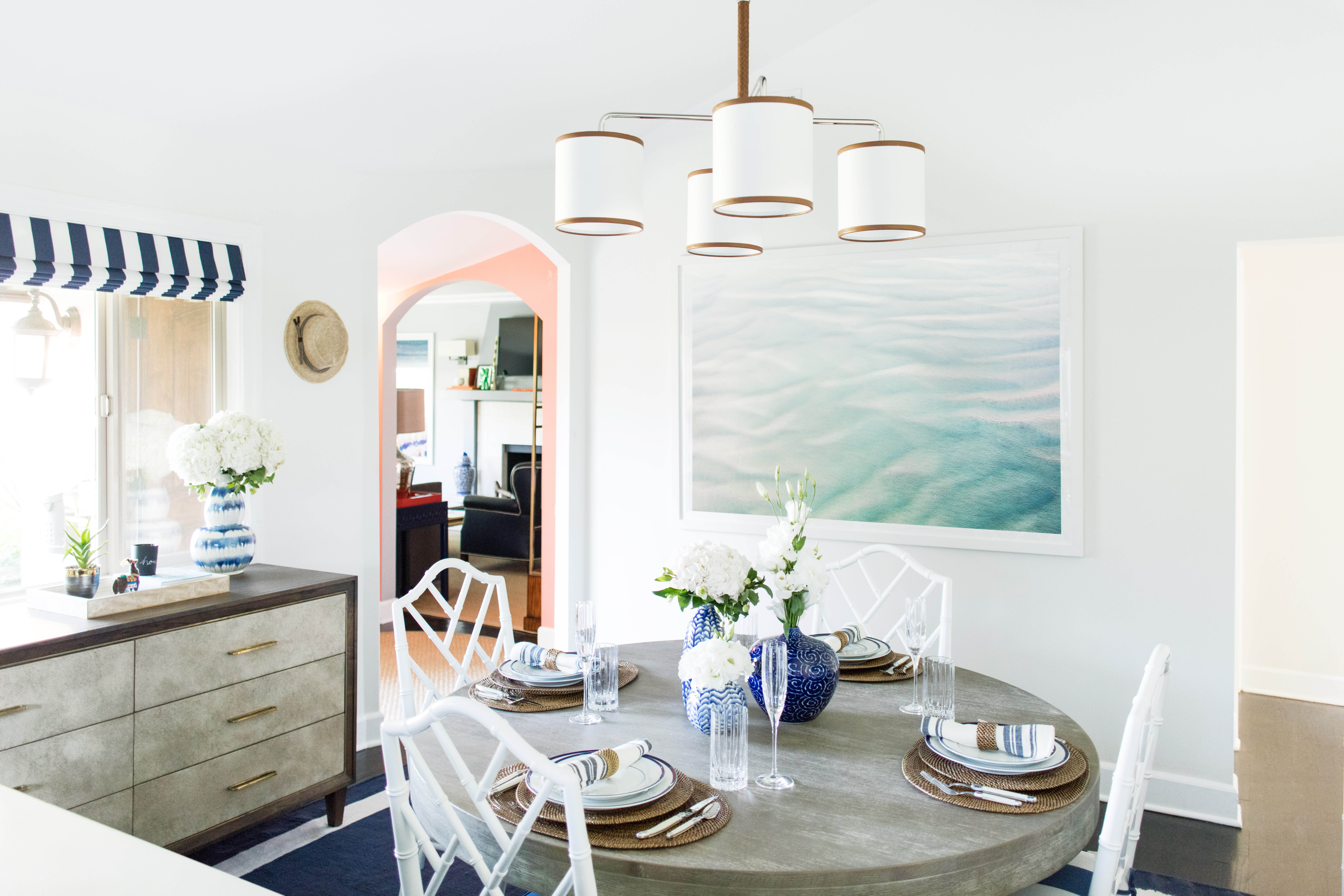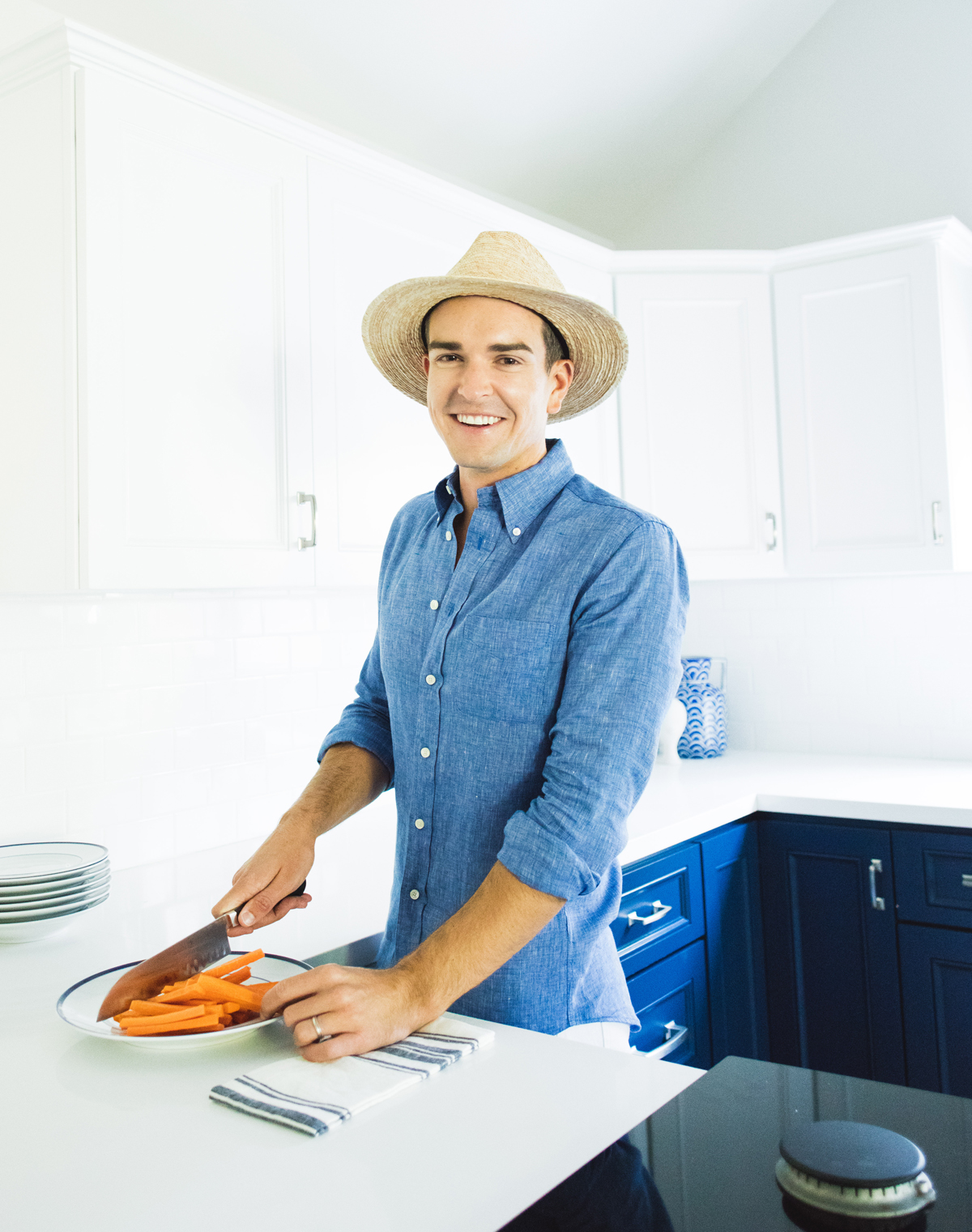 Prior to the makeover, the kitchen and dining area lacked a refinement and relaxing coastal vibe. "Recently, we redid our guest room with soothing muted tones and large beach aerials from Bora Bora." Gray says. "I looked to our kitchen as the next project. I was ready for a change and inspired to carry the color scheme through the house."
"I love art that grabs my attention and demands I take a second look; this is what I try to create as well in how I style," Gray says. "I typically start with the artwork and then build the room around it." A muted palette of navy and white, allows his artwork to color the space and set a relaxing ambience. Gray's aerial beach prints not only set the mood and color scheme but also act as a springboard for his nautical-themed décor.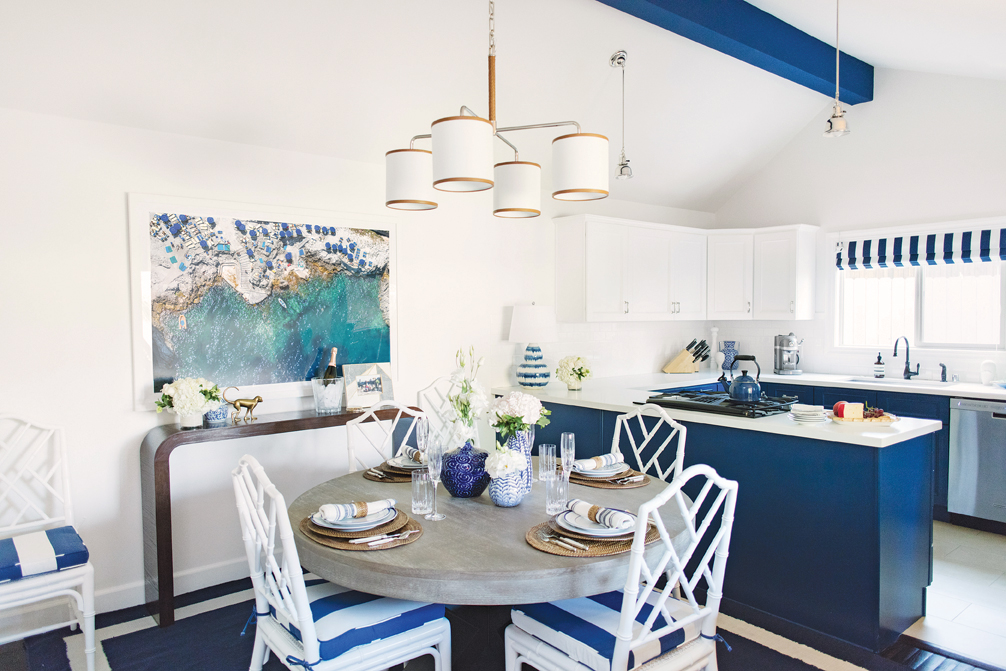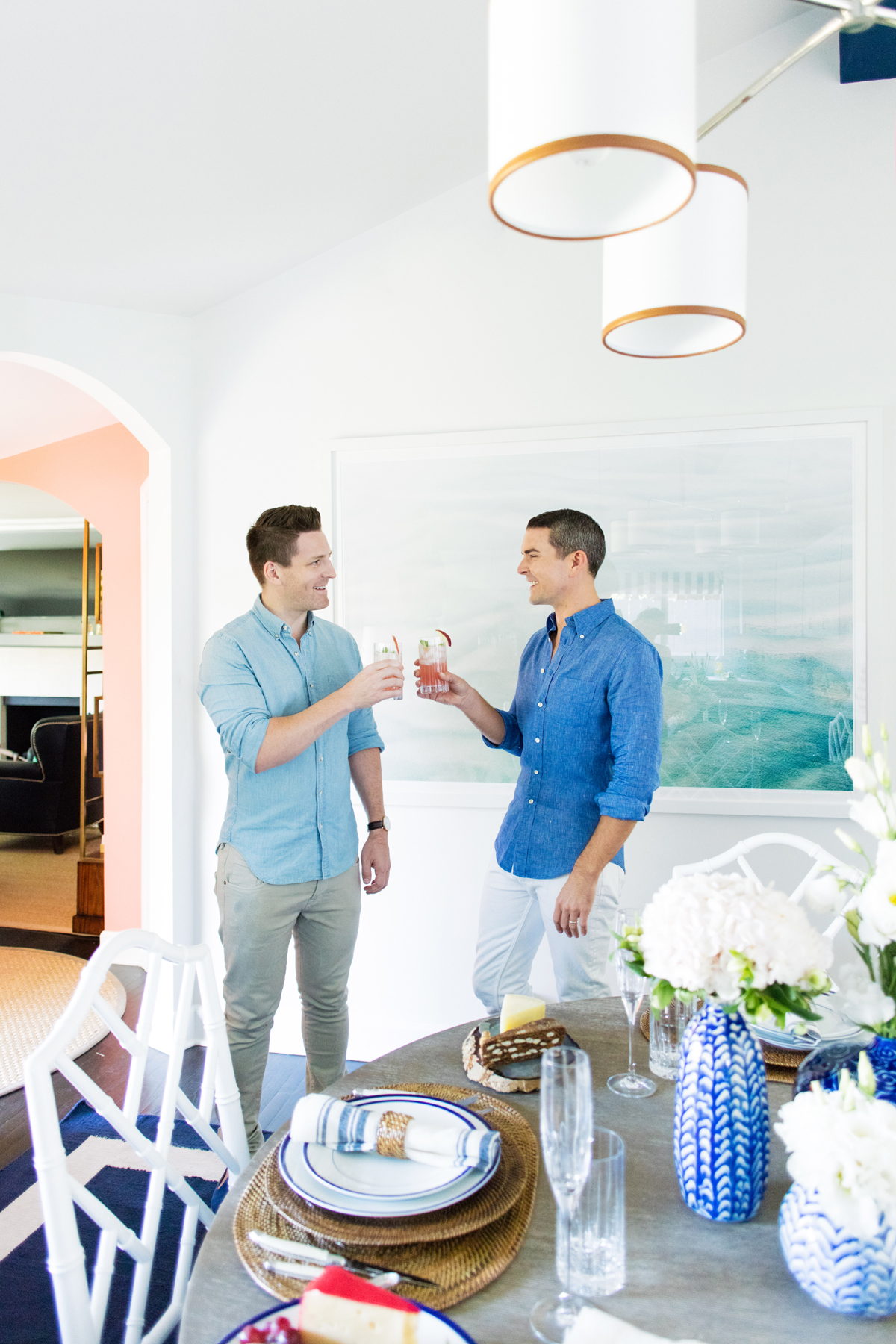 Gray shifted his focus from the artwork and composed the rest of the dining area around a stunning wood table. "My husband and I envisioned a round table and an extra-large console for our expansive collection of dinnerware. We love to entertain, and setting a great table is important to me," Gray says.
"When I moved from Boston to Los Angeles, the essence of coastal living attracted me. I was motivated to explore this décor style, but I wanted it to feel elevated and sophisticated."
Consider the structure of your dining room and the shape of the pieces. Round tables inspire a together feel. Keep everything within reach by stowing your dinnerware inside a spacious dresser or console. You'll ditch countless journeys to the kitchen and free yourself to focus on the most important element of any home: spending time with your loved ones.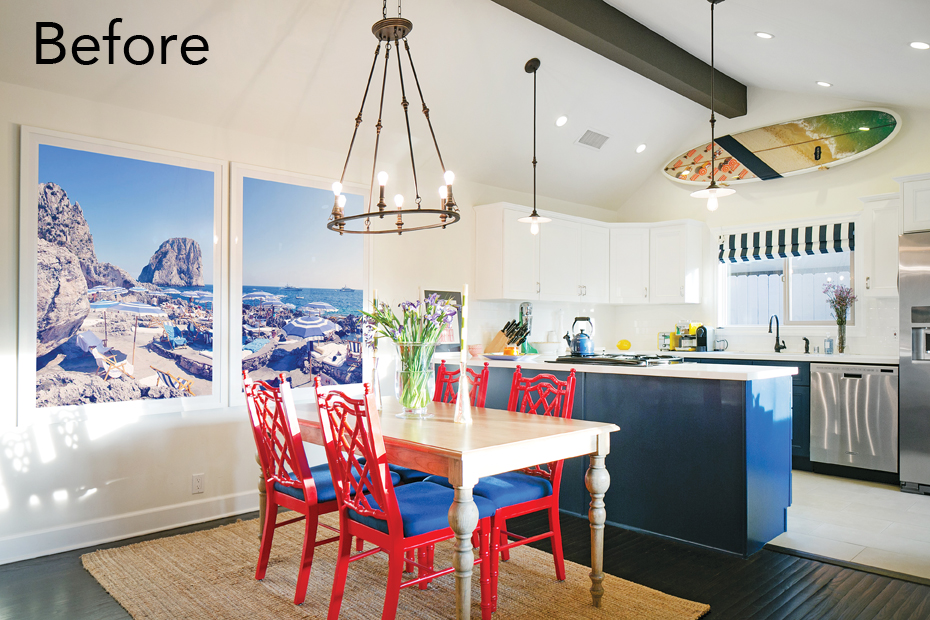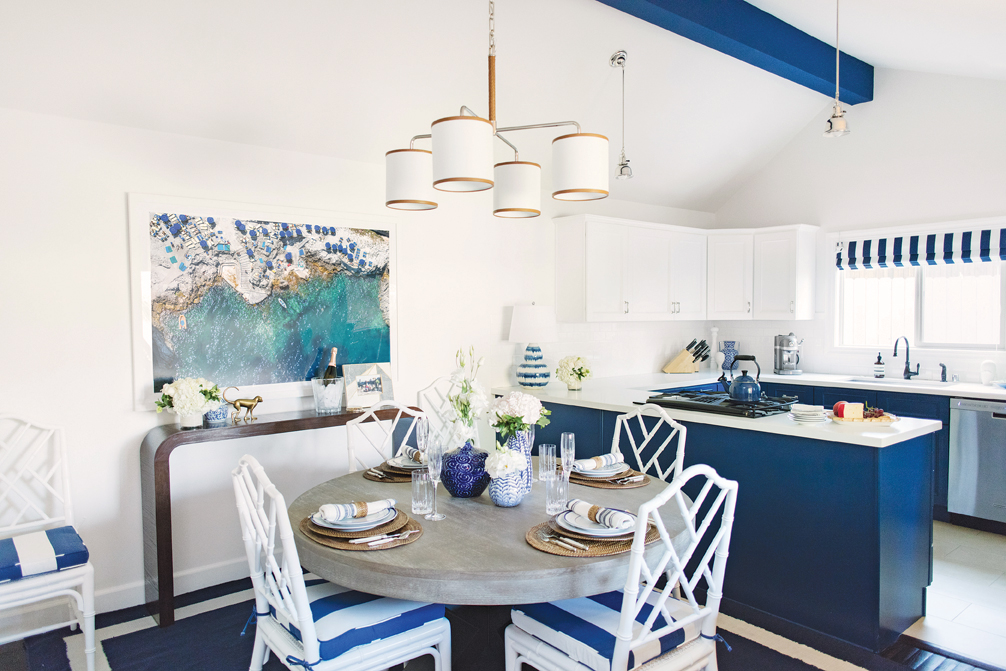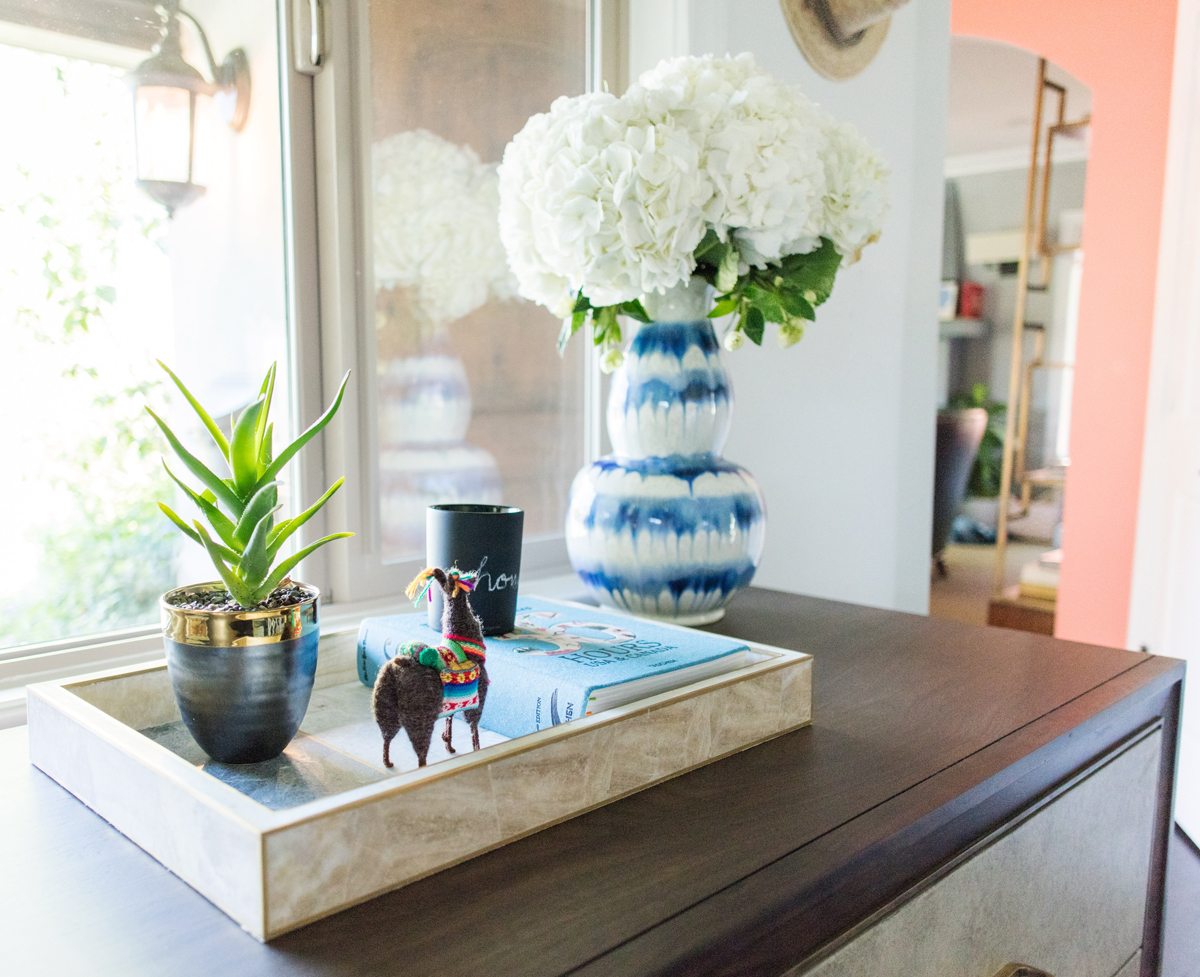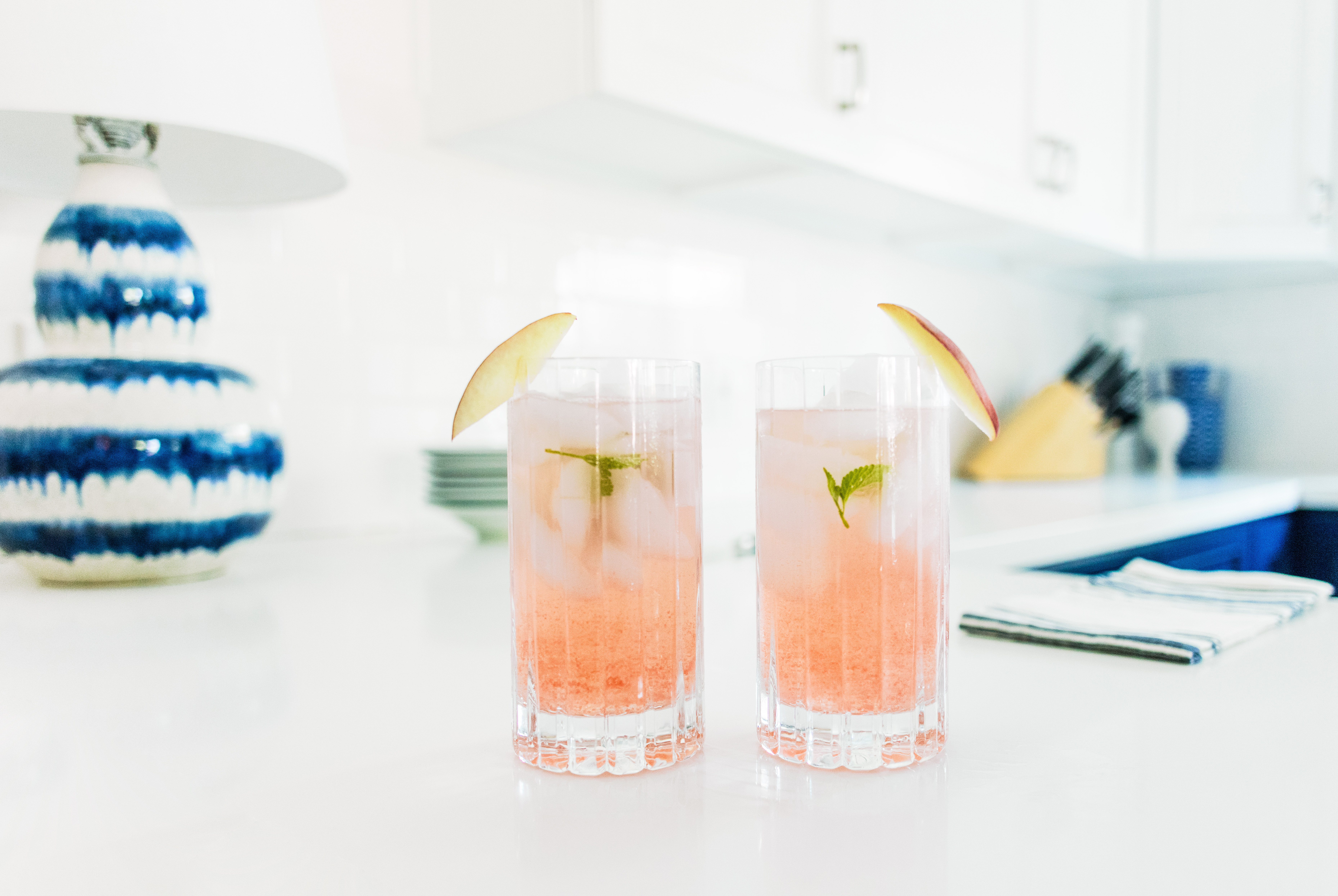 Gray's gorgeous beach prints and the wood table played a key role in the revamp. "I love a round table where everyone can see each other and feel together during a meal," Gray says. Another star element was the light fixtures. "I love how the chandelier's light mixes with the illumination from the table lamps," Gray says. "Together they set a warm, welcoming ambience for our dinner parties."
Make a statement, and mix different materials for a beautiful contrast. Here the subdued color palette, bronze embellishments and natural woods harmonize to create a unique, upscale look. "The table's texture is fantastic against the smooth white Caesar stone counter," Gray says. "The light fixture has a fun leather accent, and the chinoiserie lamps and vases give curves to the linear walls and the large navy beam across the ceiling."
Small touches can have a big impact. Chinoiserie lamps, tableware and vases complement any room with their neutral color palette and minimal patterns. Navy-and-white striped linens and décor accents are perfect for nautical-themed spaces.
Preparing for an evening of fine food and company. "When you're creating art or designing a room, you want to make something that sets the tone as well as evokes a mood from its viewer," Gray says.
Find Gray's inspiration image and more of his wall art here!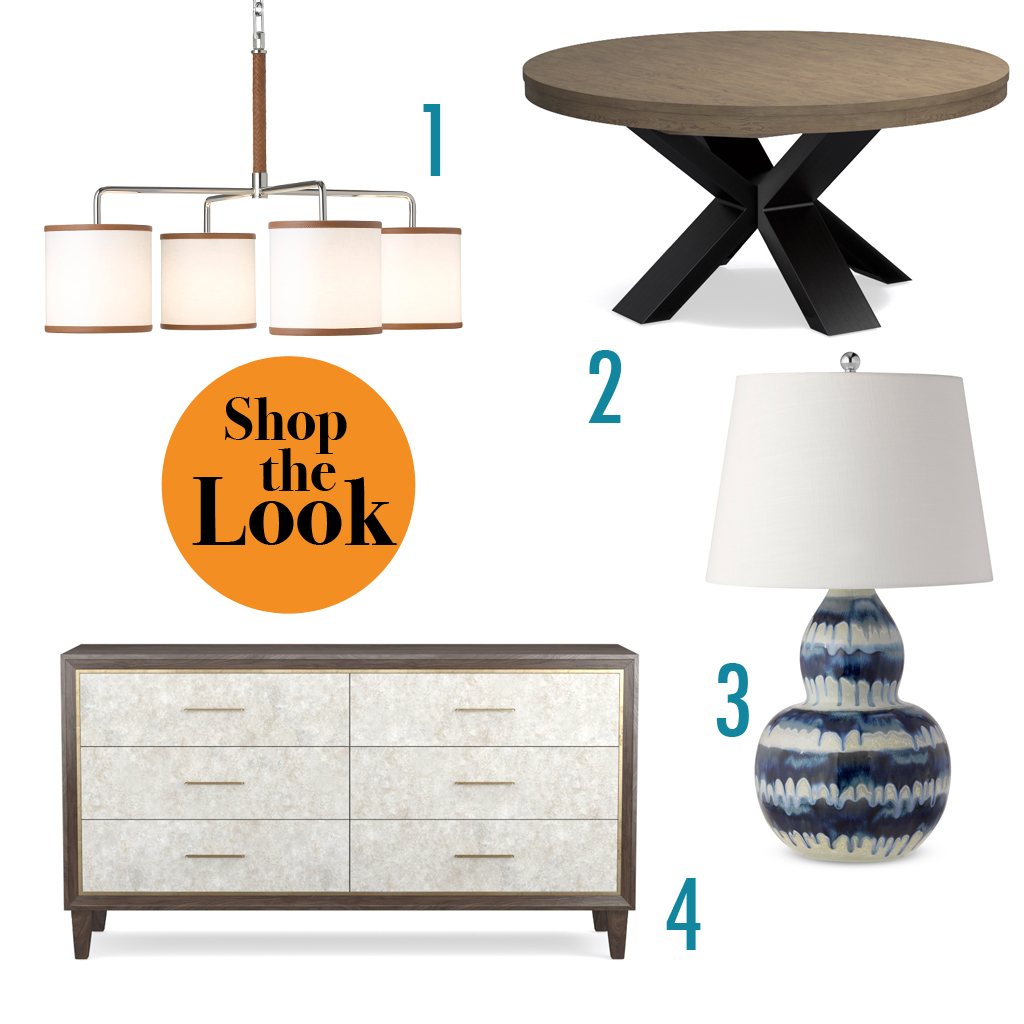 Recreate Gray's chic coastal redesign with the following signature pieces from Williams Sonoma:
1. Woven leather chandelier, $895.
2. Navarro round dining table, $3,295.
3. Camila table lamp, prices vary.
4. Parchment dresser, $2,995.