One of the biggest delights in owning a home is getting to put your own unique stamp on it. It's how you show your personality, and how you share that with friends and family. We took a sneak peek into the homes of two well-known creatives, to find ideas for infusing a home with signature style and help from Capital Lighting Fixture Co.
Home Makeover No. 1: The New Build
Newly built homes can be tricky, as they can be a bit of a blank slate. But for DIY expert Mysha Bolen, who shares her creativity at the blog Remington Avenue, her brand-new Modern French Country home was an invitation to express herself. The Utah-based blogger turned to special details and fixtures from Capital Lighting to create a stylish, cozy, yet still family-friendly, home.

Mysha starts her signature style story right at the front entrance of the home, where she used Capital Lighting Fixture's Donnelly Outdoor Lanterns to flank the arched door. Playing off the flat black finish on the steel doors, the lanterns feature a simple, traditional look that adds stately charm. Made especially for outdoor use, the fixtures are made from non-corrosive materials and coated with an ultraviolet inhibitor, to help resist rust and fading.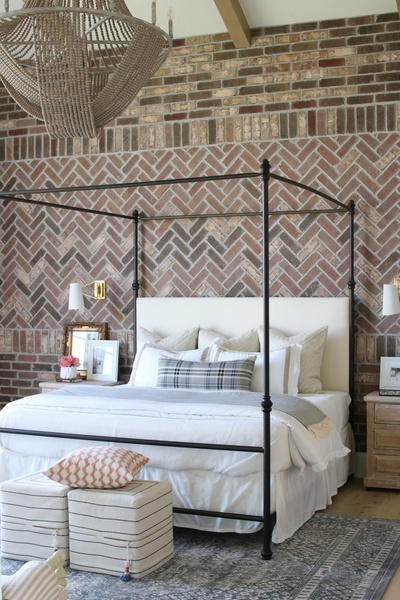 The amazing master bedroom features a transitional French country decor, blending contemporary looks with more traditional styles. A herringbone brick wall, textured drapes and white-oak floors support that rustic French look Mysha is known for. But the showstopper is the chandelier, from Capital Lighting's Kayla Collection. The graceful wooden beads drape down from the chandelier, giving the room a touch of Paris refinement, while still keeping things airy and relaxed.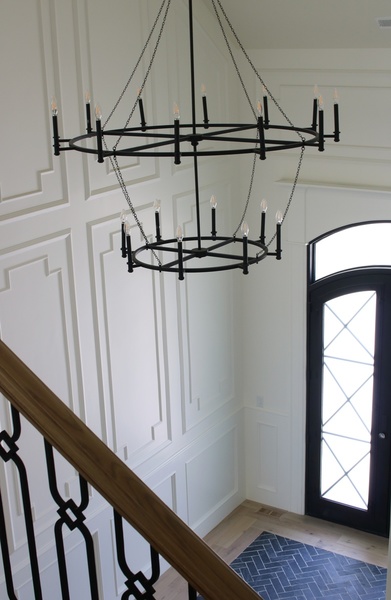 Drama in the foyer! The chandelier, from Capital's Lancaster Collection, works perfectly here with the higher ceiling and wainscoting on the walls, creating a focal point. The Lancaster is bold, but not fussy, adding a farmhouse touch that accents Mysha's French Country signature style.
Home Makeover No. 2: Creekside Brick Beauty
Amanda Lankford is the founder/owner of Amanda Jewel Floral + Design, a wedding and event planning studio in Atlanta. After years working in event production, Amanda has also branched out into interior design. Her own charming brick home in Atlanta exudes her signature style, which is a blend of midcentury, bohemian and modern.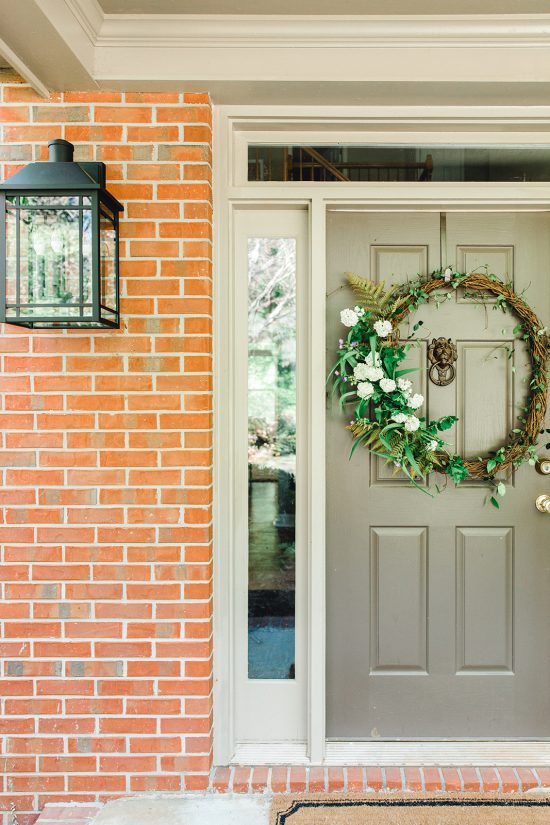 Naturally, a floral wreath welcomes visitors to Amanda's home: She grew up on a farm, making flower crowns and plucking flowers from the fields. To best accent the brick home, she chose a lantern from the Braden Collection of exterior lights. It has a craftsman-era spirit, and is made of durable, non-corrosive materials to stand up to the elements.
Inside, her goal was to transform the living room, dining room, and a cozy sitting area adjacent to the kitchen.

The kitchen's conversation area boasts tons of light from the windows and has fabulously high ceilings. To avoid competing with that airy, spacious feel, Amanda chose a 24-light chandelier from the Pearson Collection, with rustic lines. Even when it's not switched on, the chandelier suggests a warmth and simplicity.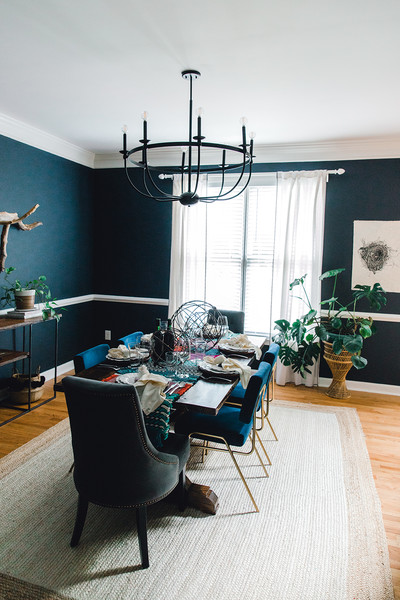 The dining room had originally been a rusty orange-y red, but Amanda was in search of a more organic feel. New paint in deep navy, art of a bird's nest, and a jute area rug all lend a natural, but polished, feel to the room. For lighting, Amanda installed a Rylann chandelier. Its shape suggested "nest" to her and the vintage-inspired design is a knockout over the wood table, made by her husband.
As great as it is to see what design pros like Mysha and Amanda are up to, be sure to visit a local lighting showroom on your own. There you can see and touch the Capital Lighting fixtures yourself. Check out the scale and finish details, and see how the looks will work in your own home.