This week I'm so excited to introduce you to our new our new renovation "State St. Bungalow." This beautiful 1920's bungalow is such a vintage charmer! When my client reached out, she originally just wanted to renovate her unfinished basement, but we ended up remodeling her entire home. I really wanted to keep the 1920's era character of the home along with my client's wishes to mix in a little farmhouse design.
This week we start with the sunroom remodel. It's truly the front entry of her home so it was important to make a good impression here. The room was a closed-in porch in the early 1900's, then it was turned into a sitting room that no one really used. The floor was still slanted towards the outside and there was a large step into the house through a second entry door.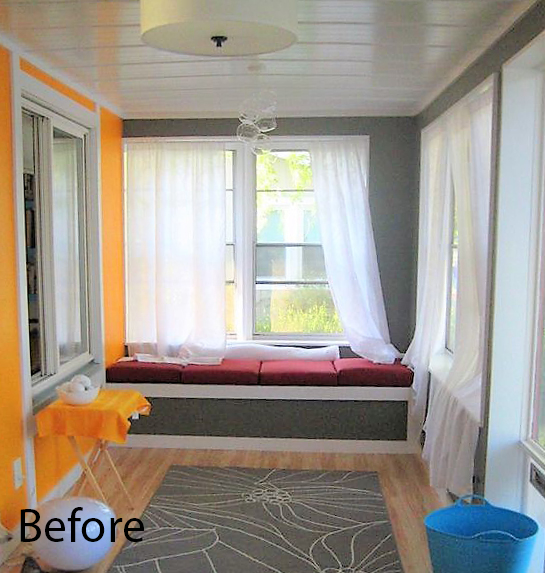 I really wanted this to now be part of the home and make an entry statement. My client sometimes works out of her home and did not have a space to call her own. Instead, she was using the family dining room table. So we decided to make half of the sunroom her office space and the other half a lounge area for when her clients stopped in. And yet we needed the space to be one the whole family could enjoy. So, this is what the space looks like now!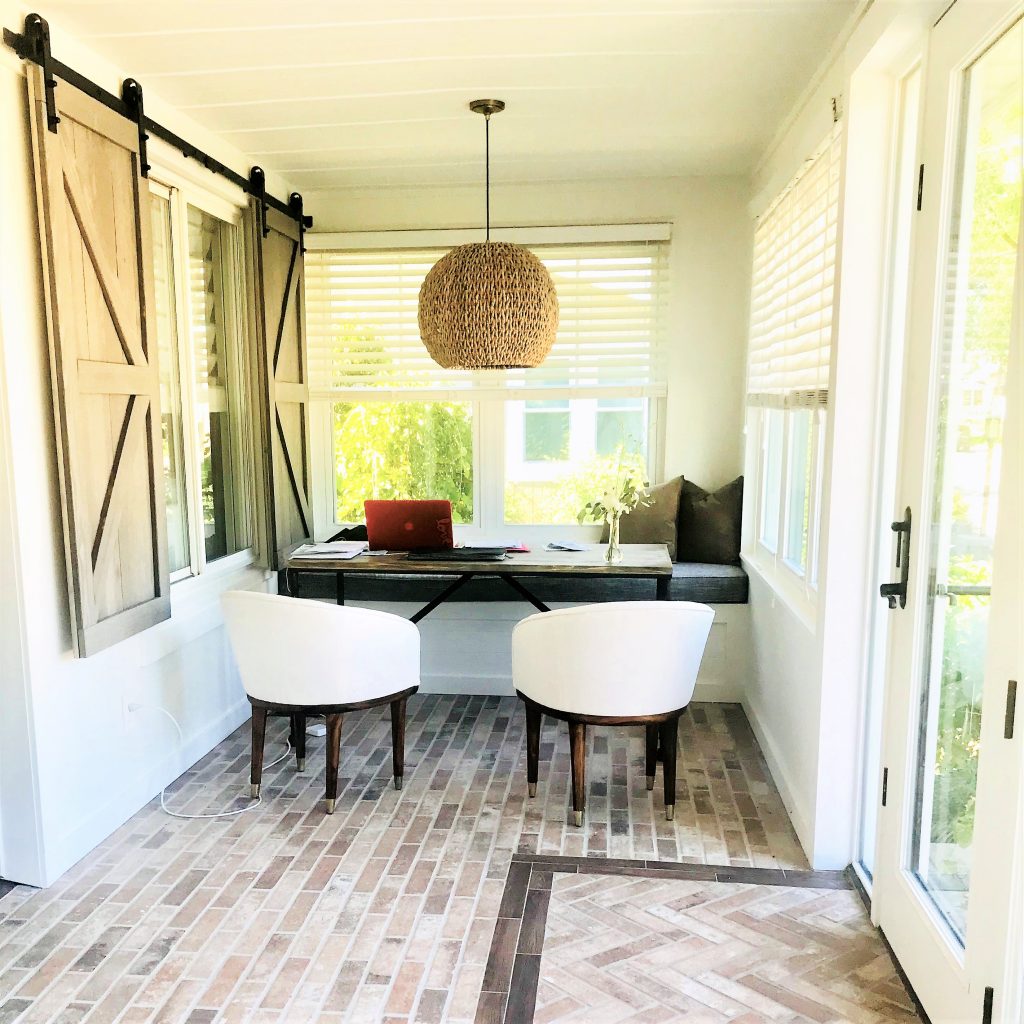 Finally, she would have a space to call hers…along with her labradoodle Olive. The cool thing about this office idea was that between the sunroom and living room was the old original exterior door from a period before the sunroom remodel was finished. I planned to replace the old exterior door with a new interior door that had the same vintage appeal throughout the home. This would really give my client office space that could still be separated from the home when needed.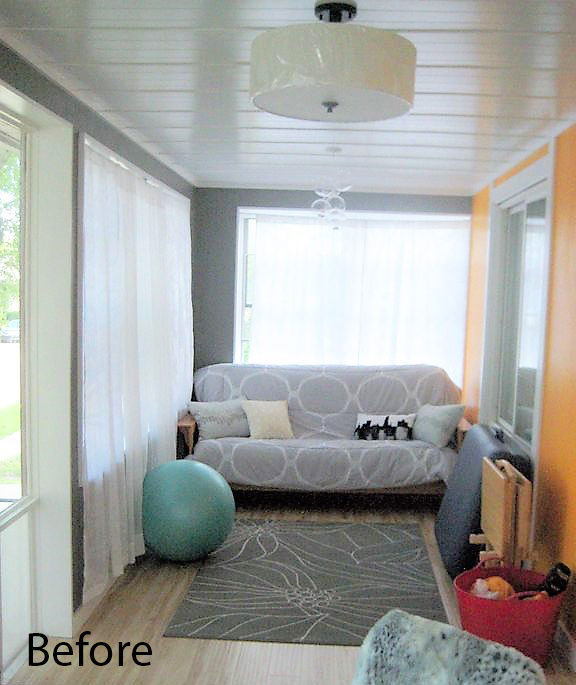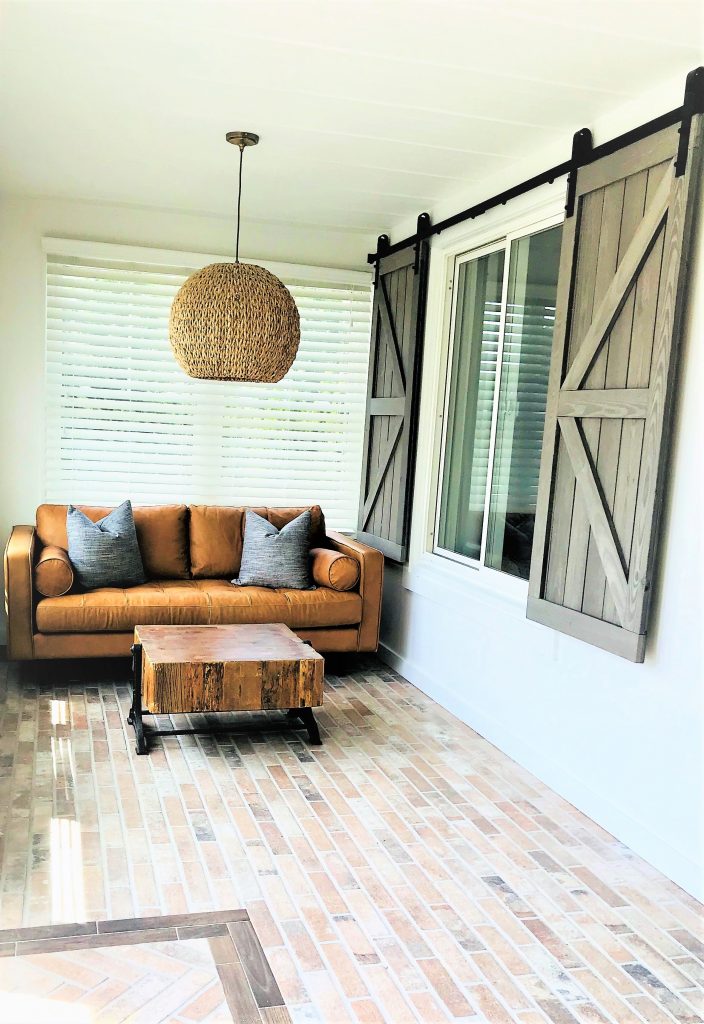 The sunroom has windows that look into the living room and master bedroom. I didn't want to cover these windows with window treatments since the light filtered through the living room space, which kept it so bright and airy. My solution was to have my team make custom reclaimed wood shutters that she could close when she was either on a conference call or sitting with a client. When her office was not in use, these shutters would remain open and not only give her unique artwork on her walls but really make a statement. I had my team use barn door tracks to hang the custom shutters for easy opening and closing plus this tied in the retro vibe.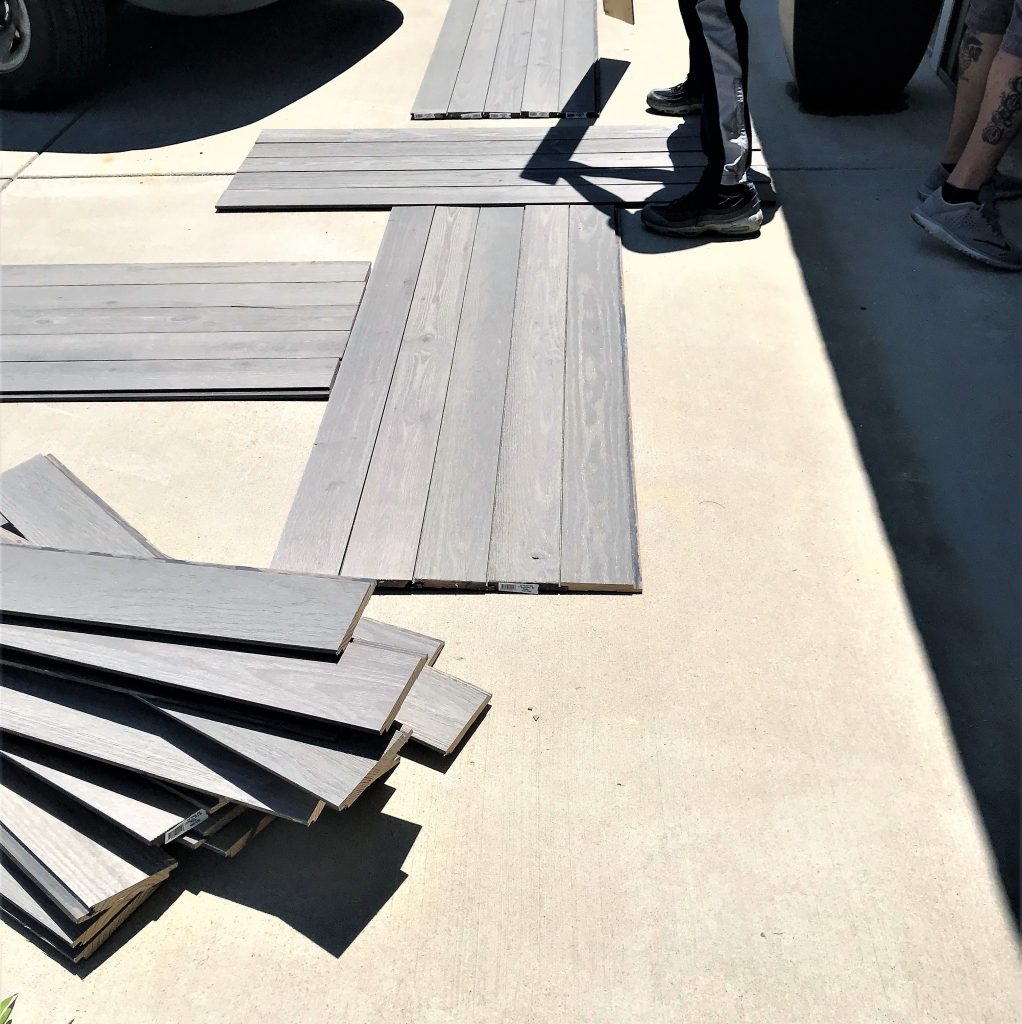 The original floor in the sunroom was vinyl. My client wanted tile because it's all-weather friendly. But for the historical character, I showed her this amazing tile that gave the appearance of real brick. Since this sunroom is longer than it is deep, I wanted to break off the brick pattern up a bit, so I added a wood tile inlay mat at the front door. This would also separate the office space from the new lounge area when walking in the front door.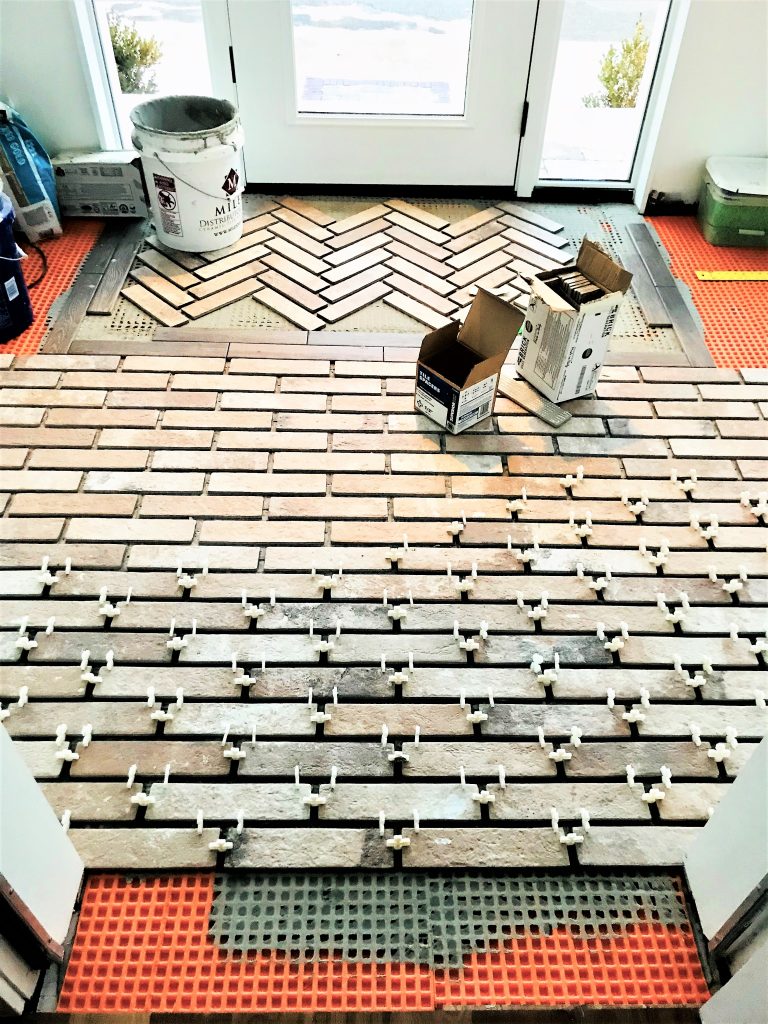 When you have lower ceilings, the first thought is often to put in recessed can lights, but who follows rules? Not me! I opted for these amazing rattan lights from Arhaus and guess what… they are up and they look amazing!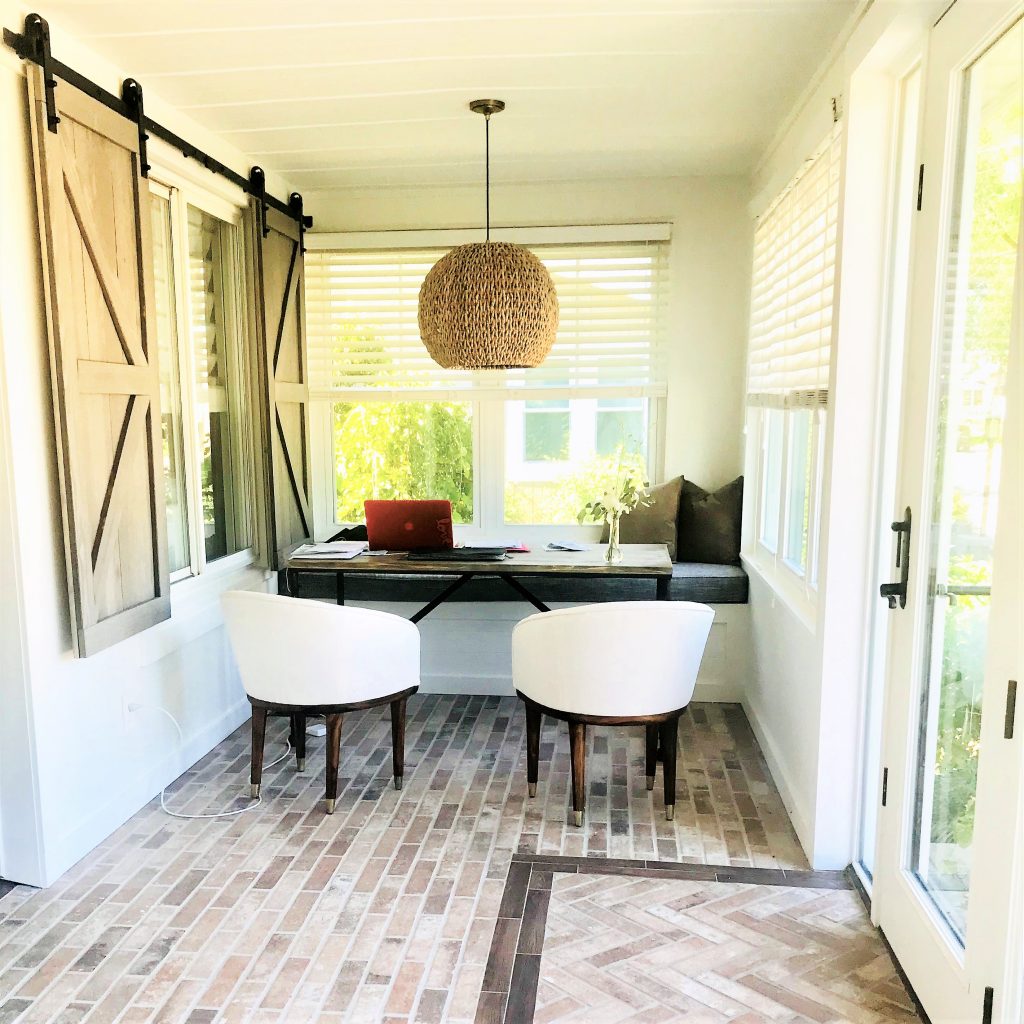 Next was furnishing, the fun part! Since we were really leaning towards vintage farm, I went with a saddle-colored leather sofa and chunky wood coffee table for the lounge area. For the office portion, I found a desk that really complimented the reclaimed shutters. Since the new desk butted up to an original custom built in-bench seat, I used this and had Jodi my seamstress make new thick custom cushions and pillows to pop the space! I also had Jodi make a few big feather down pillows of the same material as the office cushion, for the new sofa in the lounge area. This helped to pull both sides of this room together by sharing some matching fabrics. I then added two white wood trimmed chairs for the other side of the desk for her clients to relax in. The chairs were so comfy and cute, they also came with cow print cushions to really add some farm flair! Sunroom remodel complete! I hope you all enjoyed the before and after pictures. Stay tuned for more of the "State St. Bungalow".
Follow us on Instagram @theflippindesigner or visit our website! Merry Christmas!
XO, Betsy Glass
"The Flippin' Designer"
Want to see more of Betsy's past projects? Check out the remodel of this lakeside cottage.
Of course, don't forget to follow us on Instagram to get your daily dose of cottage inspiration!