Hi everyone, I hope you had a terrific holiday!! This week is the final reveal of Victory Farms.  I have added before & after pictures of each room so you could see how this home transformed into my clients dream vacation home. Seeing it all together makes me so proud; we really did go from Grandma's cottage to this modern farmhouse gem! I had such an amazing experience turning this home into what V always wanted.
First up, is a look at a space that I haven't mentioned much but one that I had lots of fun cozying up: the screened-in porch! Located just off the kitchen, it's a prime spot for entertaining. This porch faces a beautifully landscaped pond that leads out to a freshly landscaped yard. The only changes I made to the porch was changing out the ceiling fan for a very elegant inviting chandelier from Arhaus along with new furniture and décor.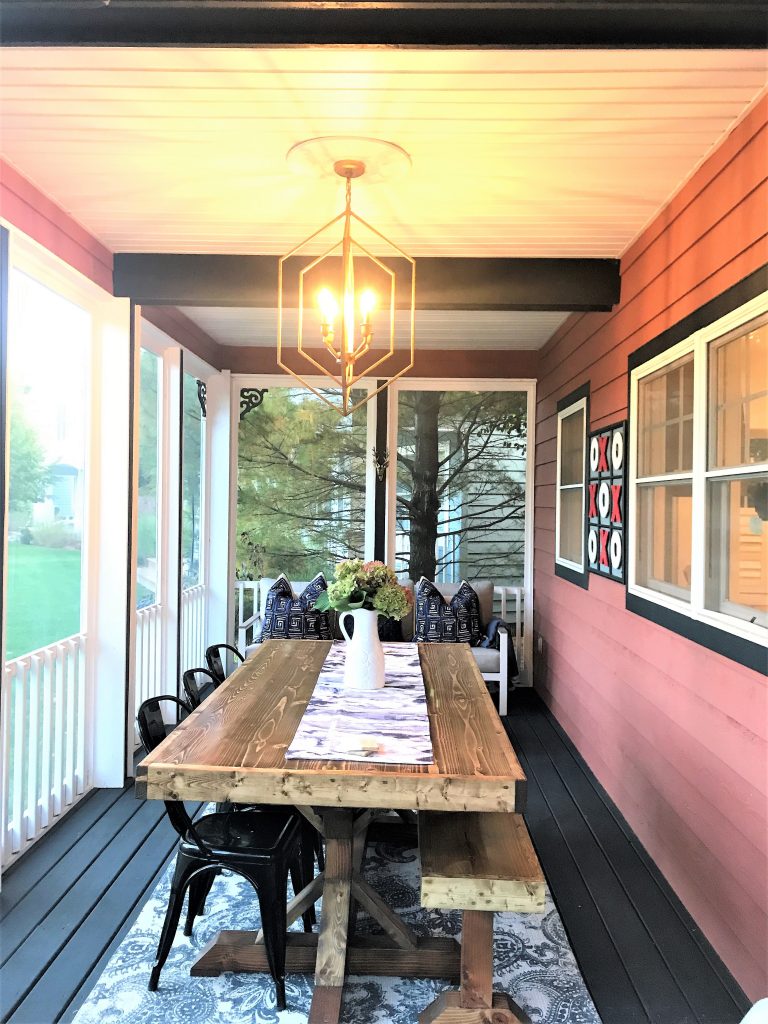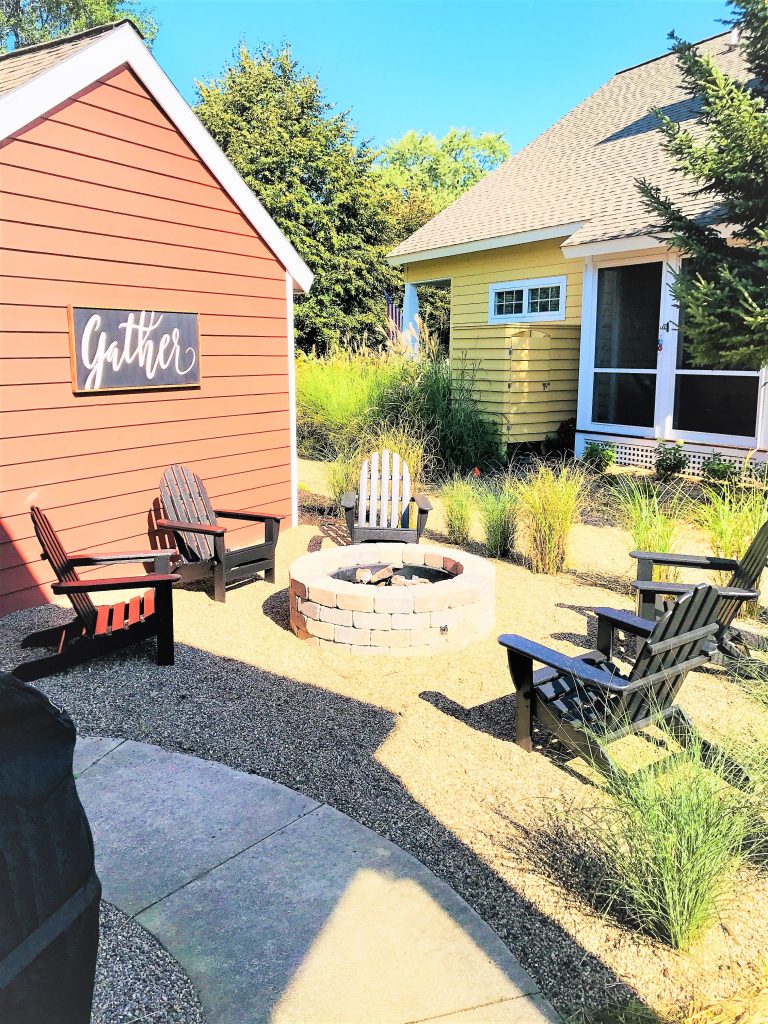 I wanted this porch to be cozy and relaxing for those beautiful summer days and evenings, but also to accommodate great outdoor dining. We had a dining table made from a local vendor out of reclaimed wood for those fun outdoor dinner parties. We also built an amazing brick gas fire pit, which extends the comfortable outdoor living area for V and her guests to enjoy on those colder Michigan nights. I glamoured up a cute basket for V to hold blankets that would accommodate each rot-resistant poly-wood Adirondack chair which I bought from Overstock. The chairs also fold up for easy storage in winter. We added pea gravel around the fire pit to give the area a clean modern look. And finally, I purchased a custom-made sign from Etsy to bring the farmhouse feel outdoors and really completed the space.
The cottage exterior always had quintessentially charming architecture, but it was completely shrouded. The previous owner had wildflowers growing everywhere and I mean everywhere!  Sidewalks disappeared and beautiful trees were lost. I had my landscaper completely clean and remove all flowers that could not be reused and trim trees back for a refreshing new look.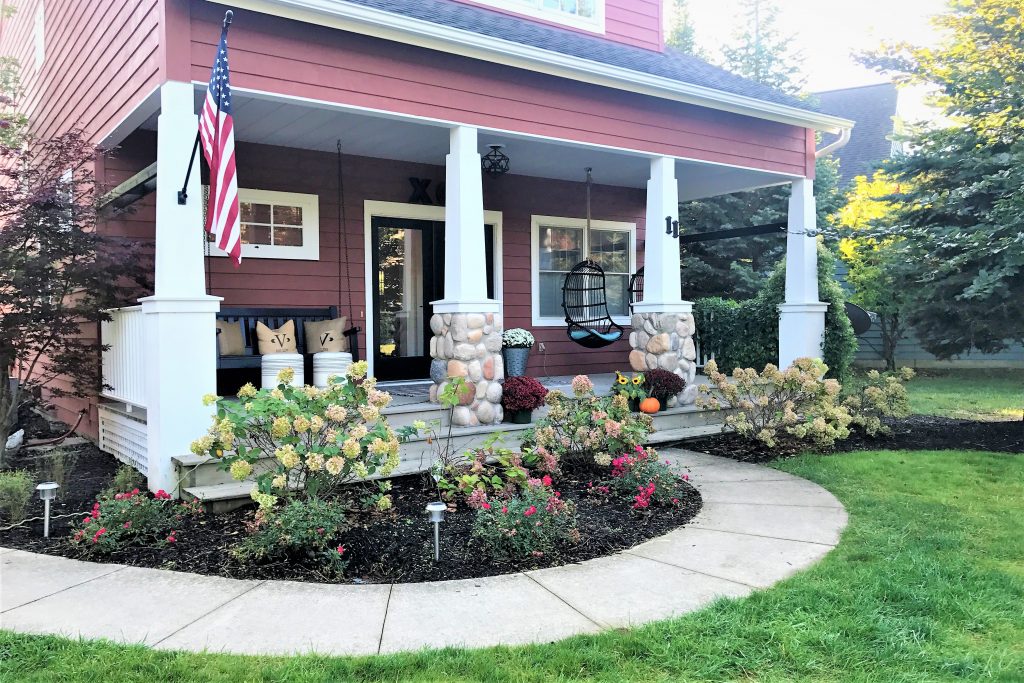 Along the front of the home, I added red dwarf endless blooming rose bushes to pop along with Lime Light Hydrangeas that would bloom big bushy white cone-shaped flowers all summer long. On the front porch, the previous owner left a white porch swing. Since I was giving this home a modern farmhouse update, I felt painting this swing black would really compliment the outdoor color. V was given two rattan egg swings from a close friend. To surprise her, I had my team paint these black to match the porch swing and hang on opposite side of the porch so she had plenty of fun seating. I then polished the rest of the porch up with a beautiful black-and-white ticking stripe outdoor rug from Anne Selke along with a galvanized vintage grape bucket to hold firewood, potted flowers, blankets and a custom "V" pillow from Etsy for her porch swing to give her that personal touch!  This all made such a welcoming entry to V's newly renovated vacation home. I hope you all enjoyed following the renovation of "Victory Farms".
And now, just to bring it all full circle, here's a reminder of all the transformations from Victory Farms:
The Entry
We turned the front closet into a mudroom for more of a wow factor and stylishly functional storage.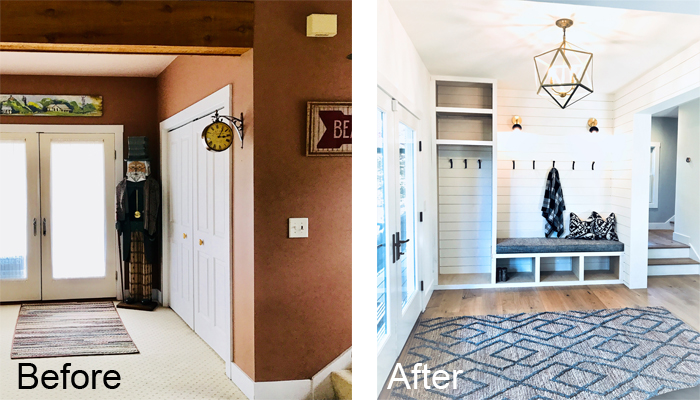 The Living Room
Not only did we completely clean the slate with this space, but we also made some small but very impactful construction decisions to give the room a better flow and division of space.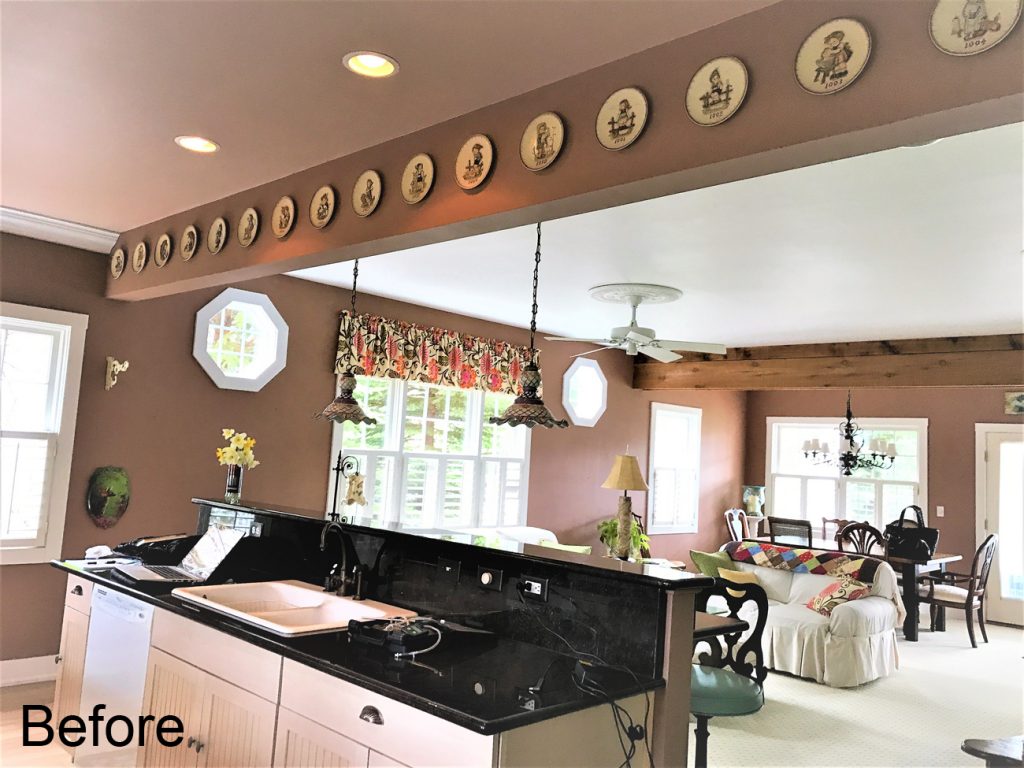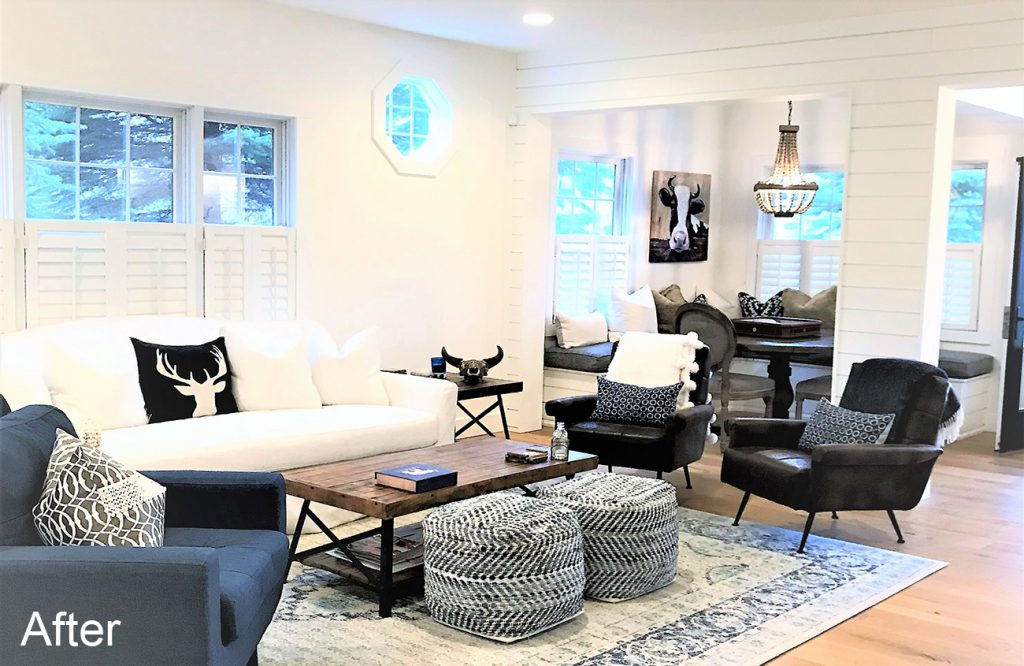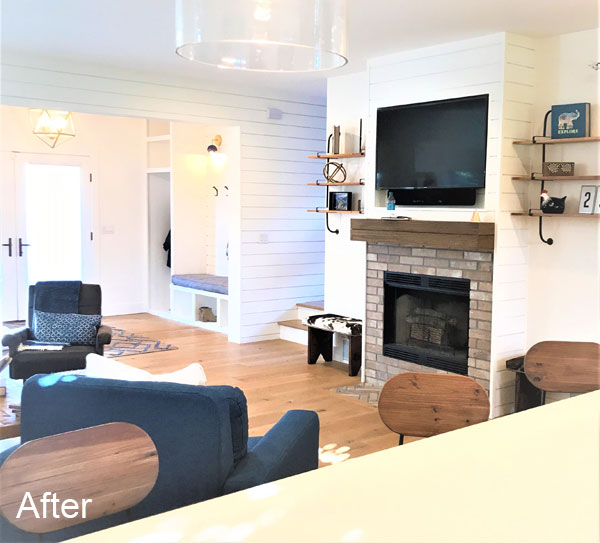 The Banquet Area
In order to improve flow, and create cohesive areas we decided to create a banquet seat and help delineate the area by installing a post to anchor the room.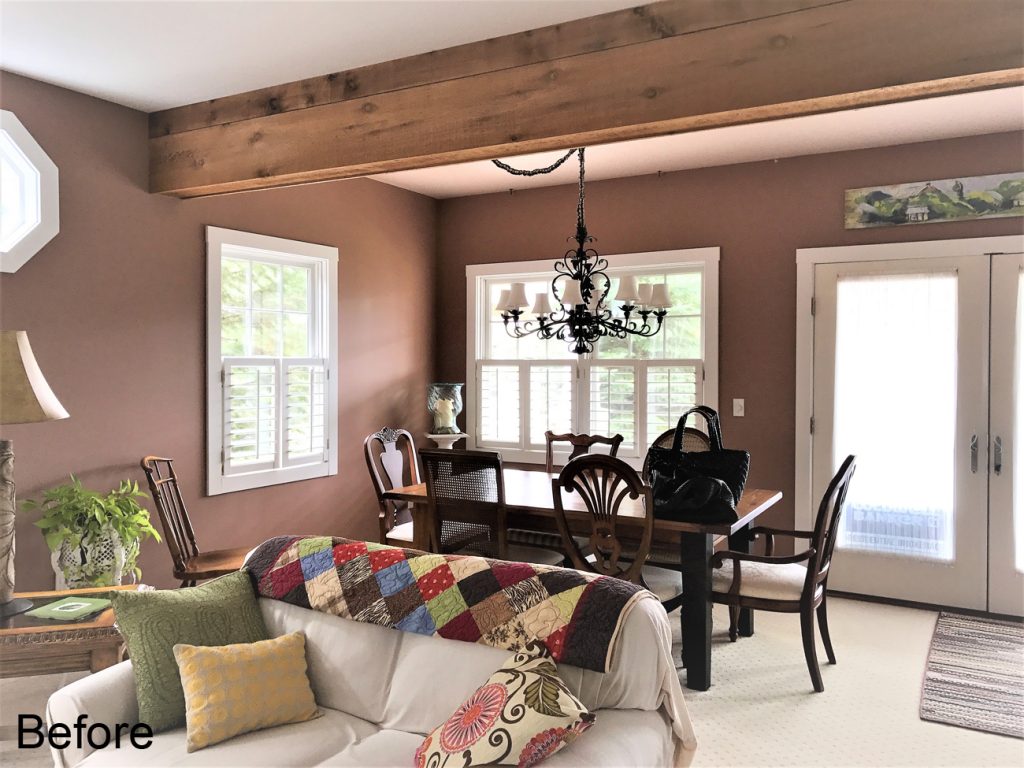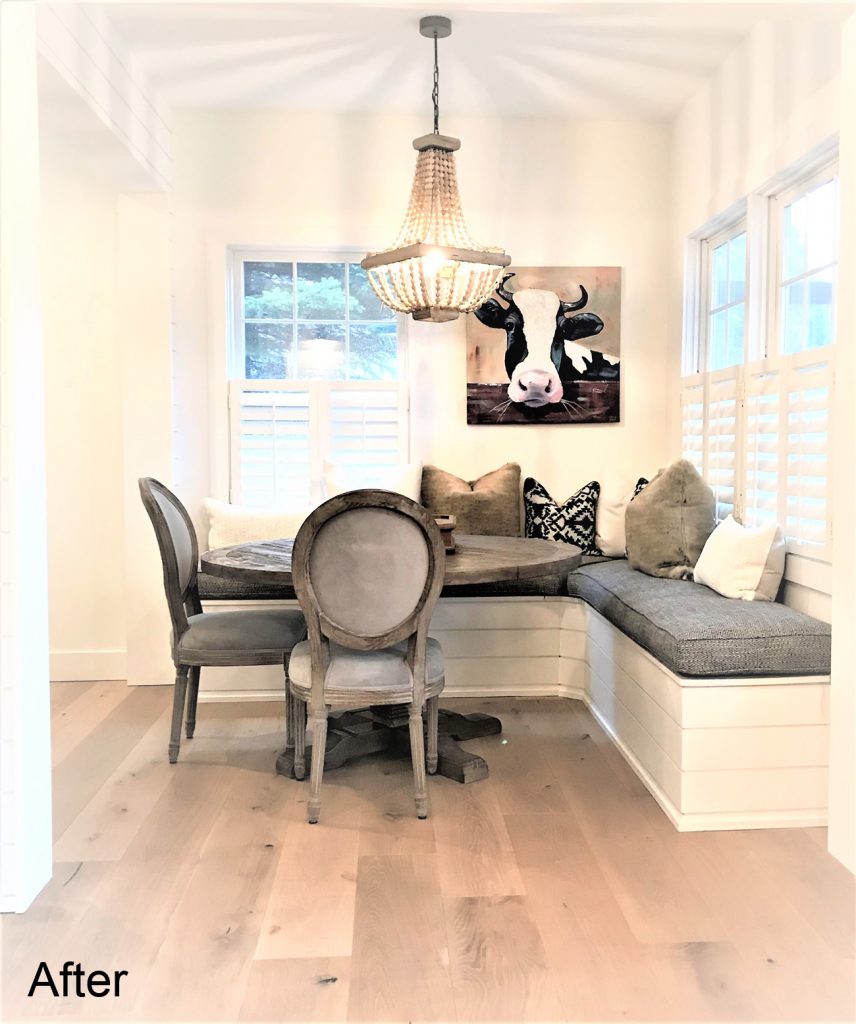 The Kitchen
We took this space from dated and drab to dramatic with cool farmhouse textures and finishes.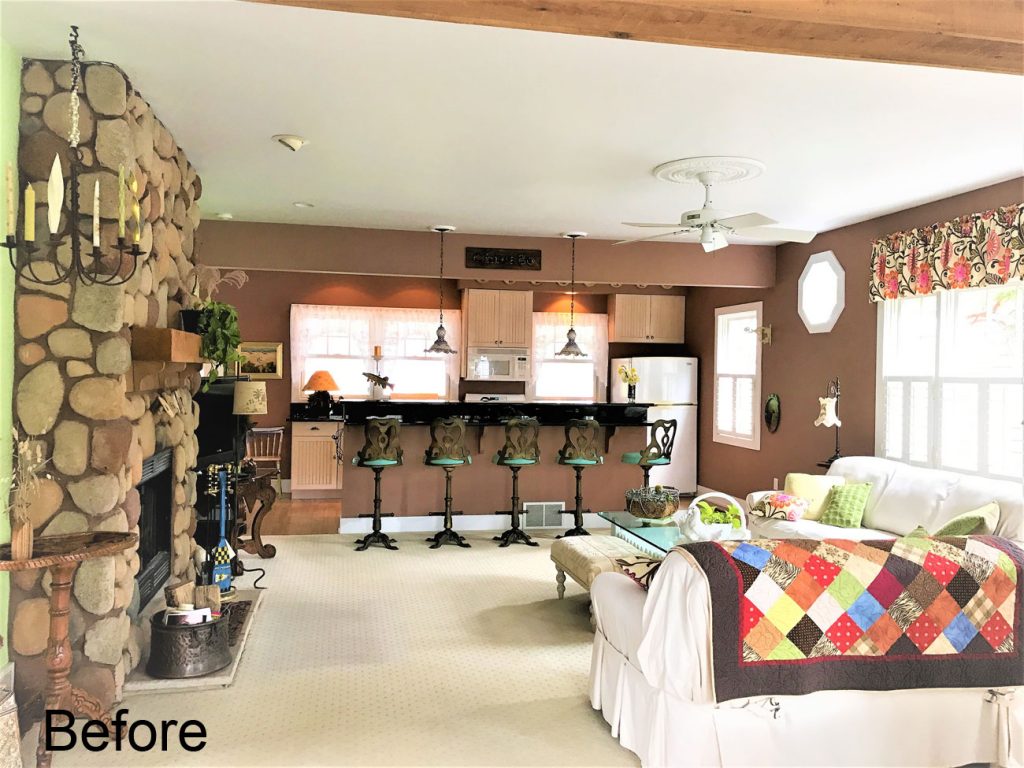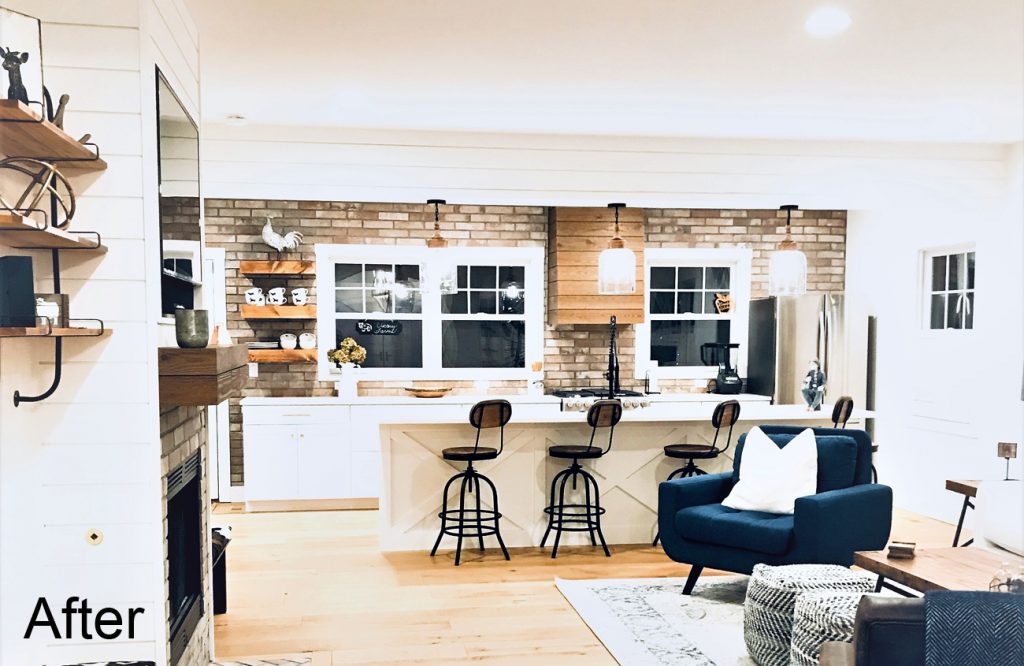 The Pantry
We decided to lose the small ineffective pantry at the end of the kitchen to be able to extend the kitchen space. Now this corner boasts more countertop space, cabinets and a wine fridge!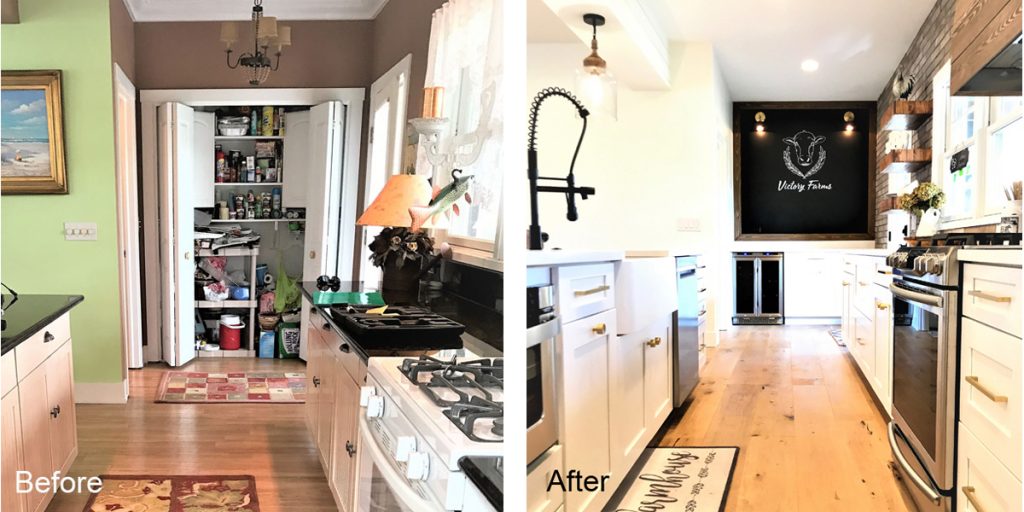 The Downstairs Bathroom
To make this small space feel bigger I designed a curb-less shower. The visual continuity for the floor from the door to the wall helps give the bathroom a roomier and more updated look.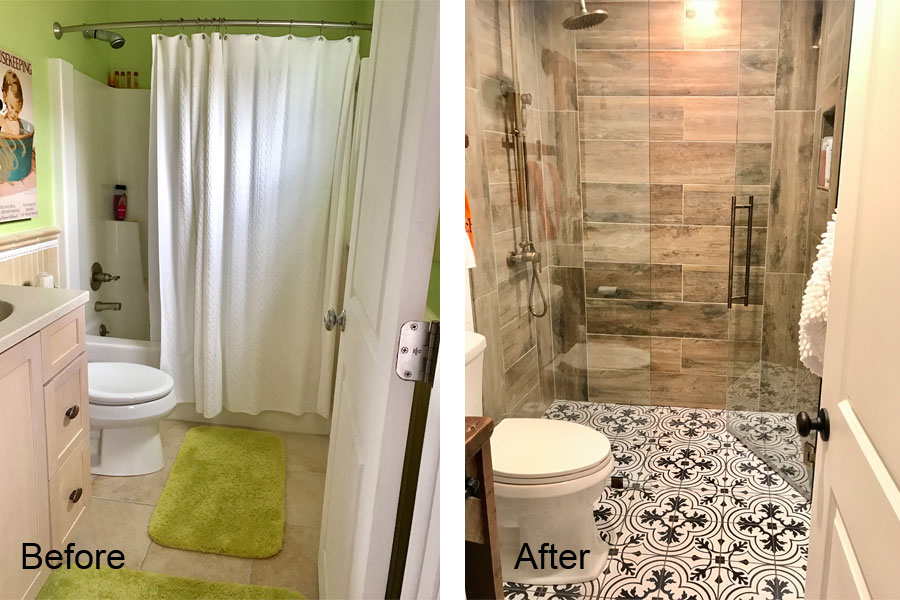 The Laundry Room
The old space was a mess. It lacked storage and usable structure and it was out of code! While we couldn't rework the footprint, we did provide better organization and a brighter and more fresh and inviting design which has made all the difference.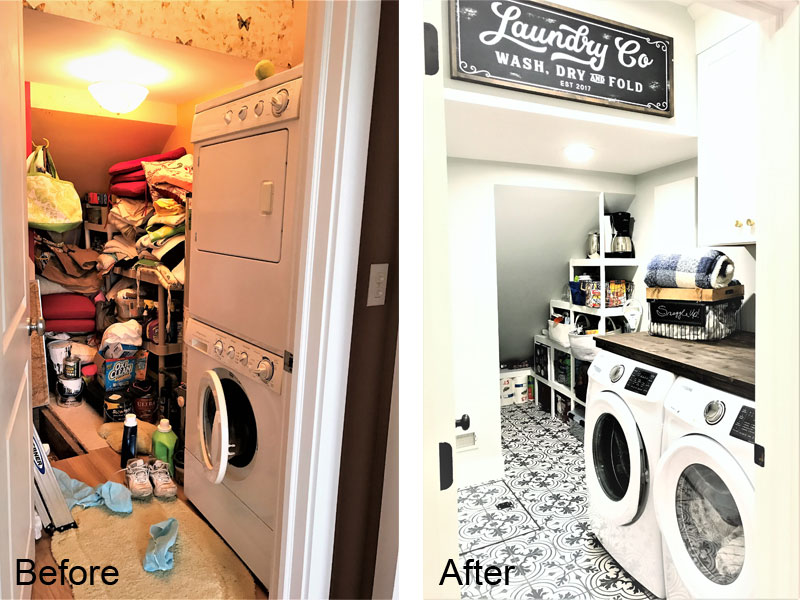 The Upstairs Bathroom
This space got a major style update! We ripped out the old outdated fixtures and used the curb-less shower technique here to help make the space feel bigger.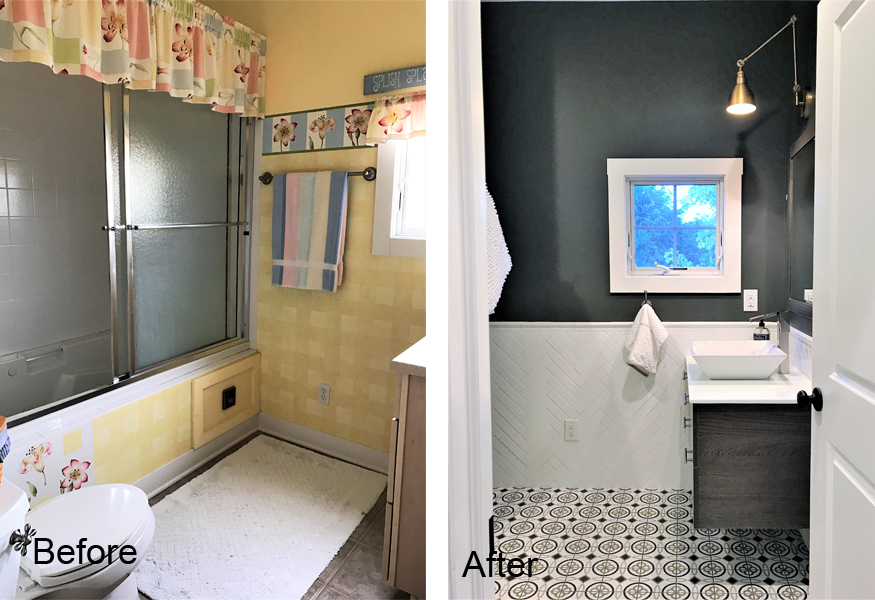 The Master Bedroom
The master bedroom what a transformation! We went from a third bedroom with two closets no bath, to a master bedroom with a walk-in closet and fabulous sized master bath. Since Modern Farmhouse was our theme, I added a warm stained color shiplap wall to be the centerpiece for the black metal bed and warm wood toned nightstands. To really tie in the vintage farmhouse style, I added two oversized wall sconces, a full-length mirror and a lounge area for V to kick off her shoes and curl up with a good book. What a change…we went from a dark over cluttered to a cozy and chic. A stunning wood wall became the focal point of this room to really infuse the room with a modern farmhouse style. What was once just a run of the mill bedroom now truly feels like a master suite.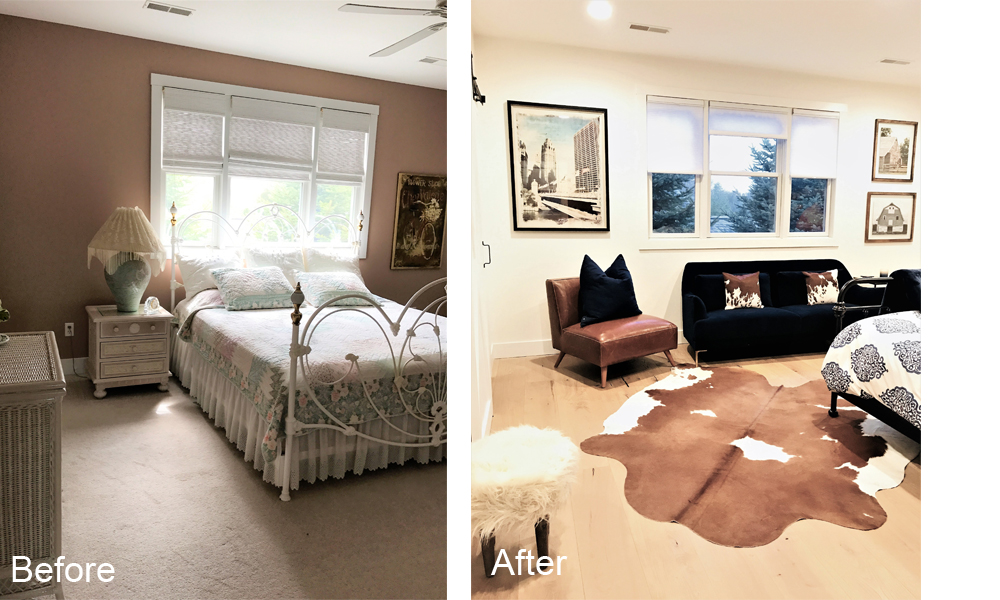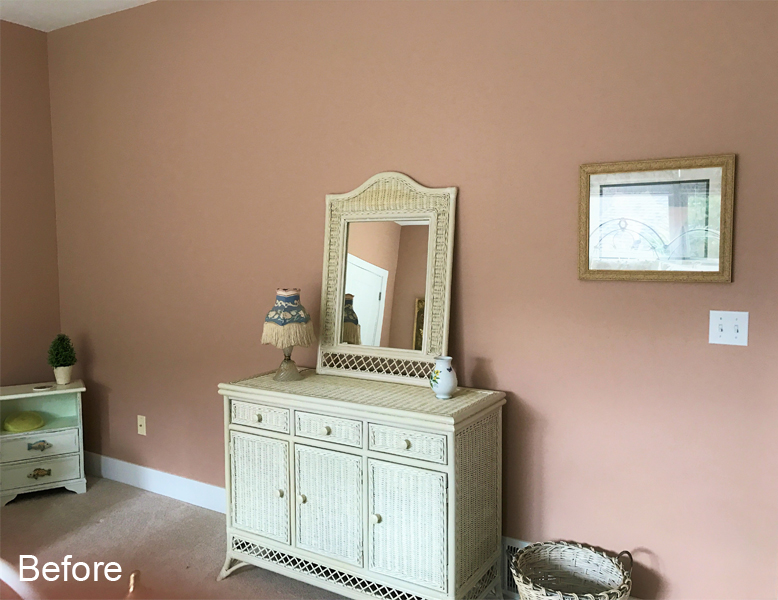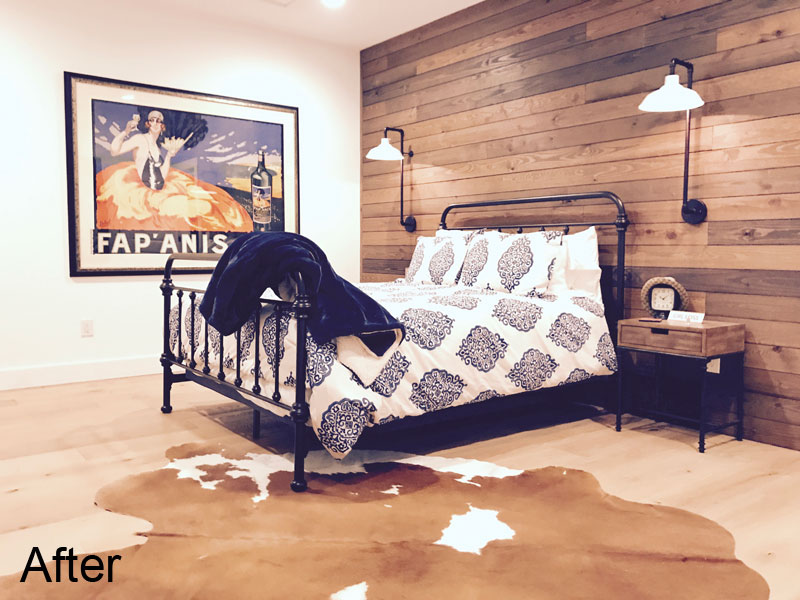 The Master Bathroom
As mentioned in one of my prior demo posts, my team and I found extra space in one of the two closets that this bedroom originally had to accommodate a full-size bath. My client was so ecstatic with the news!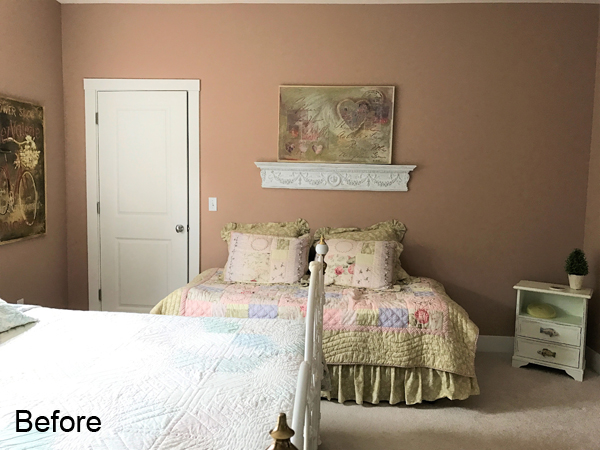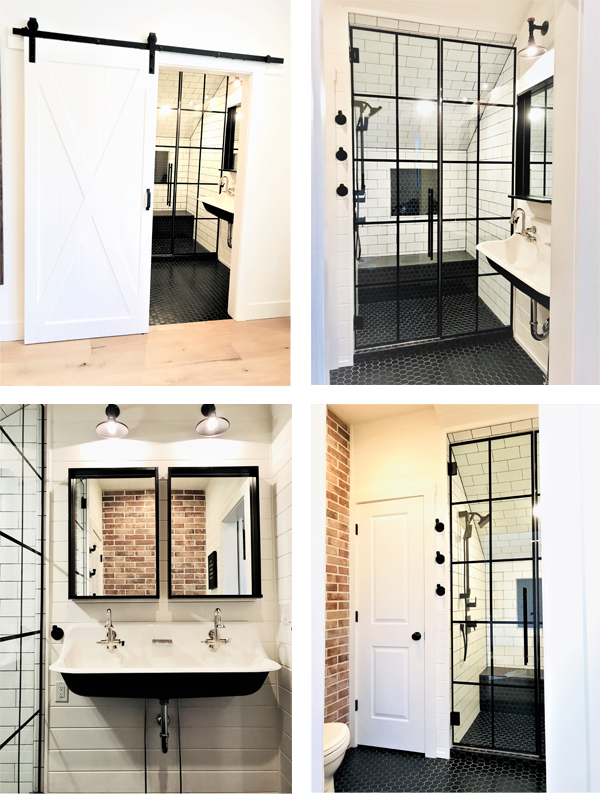 I hope you all enjoyed following the final reveal of Victory Farms.  Please stay tuned next week for my new upcoming renovation! If you have any questions regarding my renovations or need any design help or ideas on your renovation you can visit us at www.theflippindesigner.com or follow us on Facebook or Instagram @theflippindesigner.