Sometimes you have to dig deep to find out whether a homeowner's personality and passions have influenced their design choices. However, that's not the case with Dave and Lora Royster. Their creativity and pursuits are on display in their home for all to see. And their carefree attitude toward decorating is refreshing and offers lessons everyone can benefit from.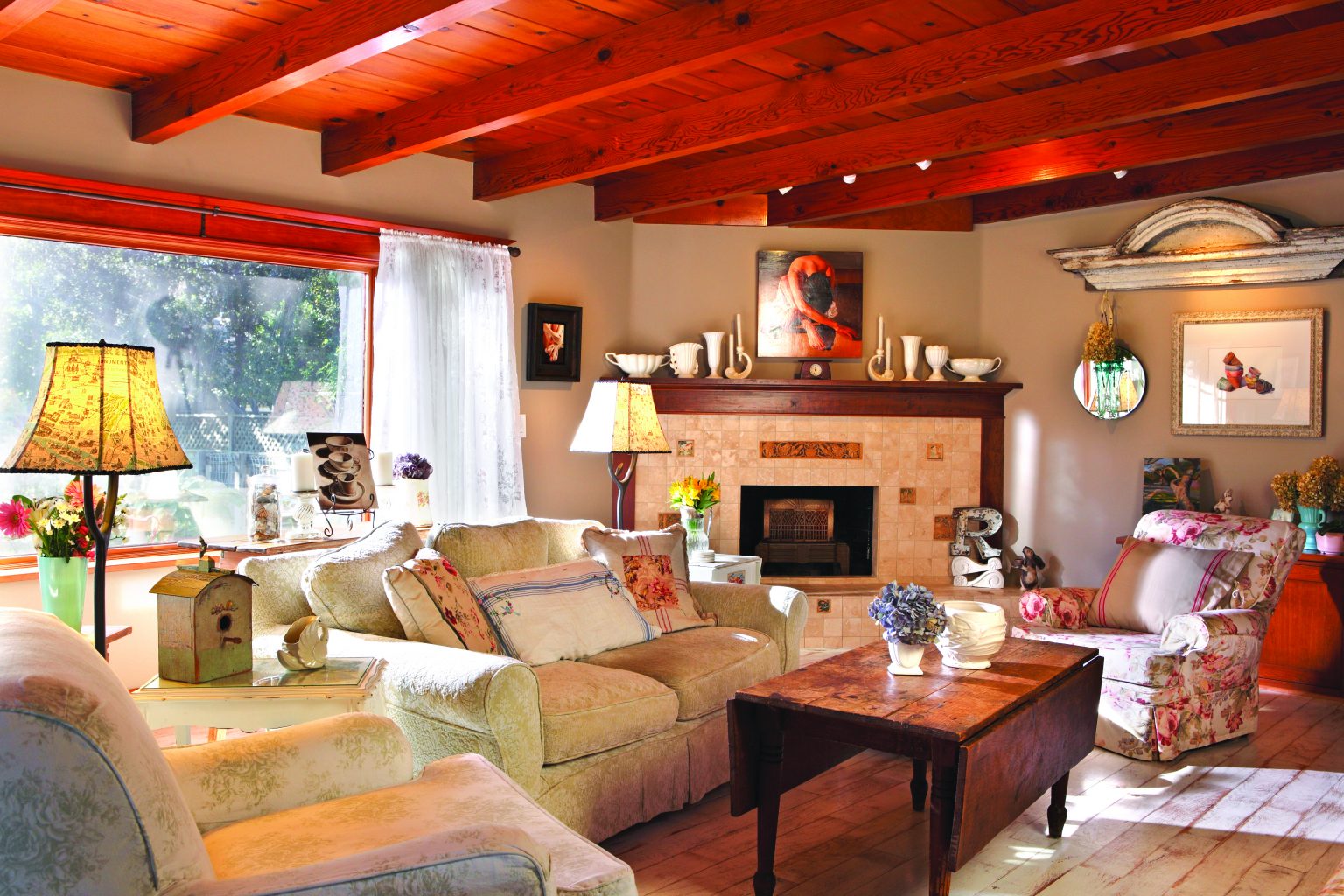 Portrait of a Home
While every home has a story to tell, the Roysters' home comes with brilliant color illustrations. The couple—both art teachers—have infused their 1923 Craftsman bungalow with what makes them happy, including paintings done by Lora, as well as Dave's camera and photo collection.
"Some homes reflect only one owner's personality," Dave says. "Our house has to have both our thumbprints on it—individually and together." Luckily for Dave and Lora, they also shared the same vision when it came to the style of house they wanted.
"We love vintage, old things," Lora says. "It's the handcrafted quality and personality of a vintage home that draws us to them as well as the appreciation of the wooden construction. Shortly after we married we lived in a farmhouse built in 1921, but we didn't have the finances or know-how to restore it properly. We always wanted to move back into an old wooden house in a historic neighborhood."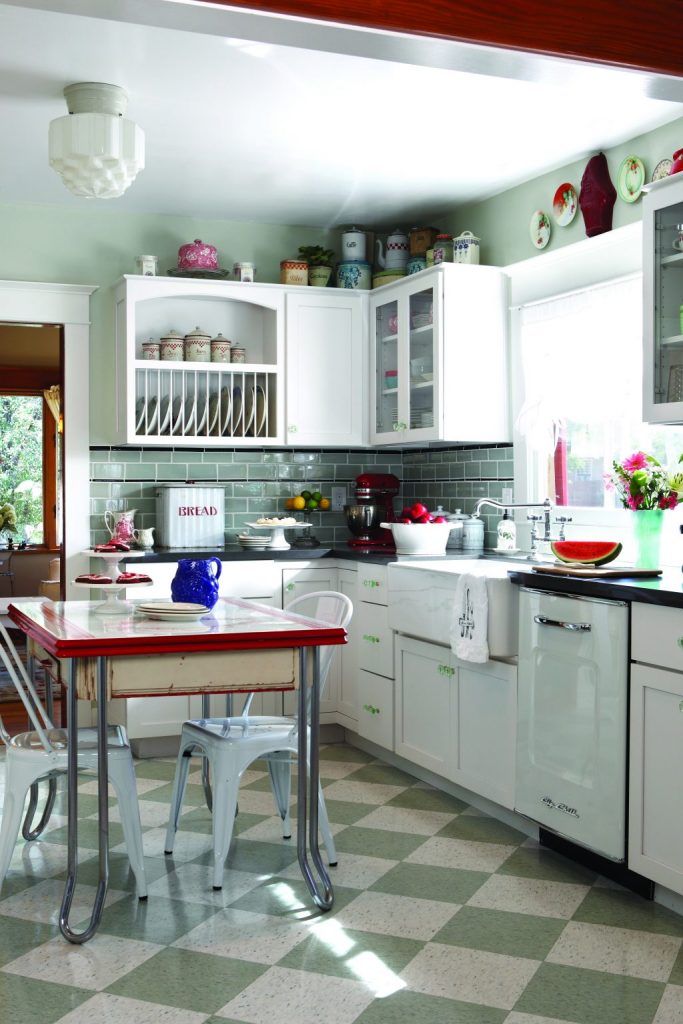 Secrets to Smooth Remodeling
Nowhere in the home is the couple's passion for all things vintage more evident than in the kitchen. They "deconstructed" and remodeled it to be more period-appropriate.
"Our contractor, Chuck Kensicki of Good Home Construction, helped bring our vision of the kitchen and living-room floor to life," Dave says. "We wanted to have the kitchen look retro and more to period. We purchased a 1940s Western Holly six-burner gas stove with two porthole windows on the doors. We found a vintage cabinet to use as a storage pantry. The refrigerator and dishwasher are Big Chill brand to add to the retro look."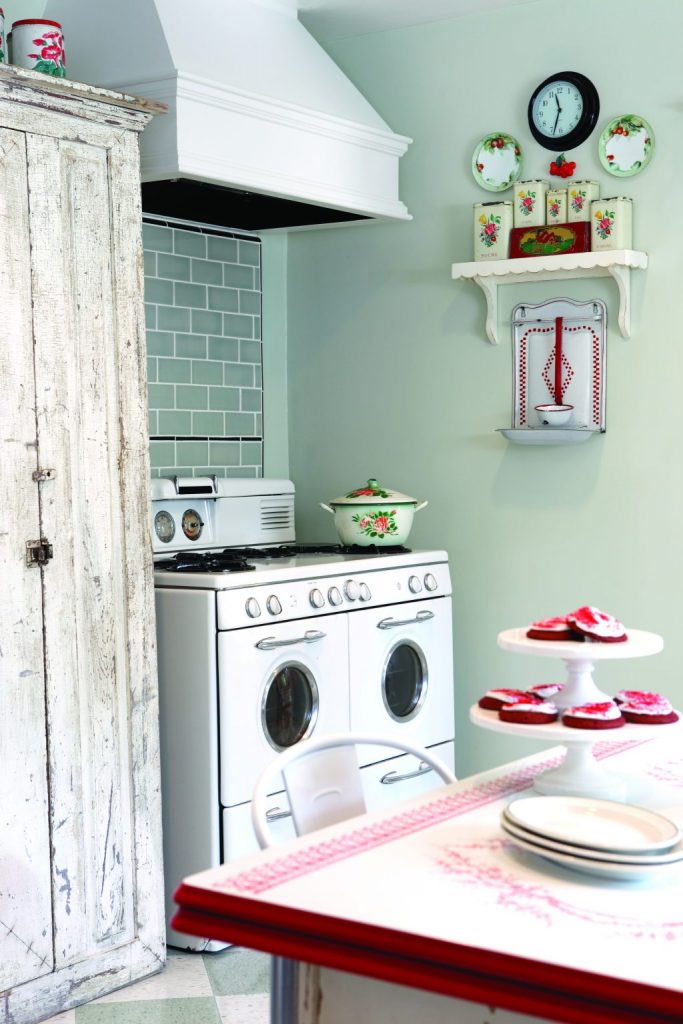 Forming a close working relationship with their contractor was the key to success. "We were involved in every aspect of the redesign, from design work to product selection," says Katherine Woo of Good Home Construction. "The only thing they had to get on their own was appliances."
The kitchen task was unusual for the construction firm in that it required removing an updated, contemporary look and replacing it with an older one by removing recent updates, such as the granite counter tops.
Check out "How to Recreate a Historic Kitchen"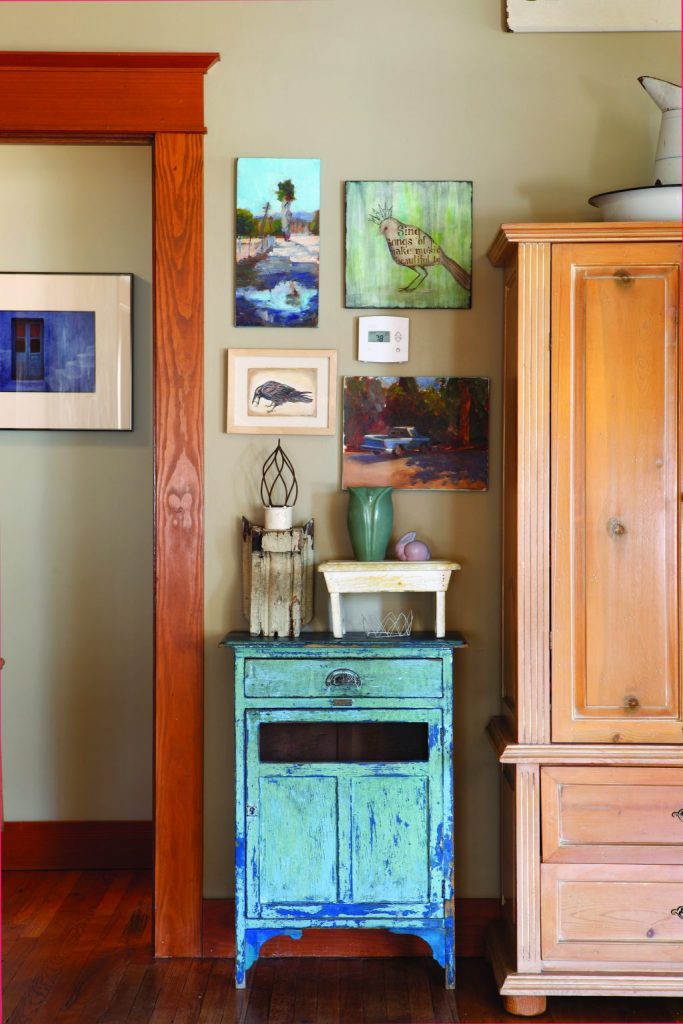 Styling with Abandon
The Roysters use words like "cozy," "artistic" and "eclectic" to describe their décor. It is an interesting blend of vintage and contemporary objects.
"We think of it as a cross between Craftsman and cottage," Lora says. "We have a junky eclectic collector's taste with a sense of humor. Something doesn't have to be expensive or valuable to be central focal point in a room.
We cherish the paintings, photos and artwork we have collected or created ourselves," she says.
They have filled their home with priceless pieces that have meaning to them. "We have artwork we have done ourselves and work made by friends and family, as well as paintings made by artists we have loved and collected," Lora explains.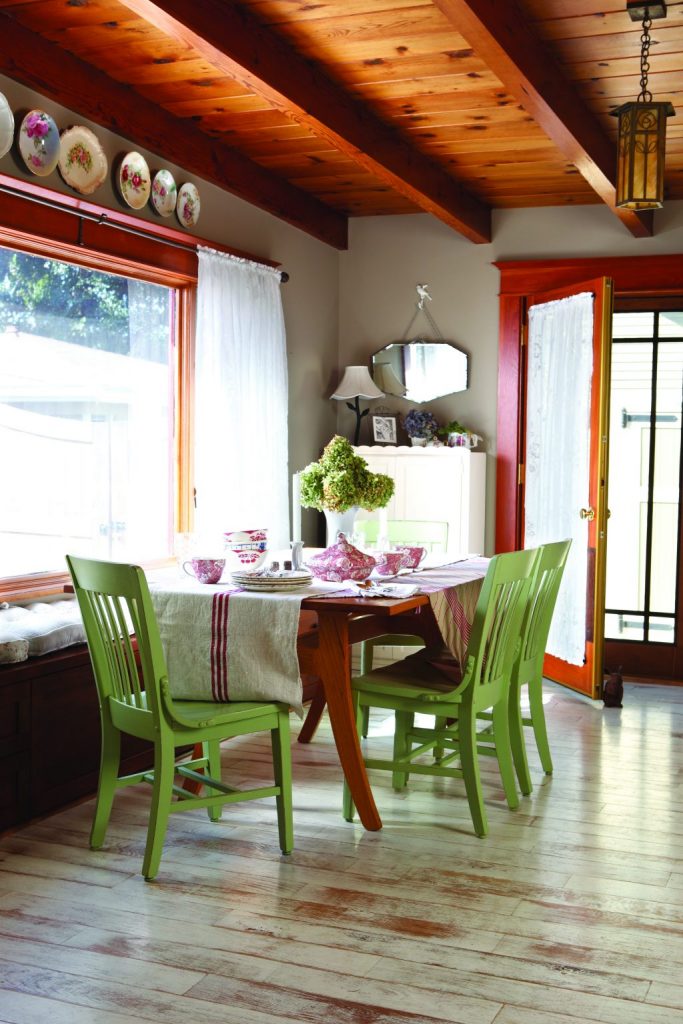 Recognition
For their creative and respectful approach to preserving the period style of their home, the Roysters have received praise from their community. Their house has been featured on the Old Towne Orange Preservation Association home tour, and they were honored with the Old Towne Orange Preservation Association's Pitcher Park award in 2009, presented to homeowners who are respectful of their home's origin and landscaping.
Dave sums up the couple's secret to style compatibility in one sentence. "Lora is the interior decorator; I find junk that sometimes fits into the décor," he says with a laugh.
The full version of this article appeared on pages 80-87 of the Fall 2015 issue of The Best of Bungalows with the title "Art House."