Sometimes, a change of scenery is just the thing to brighten a day.
With the weather warming up, you can enjoy each season by finding ways to spend more time outdoors.
Décor enthusiast Christine Vogel (@rusticfeatherstone) loves using her creative talents to blend old and new for fresh, welcoming and charming spaces, both indoors and out. Her love of all things "décor" came from her childhood, when she spent many happy days shopping flea markets with her mother.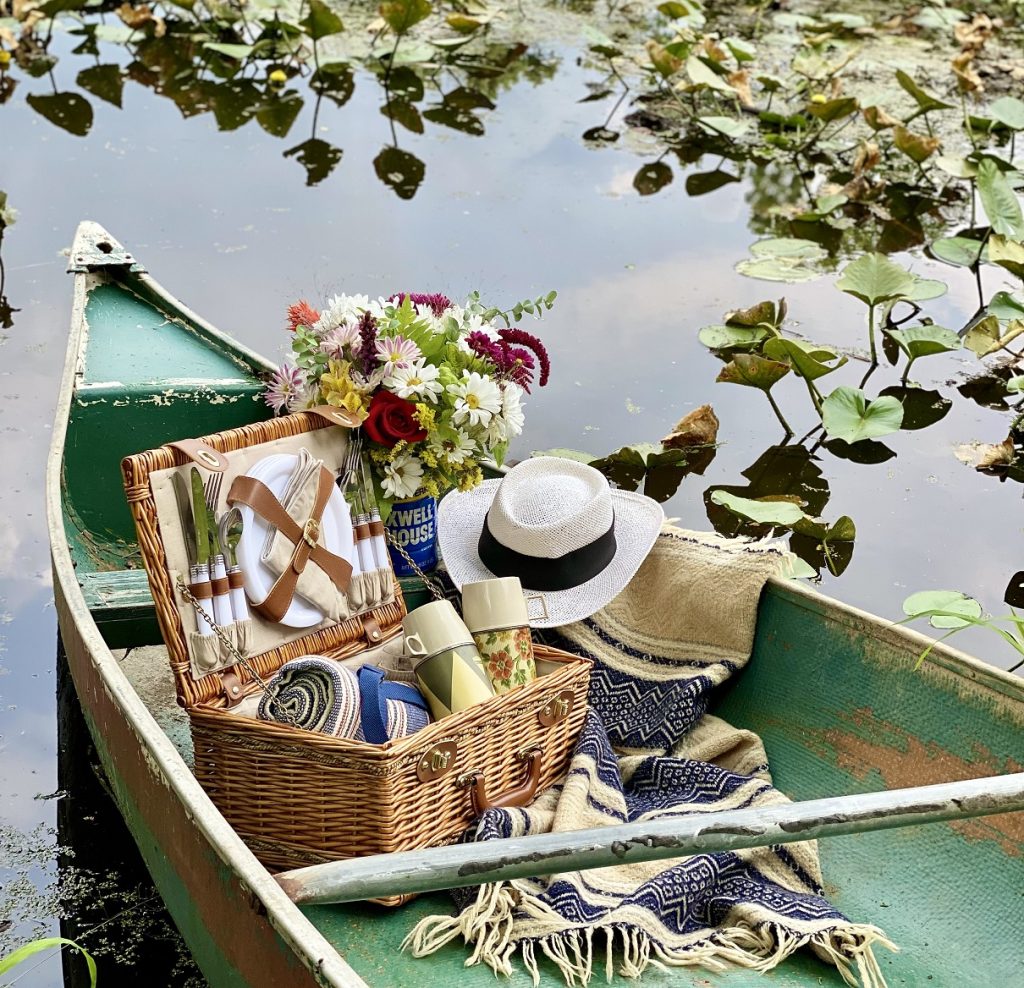 Christine's Instagram handle is a combination of her three favorite things: rustic décor, birds and the old, stone walls of her home.
Drawing on her love for these, she decided to create a picnic scene at the pond on her family's property in western Pennsylvania, where she loves to go birdwatching.
"I like stepping back in time when I go to the pond, and there's an old, rustic cabin, along with the old canoe, that I get to enjoy every day when I walk," she says. "We've often enjoyed going to the pond for picnics and an occasional cocktail, and I wanted to bring the experience to life in a photo."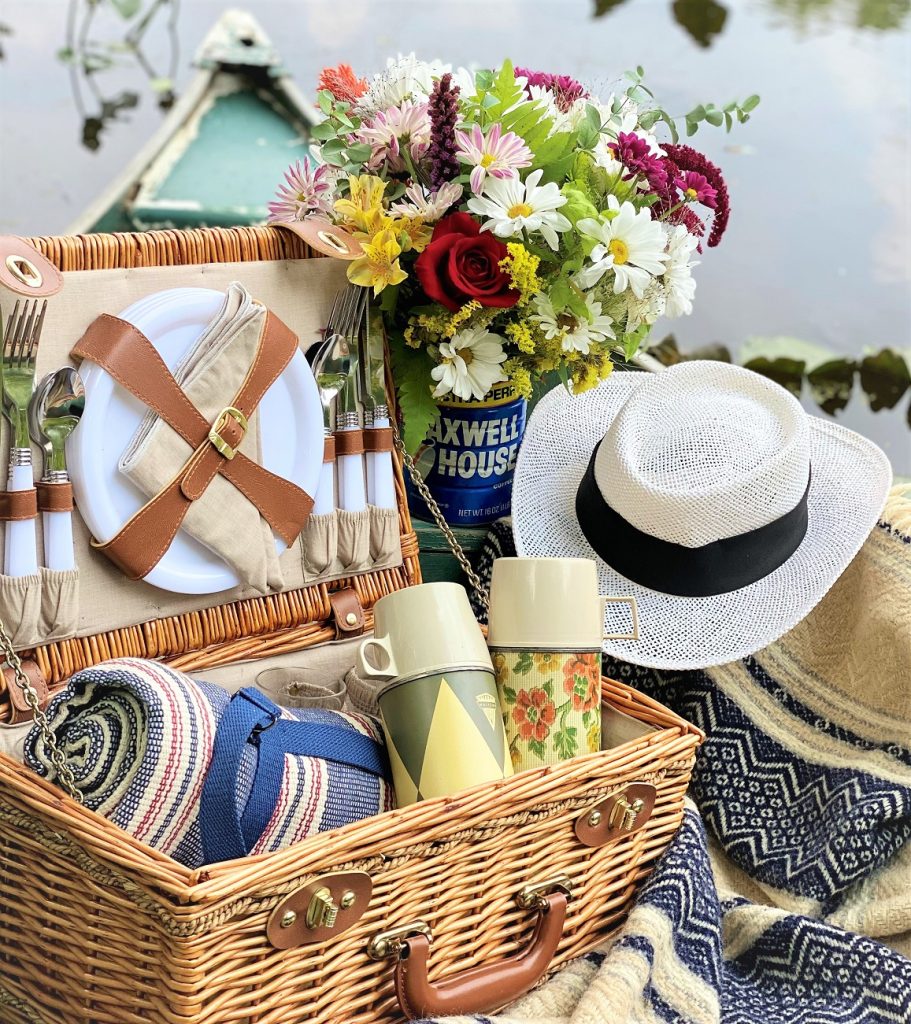 In addition to the setting of her picnic, Christine took inspiration from her collection of antique pieces. The canoe was a find from an Amish auction, and all the items inside it are from various thrift stores and flea markets. The setting has a vintage and gathered feel.
"I decided to use an old coffee can as my vase for the flower bouquet," she says.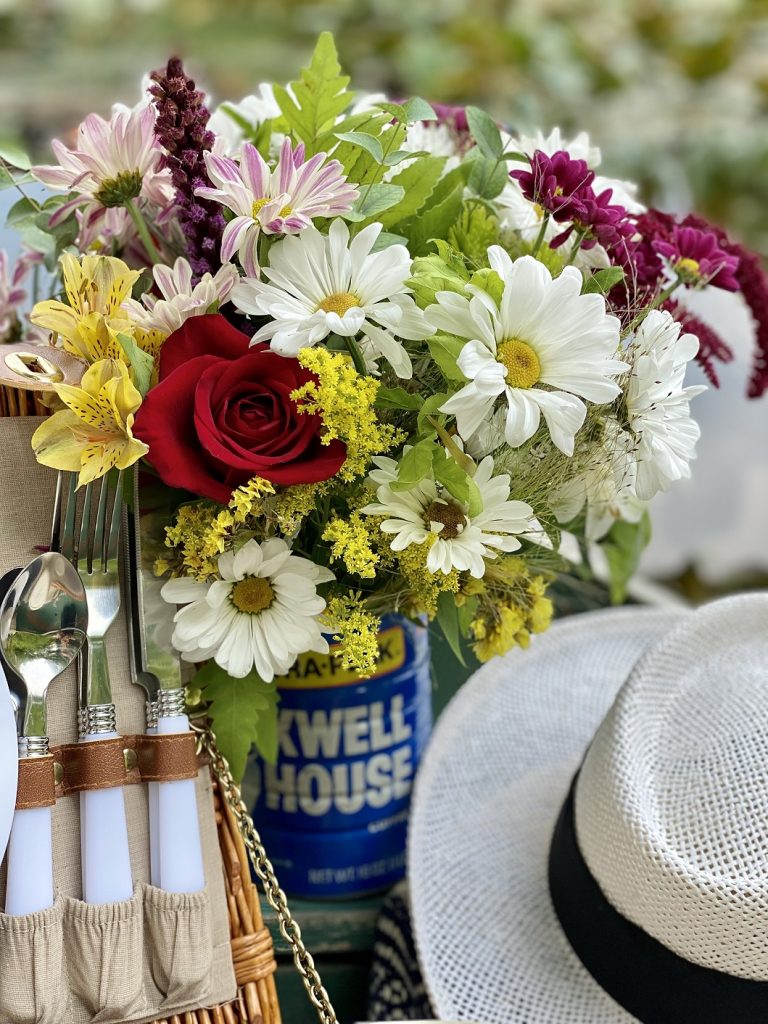 To prep your own picnic, either for yourself or for sharing with a loved one, Christine says there are no rules: "Take things you'd use on a picnic and also throw in a few things that you might not," she suggests.
To make it feel especially personal, find things you already own that you love and are special to you.
Christine points out, "I learned at an early age that it doesn't matter how much you have. It's what you do with what you're given."
Mom's Old-Fashioned Egg Salad Sandwich
Here, Christine shares her mother's recipe. Stir up these ingredients for a delicious taste of nostalgia!
Produce
 2 Tbsp celery, diced
2 Tbsp onion, diced
Refrigerated Items
 5–6 hard-boiled eggs, diced
Condiments
 ½ C Miracle Whip
1 tsp yellow mustard
1 Tbsp sweet relish
Baking and Spices 
¼ tsp pepper
¼ tsp salt
Picnic Checklist
Basket or carry-all bag
Blanket or large towels
Napkins, utensils, pretty glassware and plates
A vessel for flowers or foraged greens